August 29/19 22:28 pm - Carter Woods 4th at Mont-Ste-Anne World Championships

Posted by Editoress on 08/29/19

Canada had a pair of top-10 performances in Mont-Ste-Anne on Thursday, Day 2 of the Mountain Bike World Championships. Canada's Carter Woods, of Cumberland, BC, came within 17 seconds of finishing on the podium in the Junior Men, while in the Junior women's race, Emilly Johnston of Comox, BC, finished ninth.

The Junior men's race saw Great Britain win their first title, with Charlie Aldridge showing that he is fully recovered from a mid-season knee injury. Luca Martin of France took silver and Andreas Vittone of Italy won the bronze medal. A group of five riders broke clear on the first lap and the podium was going to come from this group, which also included Canadian favourite Carter Woods and Luke Moir of South Africa. Vittone attacked in the third lap, splitting the group, with Aldridge bridging up to him and dropping his rival on the final lap to win the title. Martin took second after Vittone crashed, damaging his chain. Woods fell off the pace of the front three in the final lap.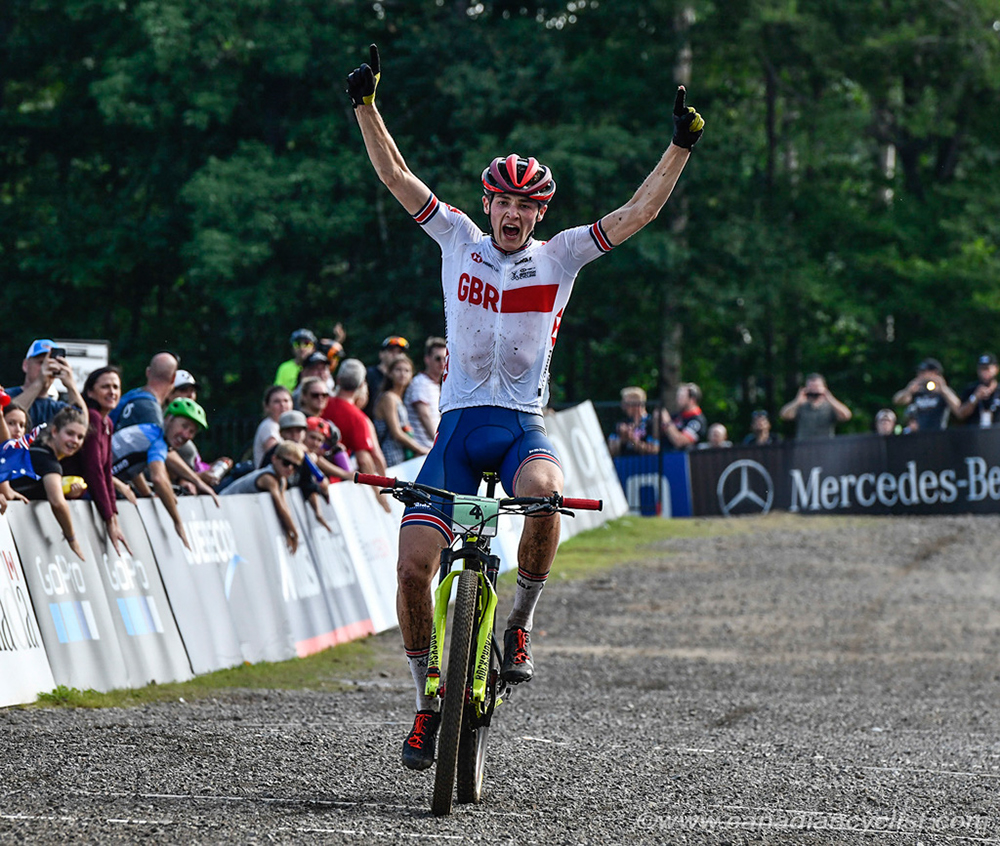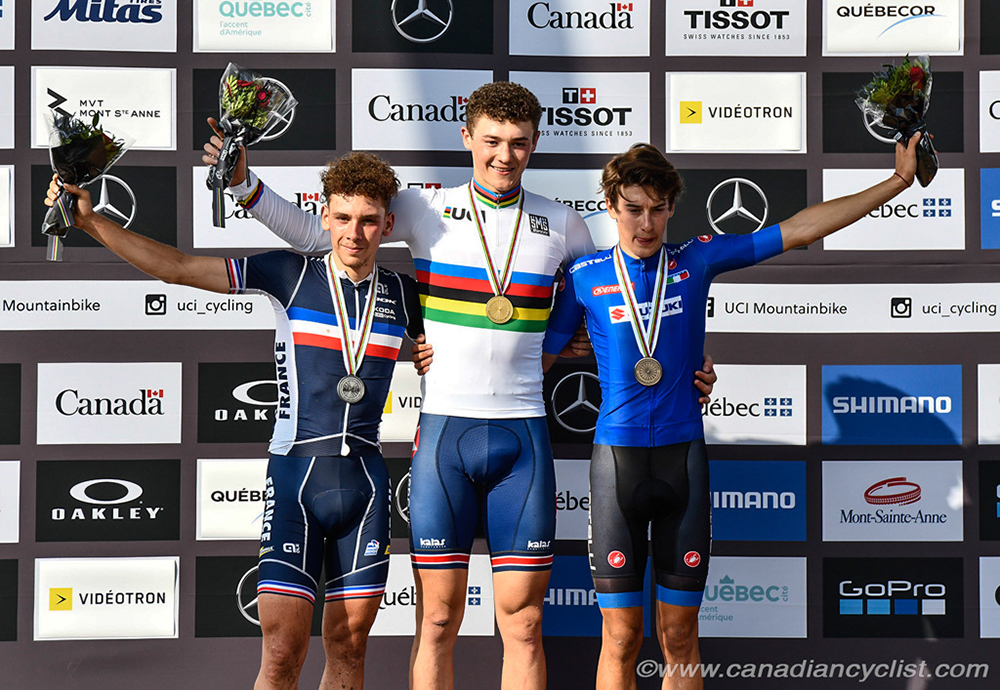 L tor: Luca Martin, Charlie Aldridge, Andreas Emanuele Vittone
"It was a really, really, close race," said Aldridge. "I was never quite sure who was going to be my main competitor, so I was just watching to see how the race progressed. But it was really close at the end. I made a bit of a mistake and he [Vittone] was able to get a bit of a gap, but I was able to catch up to him later and take it to the finish."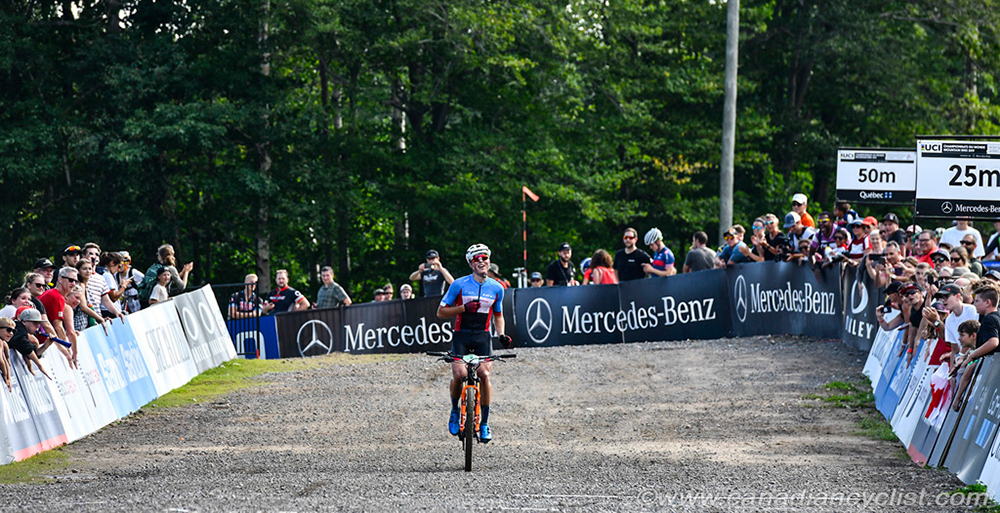 Carter Woods finishing 4th
"It was a super tough race," said Woods," but all I can think about is going up the last climb and there were so many people chanting my name. Everyone at the top is so good; looking back there may have been a few spots where I could have gone harder, but in the moment, you are suffering so much. I'm super happy with fourth; it was a fair battle out there."

See our interview with Carter Woods Here.

Junior Men's XC photos
Junior Men's XC Photos by Tim O'Connor
Canadian DHer's Training by Phunkt
Junior Women's XC photos by Tim O'Connor

Switzerland won their third title in two days, with Jacqueline Schneebeli winning the Junior women's XCO rainbow jersey. Schneebeli and Mona Mitterwallner of Austria rode off the front of the field by the end of the first lap, with Helene Marie Fossesholm (Norway) and Kata Blanka Vas (Hungary) battling further back for the bronze medal. Schneebeli dropped Mitterwallner going into the final lap to win the title by over a minute, with Fossesholm taking bronze. Johnston, a first year Junior, rode as high as eighth before dropping one spot in the final lap.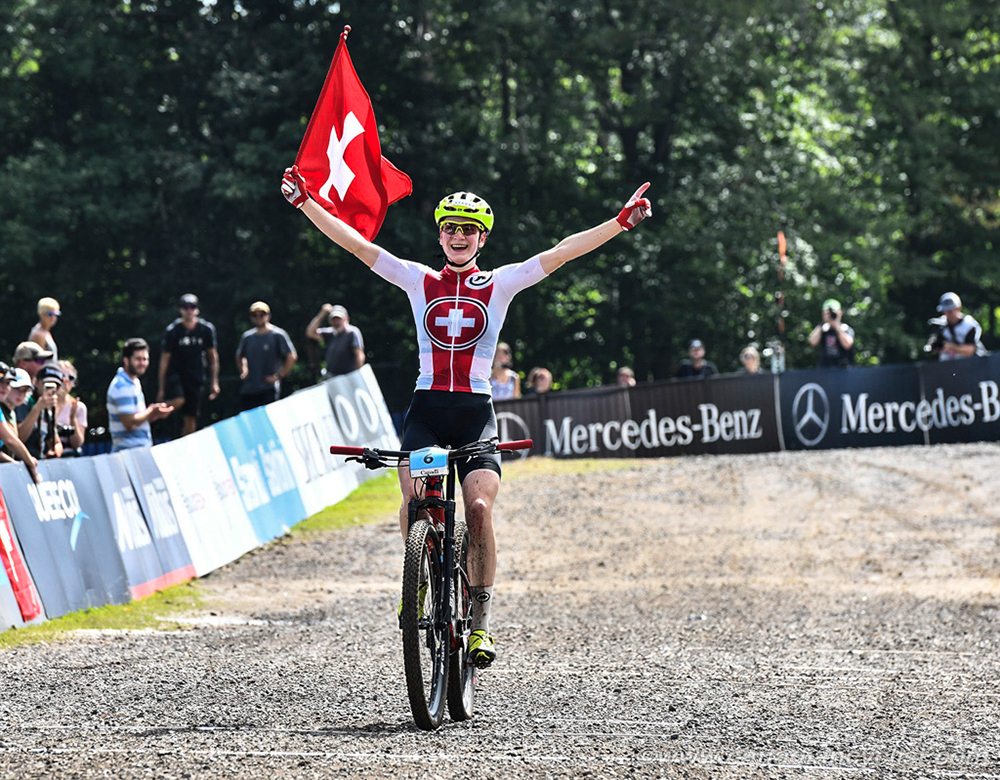 "I didn't want to start too fast, because it is quite a long lap," said Schneebeli, "and the uphills were really, really hard. But when I was in front, I just wanted to stay there. In the uphill Mona and I were always close together, but on one of the downhills she had a crash and I was able to get a gap."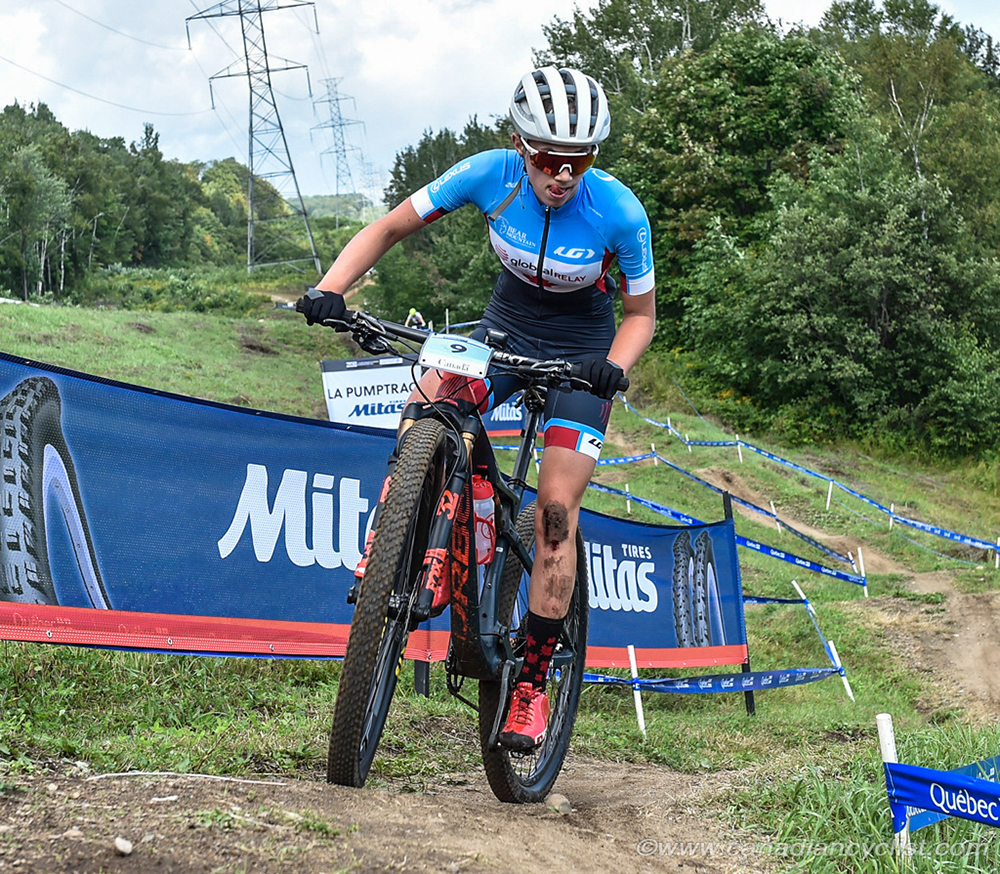 Emilly Johnston
"It was so amazing," said Johnston, who is attending her first world championships. "I'm super proud to be representing Canada, especially here in Canada. On the second lap I made a silly mistake and took a bit of a tumble, but I was back up in 10-15 seconds. In general, this was a learning experience for me, and I was happy with my result."

See our interview with Emilly Johnston Here.
Junior Men's XC photos
Junior Men's XC Photos by Tim O'Connor
Canadian DHer's Training by Phunkt
Junior Women's XC photos by Tim O'Connor


---
Related Photo Galleries
---