September 27/19 7:52 am - Vallieres Mill Tenth in Junior Women's Road Race

Posted by Editoress on 09/27/19

Canadian Junior women's champion Magdeleine Vallieres Mill finished just seven seconds off the podium in tenth place, in the Junior women's road race at the world championships on Friday. Vallieres Mill was part of a chase group that almost caught winner Megan Jastrab (USA) on the line after 86 kilometres of racing. The three other Canadians in the race - Laury Milette, Camille Primeau and Adele Desgagnes - were all caught in the numerous crashes during the race, with Milette and Primeau finishing 84th and 85th, respectively, and Desgagnes not finishing.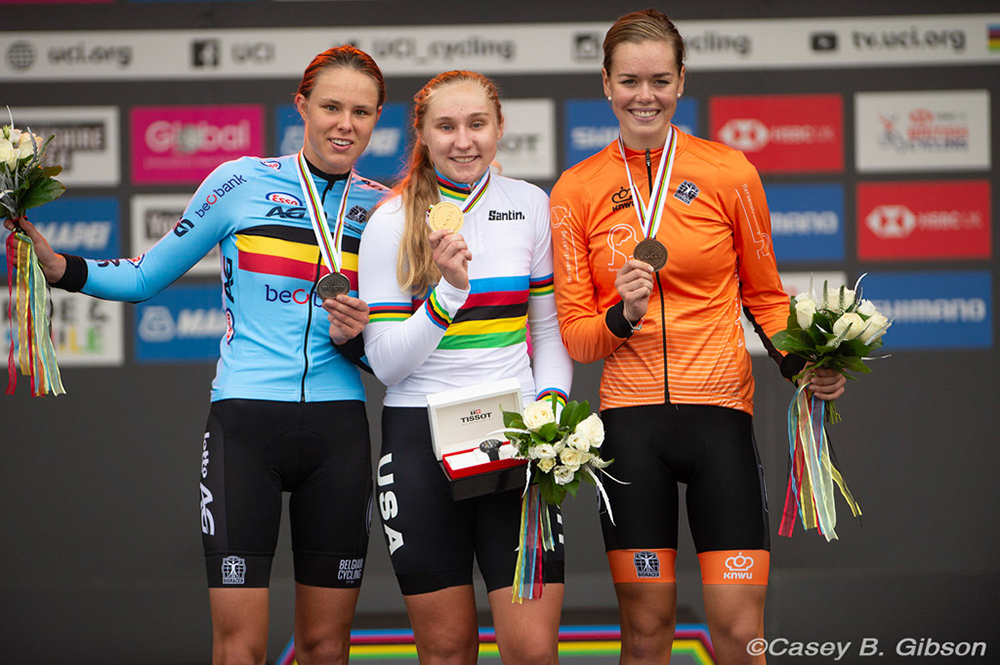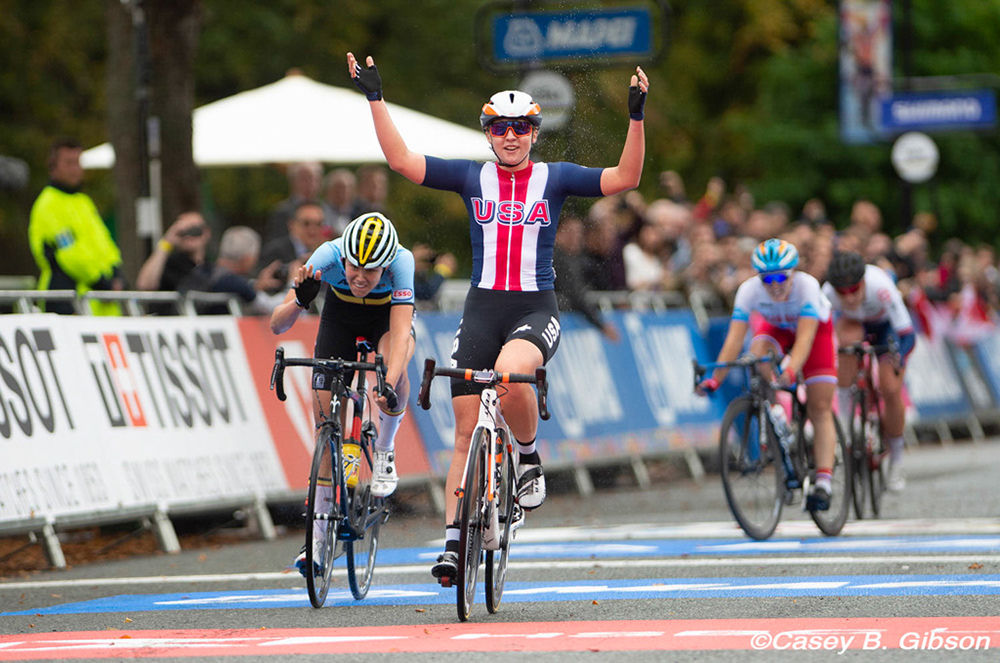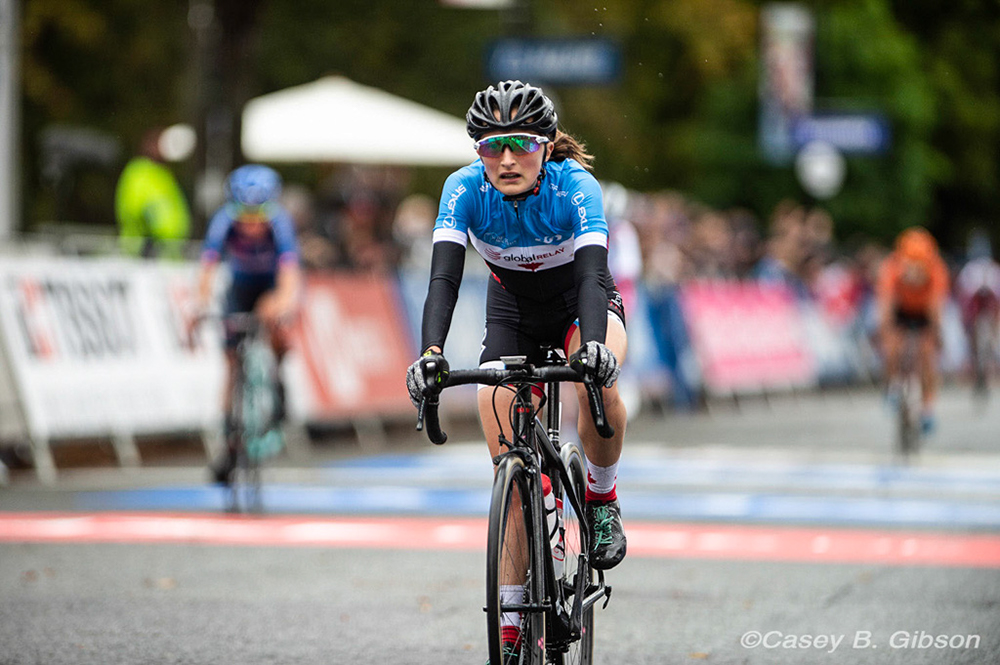 Magdeleine Vallieres Mill
"I am super happy with the race," said Vallieres Mill. "I didn't really know where I could finish toda, so I just focused on being in the front most of the time to not crash and be able to be there if something was getting away. In the last corner there was two girls with a small advance. I took the corner first and just gave everything until the line! I think the race was played by being well placed, since it was a flat course. There was so many crashes. And, sadly, my teammates crashed. They still fought hard and didn't gave up!"

The Junior women started in Doncaster, south of Harrogate, with flat terrain for the first 20 kilometres before the course hit the now familiar rolling climbs and descents, and narrow, twisting roads. Diana Bukanova (Kazakhstan) attacked only five kilometres into the race, and a series of crashes hindered the chase, allowing her to gain nearly a minute on the field before she was brought back with 50 kilometres remaining.

The more dangerous break went clear at 24 kilometres to go, containing Catalina Soto Campos (Chile) and Cedrine Kerbaol (France). Kerbaol was doing most of the work, and got frustrated trying to get the Chilean to contribute. The pair went nearly 30 seconds clear before the peloton began to reel them in, with Soto Campos attacking Kerbaol with six kilometres to go and staying clear until the final three kilometres.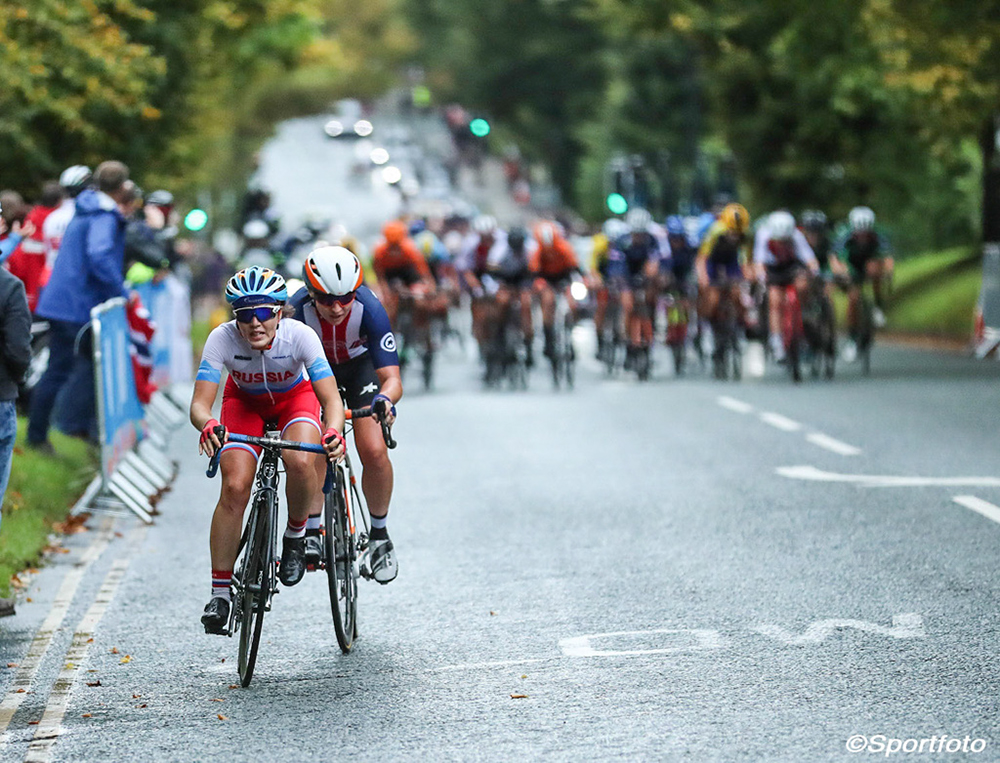 Aigul Gareeva attacks with Megan Jastrab
There was still a large group of nearly 50 riders at the front, so the new time trial champion, Aigul Gareeva (Russia), attacked, with only Jastrab able to follow. The pair couldn't get more than ten seconds, and on the final climb to the finish in the last 500 metres it looked like they would be caught, until a crash into the barriers by the leaders in the chase group slowed it down. Jastrab managed to hold on for the win, but Gareeva was swarmed at the line, finishing fourth behind Julie de Wilde (Belgium) and Lieke Nooijen (Netherlands).


Results
Junior Women, 86 km

1 Megan Jastrab (USA)
2:08:00
2 Julie De Wilde (Bel)
3 Lieke Nooijen (Ned)
4 Aigul Gareeva (Rus)
5 Elynor Backstedt (GBr)
all s.t.
6 Noemi Ruegg (Sui)
0:03
7 Kata Blanka Vas (Hun)
s.t.
8 Lea Curinier (Fra)
0:05
9 Silje Mathisen (Nor)
s.t.
10 Magdeleine Vallieres Mill (Can)
0:07
11 Camilla Alessio (Ita)
0:09
12 Anna Shackley (GBr)
s.t.
13 Silke Smulders (Ned)
0:11
14 Mariia Miliaeva (Rus)
0:14
15 Valeria Golayeva (Rus)
16 Noelle Buri (Sui)
both s.t.
17 Catalina Soto Campos (Chi)
0:18
18 Dominika Wlodarczyk (Pol)
19 Sofia Collinelli (Ita)
both s.t.
20 Eluned King (GBr)
0:21
21 Lina Svarinska (Lat)
s.t.
22 Sofiia Shevchenko (Ukr)
0:27
23 Matilde Vitillo (Ita)
0:30
24 Natalia Krzeslak (Pol)
0:33
25 Maeve Gallagher (Irl)
s.t.
26 Akvile Gedraityte (Ltu)
0:38
27 Iuliia Galimullina (Rus)
s.t.
28 Radka Paulechova (Svk)
0:43
29 Julia Borgstrom (Swe)
1:07
30 Nina Berton (Lux)
31 Ella Wyllie (NZl)
32 Ines Cantera Carrasco (Esp)
33 Amelia Sharpe (GBr)
34 Abi Smith (GBr)
all s.t.
35 Amaia Lartitegi Ormazabal (Esp)
1:12
36 Cedrine Kerbaol (Fra)
s.t.
37 Alessia Patuelli (Ita)
1:17
38 Stella Nightingale (NZl)
s.t.
39 Lara Gillespie (Irl)
1:18
40 Naia Amondarain Gaztanaga (Esp)
1:20
41 Gabrielle Lehnert (USA)
s.t.
42 Friederike Stern (Ger)
1:22
43 Kelsey Van Schoor (RSA)
1:27
44 Shirin Van Anrooij (Ned)
45 Amandine Fouquenet (Fra)
46 Ysoline Corbineau (Fra)
47 Elise Marie Olsen (Nor)
48 Maria Bertelsen (Den)
49 Anna Iwamoto (Jpn)
all s.t.
50 Ulyana Sukhorebrik (Kaz)
1:33
51 Glorija Van Mechelen (Bel)
s.t.
52 Nika Jancic (Slo)
1:35
53 Lucy Mayrhofer (Ger)
s.t.
54 Nikola Wielowska (Pol)
1:45
55 Mette Egtoft Jensen (Den)
1:47
56 Kristina Nenadovic (Fra)
1:54
57 Ana Ahacic (Slo)
2:00
58 Mille Troelsen (Den)
2:10
59 Nora Jencusova (Svk)
s.t.
60 Anna-Helene Zdun (Ger)
2:18
61 Diana Bukanova (Kaz)
2:28
62 Annika Liehner (Sui)
2:36
63 Yareli Acevedo Mendoza (Mex)
2:51
64 Wilma Olausson (Swe)
3:05
65 Jade Lenaers (Bel)
3:26
66 Veronika Jandova (Cze)
4:04
67 Kristyna Burlova (Cze)
s.t.
68 Carolina Vargas Atehortua (Col)
4:06
69 Victoria Velasco Fuentes (Mex)
s.t.
70 Daniela Soler Espinosa (Col)
4:09
71 Anne Dorthe Ysland (Nor)
s.t.
72 Karolina Stepien (Pol)
4:20
73 Ava Sykes (USA)
4:43
74 Julia Leite Braga (Bra)
4:52
75 Melissa Rouiller (Sui)
5:06
76 Frances Janse Van Rensburg (RSA)
s.t.
77 Dorka Jordan (Hun)
6:14
78 Femke Gerritse (Ned)
7:11
79 Paula Leonhardt (Ger)
80 Ilse Pluimers (Ned)
81 Zoe Ta-Perez (USA)
82 Dina Scavone (Bel)
all s.t.
83 Daniela Campos (Por)
13:21
84 Laury Milette (Can)
13:26
85 Camille Primeau (Can)
13:46
86 Lucy O'donnell (Irl)
s.t.
87 Katia Elizabeth Martinez Minarro (Mex)
13:49
88 Simona Zahorcova (Svk)
13:52
89 Metka Mikuz (Slo)
14:06
90 Anastassiya Lynnik (Kaz)
24:20
91 Tjasa Susnik (Slo)
25:13
DNF Natalie Irene Midtsveen (Nor)
DNF Irati Puigdefabregas Ariz (Esp)
DNF Adele Desgagnes (Can)
DSQ Katie Clouse (USA)
---
Related Photo Galleries
---