October 3/19 7:07 am - Road Worlds Summary with Team Manager Kevin Field

Posted by Editoress on 10/3/19

Kevin Field, Head of Performance Strategy at Cycling Canada, spoke with us at the conclusion of the Road World Championships to discuss Canada's results at the Championships and the conclusion of the 2019 road season.

Canadian Cyclist: From your perspective, how do you feel Canada did as these Worlds?

Kevin Field: We definitely weren't as good as last year [two bronze medals], however, there are lots of positive things to see in the performances from all the athletes. For the Junior and U23 categories I'm not as concerned with the actual outcomes and results. I'm more concerned with developing the athletes and seeing how they take this experience and move forward. From that perspective, there was some really good stuff that we saw.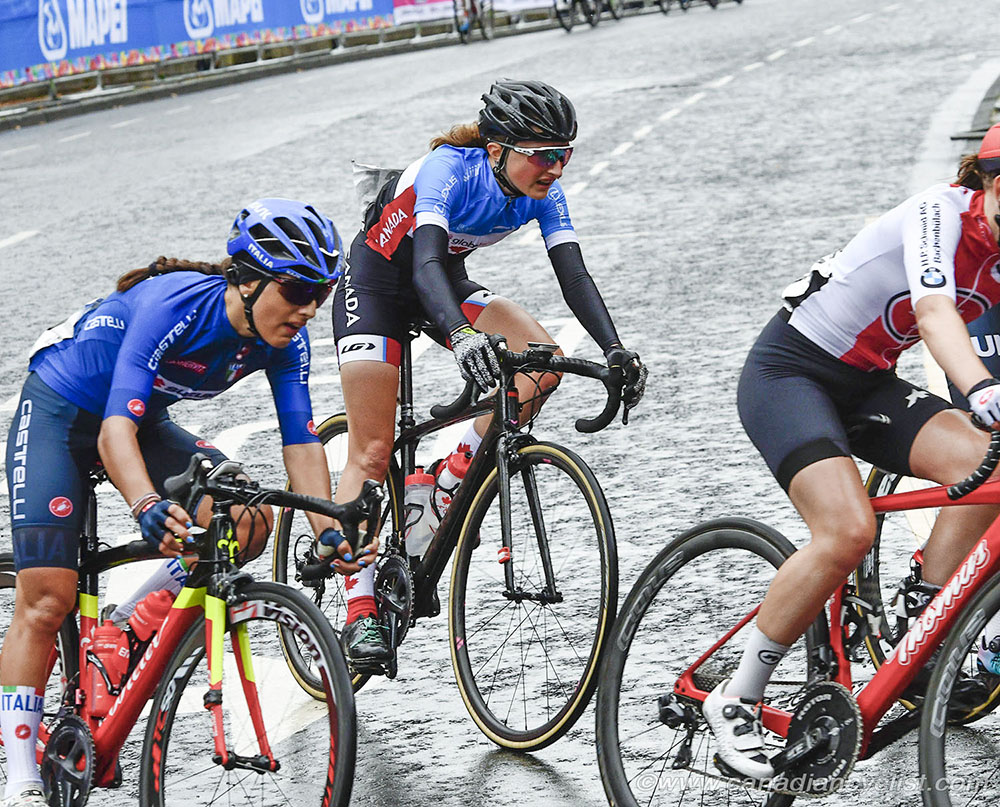 Magdeleine Vallieres Mill
In the Elite categories, that's we are more looking for the actual performances. In the Elite categories, coming in, we knew we had suffered some pretty significant injuries with some key athletes [ Leah Kirchmann, Guillaume Boivin], so we didn't have the strength inside the entire team that we were looking for, for these world championships.

In the Elite women's race, I was extremely thrilled with the cohesion and team work, and how the team came together; the cumulative effect of all the work we have been doing over the last three years with [coach] Zach [Bell] and the athletes themselves. It was really, really positive, and Karol-Ann [Canuel] in the time trial [12th] is right in the range of where we expect her to be. It would have been awesome if she was a few places further up, but she's right where we expect her to be.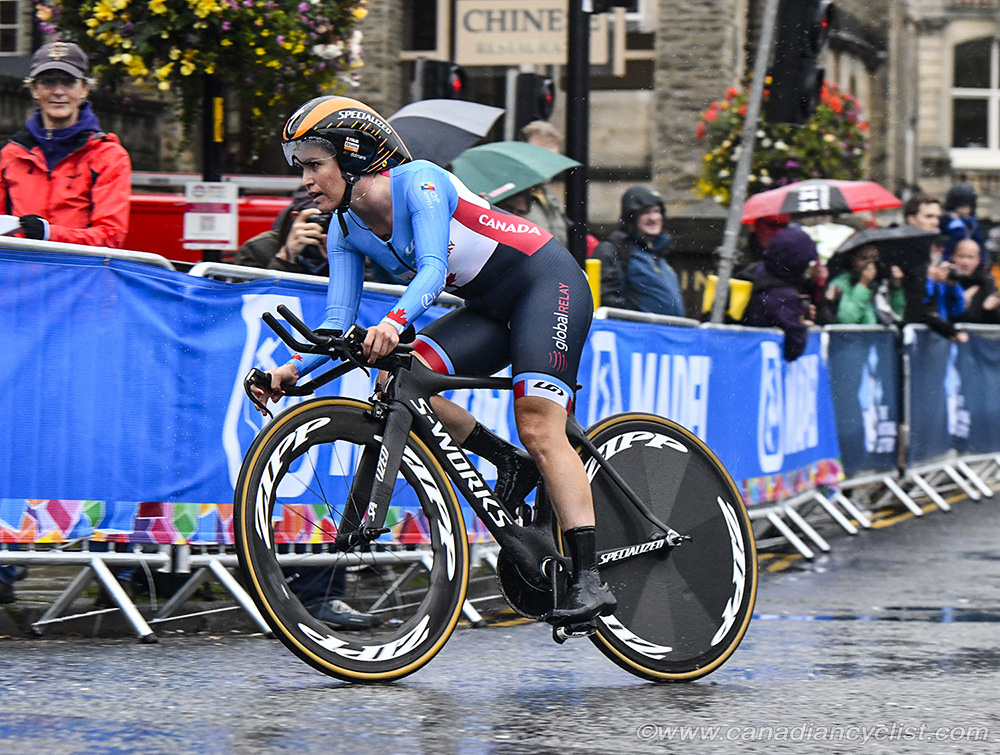 Karol-Ann Canuel
For sure, there were some weather impacts across the Elite races; especially the [Elite men's] road race today. The weather conditions made it an extremely volatile situation - when you have ten degrees [Celcius] and persistent rain with the wind we had, that creates an effect where the temperature that the athletes felt was in the 5-7 degree range, and with all the rain it was prime conditions for hypothermia to happen. And it happened.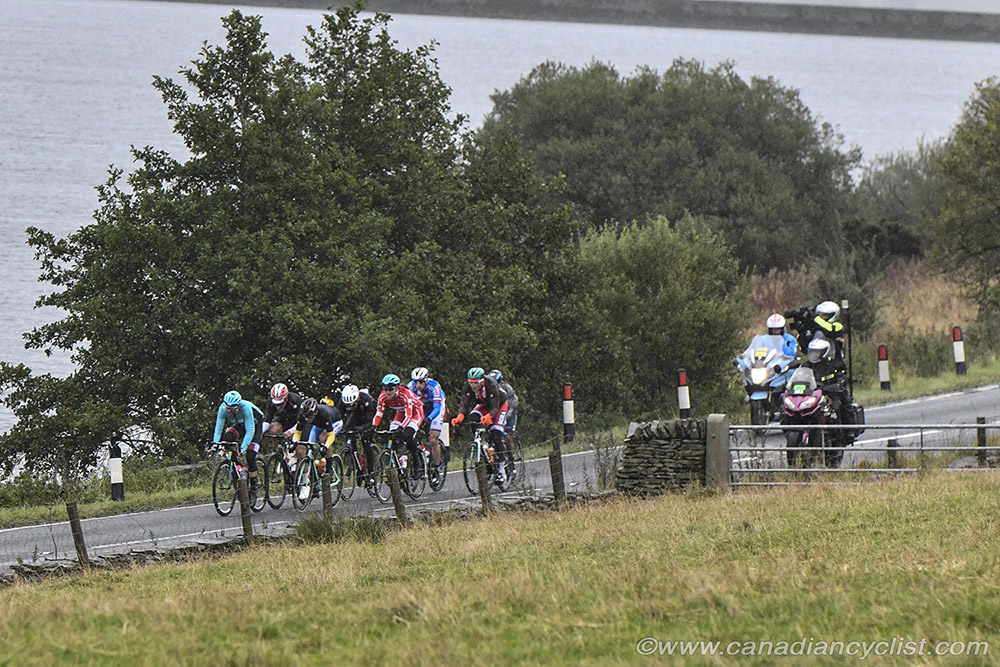 Hugo Houle (light blue) in the early break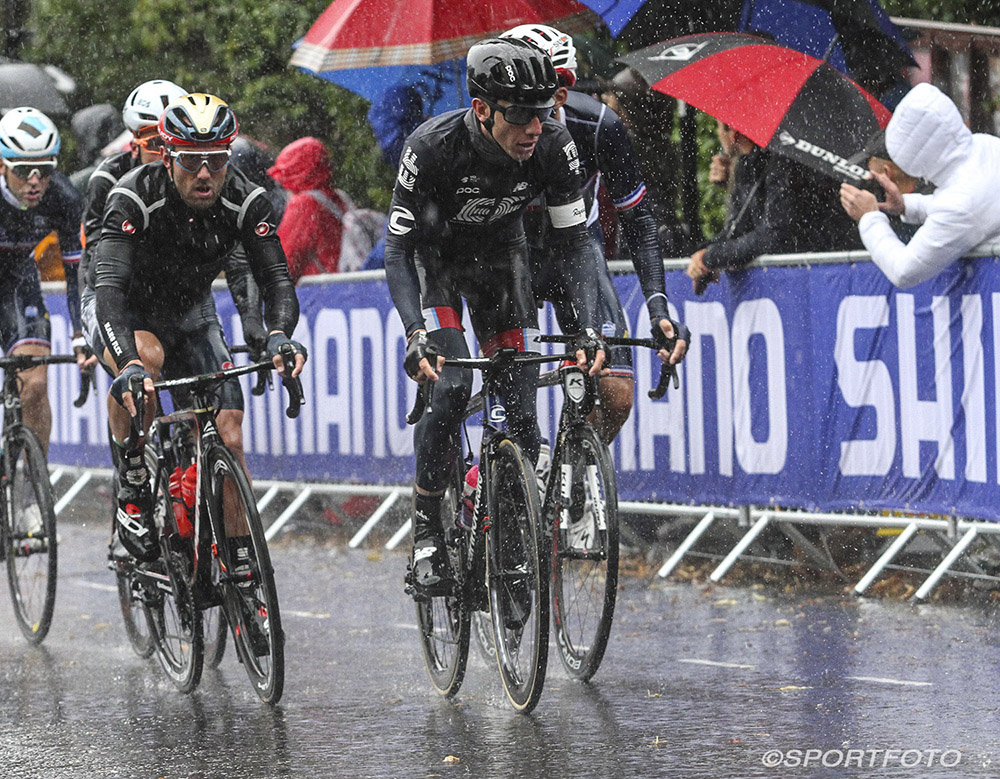 Mike Woods
With Guillaume, the impact of the injuries he had in Quebec City a couple of weeks ago ... we had our fingers crossed that he was going to be able to recover a bit more quickly than he actually did. Guillaume is the sort of robust athlete that you could expect to be performing well in a race like today, especially with the course changes [cutting out two major climbs], but he was still suffering from those injuries; he needs more time to recover.

Antoine [Duchesne], James [Piccoli], Ben [Perry] - they had a very specific role to position the other three guys to do what they had to do. I think Hugo [Houle] did an amazing job of seeing a situation that was developing on the road and pivoting ... that was an amazingly big move, with three Grand Tour winners. That was a big, big move that Hugo got into today and it was important for us to have that marked with a guy of the calibre of Hugo.

In the end, we just suffered from those volatile weather conditions. For a guy like Mike [Woods], those course changes tipped the scales to not be as much in his favour as we initially expected ... we saw this as an Ardennes crossover course, and the course changes took that away from what we were hoping for. But also for Mike, with his body type and weight, he was super susceptible to those weather conditions.

You can plan for that, in terms of using liniments and oils, and all kinds of things to try and insulate and protect the athlete ... the nutrition plan and the feeding ... everything we needed to do was in place, but it was just a really, really sh--ty day. The weather never let up ... on the drive back after the race, the sun cracked through a bit and the temperature went up; if only that had happened at two o'clock in the afternoon!

I don't think what we saw today was representative of the athletic ability or calibre of our athletes - across the board, you saw guys succumbing to hypothermia. That's about it.
---
Related Photo Galleries
---