February 26/20 9:54 am - Canada Qualifies Third at Worlds in Women's Team Pursuit

Posted by Editoress on 02/26/20

The Canadian women's squad had a strong start to the Track World Championships on Wednesday, in Berlin, Germany, posting the third fastest time in Team Pursuit qualifying and smashing the existing Canadian record, with a time of four minutes and 12.728 seconds. Canada will race Great Britain in the next round on Thursday, with the winner moving on to the gold medal final.

The Canadian squad consisted of Allison Beveridge, Jasmin Duehring, Annie Foreman-Mackey and Georgia Simmerling. The team spent two months in New Zealand preparing for the Championships.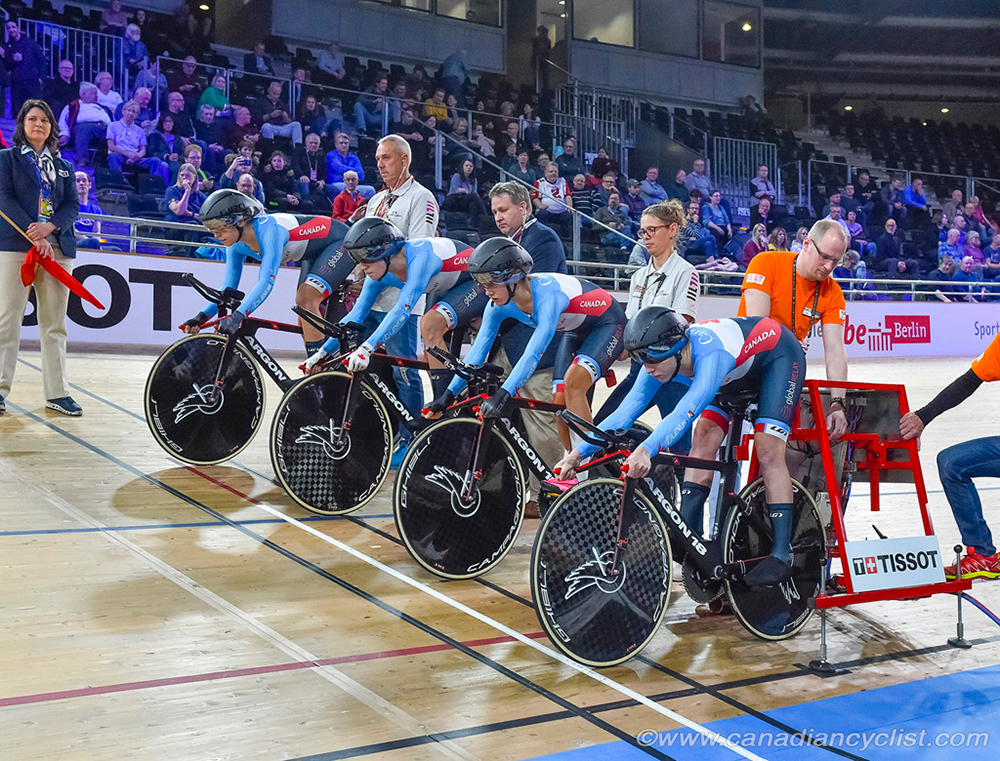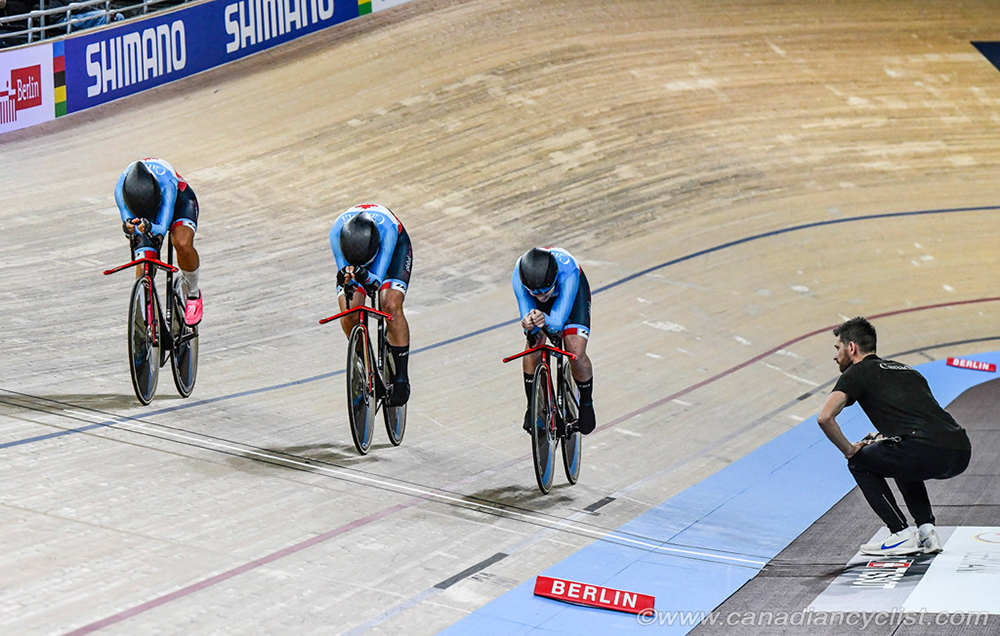 "It was a very pleasing ride," said Matt Shallcross, women's endurance coach. " We've made some pretty big steps from the World Cup season, and this shows that our hard work over the New Zealand summer paid off. I'm thrilled with the position we are in, and confident we can go faster."

"GB [Great Britain] is just nine-tenths [ahead], so if we just clean up our ride, ride with confidence and believe in what we can do, then I think it's going to be a tight match that we can challenge for."

"We had a pretty disappointing World Cup season; our times were pretty slow. So we really looked at things and changed our strategy. We added a lot more power work and big gear work. A lot of the work down there was on the road, pushing the limits."

Our goal is to go to the Olympics and ride for the top spot, so to battle them here, give them a run for their money and hopefully beat them is going to help our confidence. We are excited about the opportunity, we are not afraid of who they are, and we going to go out there and ride and do the maple leaf proud."
Women's Team Pursuit

Qualifying
1 United States (Jennifer Valente/Chloe Dygert/Emma White/Lily Williams)
4:11.229
2 Great Britain (Elinor Barker/Katie Archibald/Eleanor Dickinson/Neah Evans)
4:11.871
3 Canada (Allison Beveridge/Jasmin Duehring/Annie Foreman-Mackey/
Georgia Simmerling)
4:12.728
4 New Zealand (Holly Edmondston/Bryony Botha/Rushlee Buchanan/Jaime Nielsen)
4:14.383
5 Australia (Georgia Baker/Ashlee Ankudinoff/Annette Edmondson/Maeve Plouffe)
4:14.934
6 Italy (Letizia Paternoster/Martina Alzini/Elisa Balsamo/Vittoria Guazzini)
4:15.255
7 Germany (Franziska Brausse/Lisa Brennauer/Lisa Klein/Gudrun Stock)
4:15.477
8 Ireland (Alice Sharpe/Lara Gillespie/Mia Griffin/Kelly Murphy)
4:21.368
9 France (Clara Copponi/Coralie Demay/Valentine Fortin/Marie le Net)
4:21.417
10 Belgium (Jolien D'hoore/Lotte Kopecky/Shari Bossuyt/Gilke Croket)
4:21.700
11 Poland (Daria Pikulik/Katarzyna Pawlowska/Lucja Pietrzak/Nikol Plosaj)
4:26.380
12 Belarus (Palina Pivavarava/Aksana Salauyeva/Ina Savenka/
Karalina Savenka)
4:33.223
The eight teams recording the best times in the Qualifying Round
will be matched in the First Round as follows:
The 6th fastest team against the 7th fastest team.
The 5th fastest team against the 8th fastest team.
The 2nd fastest team against the 3rd fastest team.
The fastest team against the 4th fastest team.
---
Related Photo Galleries
---