February 26/20 16:19 pm - Canada Fifth in Women's Team Sprint

Posted by Editoress on 02/26/20

In only their third international competition for this event, Canada's Kelsey Mitchell and Lauriane Genest finished fifth overall in the Team Sprint at the Track World Championships in Berlin, Germany, on Wednesday.

Genest and Mitchell qualified fourth with a time of 32.829 seconds, to go into the next round matched with Germany, the eventual gold medalists. While they improved their time to 32.473 seconds, it wasn't quite enough to make the medal rounds - 0.058 of a second out of the bronze medal race.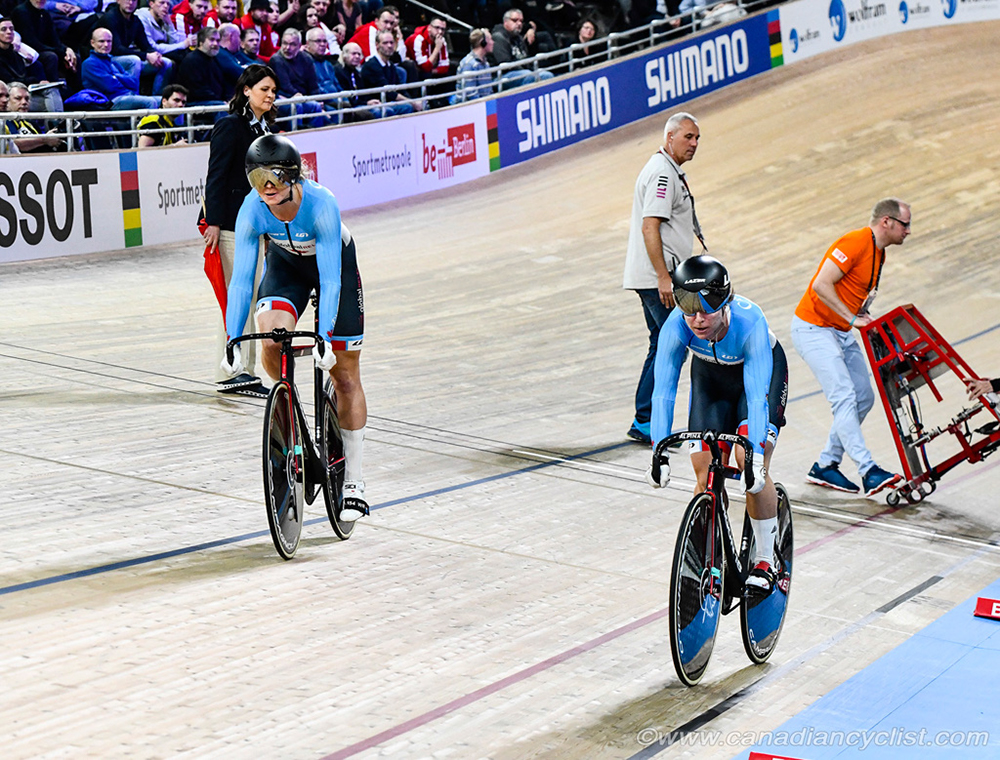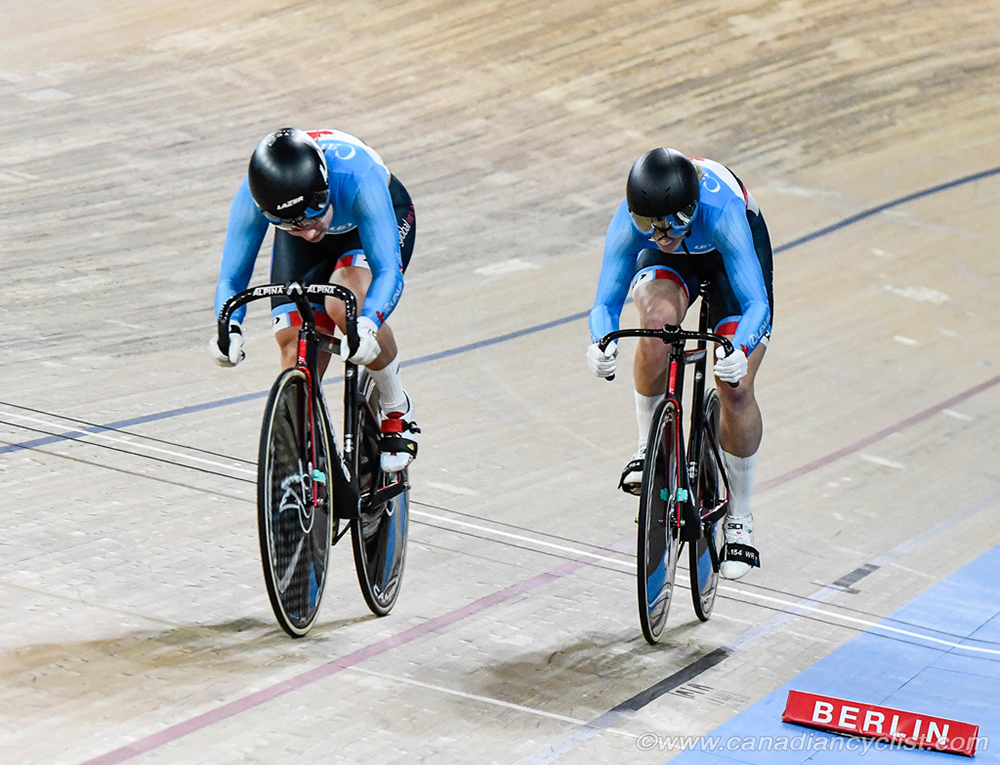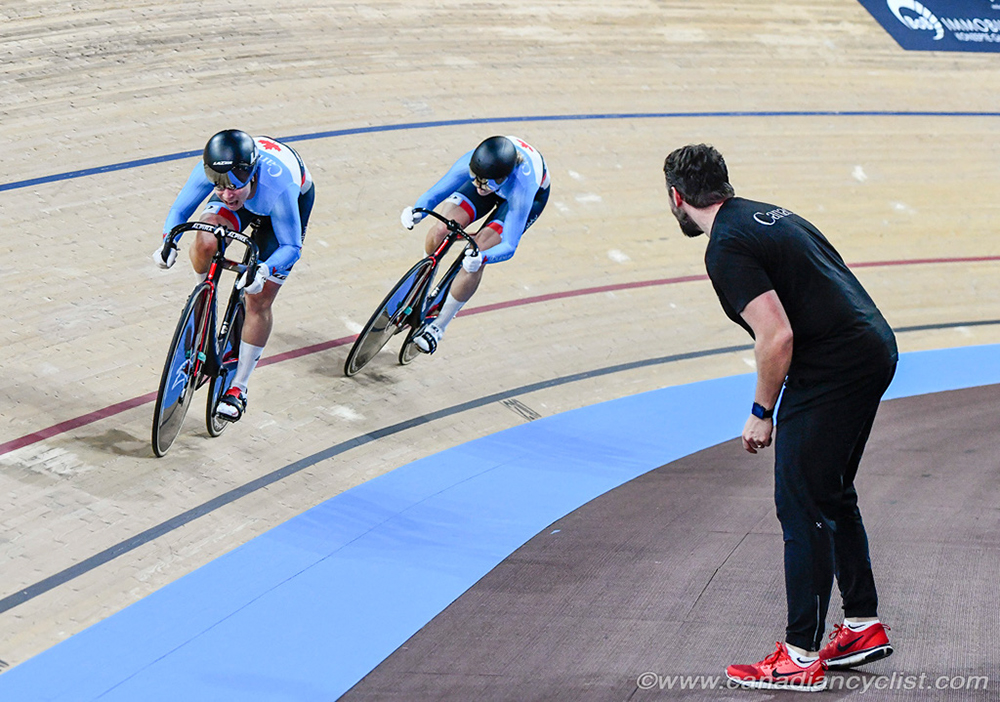 "We're really happy and proud of our team," said Genest. "It was a great ride, the second one was even better. We were actually aiming for fifth, so we're happy to make it. It's exciting for the future, because every time we do it we keep improving."

"We did some math before," explained Mitchell, "and we figured that if we rode our best and did what we think we could, that we could walk away with fifth, and that's exactly what we did. It was a big PB [Personal Best] for us. We didn't know what we could do, so looking up and seeing 32-something was exciting."


Results
Women's Team Sprint

Qualifying
1 Russian Federation (Daria Shmeleva/Anastasiia Voinova)
32.461
2 China (Feifei Chen/Tianshi Zhong)
32.580
3 Australia (Kaarle Mcculloch/Stephanie Morton)
32.696
4 Canada (Lauriane Genest/Kelsey Mitchell)
32.829
5 Germany (Pauline Sophie Grabosch/Emma Hinze)
32.840
6 Mexico (Jessica Salazar Valles/Luz Daniela Gaxiola Gonzalez)
32.923
7 Netherlands (Kyra Lamberink/Steffie van der Peet)
32.929
8 Poland (Marlena Karwacka/Urszula Los)
32.953
9 Lithuania (Migle Marozaite/Simona Krupeckaite)
33.06
10 New Zealand (Olivia Podmore/Natasha Hansen)
33.184
11 Spain (Tania Calvo Barbero/Helena Casas Roige)
33.816
12 Colombia (Juliana Gaviria Rendon/Martha Bayona Pineda)
33.826
13 Republic of Korea (Soohyun Kim/Hyejin Lee)
34.171
14 Ukraine (Olena Starikova/Liubov Basova)
34.213
15 Italy (Miriam Vece/Elena Bissolati)
34.914
Fastest 8 teams qualify for the first round.
First Round
Heat 1
1 Germany (Pauline Sophie Grabosch/Emma Hinze)
32.265 QG
2 Canada (Lauriane Genest/Kelsey Mitchell)
32.473
Heat 2
1 Australia (Kaarle Mcculloch/Stephanie Morton)
32.353 QG
2 Mexico (Jessica Salazar Valles/Luz Daniela Gaxiola Gonzalez)
32.881
Heat 3
1 China (Feifei Chen/Tianshi Zhong)
32.403 QB
2 Netherlands (Kyra Lamberink/Steffie van der Peet)
32.833
Heat 4
1 Russian Federation (Daria Shmeleva/Anastasiia Voinova)
32.415 QB
2 Poland (Marlena Karwacka/Urszula Los)
32.838
The fastest two winning teams race for the gold
the other two winning teams race for the bronze medal.
Losers are classified from 5th to 8th place by their times in the First Round.
Final
For Gold
1 Germany (Pauline Sophie Grabosch/Emma Hinze)
32.163
2 Australia (Kaarle Mcculloch/Stephanie Morton)
32.384
For Bronze
3 China (Feifei Chen/Tianshi Zhong)
32.371
4 Russian Federation (Daria Shmeleva/Anastasiia Voinova)
32.466
---
Related Photo Galleries
---