February 27/20 15:55 pm - Highs and Lows For Team Canada on Day 2 of Track Worlds

Posted by Editoress on 02/27/20

Canada's team pursuit women suffered highs and lows on Thursday evening at the Track World Championships in Berlin, Germany, qualifying for the medal round but finishing fourth. In the women's sprint competition, Kelsey Mitchell has qualified for the semi-finals on Friday, and is guaranteed to ride for a medal.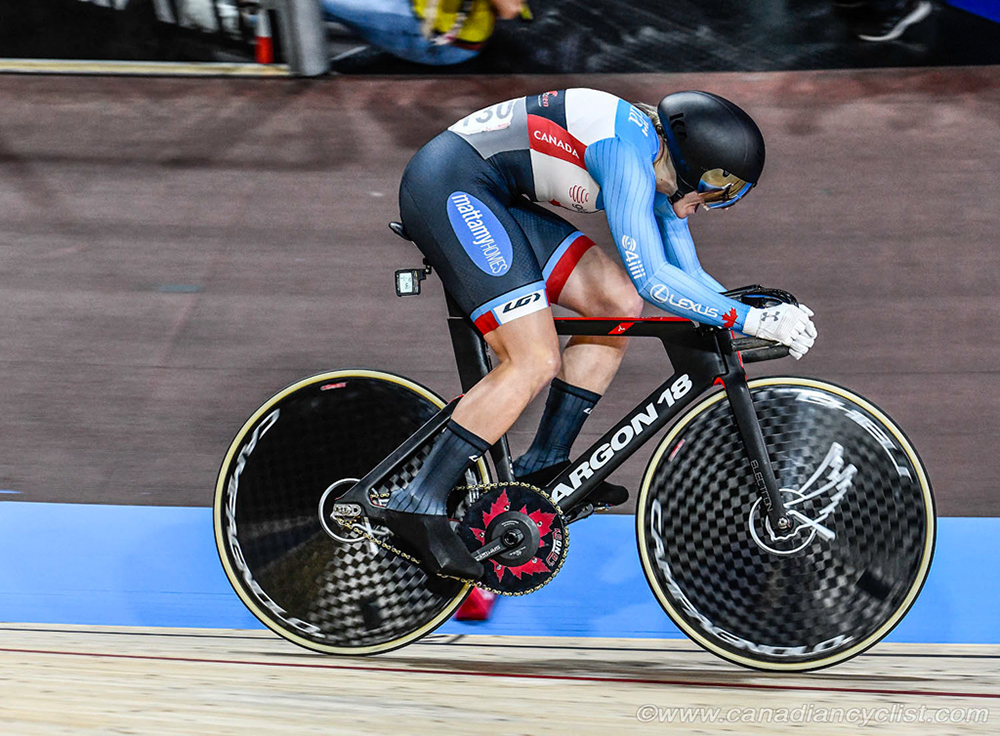 Kelsey Mitchell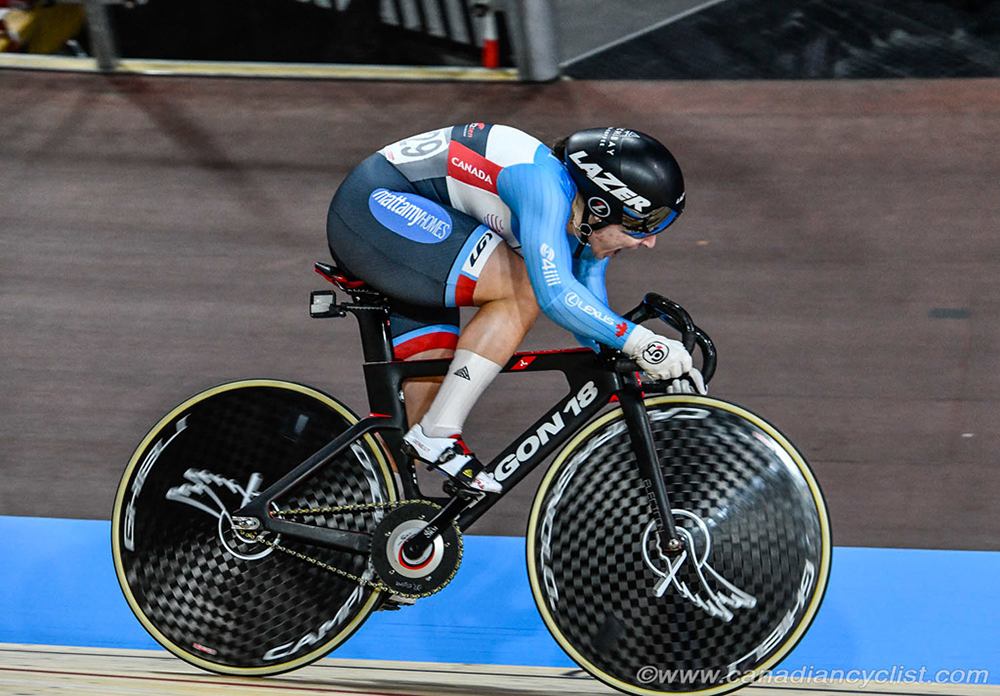 Lauriane Genest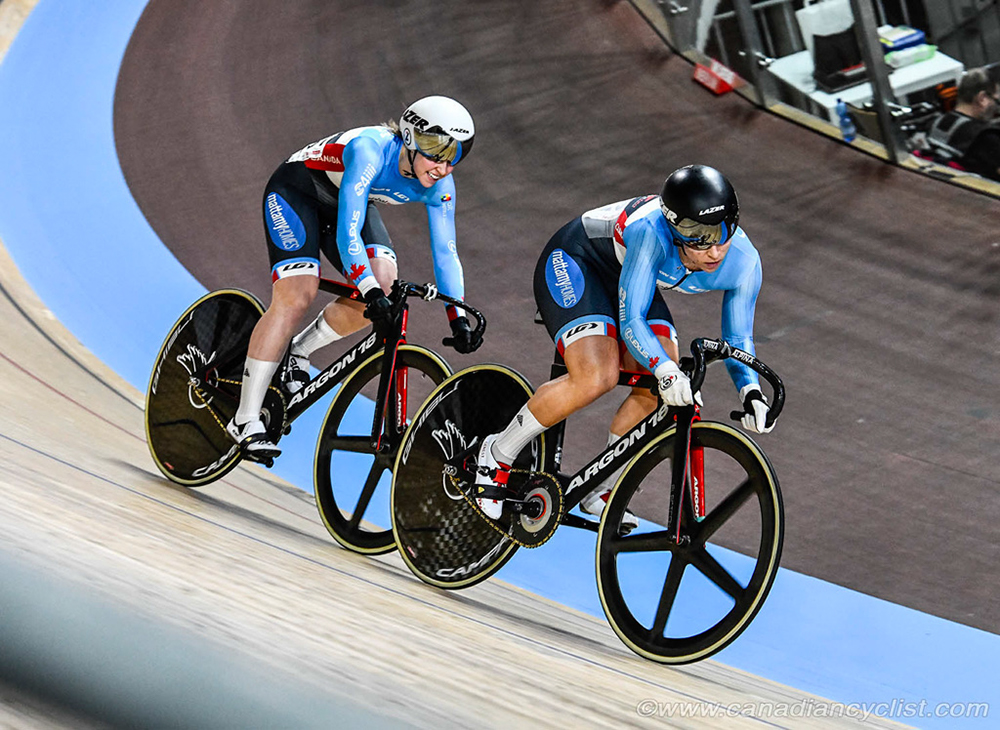 Lauriane Genest vs Sarah Orban in 1/16 Final
Sprint Photos (Qualifying & early finals)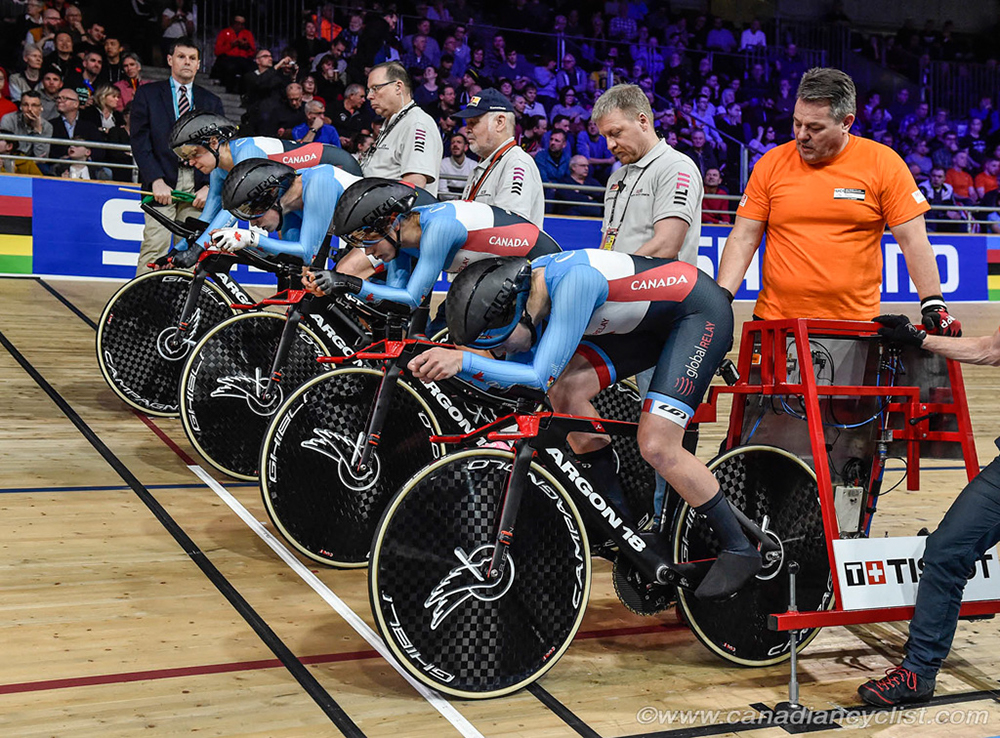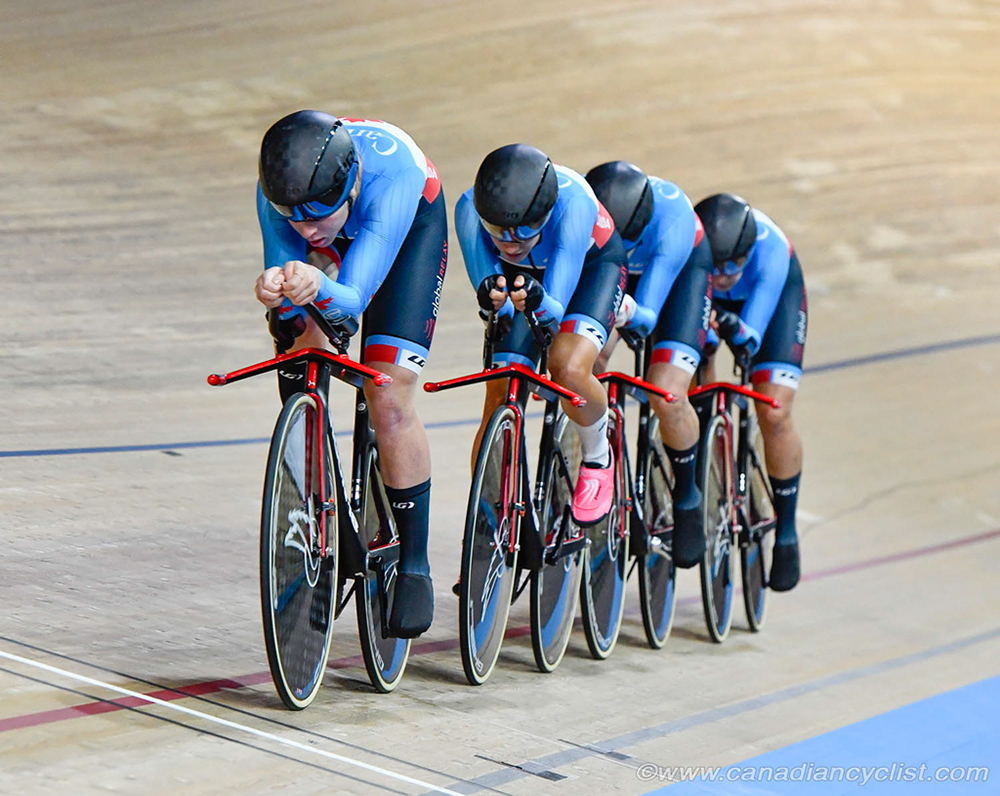 After breaking the national record for the second consecutive day with a time of 4:12.627 to qualify for the bronze medal race against Germany, Canada went out aggressively in the first 1000 metre, opening a lead of over a second. The team of Allison Beveridge, Jasmin Duehring, Annie Foreman-Mackey and Georgia Simmerling were still leading by three-quarters of a second with a kilometre to go, but came apart in the final two laps.

"I think we can definitely take some positives from the past two days," said Foreman-Mackey. "In terms of breaking the Canadian record it shows that we have taken steps since the World Cups in December, so we are going to use that as motivation. Unfortunately, the [bronze medal] final was obviously very disappointing, and we're going to have to look into ourselves and figure out how to change that. It was a good ride up until about 3K and then it started to unravel with some technical errors. It's hard because we are physically very capable and the technical errors really put a damper in it."

Matt Shallcross, the national coach, agreed, "it was definitely a world championships of ups and downs. We came in with the goal of riding 4:12 and we ticked that off twice to step through to the Final, where we thought we could deliver a quicker time. Unfortunately, we didn't deliver technically and got caught out by a well drilled German team to take fourth on the chin. We were messy on the wheels; not efficient when the girls had done their pulls on the front. You want to recover the best you can, and the lines and decisions made didn't allow for that. But we are still optimistic; the time and fourth put a dampener on it, but if we look at the positives - in an eight week block we took five seconds off our time from December and we are now a world class team. We need to work to come back stronger."

In the sprint, Canada had three entrants - Sarah Orban, Lauriane Genest and Mitchell - and all three qualified for the match sprinting, with Genest finishing sixth, Mitchell seventh and Orban the final qualifier in 28th. Orban, did not make it past the first round, while Genest went down in the next round. However, Mitchell won both her opening rounds and then went to a best-out-three quarter-final against Germany's Lea Sophie Friedrich, the second fastest qualifier. Mitchell won in two straight rides, taking the first from the front and coming from behind in the second. She will race Anastasiia Voinova (Russia) in the best-of-three semi-finals on Friday, with the winner going to the gold medal final and the loser to the bronze.

"I'm really excited to make it to the semis," said Mitchell. "I raced Voinova before and lost, but took her to three matches, so I know if I race it right I can beat her. Today, I wasn't really happy about my 200m time when I saw everyone else's time, but I went out there and raced each race like it was my last, and I was thrilled to get through the quarter finals in two heats."

Orban, the newest member of the sprint program, said "Overall, it's been a really good experience so far. This competition is world class and I am grateful for the opportunity to get to race at this level so early in my career. I was expecting to qualify in the sprint, but my 200m time trial wasn't where I wanted it to be. I am looking forward to shaking off the nerves and having a better outcome in the 500m time trial."
Photos
WTP Final

Women Sprint 1

Women Sprint Quarter Final
Track World Championships: Day 2 results
Day 1
Canada Fifth in Women's Team Sprint
Denmark Sets World Record in Men's Team Pursuit
Canada Qualifies Third at Worlds in Women's Team Pursuit
---
Related Photo Galleries
---