April 26/20 12:50 pm - Race Revisit - 2012 Houffalize MTB World Cup with Catharine Pendrel

Posted by Editoress on 04/26/20

Today is the latest in our series - Race Revisit - where we return to a past event that took place on (or around) this date. As well as a recap of the event and links to our original coverage - race reports, results, photos and video interviews - we will also be trying to include comments and in-depth commentary from some of the Canadian athletes who were there.

Today, we are going back to April 15, 2012, and Mountain Bike World Cup in Houffalize, Belgium, where Canada's Catharine Pendrel won the elite women's race. This was the second round of the 2012 World Cup, taking placing in a small town along the route of the Liege-Bastogne-Liege road classic. Houffalize is nestled in a valley, and is considered one of the classic venues of the World Cup. While the finish had been moved out of the town square used in previous years, it still took riders on a loop through the forests surrounding the town, as well as local streets and parks. Thousands came out to watch, cheer, and eat waffles and frites.

The Junior and Under-23 races included names that are well known now - in the Juniors Jenny Rissveds and Victor Koretzky, and in Under-23s, Jolanda Neff as a first year, Yana Belomoina, Gerhard Kerschbaumer and Ondrej Cink.

Pendrel was racing in rainbow stripes, after winning the world title the previous Fall. She had started the season with a third place in the opening round of the World Cup, in Pietermaritzburg, South Africa. This was also an Olympic year, with many riders still looking to qualify for the London Games, so competition was fierce.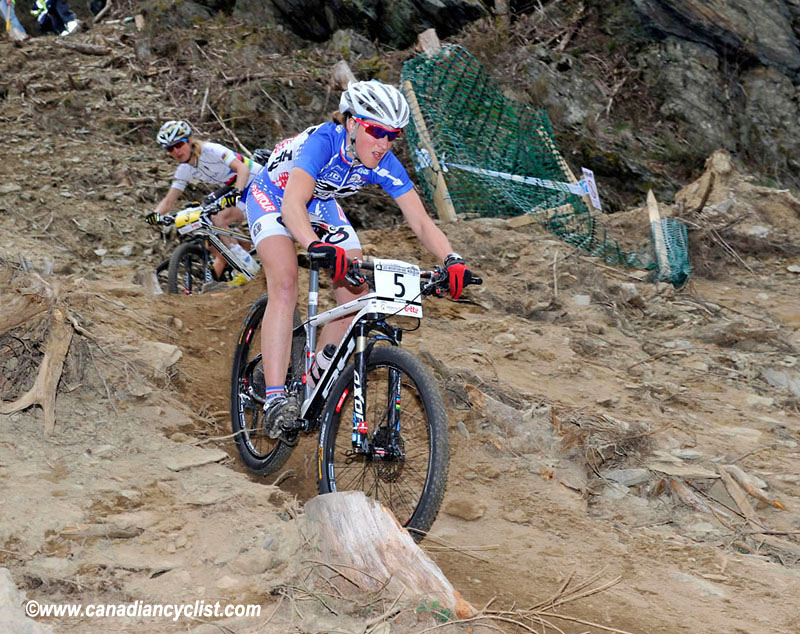 Julie Bresset leading Pendrel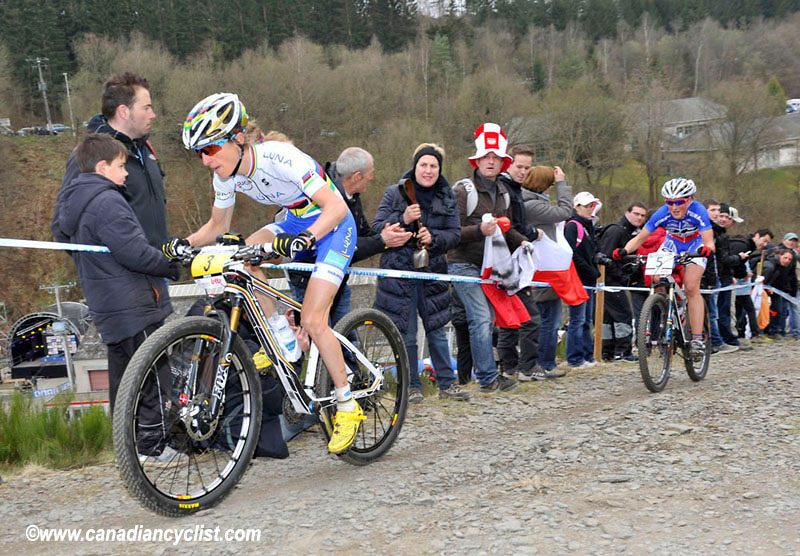 Pendrel leading Bresset
French rider Julie Bresset took the lead on the start loop with Canada's Emily Batty and Annie Last, but Pendrel quickly bridged up to join them. Partway through the first lap, Bresset had taken an 11 second lead over Pendrel, but the Canadian rejoined her on the second lap, and then attacked on the third lap to open a small gap [Note: Catharie says below that it was the final lap, but our lap-by-lap coverage says it was on the third lap]. Heading out on the fourth lap Pendrel's lead was 16 seconds over Bresset, with Round 1 winner Maja Wloszczowska up to third. Pendrel extended the lead on the fourth lap to 36 seconds and was up to 55 seconds on the final lap before cruising across the finish line 48 seconds ahead of Bresset, with Wloszczowska just holding off Pauline Ferrand Prevot to take third. Emily Batty finished seventh, Marie-Helene Premont was 14th, Amanda Sin 40th, Mikaela Kofman 55th and Catherine Vipond 59th. Pendrel's win, combined with Wloszczowska's third, put the Canadian into the World Cup leader's jersey, which she would keep for the rest of the season.

In the men's race, Julien Absalon took his third Houffalize win, but Nino Schurter finished only 38 seconds back, with Marco Fontana third. Geoff Kabush was the top Canadian finisher, in 11th place.

Live Updates

Results

Race coverage (almost two hours)
Catharine spoke with us from Kamloops, BC, where she lives with her husband Keith.

I started out by pointing out that this was the first of her four World Cups wins for the season, including Mont-Ste-Anne, as well as winning the World Cup title. Unfortunately, the season was marred by a disappointing ninth at the Olympics later in the summer.

I think it was probably a bit too good of a start to the season, to be honest. It was such an exciting race. Julie [Bresset] and I were hammering each other the entire race and on the last lap I was, like, 'Okay, I have to race this like it's the first lap'. I just attacked everything. Houffalize is such a cool race to win. I think, at that time, Houffalize was one of the most respected places to win. I'd been second there before, and come so close. It's a huge accomplishment to pull off a win there, so I was super excited.

But, it was also probably the part of the season where 2012 went wrong for me because we went from the race, and then I had to do anti-doping, and then I had drive with the national team in a couple of hours to catch a flight so that we could go and ride the London Olympic course for training. So, it was ... win a World Cup, super scramble to get in a car then get on a plane, try and do as many laps as we could in England, and then go to Sea Otter. So, I don't know if I ever really recovered from that.

By the time she got to London for the Games. I was definitely struggling, and I knew my top form wasn't there anymore. But I think also for that Olympics more than any other Olympics, I was really feeling the pressure to perform, and the importance of winning a medal. I don't think that helped. I think that if I had had Houffalize form in London it would have been a different story.

2011 and 2012 were pretty high performing years for me, and for Houffalize you probably had to be the fittest rider in the world, and for Ste-Anne you had to be incredibly fit and technically skilled, so they are both races that riders covet. My 2012 year is overshadowed by a bad Olympics, but when you take away that one race, it was a pretty darned good season! But, it's easy to not see that when you are devastated by the Olympics.

Winning at Houffalize, I think was one of the ones I was challenged the most to win [Catharine has 12 World Cup wins], and I had to draw the most out of myself to win. Every battle I had with Julie Bresset, when we were both gunning for it, I had to find so much in myself ... technically, mentally, physically. I really credit Julie with helping me have as good a season as I did, because I had to work so hard and think so hard about what I could do to get an edge.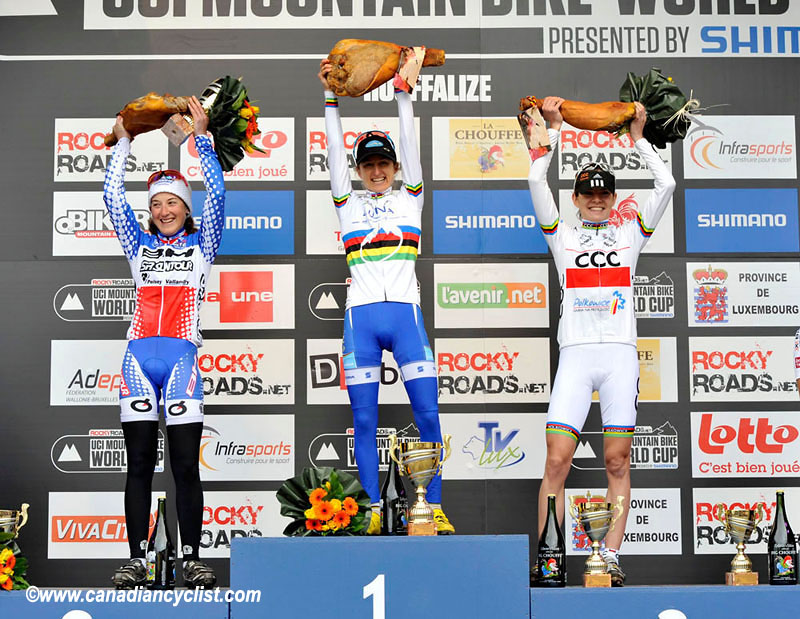 ---
Related Photo Galleries
---