July 29/20 7:14 am - Race Revisit - MTB Nationals with Catharine Pendrel

Posted by Editoress on 07/29/20

Today is the latest in our series - Race Revisit - where we return to a past event that took place on (or around) this date. As well as a recap of the event and links to our original coverage - race reports, results, photos and video interviews - we will also be including comments and in-depth commentary from some of the Canadian athletes who were there.

Traditionally, the Mountain Bike National Championships have taken place around the middle of July, so we are going to look at some of those over the next few days. To be a national champion in cycling is rather unique in the sports world, because it gets recognized every time a rider races over the next 12 months. Everywhere a rider competes in the world they have the right to wear the maple leaf identifying them as the Canadian champion, and race organizers usually recognize national champions in the call up to the start line. If the rider is on a pro team, their team usually has a special design ready to go quickly.

We began our Cross-country Mountain Bike Nationals coverage with Raphael Gagne, who won the 2015 Elite men's title, and we continue today with Catharine Pendrel, who has won the women's title six times (tied with Marie-Hélène Premont); in 2009-2012, 2014 and 2015.

2009
Interview
Report
Results
Photo Gallery

2010
Interview
Report
Results

2011
Interview
Report
Results

2012
Interview
Report
Results

2014
Report
Results

2015
Results
Photos

Catharine spoke to us from her home in Kamloops, B.C.

Catharine has been world champion, World Cup champion, Olympic bronze medalist, and many other awards, so I asked her what does it mean to win a national title compared to those international honours?

Nationals is something that, regardless of the level you achieve, you always want to be the top in your nation, and Nationals has a special meaning. It's a time that you are around all the up and coming racers and I think it holds a lot of value. It's an event that you want to bring a little extra to. That being said, I've had to sit out two Nationals because of injury [2013 and 2018], and in 2016 I chose to sit it out because of the Olympics ... and it's definitely hard missing it, but 2016 was my third Olympics and I had noticed that some of my competitors were picking and choosing their races in an Olympic year, so in that circumstance it was an event I was willing to miss for the chance to have a really great Olympics. But, typically, you want to be at Nationals and you want to bring the best that you can.

I also asked if there were any Nationals in particular that stand out?

For sure, the first one that I won in 2009. Canada has always been so strong in women's mountain bike, so you are never sure you can do it, because every course and every day everyone can bring the best out of themselves on that day. Typically, I think you either have a better day then you expect or a worse one, because you have so much expectations on you. So, the first one was really special.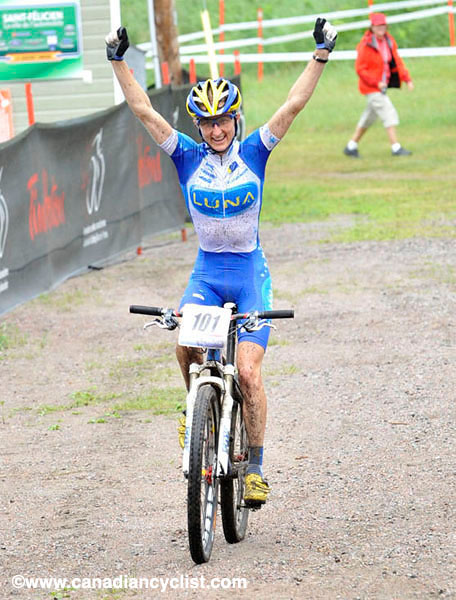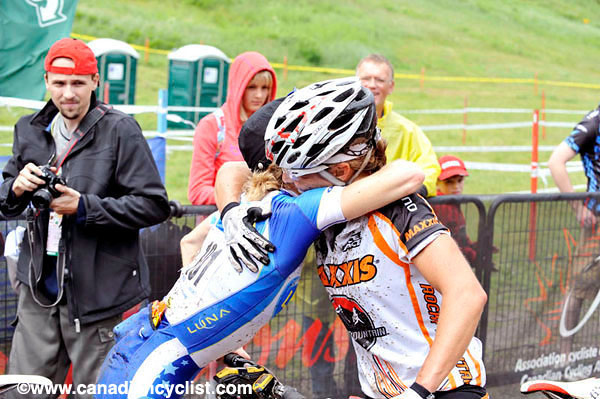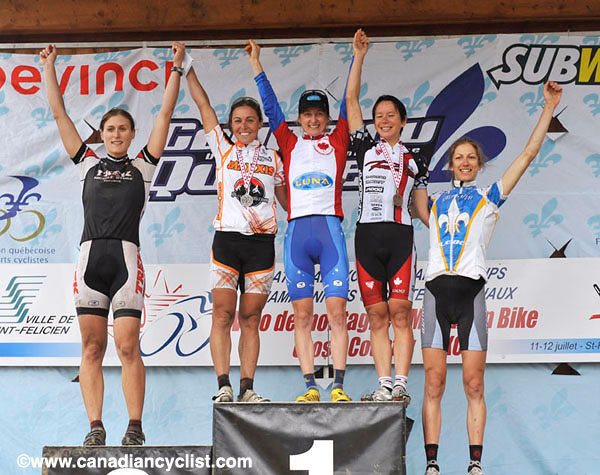 First National Championships win
Another one that stands out is 2015, because Emily [Batty] and I had a super intense battle for the Pan Am [Games] title the weekend before, and she had gotten it. So I was really determined to give it everything that I could. So, those are the two that stand out to me the most.

What about wearing the jersey for the next 12 months?

For sure, I think everyone in the cycling community sees that jersey and they know what it means, and how special and important it is. I think every Canadian racer is proud to wear the maple leaf. It's special because you get it for a whole year.
Previous Race revisits

Race Revisit - 2015 MTB Nationals with Raphael Gagne
Race Revisit - 2015 Pan Am Games with Monique Sullivan
Race Revisit - 2015 Pan Am Games with Jasmin Duehring
Race Revisit - 2015 Pan Am Games with Raphael Gagne
Race Revisit - 2014 Road Nationals with Leah Kirchman
Race Revisit - 2012/2016/2019 Road Nationals with Ryan Roth
Race Revisit - 2016 Road Nationals with Annie Foreman-Mackey
Race Revisit - 2004 Road Nationals with Gord Fraser
Race Revisit - 2018 Tour de Beauce with James Piccoli
Race Revisit - 2008 Tour de Beauce with Svein Tuft
Race Revisit - 1995 Tour de Beauce with Eric Wohlberg
Race Revisit - 1994 Tour de Beauce with Jacques Landry
Race Revisit - 1987 Tour de Beauce with Ivan Waddell
Race Revisit - 2012 Chrono Gatineau with Clara Hughes
Race Revisit - 2019 Baie-Saint-Paul Canada Cup with Leandre Bouchard
Race Revisit - 2019 Nove Mesto MTB World Cup with Haley Smith
Race Revisit - 2014 Giro d'Italia with Svein Tuft
Race Revisit - 1990 Paris-Roubaix with Steve Bauer
---
Related Photo Galleries
---