July 31/20 12:57 pm - Interview with Kelsey Mitchell About Tokyo Olympic Track Selection

Posted by Editoress on 07/31/20

On Wednesday, Cycling Canada and the Canadian Olympic Committee (COC) announced the riders selected to represent Canada next year at the Tokyo Olympics in Road and Track events. Mountain Bike and BMX (Racing and Freestyle) still have final qualification events to take place early next year. This will be the largest cycling team Canada has ever sent to the Olympic Games.

We have interviewed riders from the team on being selected to the Olympic squad, including Kelsey Mitchell, who will compete in the Women's Sprint and Keirin.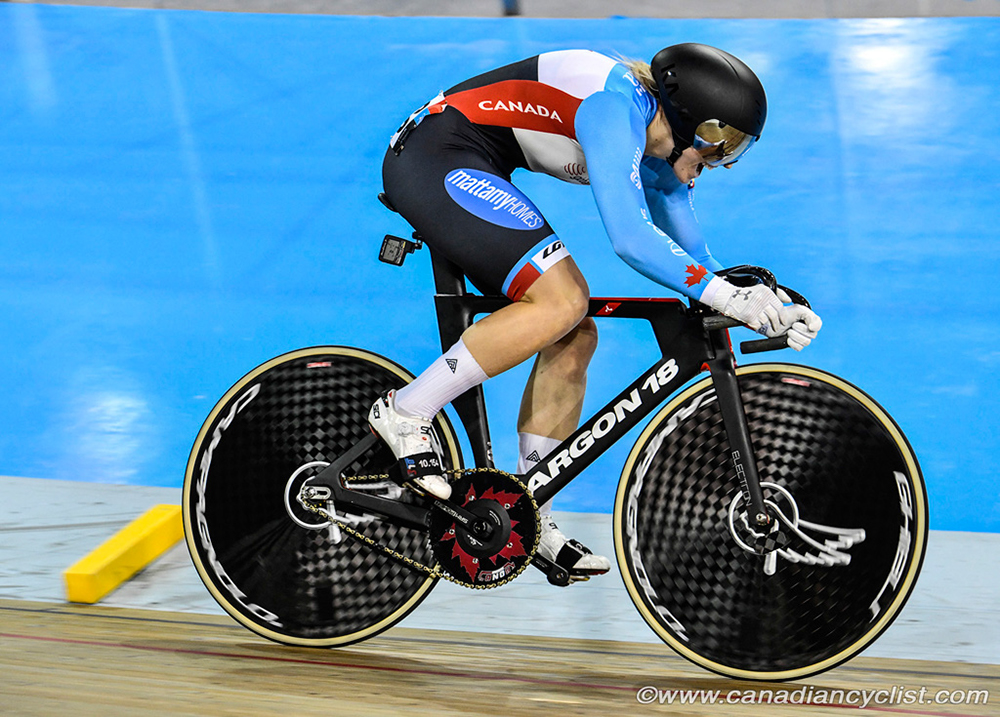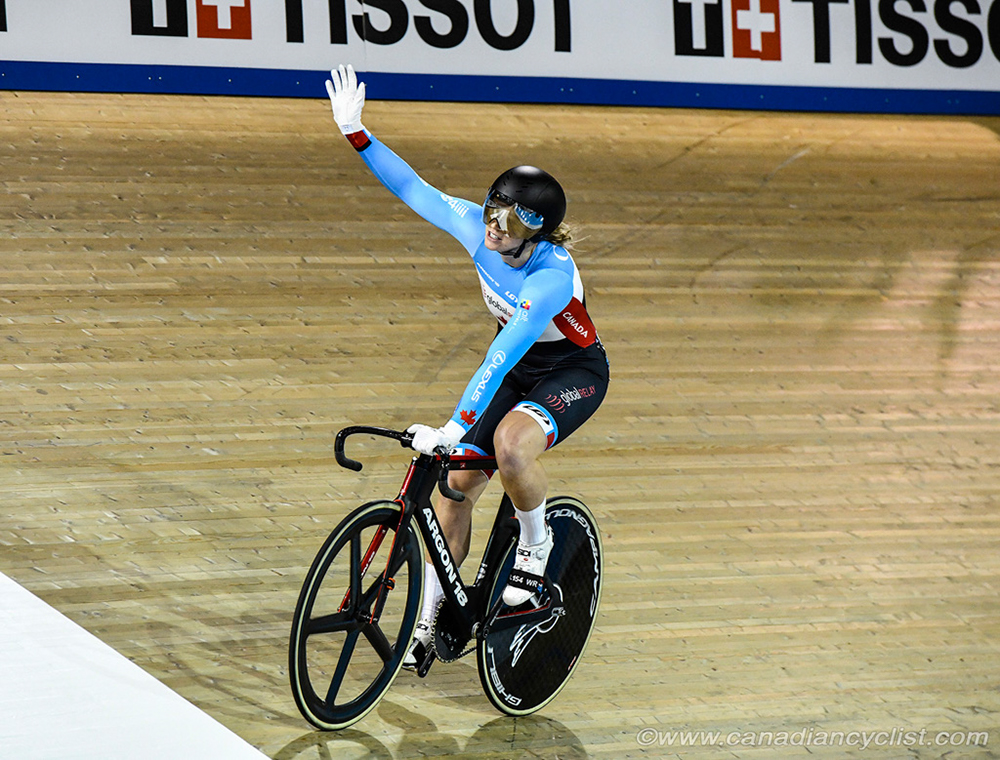 Kelsey is currently in Milton, training at the Mattamy National Cycling Centre.

This will be Kelsey's first Olympics - albeit delayed for a year. She has been competing for less than three years, but already holds a world record and multiple continental championship titles, as well as World Cup podiums.

Yes, 365 days to wait for it now! We found out that we had enough points for two spots [Lauriane Genest has been named to the other women's Sprint spot] in March [after the world championships], and then two months later that the Olympics would be postponed, a month later that we would get those spots, and we then had to wait until today [July 29th] to tell people. So today was a big day to finally be able to say that we are that much closer to accomplishing our dreams of going to the Olympics.

Yes, it's an extra year to wait, but we are taking it one day at a time and training even harder. Both of us - me and Lauriane - are quite new to the cycling world, so an extra year definitely isn't the worse thing for us. I was able to get fourth at Worlds, so I knew I was up there with some of the best, but I didn't know if I would be able to quite make the Games in the four or five months that we had. But with an extra year I am quite confident that with more experience on the bike, more experience on the track, getting stronger, will definitely benefit me. Everyone gets an extra year to train, so I'm not taking it for granted, and working harder then ever. It's exciting to see where we can be in a year.

The Sprint squad has spent quite a bit of time in Milton during the pandemic.

We're living here; we're here full time. We're training lots.

Kelsey admits to a bit of disappointment to not be able to compete in the Team Sprint at Tokyo.

We knew that as of November 2019 that it was just too close in the points; we would have to podium at all the World Cups and podium at Worlds to qualify for the Olympics. We made the decision that we needed to focus on sprinting and keirin and get the points there to lock in the two spots, and that's exactly what we did. It's too bad that we won't be able to do Team Sprint, because we definitely have a lot of potential with it. Hopefully in Paris 2024!

Kelsey didn't start cycling on the track until late 2018, so it has been a remarkably quick journey to the Olympics.

Yes, full-out training didn't start until 2018. When I started track cycling, I was like, 'Yeah, I want to go to the Olympics in 2020', but then slowly realized how difficult it would be. I had to make [it onto] Team Canada, having to qualify spots ... it was a lot, and I've definitely had some doubts through the two and a half years, but everything I did was going towards that goal. What I ate, how much I slept, my training ... I didn't know if I was going to make it, but I knew that I would look back and I would regret it if I had any questions about how hard I tried. I gave it everything that I had, and if it worked out, it worked out, and it has! So, now I'm just going to keep training and see what another year can bring me.
Interview with Allison Beveridge About Tokyo Olympic Track Selection
Interview with Leah Kirchmann About Tokyo Olympic Road Selection
Interview with Mike Woods About Tokyo Olympic Road Selection
---
Related Photo Galleries
---