September 26/20 12:43 pm - Dutch 1-2 in Women's Road Race; Jackson 30th

Posted by Editoress on 09/26/20

The Dutch confirmed, once again, that they are the dominant nation in women's road racing, with their fourth consecutive world title in the road race on Saturday, in Imola, Italy. Anna van der Breggen, winner of the time trial two days earlier, rode away for the rest of the top contenders with a lap and a half to go to take the rainbow jersey, and defending world champion and compatriot Annemiek van Vleuten outsprinted Elisa Longo Borghini (Italy) for the silver.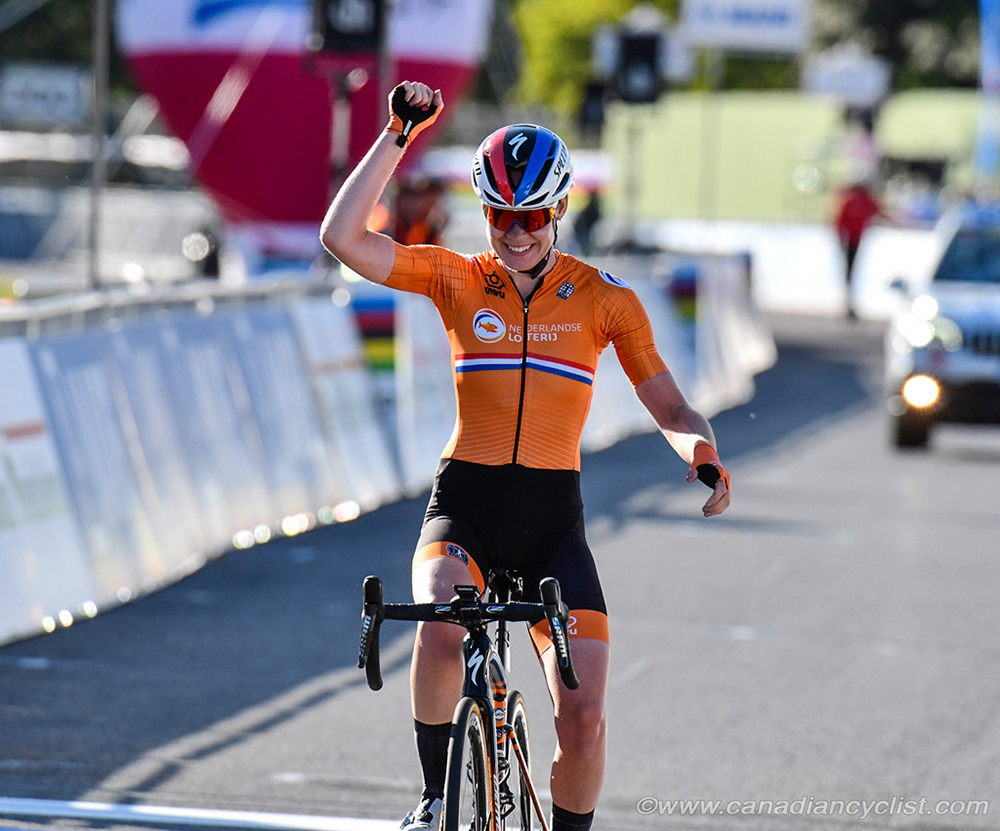 Anna van der Breggen takes her 2nd World title of 2020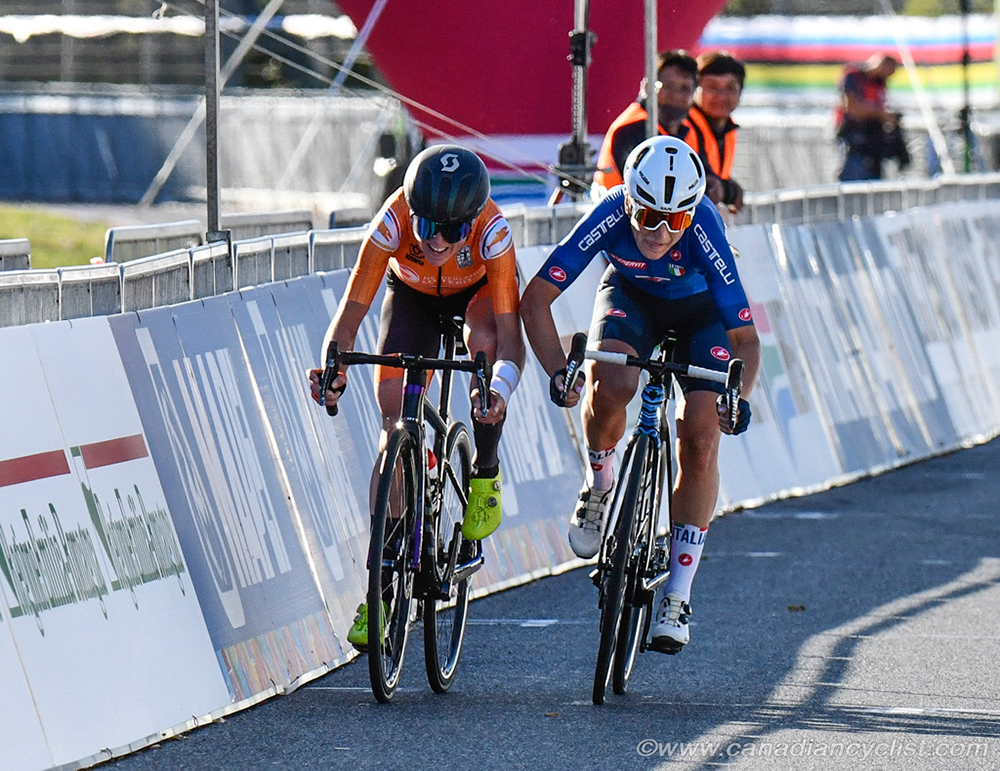 Annemiek van Vleuten and Elisa Longo Borghini battle it out for 2nd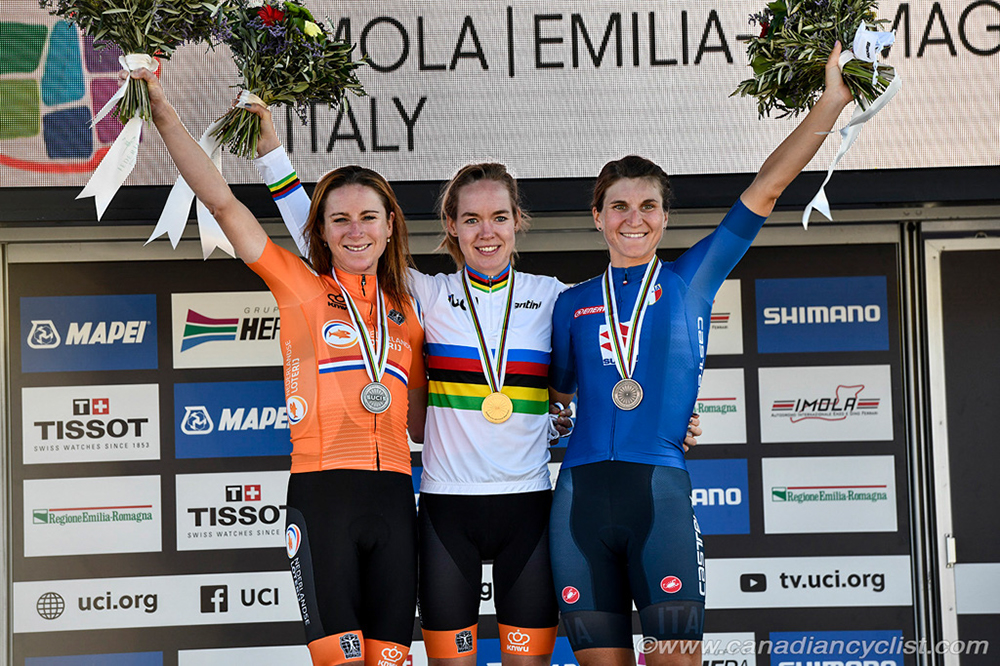 l to r: Annemiek van Vleuten, Anna van der Breggen, Elisa Longo Borghini
Alison Jackson was the top Canadian, in 30th place, finishing with the main bunch, followed by Sara Poidevin in 42nd. Leah Kirchmann (59th) and Karol-Ann Canuel (66th) finished in the second main bunch. Magdeleine Vallieres Mill and Marie Soleil Blais did not finish.

The extremely difficult 28 kilometre circuit featured three climbs - two of them long and steep, with sections above 13%. The women did five laps, for 143 kilometres. High gusting winds also put a damper on early breakaways, until Jackson attacked on the second lap, and was eventually joined by ten more riders. The group carved out a more than two minute lead, sending the Dutch to the front to pull it back, with the Danes and Polish teams.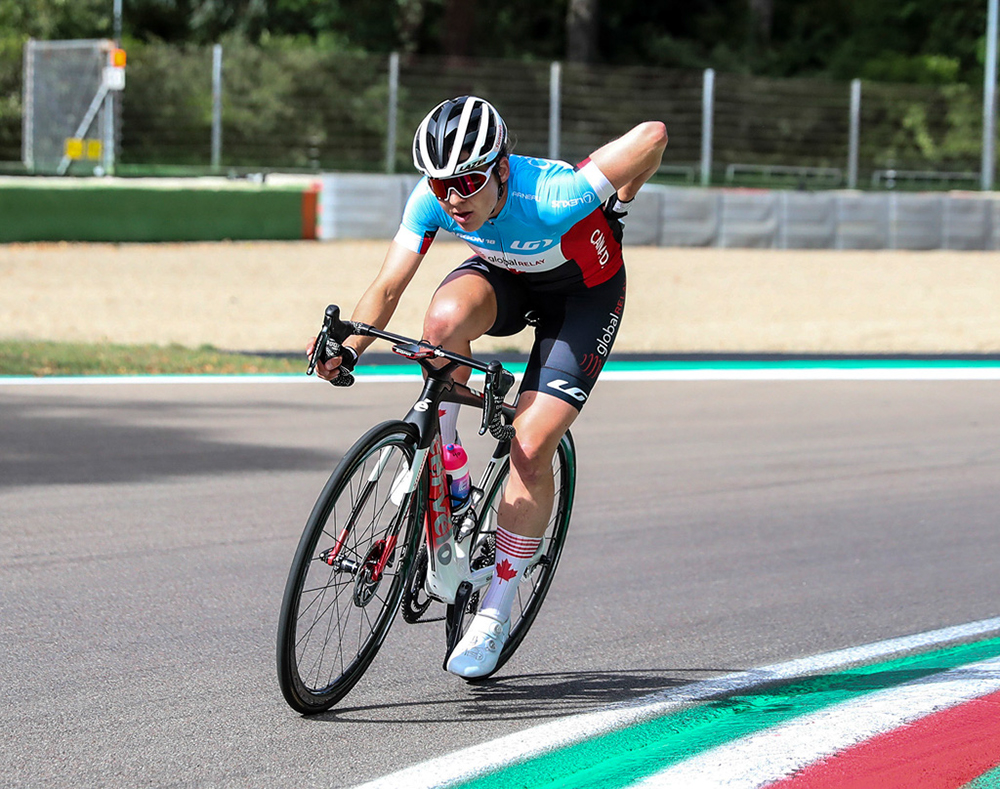 As the break began to disintegrate, van der Breggen, Lizzie Deignan (Great Britain), Longo Borghini, Cecilie Uttrup Ludwig (Denmark), van Vleuten and Marianne Vos (Netherlands) all upped the pace, reducing the lead group to approximately 30 riders as they went into the fourth lap. Van Vleuten then attacked on the lower slopes of the climb and was followed by Longo Borghini, Uttrup Ludwig, and then Van der Breggen, exploding the field behind them. Van der Breggen counterattacked, and no one could match her pace, as she rode the final 41 kilometres solo to win by 1:20.

Alison Jackson:
Our plan was to try and get ahead of the race and not wait for the heavy hitters on the climb; so get ahead of some of those attacks on the steep parts. In our course recon I had picked my moment; a couple of launch pads that would be a good moment to get things going. In the second lap I was in the right position and made the attack. I was solo for a while with 20 seconds, then the Australian girl, Grace Brown, joined me and we started rolling. The group got quite big at one point and with good cooperation we got about two minutes at one point. It was good to represent Canada at the front and execute our plan as a team. The bunch caught us on the steep climb with one and a half laps to go; I could hang on to this group and save my energy, but I couldn't quite stay with the front group on the final steep climb. It was the max I could do today. I think we were showing that the Canadian women had great representation in a world championship field. I was proud to wear the maple leaf and give our Canadian fans an exciting race to watch.

Sara Poidevin:
It was quite windy, with gusts up to 30K an hour, which definitely played a role in how the circuits were raced at the beginning. Everyone was a bit tentative to make a move, but you still had to be aggressive and fight for position. I just focussed on being well positioned. Going into the third lap there was a feed zone right at the start of the circuit and I got stuck in a big crash and ended up in the ditch. I winded myself a bit, so I was slow getting back on the bike, but I chased back on and then noticed my derailleur hanger was bent. So, I chased back on the first climb, getting back on the descent. I had to get a bike change then Leah and Karol-Ann were helping me to stay in position. With Alison off the front I had a chance to breath and reset a bit.

I had to spend a lot of energy chasing back, and on the fourth lap going into the second climb I lost some positions and just didn't have the legs to do anything. It was great to ride for Alison when she was off the front, but just some bad luck for the rest of the team. We have a really great team dynamic, and I'm really grateful to have the opportunity to race with these girls and represent Canada. We're grateful just to be racing here in the first place. I left it all out there, but just had a bit of bad luck.
Road World Championships: Women's Road Race results
---
Related Photo Galleries
---