January 31/21 12:42 pm - UPDATED - Cyclocross World Championships: Ruby West 21st, van der Poel Repeats

Posted by Editoress on 01/31/21

The 2021 Cyclo-cross World Championships concluded on Sunday, in Ostend, Belgium, with the Under-23 women and Elite men. The Netherlands won both races, with Fem van Empel taking the Under-23 women's title and Mathieu van der Poel the Elite men's. Canada had two riders in the under-23 women's race - Ruby West in 21st and Sidney McGill in 27th.

While riders did not face the rain from Saturday, temperatures were lower, at just over freezing, and the wind was still blowing at 18 kilometres per hour. Wet sections froze overnight, so organizers had to put down salt and sand.

Inge van der Heijden of the Netherlands took an early lead in the women's race, chased by Dutch team mates van Empel and Aniek van Alphen, plus Kata Blanka Vas (Hungary). van der Heijden started to fade halfway through the four lap race, and was overtaken and dropped by the chase group. van Empel and Blanka Vas then set the tempo until the Hungarian also began to fade, falling behind the two Dutch riders. van Empel took a slight lead on her team mate van Alphen in the final lap to win by three seconds, with Blanka Vas holding on for third.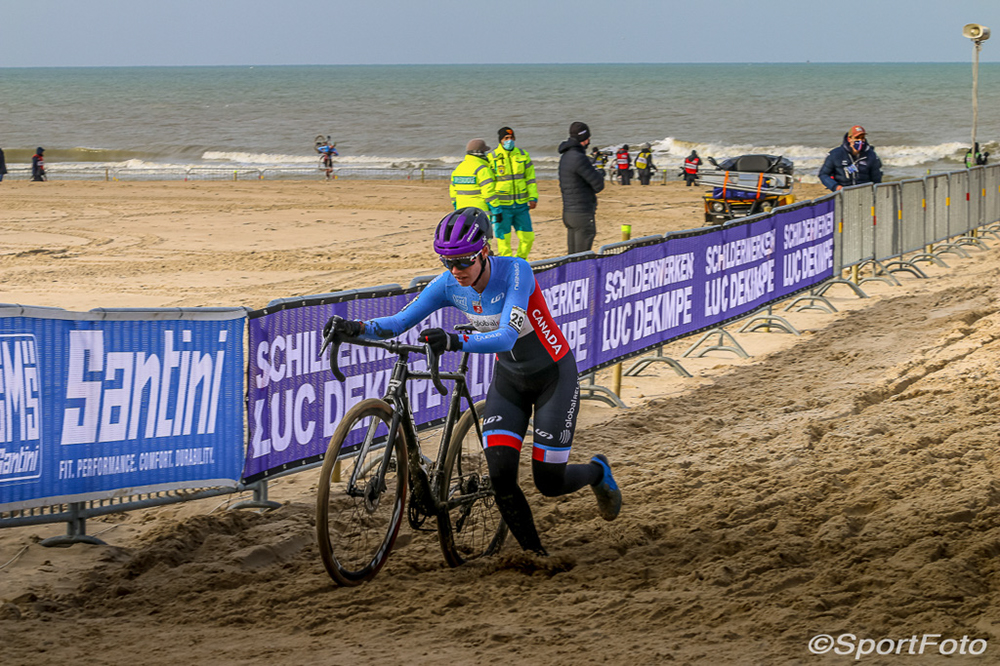 Ruby West
Ruby West rode in the mid-teens for the first lap before fading back to 20th mid-race, a position she held until the final lap when she dropped back one more place. McGill, starting further back, was 29th in the early going, but paced herself to move up as high as 25th, before losing a couple of spots in the final lap.
"Sunday's World Championship race was far from ideal," said Ruby West. "After a sluggish start, I got caught in a lot of the first lap chaos, both on the first flyover and then by taking myself out the first time through the sand. From there I tried to rally with little success and just kept slipping back through the field as the laps went on. I'm pretty bummed with how my race went, as I had high hopes for this year's championships; as it was my last year in the U23 category and coming off a top 10 last year, I knew on my best day I could produce a good result. That best day certainly didn't happen and after a long and challenging season I was feeling pretty exhausted even just getting to the start line of worlds. I'm really grateful l was lucky enough to have the opportunity to race during this pandemic season, but I am certainly ready for some rest after the whirlwind of the last few months."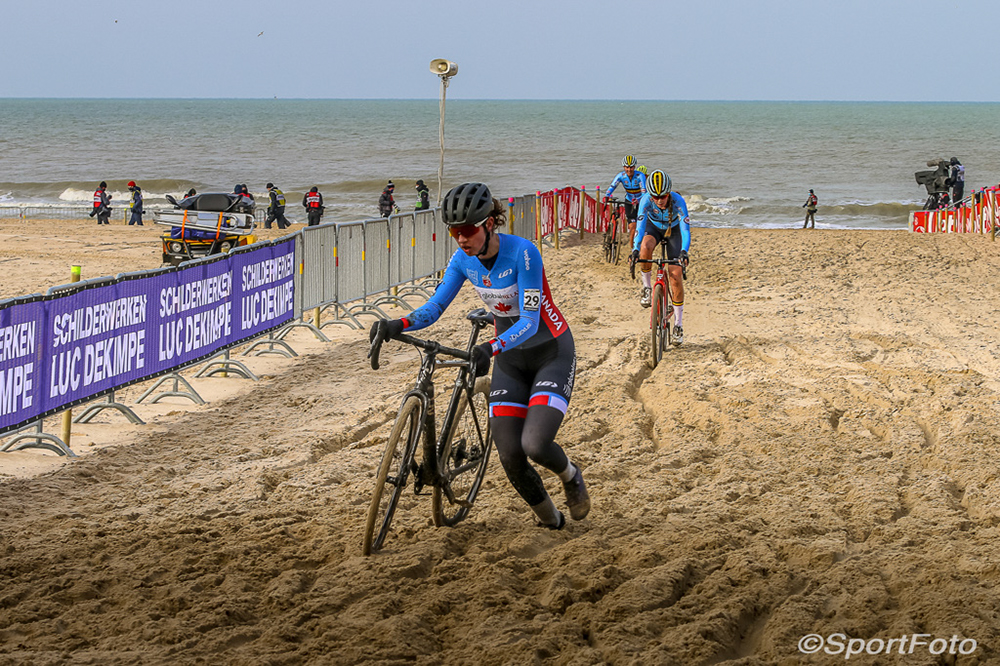 Sidney McGill
"I had a pretty tough race," admitted McGill. "I got stuck in some stuff early on, right at the start, which pushed me pretty far back in the pack. I tried my best to move up and make some passes in the first [section of] sand. But I think the sand was deep and too hard, and put me too deep into the red, and by the time I made it back up to the group I was completely maxed out. The grass section was pretty slick but fun; I really enjoyed that part and could take a little breather before hitting the sand again. It was a pretty tough day, but I worked with what I had."

The Elite men's race was expected to be a battle between the two dominant riders of this generation - van der Poel and his Belgian rival, Wout van Aert. van Aert won the World Cup final and the overall World Cup last weekend, while van der Poel was looking to defend his world title and take his third consecutive rainbow jersey, and his fourth Elite world title.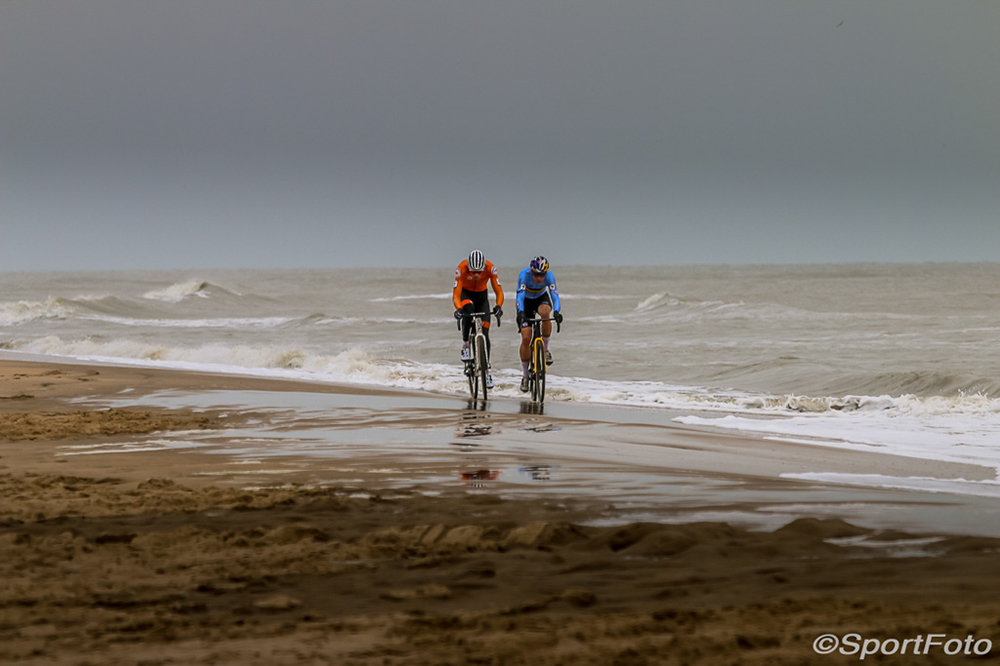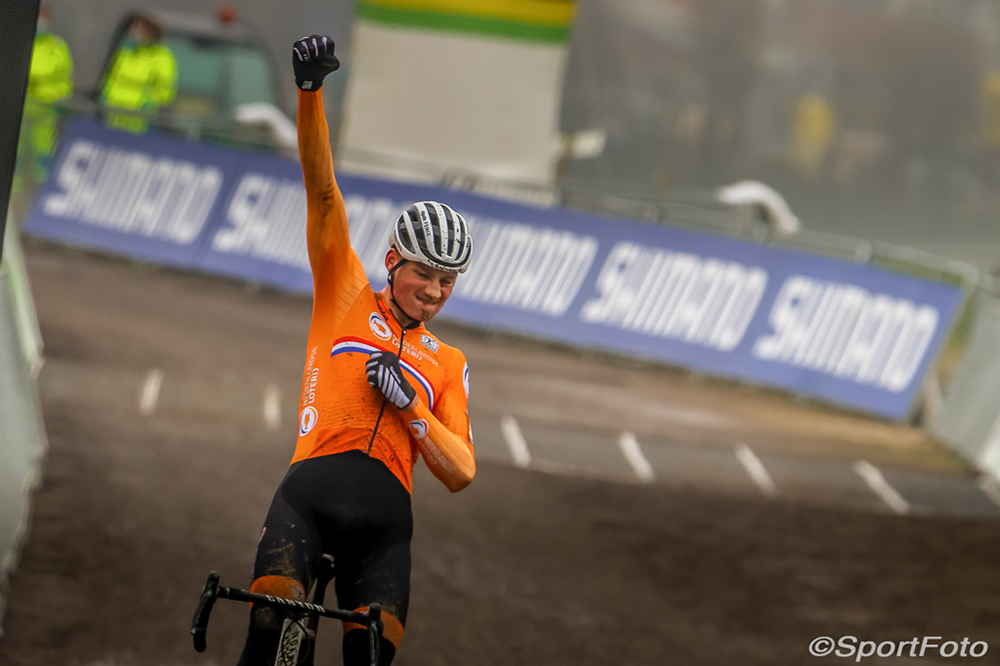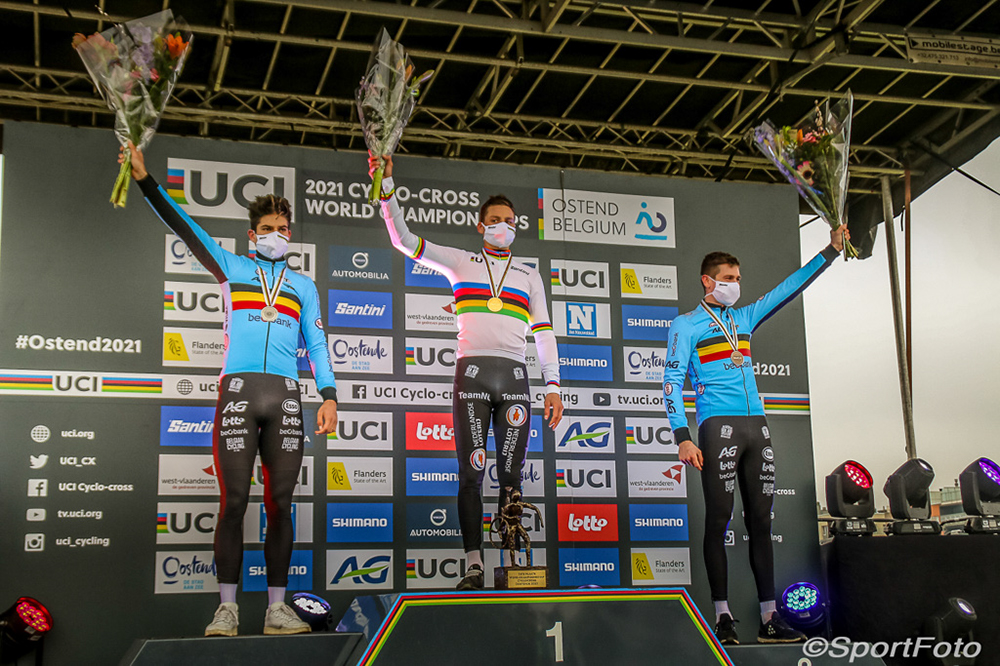 L to r: Wout van Aert, Mathieu van der Poel,Toon Aerts
van der Poel took the lead out of the start, with van Aert right behind him. When they hit the sand, it was van Aert who pulled clear, as van der Poel struggled a bit. The Dutch rider was clearly stronger off the sand and through the mud and grass, and rejoined his rival at the front. Behind, it was six Belgians chasing with a lone Brit among them - Thomas Pidcock.

The two leaders steadily pulled away, and then van der Poel started to make a series of small errors, losing a second here and there, until a crash knocked him back to over 10 seconds down near the end of Lap 2 of the eight lap race. It looked like it might be van Aert's day, but then the Belgian rider slowed on the third lap - a front flat.

van der Poel caught and passed him, and had an 11 second lead by the time van Aert got to the pits and a new bike. The Belgian rider was chasing, but van der Poel seemed to get fresh legs from the change in fortunes, and was clearly riding more strongly. The gap came down slightly initially, but van Aert then started to make mistakes and was clearly tiring, as van der Poel started to pull away in the final two laps, going over 30 seconds clear at the start of the final lap and finishing 37 seconds ahead. Toon Aert (Belgium) moved into third at the halfway mark in the race and, although nearly caught by Pidcock in the last lap, held on for the bronze medal.

"His flat tire was a little bit of luck from my side to come back," admitted van der Poel, "but at that moment I didn't feel the race was over yet. The course changed and became a bit faster at the beach section and I felt a bit better. I felt better legs by then and I improved every lap running through the sand, so the good feeling was growing lap by lap and that made the difference for me today."
---
Related Photo Galleries
---