May 9/21 8:02 am - French Dominate Women's XCO at Albstadt, Batty 27th

Posted by Editoress on 05/9/21

France finished 1-2 on Sunday in Albstadt, Germany, for the opening round of the women's Mountain Bike World Cup, with Under-23 world champion Loana Lecomte (Massi) beating elite world champion Pauline Ferrand Prevot (Absolute-Absalon-BMC). However, Ferrand Prevot took the World Cup leader's jersey, after winning the Short Track on Friday.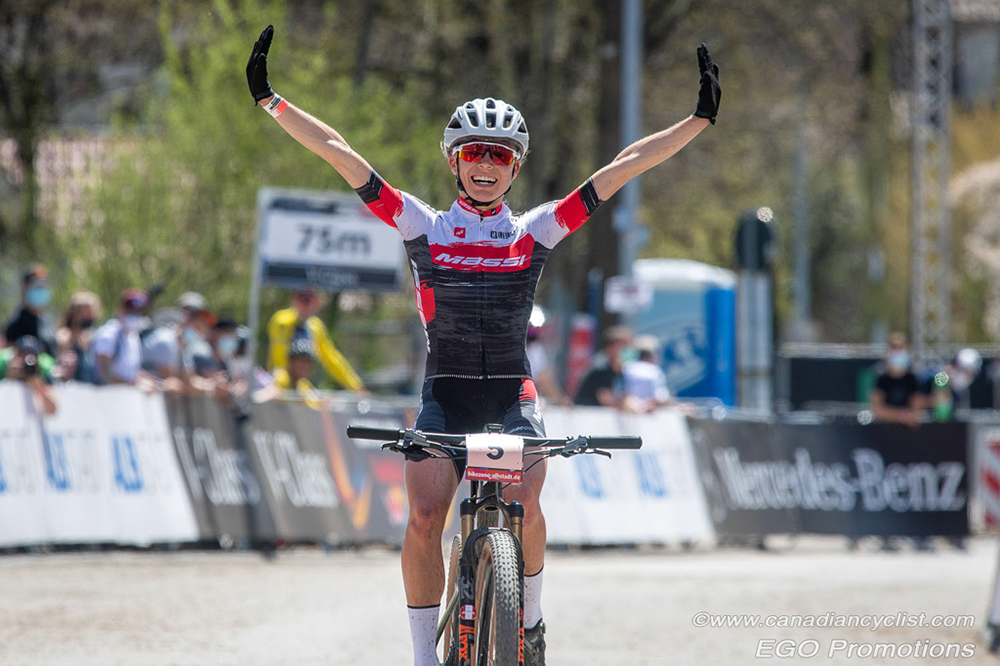 Canadian women did not fare as well, with Emily Batty (Canyon Collective Factory) the top finisher, in 27th place. Jenn Jackson (Norco Factory) was next in 38th, followed by Sandra Walter (Canada) in 47th, Laurie Arseneault (Canyon Collective Factory) in 50th, Catharine Pendrel (Clif Pro) in 52nd and Cindy Montambault in 89th. Haley Smith (Norco Factory) did not finish. Pendrel and Jackson came close to catching Batty by mid-race, but faded in the final two laps.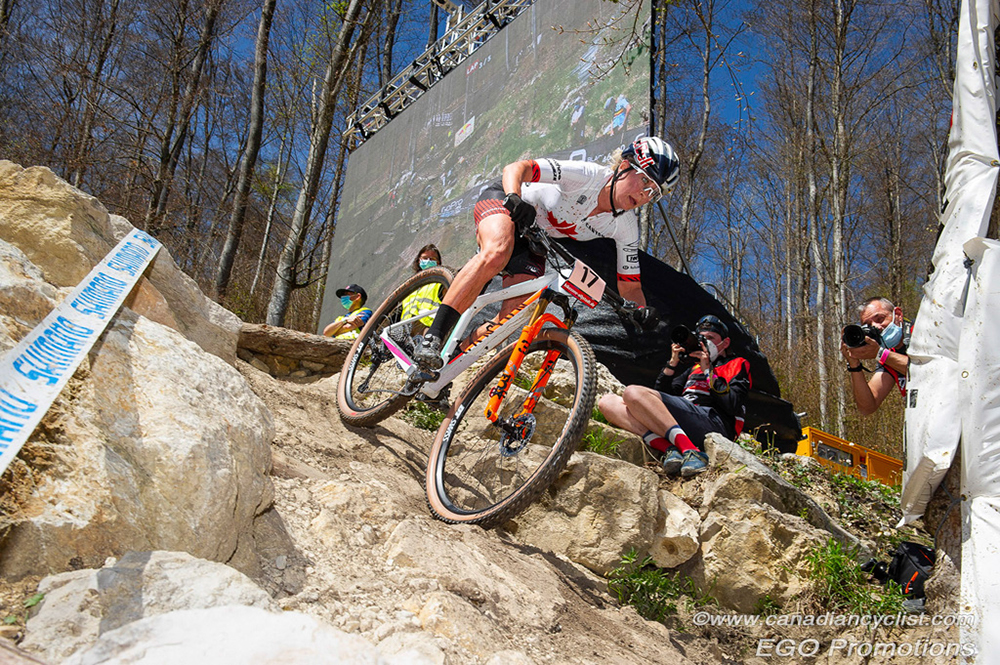 Emily Batty
Pendrel, who is racing for the first time since 2019, and less then four months after giving birth, saw some positive notes from her race: "I felt great the first half of the race. I was able to make passes and move up, but the tight timeline on training caught up with me on Lap 4 and I went backwards in a hurry. The first step was getting out there though, and I'm sure it will get better every week, so keeping things in perspective and looking forward to the next one."

Albstadt is one of the hardest courses on the World Cup circuit with two long, steep climbs per lap, and once again it tested the riders. Along with Round 2 of the World Cup next weekend in Nove Mesto, Czech Republic, Albstadt is a final qualification event for the Tokyo Olympics, so there were 'races within races', as riders fight to qualify for their Olympic teams.

Lecomte simply rode away from the rest of the 106 rider field on the start loop, opening up an 18 second gap on the first major climb of the race. She never looked back, increasing her lead to over a minute by the start of the fifth and final full lap, and eventually beating Ferrand Prevot by 53 seconds.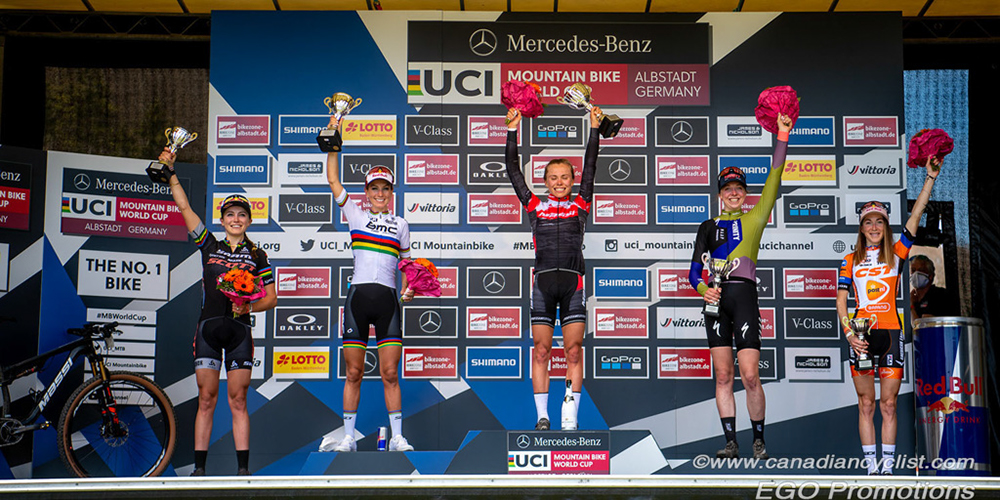 "I don't believe it," said Lecomte, "in my head it was my goal for today, but I didn't know if I could do it. This race and Nove Mesto are the race qualifications for the Olympic Games [for France] so it was a big goal for me to be in shape for these two World Cups; now that goal is 50% complete."

With Lecomte untouchable at the front, the race action was happening behind. Ferrand Prevot was joined in the early chase by 2019 World Cup champion Kate Courtney (Scott-SRAM) and Australian champion Rebecca McConnell (Primaflor Mondraker XSauce), however, both began to fall back on the second lap, and the early hard pace hurt them later in the race, with McConnell sliding all the way to 21st by the finish.

While Courtney dropped off the pace of Ferrand Prevot, she looked to be solidly in third until her young compatriot, Haley Batten (Trinity Racing), caught her and then dropped her on the third lap. Batten, in only her first elite World Cup, is one of a number of Americans battling for an Olympic spot (Courtney already has one locked up), and she was actually making ground on Ferrand Prevot in the last lap and a half.

The French 1-2 was followed by an American 3-4, as Courtney held onto fourth behind Batten, just ten seconds in front of Yana Belomoina (CST PostNL Bafang), who made a late race surge to take the fifth and final podium spot.

"I honestly didn't know what I was capable of," admitted Batten, "so to start the season like this is pretty incredible. I think in the Short Track I felt really strong, so I just gave it what I had today, and raced my race. I've had a couple of hard races here in the past, in Junior and U23, so to just race so strong and so smooth from start to finish is not something I would have expected previously. I'm not sure how much this counts towards [the American] Olympic criteria, but Nove Mesto does, so this is a really good sign."

For Jenn Jackson, it was her first time being one of the top Canadian finishers at a World Cup. "I was kind of disappointed to be honest, felt like I was on the struggle-bus and just going the wrong way after a good start. My power numbers weren't great, but heartrate was pretty high, maybe just struggling a bit with the heat since I haven't seen any warm weather yet this year. That said, bad days happen and I've put too much in to not stick them out and keep working towards making more better ones happen. Next week is a new opportunity.

"Being the top Canadian has definitely been a goal I've been working towards for a few seasons now, but I also hope that comes with being better than midpack in the World Cup ... I think as a nation we're in a bit of a weird place right now with athlete development and career trajectories; I hope the trend is for all of us to improve, I believe we can all be better!"

Jenn also spoke about her chances the Olympics: "For the Olympics, I'd need a Top 12 to make the selection pool, which Haley, Catharine, and Emily have all done. Regardless of how people are riding right now, they have shown in seasons past they're capable of being front line contenders, so unless I can really turn it up and show the same next week in Nove Mesto then I expect they would select based on 2019. Who knows though, anything can happen when there's everything to play for."
Albstadt MTB World Cup: Elite Women results
Race Report - Carter Woods Wins Albstadt U23 World Cup
---
Related Photo Galleries
---