July 4/21 12:01 pm - Lecomte Takes 4th Straight World Cup Win, Pendrel 21st

Posted by Editoress on 07/4/21

Loana Lecomte (Massi) took her fourth consecutive World Cup win on Sunday in the women's XCO before a home crowd in Les Gets, France, becoming only the second woman to win the opening four rounds of the World Cup, after the legendary Gunn-Rita Dahle Flesjaa. The young French rider goes into the Tokyo Olympic race in less than three weeks as the overwhelming favourite. Defending Olympic champion Jenny Rissveds (Sweden) came back from a hard crash to take second, while Great Britain's Evie Richards (Trek Factory) had her best ever World Cup result in third.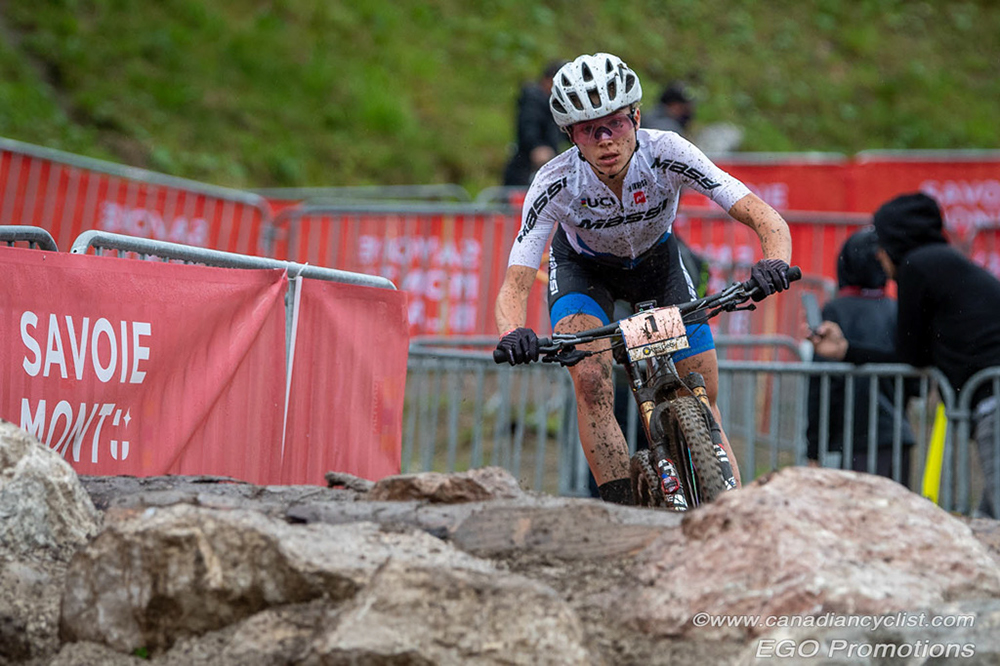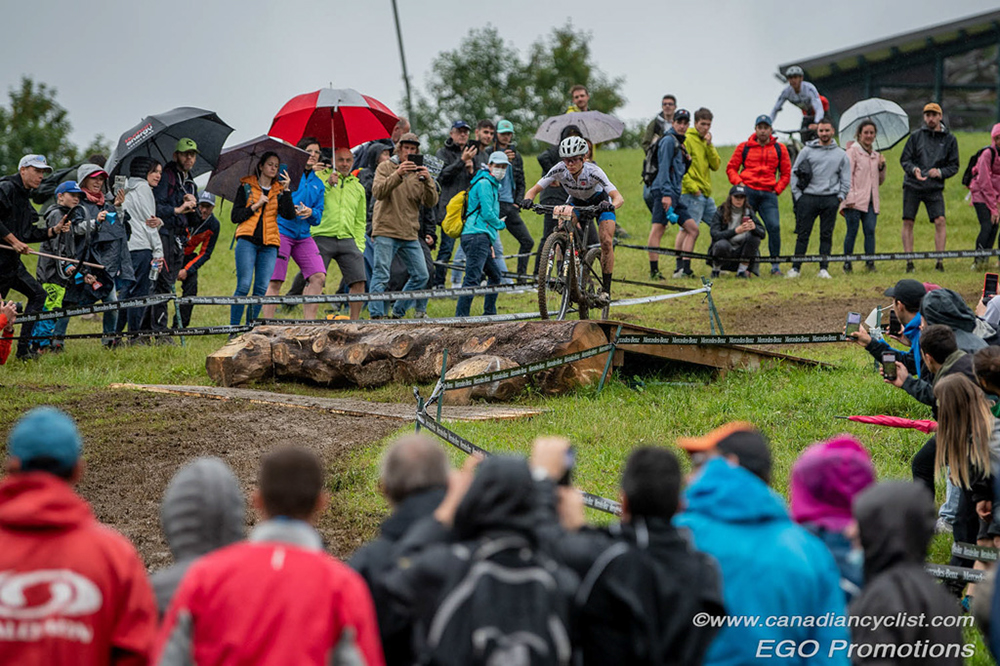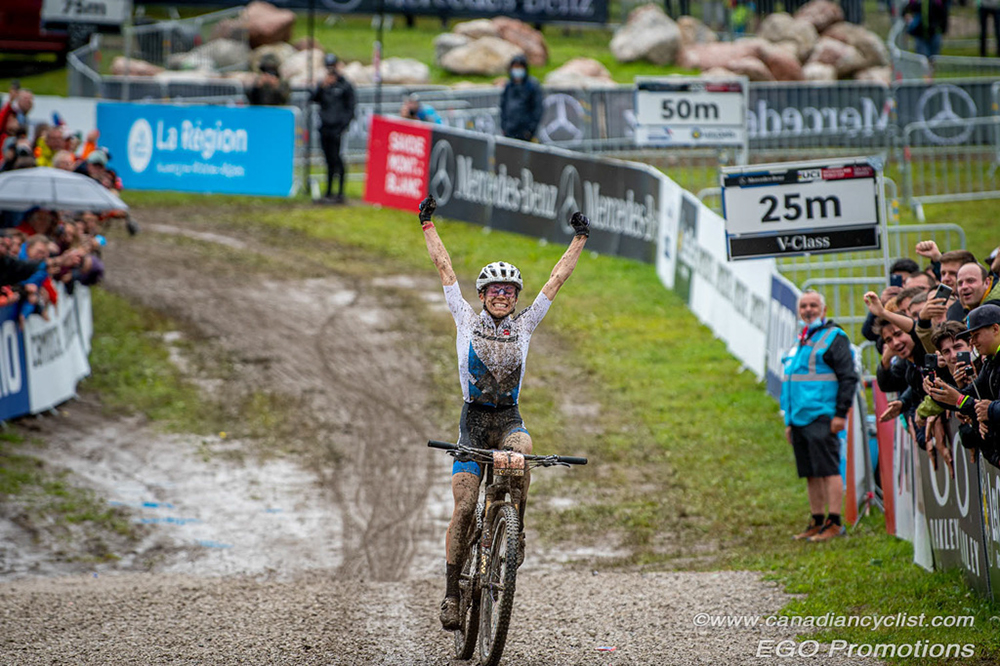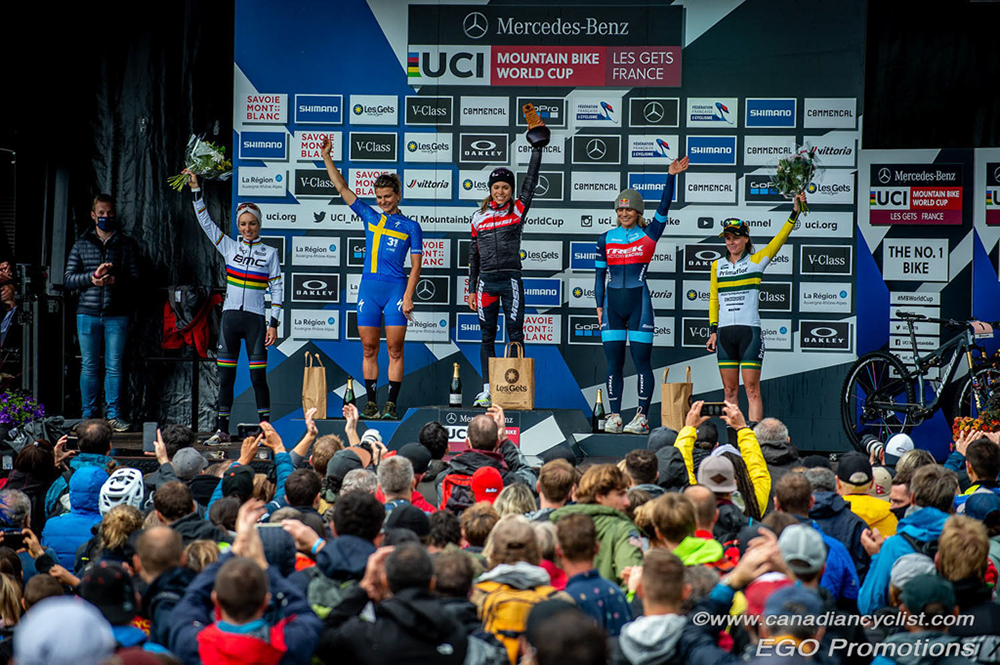 Catharine Pendrel (Clif Pro) had a great start, riding as high as 12th by the second lap, but then ran into problems in the middle of the race, including having to stop and deal with chainsuck due to the mud on Lap 3.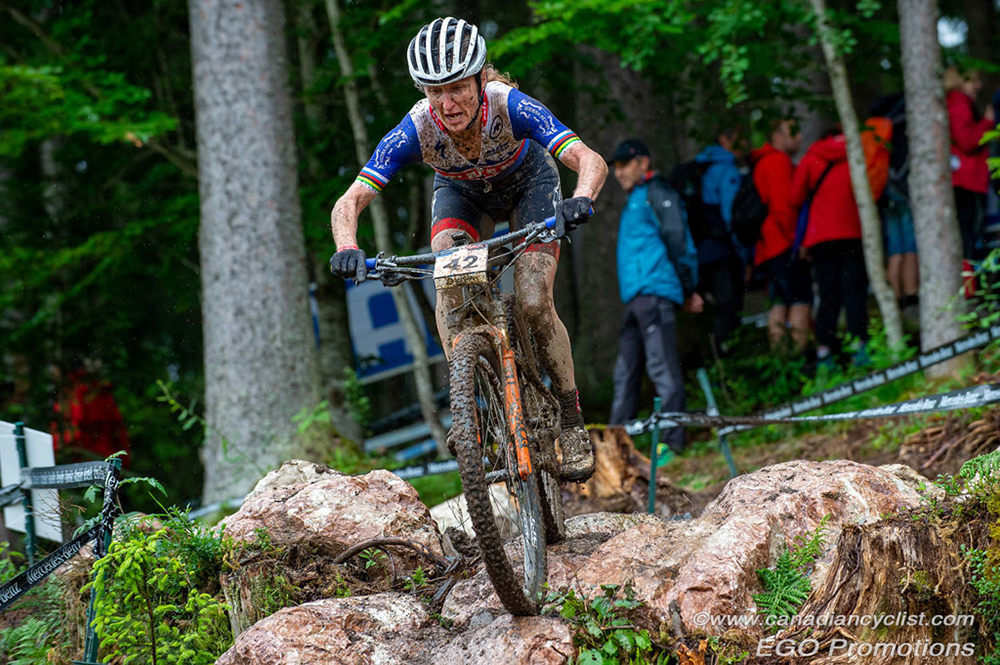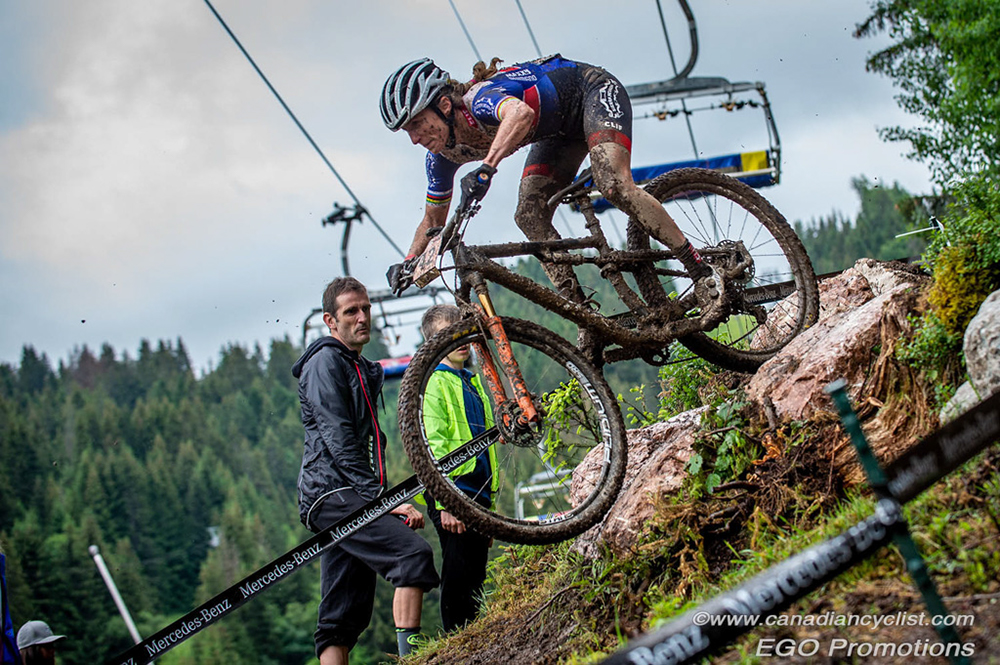 "Oh wow that was crazy!," she said. "I had a great start to the race but it was extremely hard to maintain a good rhythm as either you or the rider in front of you were constantly making mistakes. I did a lot of position back and forth within the top 20, was climbing well but just struggled with the slick grass corners too much and with clipping back in my pedals to lay out the lap times I wanted. The good news is my legs were strong and I felt super sharp technically in training. I can handle not being the best on muddy grass!"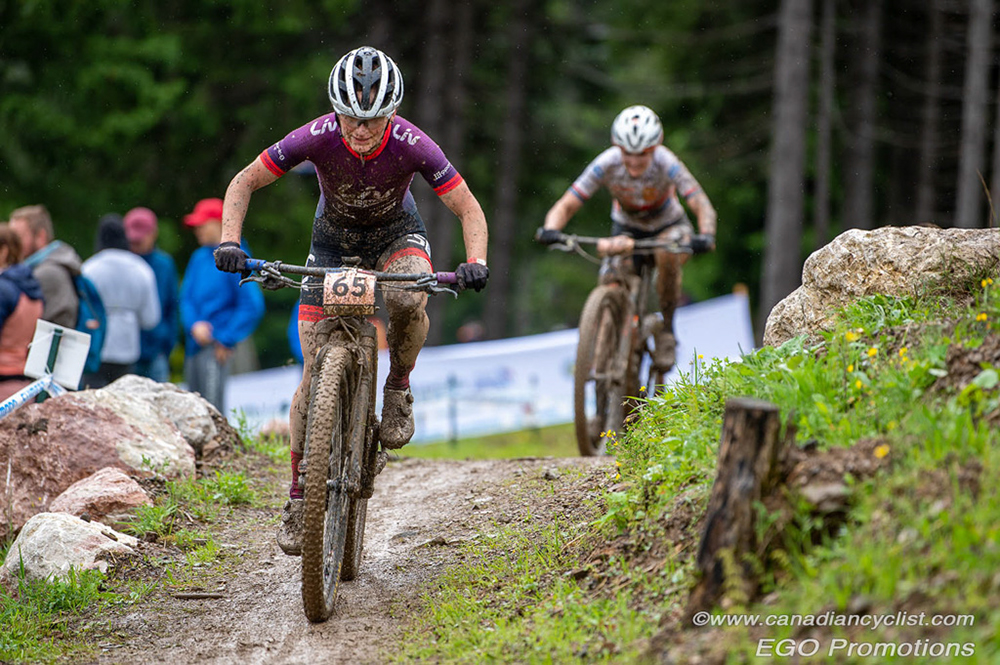 "I'm a bit disappointed that I wasn't able to make better use of my second row starting position today, but I didn't feel great off the line," said Walter. "My legs didn't feel as amazing today as they did on Friday and the conditions made the descents really challenging. All of the off-camber grass was so slippery and the way I rode it showed that I'm clearly not ready for cyclocross season yet! I'm pleased with another solid top-30 result, but was really hoping for a better performance. Now I'm looking forward to going home and taking a bit of a mid-season break after a very heavy 2-month race block in Europe."
Sandra Walter (Liv Canada), after a slow start, began moving up mid-race to eventually finish 28th. Emily Batty (Canyon Collective Factory) was 33rd, Jenn Jackson (Norco Factory) was 35th, Laurie Arseneault (Canyon Collective Factory) was 43rd and Haley Smith (Norco Factory) was 44th.

The rain that began yesterday during the Downhill turned the course into a muddy, slippery mess. Almost every rider went down at some point, with the off camber grass descents sending riders sliding out of control.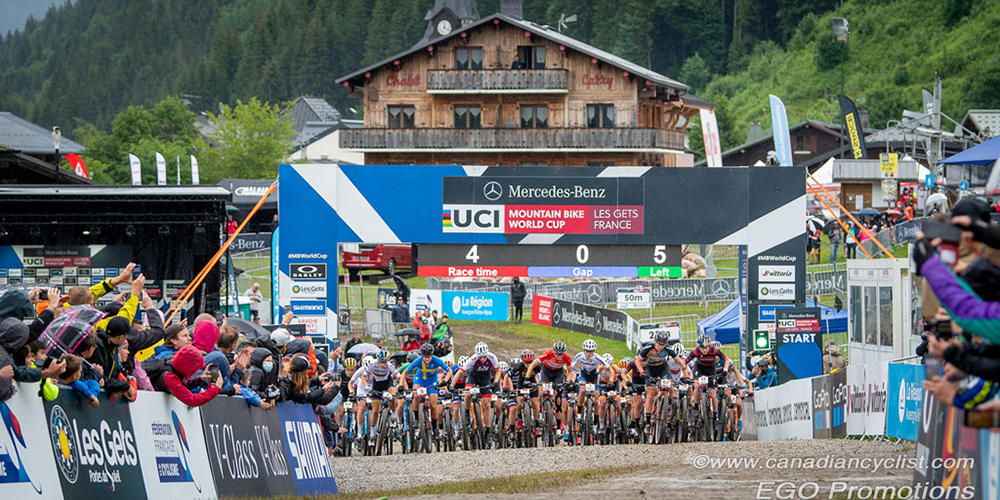 After an uncharacteristically poor 12th place in the Short Track on Friday, other riders might have thought the Under-23 world champion was vulnerable for the first time this season. Lecomte soon dashed those hopes on the first climb, rolling past Rissveds on the long main climb to establish her usual position at the front. While others were slipping and sliding, Lecomte looked to be in complete control, even eschewing a dropper seatpost for the descents to save weight. Twelve seconds ahead after the first lap, she steadily pulled away through the rest of the race.

Behind, there was a battle for the remaining podium positions. World champion Pauline Ferrand Prevot (Absolute-Absalon-BMC) took control of second initially, before crashing on the second lap, shortly after Rissveds. While Rissveds took a while to get her rhythm back, Ferrand Prevot was up quickly and battling Rebecca McConnell (Primaflora Mondraker XSauce) for second. McConnell initially pulled away but then started to have problems with mud in her cleats, enabling Ferrand Prevot to come back. However, Rissveds was back on track and climbing exceptionally well; her splits were faster than Lecomte on the main climb.
The Swedish rider caught the two chasers on Lap 4 of the six lap race, with Ferrand Prevot getting dropped for good and getting caught by the late charging Richards, coming up from a fourth row start. Rissveds then dropped McConnell on the fifth lap and started to pull back time on Lecomte, getting to within 30 seconds at one point, before falling back slightly in the final half lap. Richards held on, despite a late crash, for third ahead of Ferrand Prevot, who caught a fading McConnell for fourth.

"It's very special to race a World Cup in France," said Lecomte, "and I'm very, very happy to win in France in front of my family and friends. After Friday's [Short Track] I was a little bit anxious and stressed, but we figured out the solution to the problem - I didn't eat before the race and I was a little bit [fatigued]. But I ate today and I had the strength!"

Rissveds, who walked away from the sport after her Olympic win for two years, battling depression and anxiety, is clearly showing the form she needs to defend her title. "It was very tough out there today, I didn't expect it to be this slick. It was crazy, some sections you couldn't even ride. My crash was stupid of me; I didn't check the B-line in training, I was only prepared for the [A-line] drop. And then I heard one minute before the start that the drop was closed so I had to take the other line that I hadn't checked. So I crashed, and it hurt, and I just had to find my pace again."

Evie Richards, despite sliding out on an off camber corner in the final corner, managed to take her first top-3 in a World Cup XCO. "I'm so happy, I had all my music playing in the pits this morning; I was buzzing to race. I just had to commit to my own race; it felt a bit like a time trial by myself. I ran where I had to and just tried to be consistent. Before the start I was just wanting to be safe for Tokyo, but when the race starts, that just goes out the window, you kind of forget about that."
Les Gets World Cup: XC race results
---
Related Photo Galleries
---