July 23/21 14:45 pm - Olympic MTB Preview - We Talk to Catharine, Haley and Peter

Posted by Editoress on 07/23/21

On Monday and Tuesday, mountain biking medals will be awarded for the seventh time at the Olympics. Both the women's and men's fields will have 38 riders from 29 nations competing. On Friday, the athletes had their first opportunity to train on the course.

The 4.1 kilometre circuit (plus a 1.3 kilometre start loop) is located near the city of Izu, approximately 150 kilometres from Tokyo, along with the velodrome and the BMX Racing track. The course was designed and built by South African expert Nick Flores, who also built the 2012 and 2016 Olympic courses and the Pietermaritzburg (South Africa) world championship and World Cup course. His courses feature technical drop offs and rock gardens, tight, twisty turns and steep climbs. Izu has five climbs per lap, with over 150 metres of elevation gain.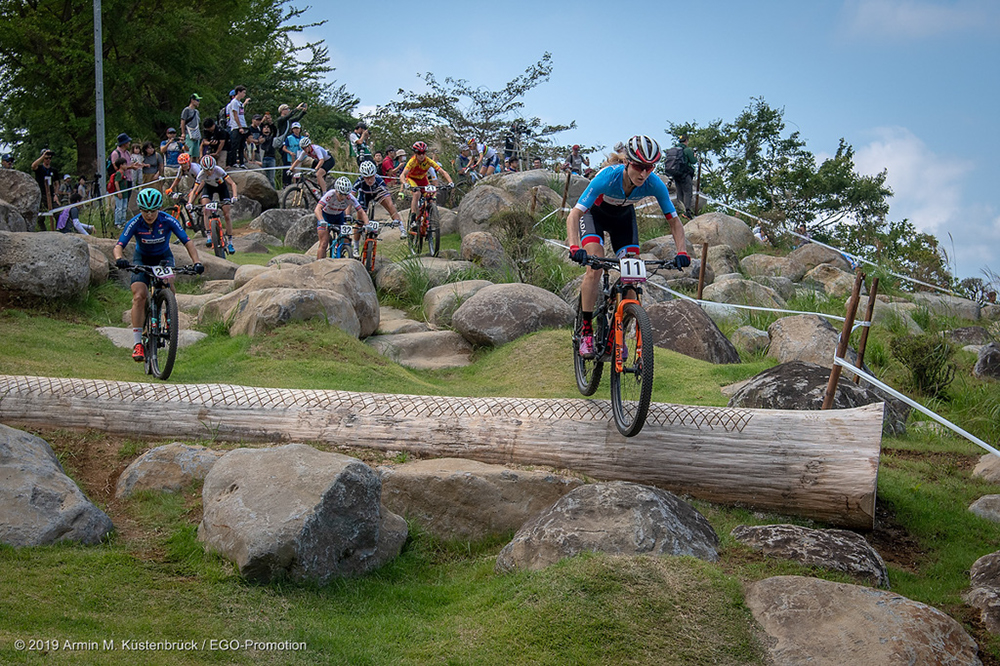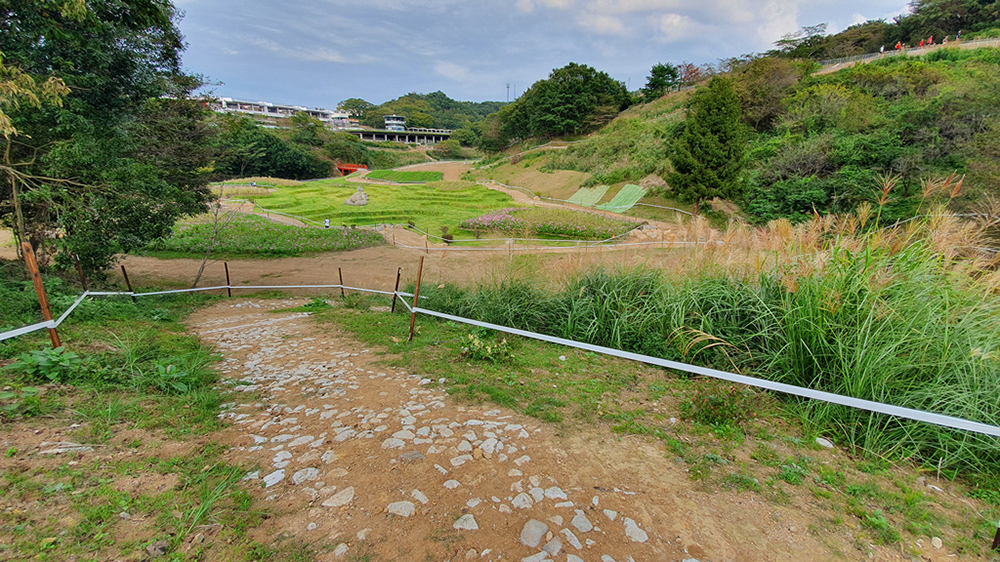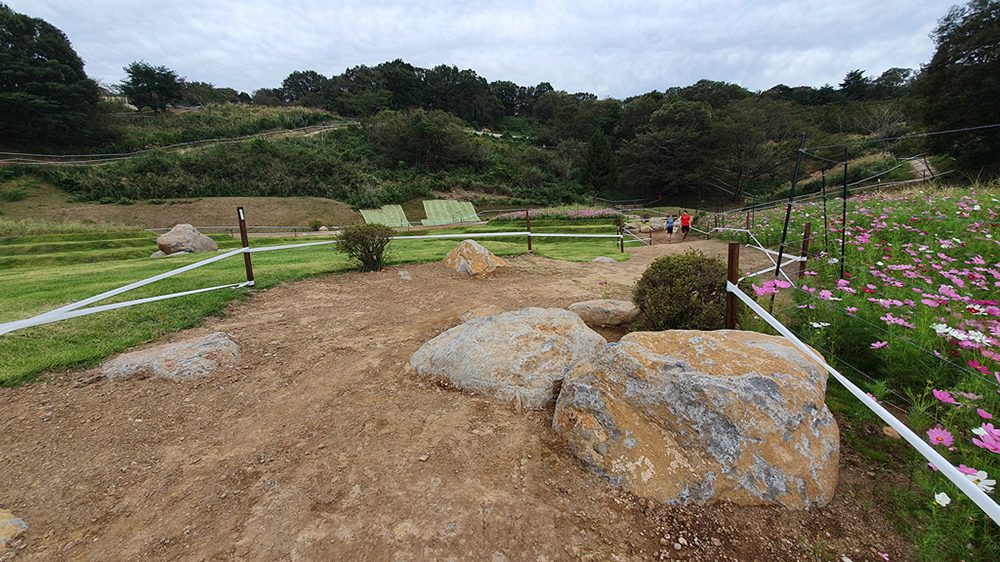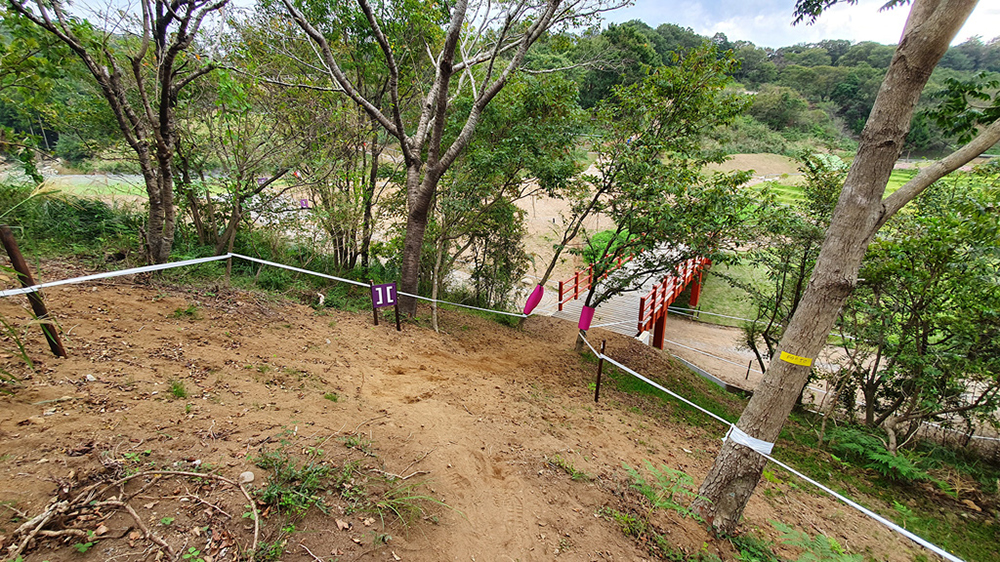 Canada's Catharine Pendrel, a two-time world champion who is attending her fourth Games and won a bronze medal in Rio, said after the test event, "I think it's a really good course; I think it's pretty unique. I wouldn't say it's like any World Cup [course] on the circuit, but Les Gets had some very similar rock features. It was a course I had a lot of fun preparing on, and we've put a lot of effort into being ready and knowing the course."

On Friday, she had her first ride on the course since the test event in 2019, and commented, "it was really good. I was expecting to be more nervous because it is a challenging course, but I felt really comfortable right away and able to dial it in already. The features are pretty much all the same [from the test event]; they might have made some parts a bit safer. But biggest difference is that the climbs have aged - what used to be cobbled climbs are now rocks coming out of the soil. The climbs are pretty loose and hard for traction, but otherwise very similar [from before]."

Women
There is one overwhelming favourite for the women's race - Loana Lecomte of France. The first year Elite rider - winner of the U23 world title last year - is undefeated on the World Cup circuit this year, winning all four events by significant margins. Incredibly, she has led every lap of every race this year. She has ridden her competitors off her wheel on the climbs and can descend through the technical stuff with the best of them.



Loana Lecomte

Having said that, anything can happen on a given day, and there are other riders ready to step up if Lecomte falters. Among those is the defending Olympic champion, Jenny Rissveds of Sweden, who finished second in the last two World Cups. Other medal favourites include reigning world champion and Lecomte's compatriot Pauline Ferrand Prevot, who has been top-5 in every World Cup this year and Australian champion Rebecca McConnell, with two top-5 finishes this season.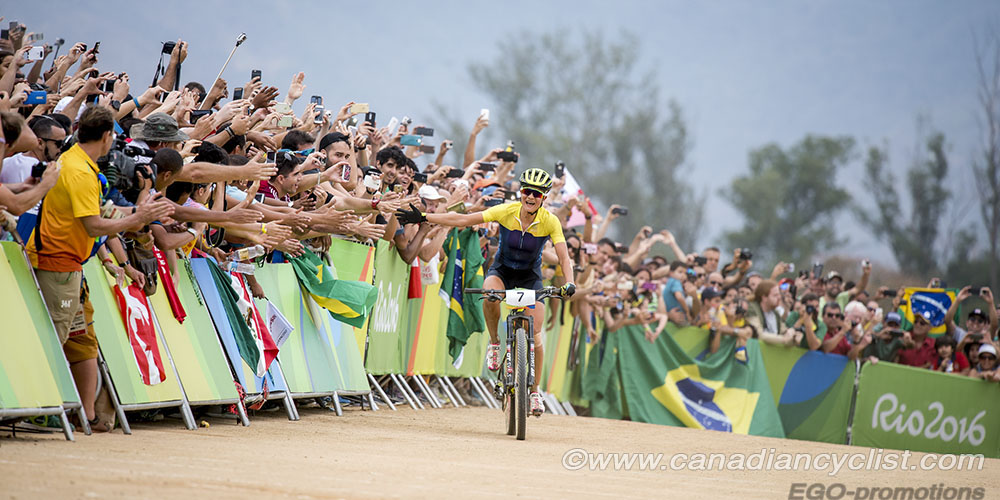 Jenny Rissveds wins 2016 Gold in Rio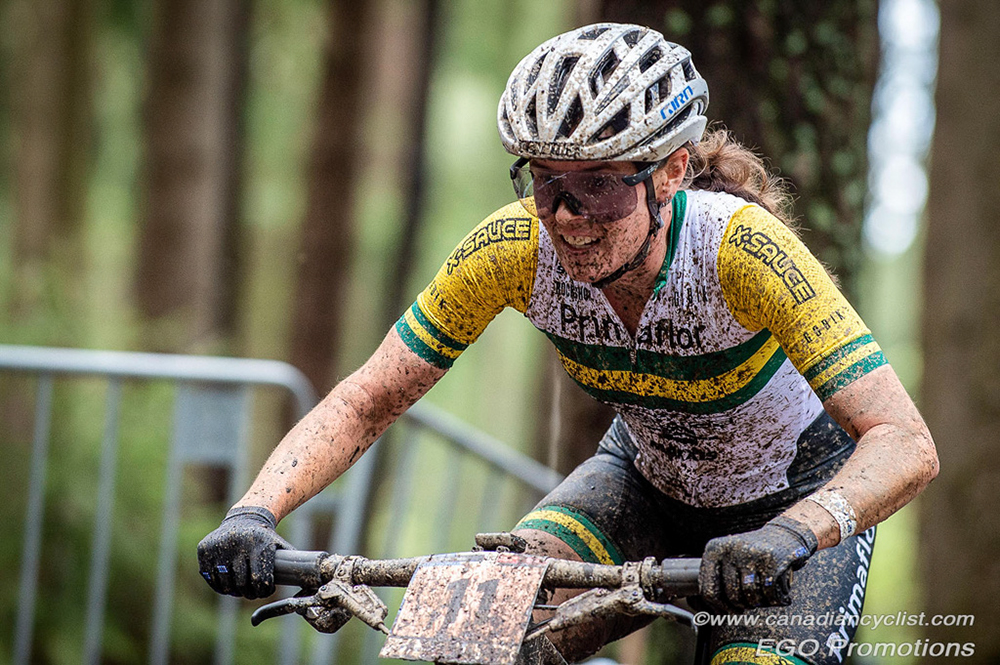 Rebecca McConnell

Up-and-coming American star Haley Batten had a strong start to the season, with top-3 performance in the first two World Cups, but faltered in the last two. Her team mate Kate Courtney is an unknown quantity - she missed Round 3 of the World Cup recovering from a broken arm suffered in a crash in Round 2 and struggled in Round 4, but if she is fully recovered will be in the medal hunt.

Switzerland's Jolanda Neff would also be a usual medal favourite, but she is still recovering from a broken hand. Evie Richards of Great Britain could surprise; with a third place result in the final round of the World Cup before the Games.

Canada has two women in the field - Pendrel and Haley Smith. Pendrel is coming back from having given birth to her daughter, Dara, six months and one day before this race will take place. She has been steadily improving through the World Cup season, riding as high as top-15, but fading late in races as she builds endurance.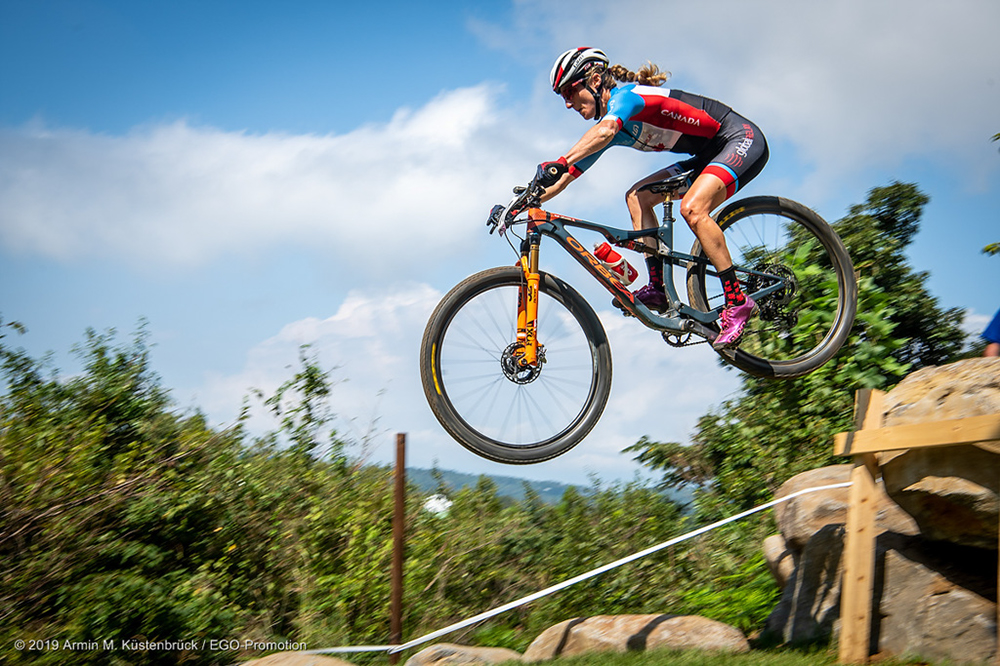 Catharine Pendrel


She says, "All three of the other Olympics I've been to I've come in with a World Cup win that season, so that set me up with more of a medal mentality. This time, I'm going in to have the best race that I can, and support my team mates to have their best race. I think the best performance for me would be a top-10, but I'm not going to count out that experience and keeping a cool head can lead to a really strong result."

Haley Smith is attending her first Olympics. She has self-admittedly struggled through the pandemic, finishing in the high-30s and low-40s at the World Cups.

In an earlier interview, Haley said to us: "I know my fitness is there and it is in me. To be honest, it's just a matter of sharpening up and freshening up, and allowing myself to shed this emotional stress that I've been dealing with. No one can predict what is going to happen in Tokyo, in terms of results; that's why we race, because we don't know what's going to happen! It's not a sure thing. I'm going with the intention of learning as much as I can and bringing the best version of myself I can be there. And seeing what I can do, and enjoying and living the experience, soaking it all up. I believe that I can be a good, strong version of myself there, and we are using the next three weeks to make sure that reality is realized. All I can control is my own preparation and my own attitude and approach, and I feel confident that I will be able to nail those things."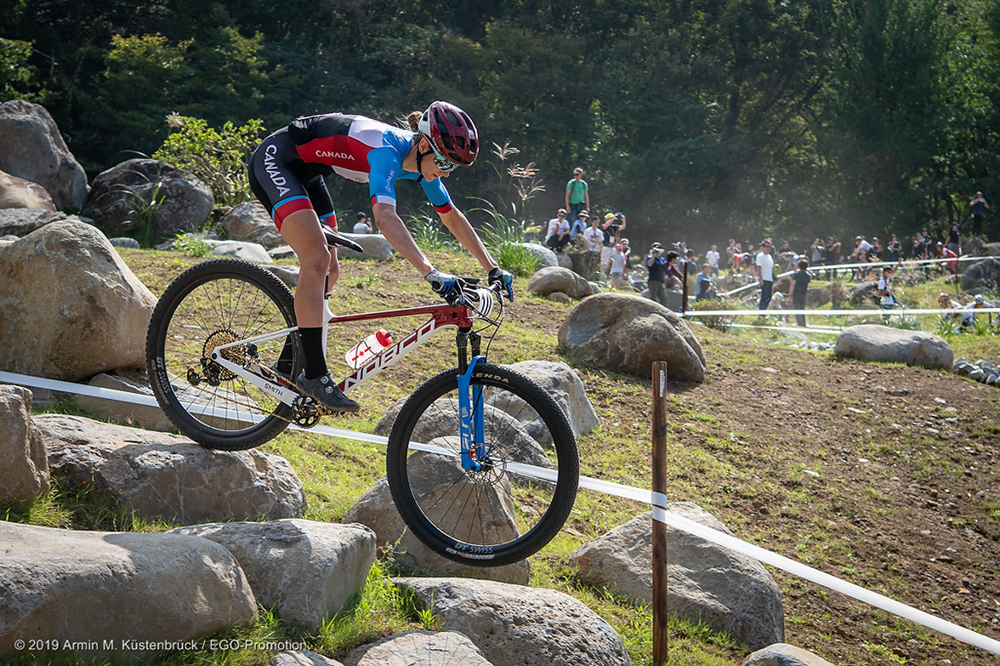 Haley Smith


After her first training ride on the course with less than three days to go, Haley says, "The course is awesome, it's very dry and pretty loose in places. Actually, the most treacherous parts of the course are the flat corners where it is very dusty. But the technical features are riding really well, really good flow. Speed is your friend here, so the faster you go the smoother it is. It's honestly just a really fun course right now.It feels different [from 2019], but I think that's mostly in my mindset and my approach; I don't think there is a that much different with the physical course. I'm less tired this time and a lot more optimistic. So it was easy to get through all the features and enjoy it."

Haley also spoke about her introduction to the Olympic experience, "It's overwhelming in a lot of ways; I'm having waves of real excitement and gratitude, and feeling super lucky to be here. And I'm also having waves of nervousness and anxiety, and feeling this is too big. But it's been really positive and a great experience so far."

Men
This may be the most exciting men's mountain bike race in history. There are three riders that can be argued as co-favourites - Mathieu van der Poel (Netherlands), Thomas Pidcock (Great Britain) and Mathias Flueckiger (Switzerland). Van der Poel only did the first two World Cups, winning both Short Tracks and finishing second in one XCO before heading off to the Tour. Pidcock won the second round and grabbed an Olympic spot for Great Britain with his surge in the final qualifying events. Flueckiger has finally come out from behind the enormous Swiss shadow of defending Olympic champion Nino Schurter to become the dominant rider of the season; heading into the Games with wins in the last two World Cups and the leader's jersey.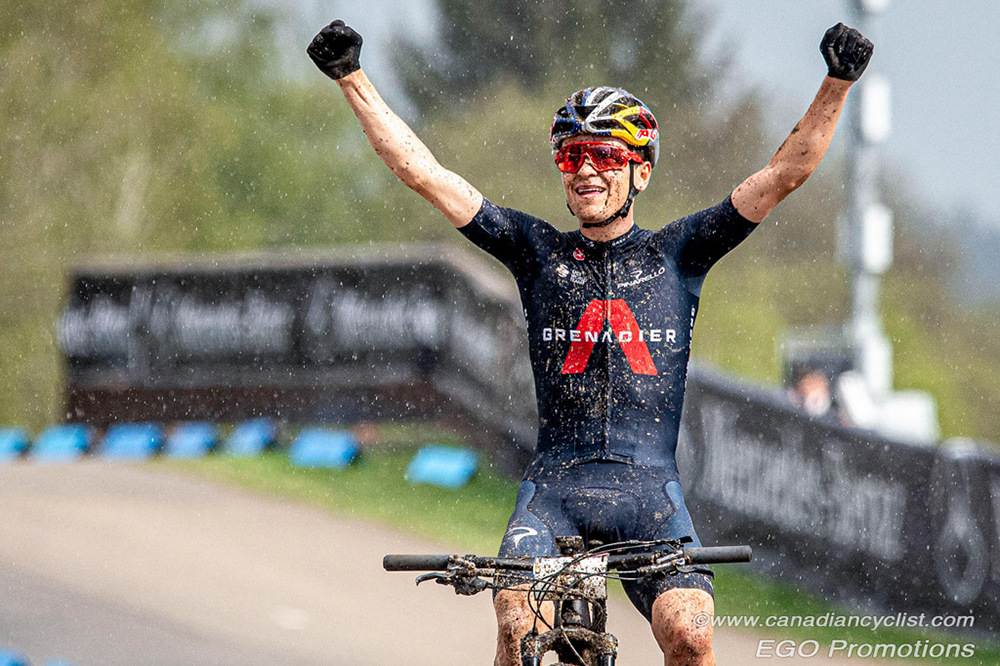 Thomas Pidcock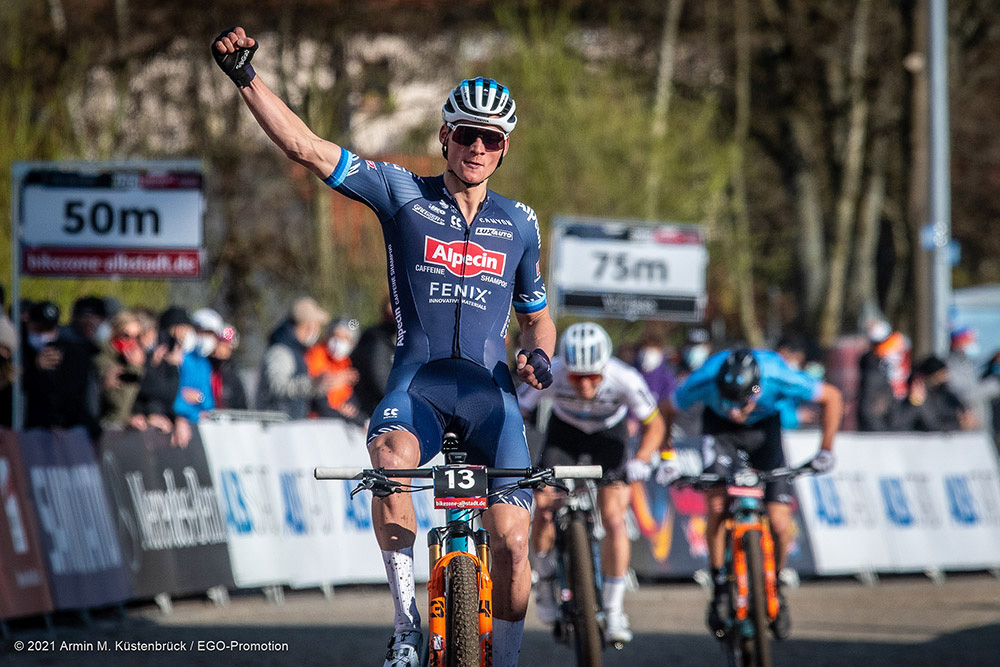 Mathieu van der Poel

Mathias Flueckiger


Another to watch for a podium appearance is Ondrej Cink (Czech Republic); possibly the best climber on the circuit right now, but hampered by his lesser technical skills. Reigning world champion Jordan Sarrou (France) has two top-5s in the World Cup, and South African Alan Hatherly has been extremely consistent this season, finishing fourth in the last World Cup.

Two names are unknowns - defending champion Schurter, who has not shown his usual dominance at the World Cups this season after a second place in the first round; and Brazil's Henrique Avancini, who opted to skip the last two rounds of the World Cup to train at home. Neither of these riders can be counted out of medal potential.

Canada has one entrant for the men's race - national champion Peter Disera. This is Peter's first major Games of any type, and we spoke to him earlier about that: "As you mentioned, it's my first major Games and I've had an interesting year thus far. We haven't been able to do a lot of racing outside of the World Cups; there hasn't been any domestic racing, no real North American racing that was easy to get to. So we've just been doing the World Cups and the odd European C1 or HC race in between. So I feel after Leogang and Les Gets [the last two World Cups] that I'm back in my stride of being able to perform on race day and back in the swing of things of what it's like to race.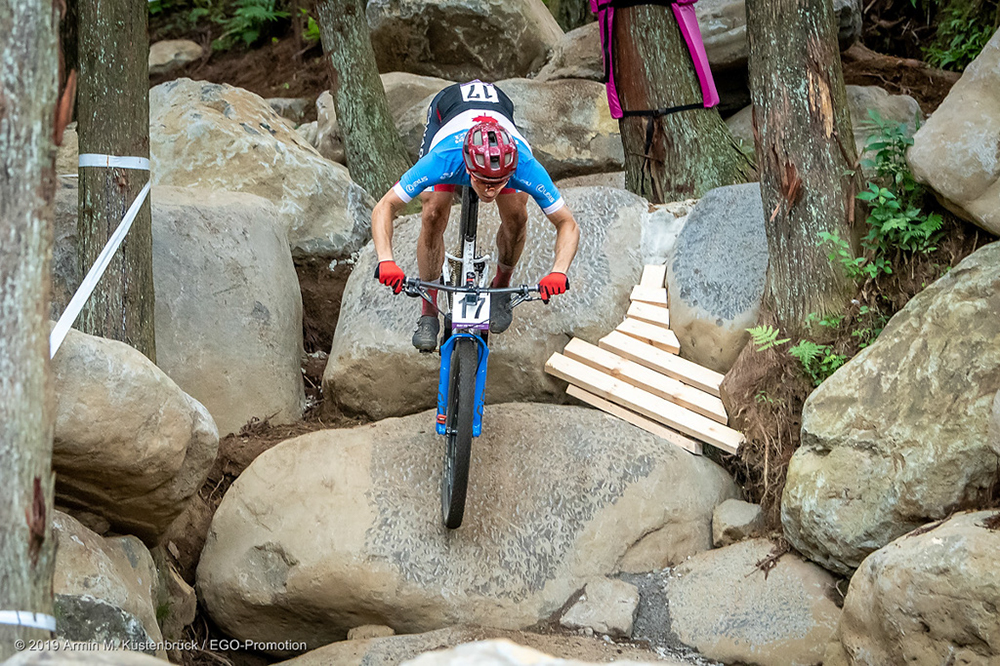 Peter Disera

Now that he has had his first training ride, Peter spoke about the course and being at the Games: "It's super fun, but a little bit different from when we were here in 2019; it's a little bit more blown out and dry. It's just weathered; seen a bit of time. But it's a beautiful hot day with blue skies and sun, 35 degrees. It took me a while to get up to speed, but then I got up to speed and I'm looking forward to the race now. I don't know if we'll get any rain before the race, but if we do it could be beneficial if we got a little bit to tamp down the dust and put some of the loose stuff away. But it's a cool course, and the features are sort of the easy part with the loose corners and off-camber stuff."

"I'm just embracing everything and going with the flow. We're in a satellite village, so I'm benefiting a little bit with not being as much of a deer in the headlights, but it's a super cool experience and I think as the track athletes and other disciplines roll in it will become a bit more real. Right now, it's just more of a World Cup mountain bike summer camp!"

"I just want to have a good race. We know that the heat and humidity factors are going to play a huge role in the race. So just be smart, embrace that southern Ontario heatwave and put my foot to the floor and hope for the best."
---
Related Photo Galleries
---