July 27/21 23:08 pm - Success for Annemiek van Vleuten, Top-15 for Both Canadians in TT

Posted by Editor on 07/27/21

After a series of mishaps in the opening four days of racing, the Netherlands finally got a result they can be happy with in the women's time trial - gold for Annemiek van Vleuten and bronze for defending champion Anna van der Breggen. Switzerland's Marlen Reusser took silver.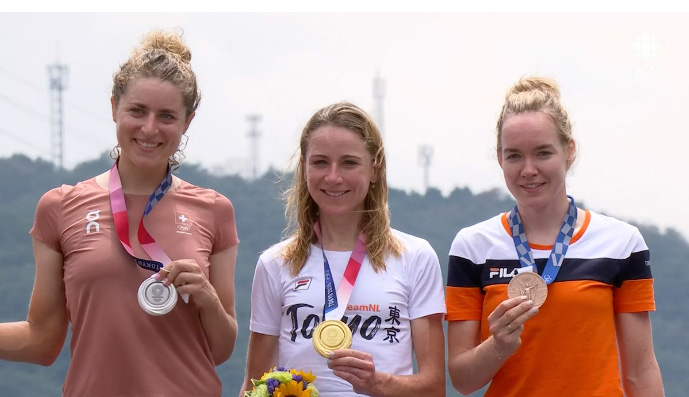 L to r: Marlen Reusser, Annemiek van Vleuten, Anna van der Breggen
Karol-Ann Canuel, the fourth starter, set an early fast time, but was eventually knocked down the rankings as faster riders began to come in, finishing 14th overall. Leah Kirchmann, starting 11th, was tenth fastest at the first split, 11th at 15 kilometres and 12th at the finish.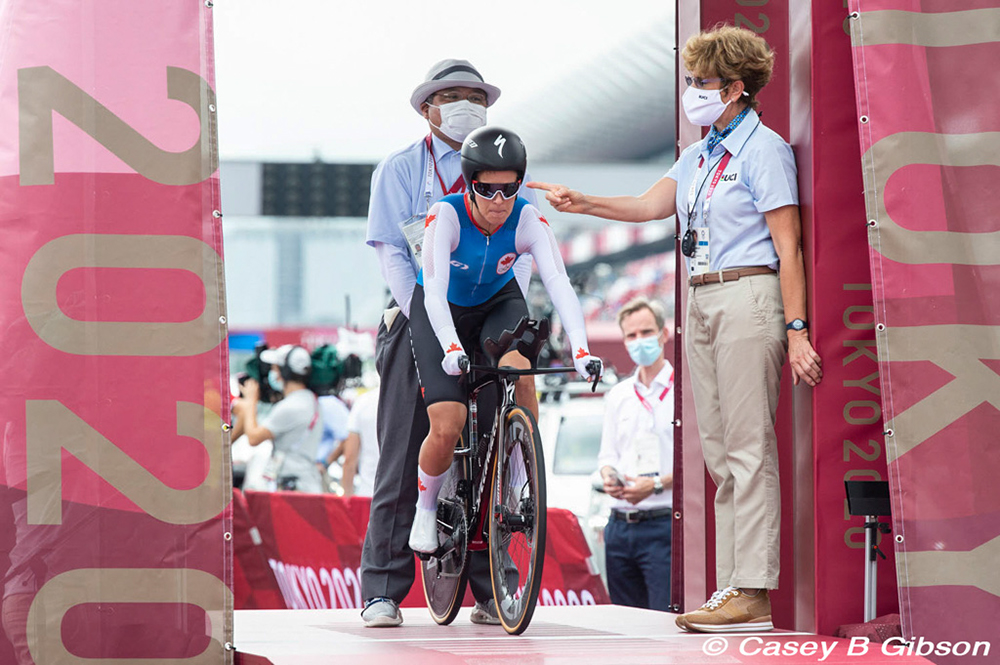 Karol-Ann Canuel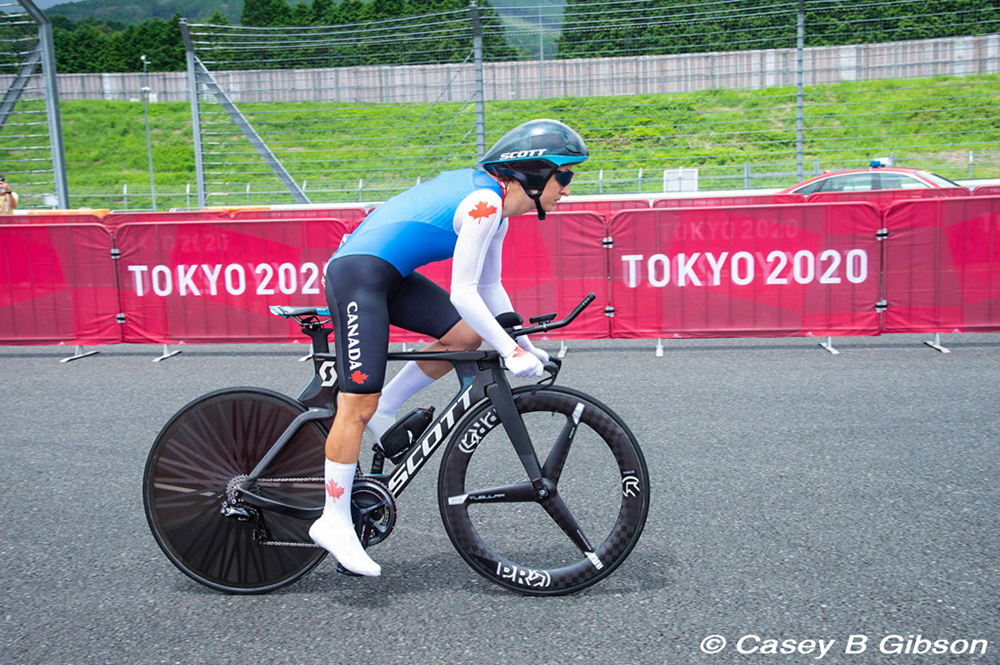 Leah Kirchmann
The 22.1 kilometre course started and finished at the Fuji Speedway, beginning with a four kilometre mostly downhill section out of the Speedway, followed by a long uphill grind to the first time check at 9.7 kilometres. A long descent took the riders back to the entrance of the Speedway, followed by a hard rolling section to the finish line. The race began in sunshine, gusty winds and 95% humidity, making it feel like a sauna to the riders.

Canada's Karol-Ann Canuel set the first strong time of 33:07.97, but she was pushed from the top spot by Australian Sarah Gigante. France's Juliette Labous then became the first to go under 33 minutes, but that would only be good enough for 11th, as faster starters began to come in.

Van Vleuten, starting sixth from last, was setting the fastest time at both the 9.7 kilometre and 15 kilometre time splits, finishing with a time of 30:13.49, but the big question was, what would the final two starters do - American Chloe Dygert and van der Breggen. The answer came at the first time check, with van der Breggen only third fastest and Dygert eighth.

Dygert was a big unknown; the 2019 world champion, she had a horrific crash at the 2020 world championships while leading the race, requiring leg surgery and months of rehab. She wasn't a factor on the leader board all race, but may have been suffering from mechanical problems as well. She was nearly 52 seconds behind van Vleuten at the first split and 1:10 back at the second, and was nearly caught by van der Breggen at the finish line.

While van Vleuten had the gold sewed up, there was a battle going on for silver. Reusser was fourth fastest at the first split and dropped to fifth fastest at the second one, over 13 seconds behind van der Breggen with seven kilometres to go. However, she had a very strong final split while van der Breggen faltered a bit, eventually finishing 56.47 seconds behind van Vleuten, with van der Breggen a further 5.16 seconds back.
| | | |
| --- | --- | --- |
| Women, 22.1 km | Time | Gap |
| 1 Annemiek van Vleuten (Netherlands) | 0:30:13.49 | 0:00 |
| 2 Marlen Reusser (Switzerland) | 0:31:09.96 | 0:56.47 |
| 3 Anna van der Breggen (Netherlands) | 0:31:15.12 | 1:01.63 |
| 4 Grace Brown (Australia) | 0:31:22.22 | 1:08.73 |
| 5 Amber Neben (United States) | 0:31:26.13 | 1:12.64 |
| 6 Lisa Brennauer (Germany) | 0:32:10.71 | 1:57.22 |
| 7 Chloe Dygert (United States) | 0:32:29.89 | 2:16.40 |
| 8 Ashleigh Moolman-Pasio (South Africa) | 0:32:37.60 | 2:24.11 |
| 9 Juliette Labous (France) | 0:32:42.14 | 2:28.65 |
| 10 Elisa Longo Borghini (Italy) | 0:33:00.89 | 2:47.40 |
| 11 Sarah Gigante (Australia) | 0:33:01.60 | 2:48.11 |
| 12 Leah Kirchmann (Canada) | 0:33:01.64 | 2:48.15 |
| 13 Lisa Klein (Germany) | 0:33:01.97 | 2:48.48 |
| 14 Karol-Ann Canuel (Canada) | 0:33:07.97 | 2:54.48 |
| 15 Omer Shapira (Israel) | 0:33:15.84 | 3:02.35 |
| 16 Alena Amialiusik (Belarus) | 0:33:21.41 | 3:07.92 |
| 17 Emma Cecilie Joergensen (Denmark) | 0:33:50.18 | 3:36.69 |
| 18 Anna Shackley (Great Britain) | 0:34:13.60 | 4:00.11 |
| 19 Julie van de Velde (Belgium) | 0:34:23.49 | 4:10.00 |
| 20 Katrine Aalerud (Norway) | 0:34:33.38 | 4:19.89 |
| 21 Christine Majerus (Luxembourg) | 0:34:34.13 | 4:20.64 |
| 22 Eri Yonamine (Japan) | 0:34:34.97 | 4:21.48 |
| 23 Margarita Victoria Garcia Canellas (Spain) | 0:34:39.96 | 4:26.47 |
| 24 Anna Plichta (Poland) | 0:34:56.95 | 4:43.46 |
| 25 Masomah Ali Zada (Equipe Olympique des Réfugiés) | 0:44:04.31 | 13:50.8 |
---
Related Photo Galleries
---