October 14/21 11:51 am - Rochette 7th at Round 2 of Cyclo-cross World Cup

Posted by Editoress on 10/14/21

Three days after the 2021-22 Cyclo-cross World Cup opened in Wisconsin, the World Cup resumed in Fayetteville, Arkansas, which will host the 2022 Cyclo-cross World Championships. Maghalie Rochette (Specialized) was once again the top Canadian finisher in seventh place in the women's race, a three spot improvement over the first round. Michael van den Ham was the top Canadian man in 27th.

Rain, heavy at times, made for very muddy and slippery races, with riders struggling on some short climbs they would normally ride with ease. The women's race initially came down to the same two riders as Round 1 - world champion Lucinda Brand (Baloise Trek Lions) against the previous race's winner, Marianne Vos (Jumbo-Visma). However, Vos crashed late in the women's race and couldn't seem to regain her rhythm afterwards, eventually falling to fourth, while Brand took the win and the leader's jersey. Denise Betsema (Pauwels Sauzen - Bingoal) and Clara Honsinger (Cannondale/Cyclocrossworld) both passed Vos in the final lap to take the other podium spots. Rochette rode for much of the race in a battle for a top-3 result before fading slightly in the final lap and a half.

"The race today was really awesome," said Rochette. "For a few days they had been calling for 50 to 75 mm of rain, but you never know if it will actually happen. When we woke up this morning it was still dry, and when we did the pre-ride it was still super dry and then an hour before the race it started pouring. Then we knew it was going to be a mud race and it was super fun! I had a good race - not as fast a start as last time [when she led the entire first lap] - but it wasn't a problem. I stayed calm and made sure to do some good passes. I think it was one of my best World Cups in a really long time, because ... I don't think I have raced for the podium before when everyone [of the top riders] is there. So this was a first for me."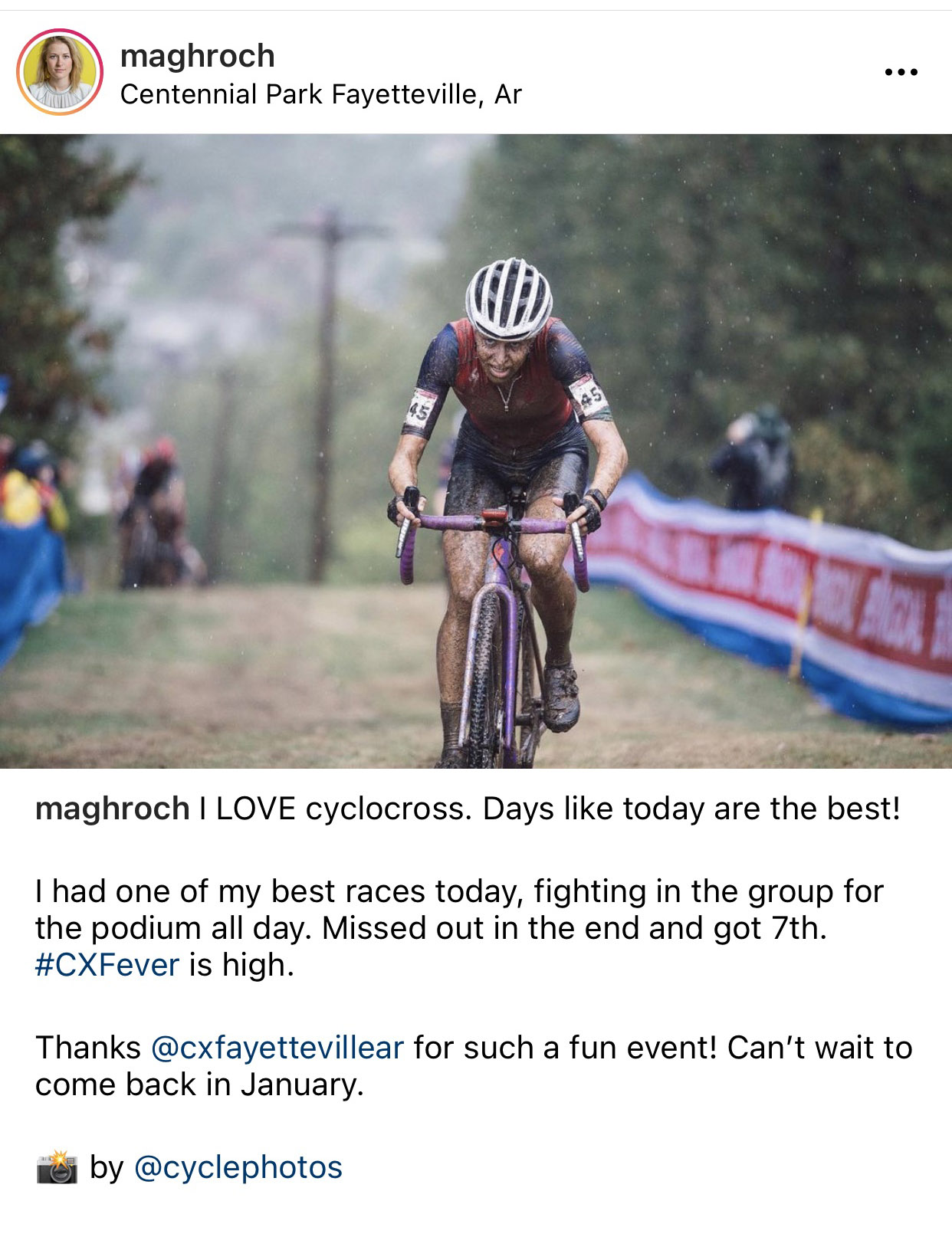 "For maybe five laps I was fighting for that third spot and then on the sixth [final] lap ... I was still actually fighting for it - on the final lap on a climb I could see the four girls there right in front of me. Tried to push and pass, but I wasn't able to make up the time. But I'm really happy, and I think I'm in a good place right now at the beginning of the season and if I can keep building on it, I will eventually get that podium!"

"It's the same course as the world championships, so it's the first time that everyone saw it, and they did a really good job. Keep in mind that two years ago when we raced here this course was as flat as a pancake, and there was absolutely nothing interesting on it. This year they've created elevation, a big, big set of stairs, some really cool stuff. So I think it's going to be a pretty fun race when it comes to January for the world championships."

"Now we are back in the car headed for Iowa City and the next World Cup on Sunday. Hopefully I'll feel rested and good!"

The men's race was once again dominated by Belgians, who again swept the podium spots. The same three riders were on the podium, but the order was shuffled - Quinten Hermans (Tormans - Circus Cyclo Cross Team), the third place finisher in Round 1 took the first World Cup win of his career, while Round 1 winner Eli Iserbyt (Pauwels Sauzen - Bingoal) caught and dropped team mate Michael Vanthourenhout (Pauwels Sauzen - Bingoal) for second. Iserbyt, with a first and a second, retains the leader's jersey. Van den Ham, 24th in Round 1, flatted with two laps to go, to finish just out of the top-25. Brody Sanderson, 30th in Round 1, improved one spot to 29th.

"The World Cup was basically a dry run for the World Championships for the organizers and racers alike," commented van den Ham, "and having spent a couple days there now I can say pretty confidently that, dry or wet, that is going to be one hard World Championships course. It's a lot of pedalling, a lot of elevation and, when the skies open up like they did on Wednesday, a whole lot of slippery and slimy mud. There's no doubt that whoever wins World's on that course is the most complete 'Cross rider."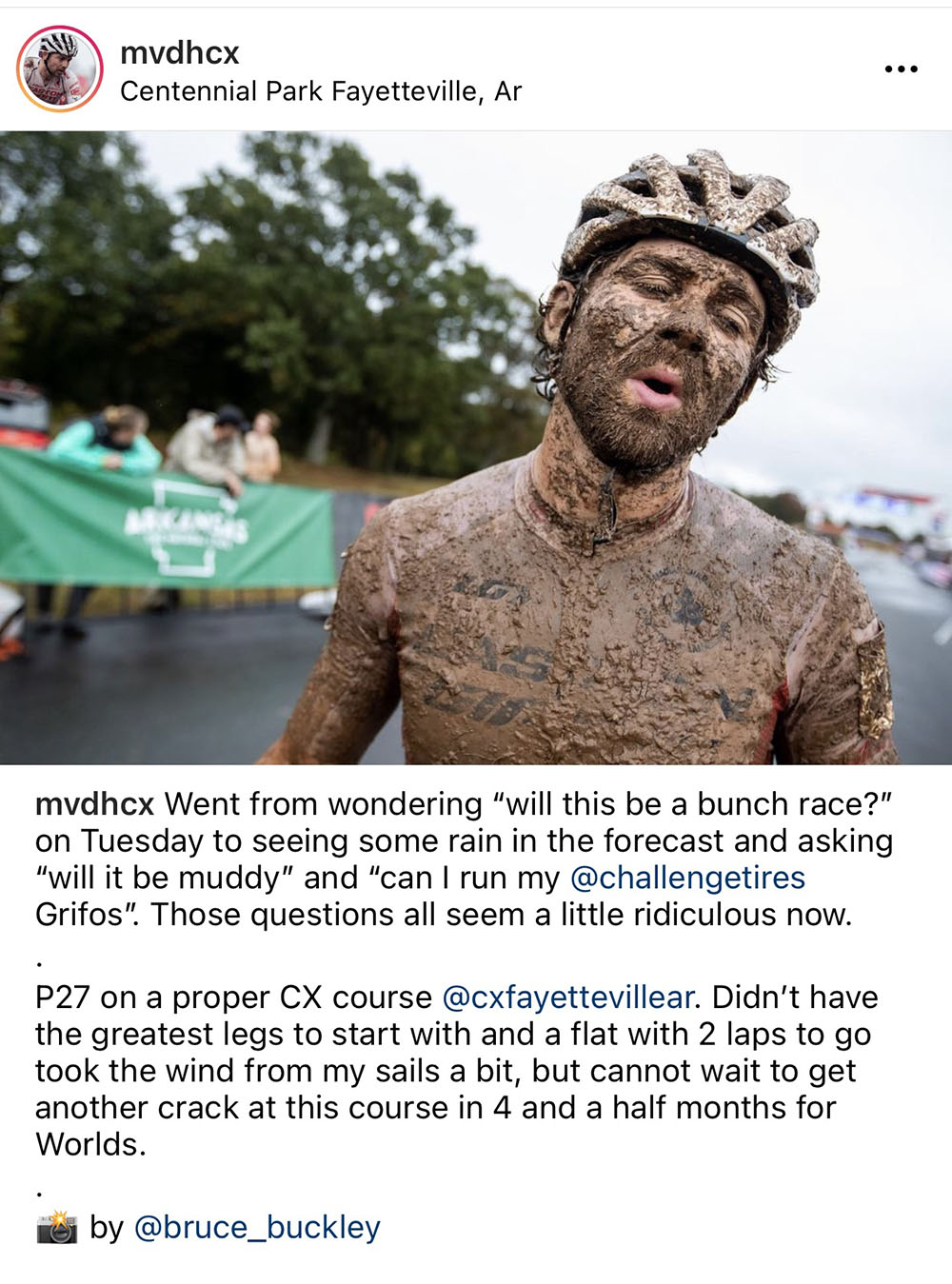 "My own race was OK. After riding a wave of good legs and good form for the first few weekends of the season, I think the travel finally caught up with me and I just didn't have a lot in the tank to start; that was compounded by a flat with two laps to go. P27 isn't a bad result by any means, but I was definitely hoping for a little more on a course that should have suited me to a 'T' "

The World Cup moves to Iowa this weekend for the third and final stop in North America.
Cyclocross World Cup #2, Fayetteville results
---
Related Photo Galleries
---