October 20/21 19:12 pm - Coles-Lyster 4th on First Day of Track Worlds

Posted by Editoress on 10/20/21

Day 1 is complete for the Track Cycling World Championships, with multiple world records set in the Team Sprint, some strong results for Canadians and some disappointment as well.

For the morning session, Canada had development riders in both the women's and men's Team Pursuits. The women qualified fifth and will move on to tomorrow's first round, but the men were ninth - one spot out of moving on.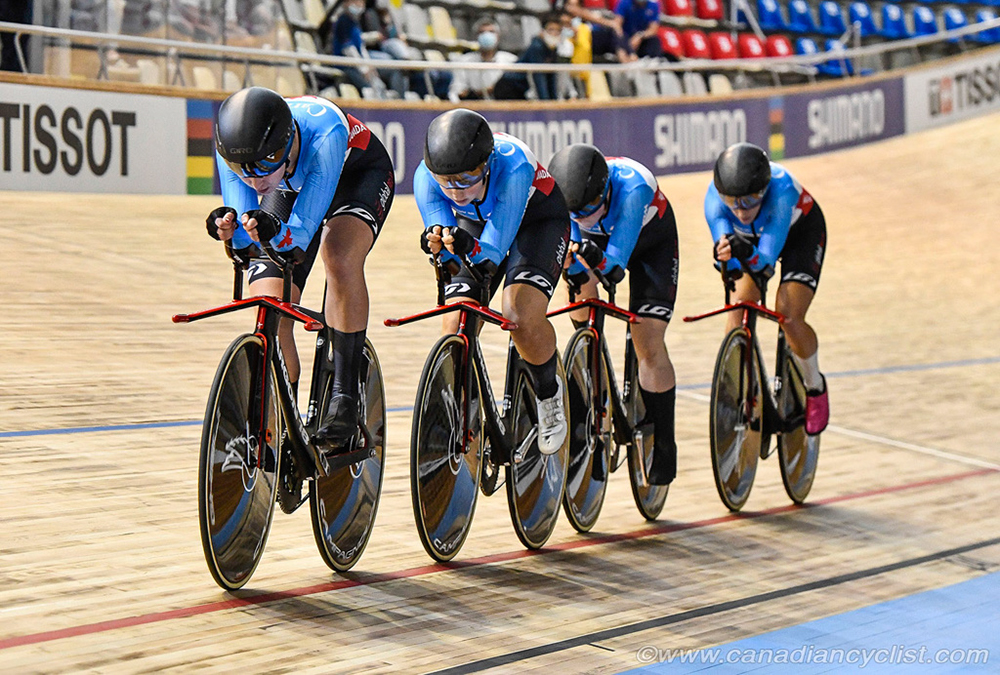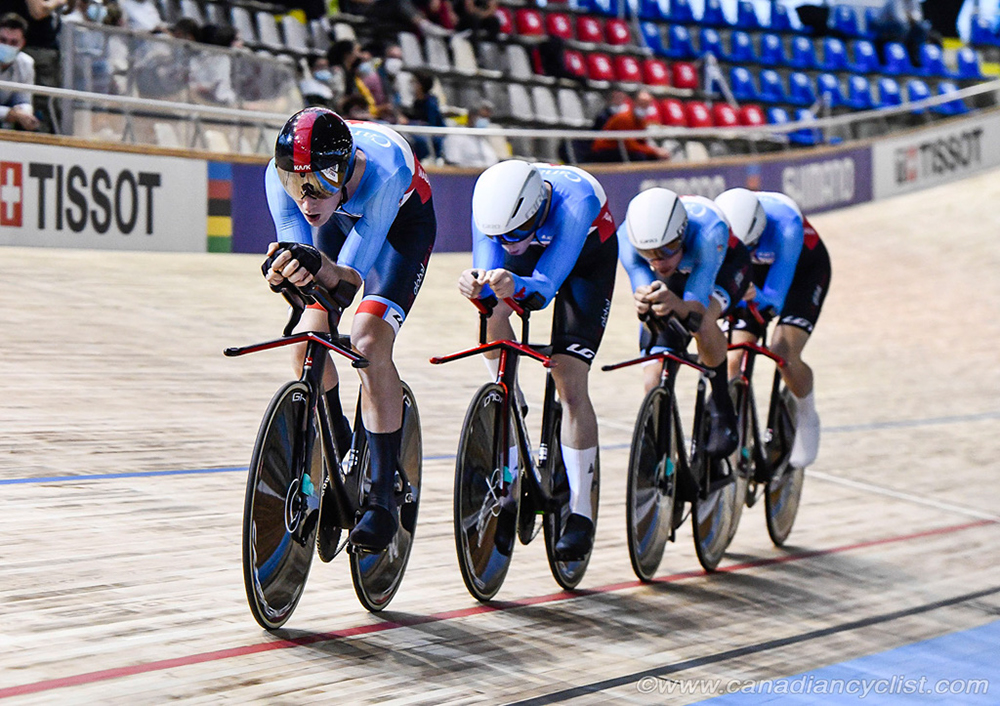 Derek Gee, a member of the Olympic squad that finished fifth, was optimistic despite the result: "After working with the NextGen athletes for a World Championships build, I'm incredibly impressed with how they performed. A first Worlds is an incredibly stressful event and they handled it very well and really stepped up to ride faster than they ever have before. A few small work-ons and I think this team can makes massive leaps. The time isn't fully reflective of what these athletes are capable of and it's always disappointing not to move on to the next round, but I'm very excited to see where this team can go in the next few years."

In the women's Scratch Race, Maggie Coles-Lyster had Canada's best result of the day - finishing fourth, just out of the medals. The race was slow until the final kilometre, when Italy's Martina Fidanza took advantage of a lull in the action to attack. She had half a lap before the bunch reacted. American Jennifer Valente started to chase with two laps to go, but it was too late as Fidanza soloed in for the title. Maike van der Duin (Netherlands) caught Valente at the line for the silver, with Coles-Lyster half a bike length off the podium.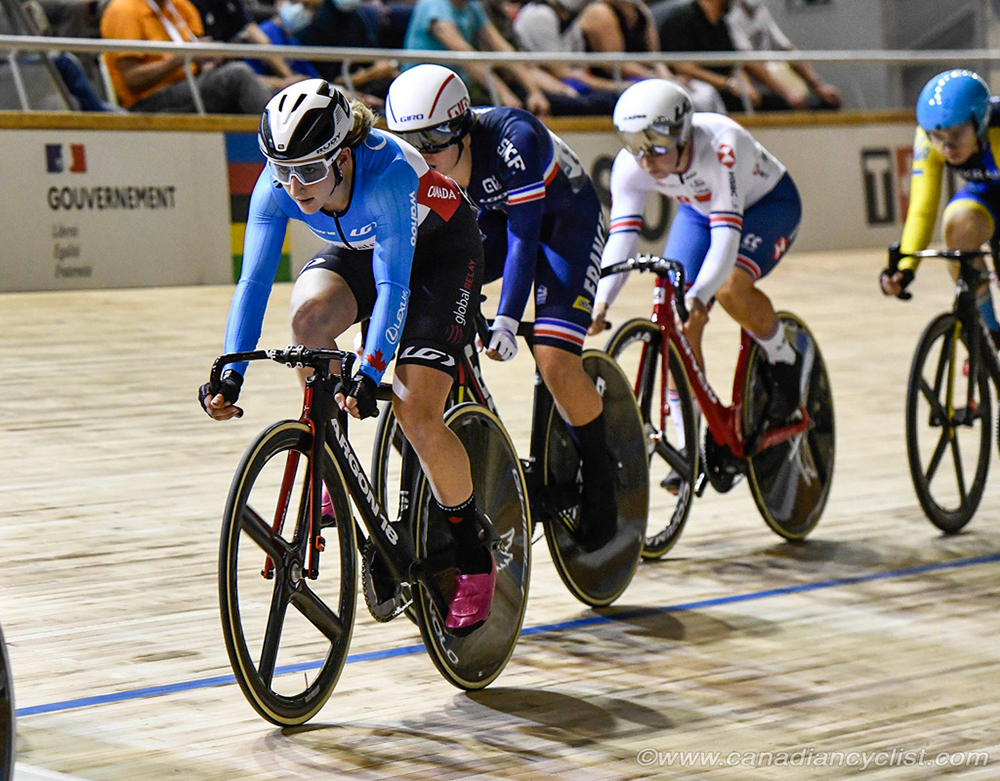 Maggie Coles-Lyster
"I'm beyond words at where I am at right now with my racing," said Coles-Lyster. "This whole year has felt like I've unlocked a new level in my racing and to come fourth in the World Championships Scratch Race at my third track race in almost two years is just a testament to the work I've put in and the lows I've overcome since winning the Junior World Championships four years ago. It's been a journey, but this is just the beginning. I know what I'm capable of and now to have proved to myself and the world that I'm right up there with the best racers in the world is just such an incredible feeling."

The Team Sprint saw Canada return in both the women's and men's competition after an absence of a few years. The women's race has gone to three riders for the time at the world championships, and Canada fielded a strong team in Kelsey Mitchell, Lauriane Genest and Sarah Orban. The team qualified third and looked to finish third overall in the next round, meaning they would race for bronze against Great Britain (who had finished behind them in each round). However, Canada was then relegated and out of the competition. Officials ruled that Mitchell (the second rider) had not completely left the sprinters lane (moving above the red line) before Orban (the final rider) started to pass her. Germany won the title after setting world record times in each of their rides, with Russia second and Great Britain third.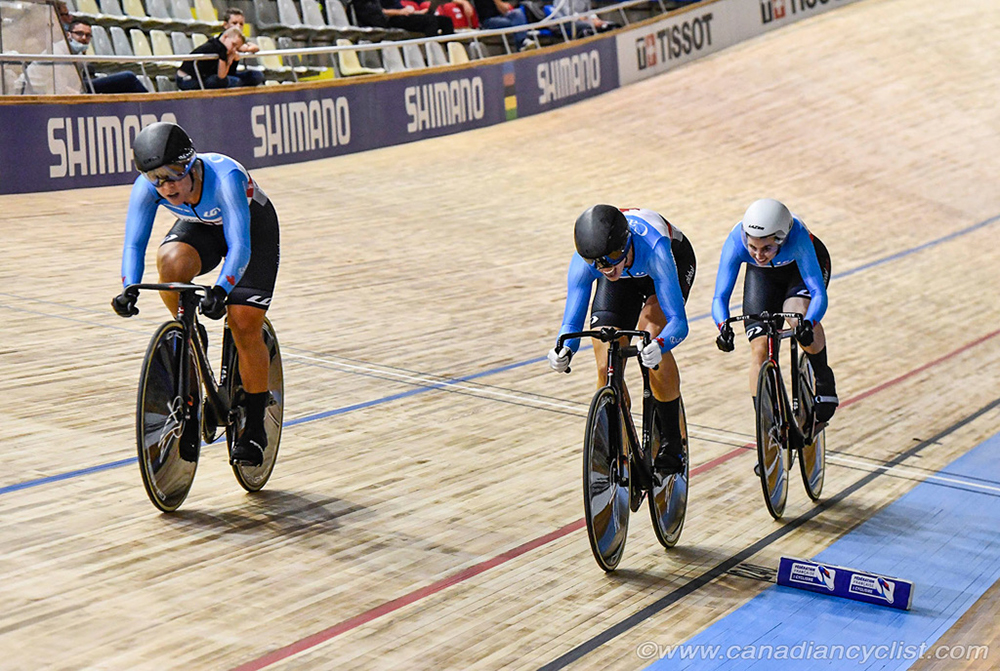 Women's Team Sprint
Canadian sprint coach Franck Durivaux shouldered the blame: "I think it went not to bad for our first participation with both men and women, honestly. I'm sorry for what I did; I did wrong with the girls. I said the wrong thing to Kelsey about the exchange and that was why they were relegated. It's all on me. Basically we lost the bronze medal today."

"They aren't the perfect team sprint squad yet, but we can do better; we still have two years [before Olympic qualifying]. So we're going to work even harder. This was just a test for this world championships. This was the first time they were really racing together."

The men's competition was expected to be for second, with the Dutch completely dominant this year - Olympic champions, European champions and world record holders. They did win, but a surprisingly strong French team fed off local support to push the Dutch in the gold medal final. Great Britain took the bronze.

"For the men I am pretty happy," said Durivaux. "They did a good time; their best time at sea level - they were faster in Cali [where they won the Nations Cup], but that was at altitude. They beat the Canadian record there, but it was at altitude. They finished seventh and that's pretty good for this young team."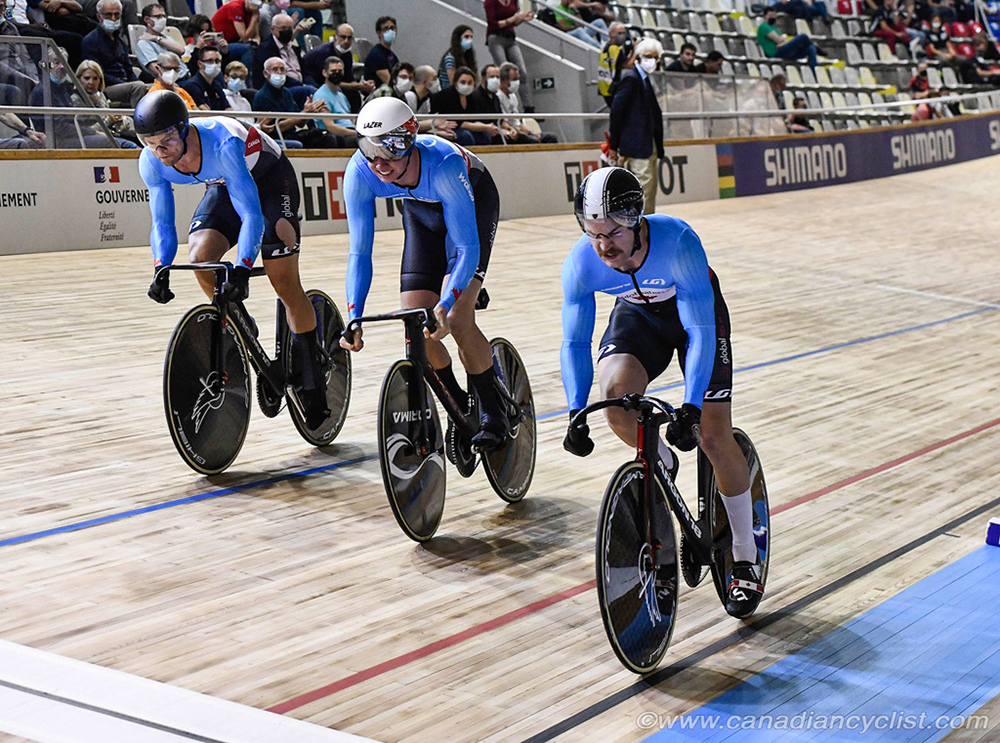 Men's Team Sprint
Track World Championships: Day 1 results
---
Related Photo Galleries
---