February 1/22 11:54 am - Specialized Launches Online Bike Sales in Canada & Worldwide UPDATED

Posted by Editoress on 02/1/22

A week ago it was announced that Specialized would be offering online bike sales in the U.S. We have now confirmed that this program will be offered worldwide - including Canada - and starts on Tuesday, February 1st.

We spoke with Specialized Canada Managing Director Larry Koury, who says that initially inventory will be a concern, as it has been throughout the pandemic, with certain popular models having low availability. However, he also said that Specialized had to go this route because, "the marketplace is changing, and younger generations of riders are used to being able to buy almost anything this way".

A quick look at the Specialized Canada website shows an option for 'Specialized Delivery', as well as 'Available to Pick Up in Store'. However, there is currently only one model available for direct shipping - the Stumpjumper EVO Comp ($6499 CDN) - but it also shows that no sizes are available. There are 10 models available - two Road (both over $15,000), one MTB (the Stumpjumper EVO Comp), one eBike, four Juvenile models and two framesets (one MTB and one Track). All have none or limited sizes available.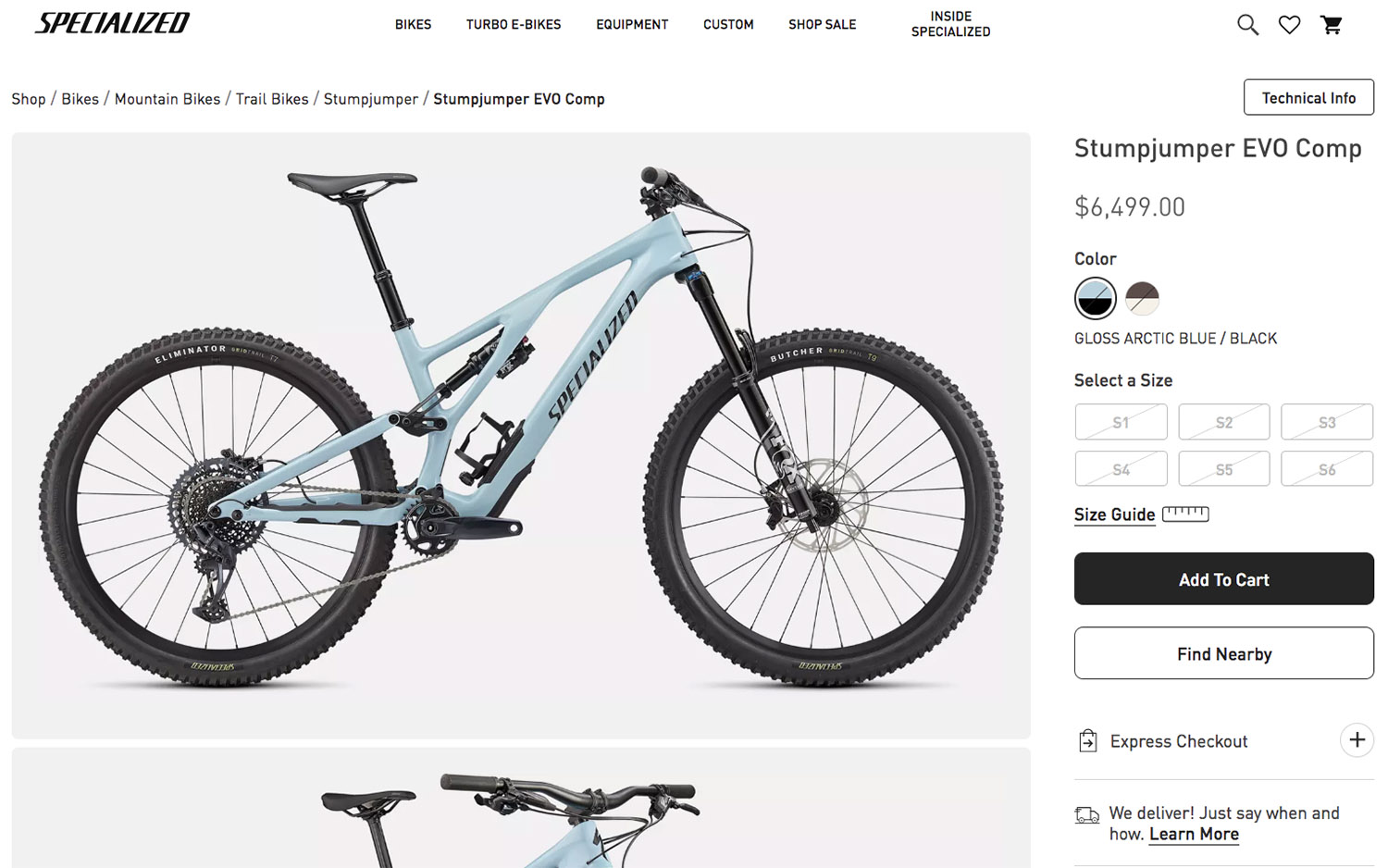 Specialized has offered non-bike equipment (helmets, shoes, tires, etc.) online for some time, but bike sales are a new, and big, step for them. In a statement, Specialized said:

"After nearly 50 years of building the perfect bike for every rider, we decided to go one step further and come up with the perfect way to get the perfect bike to every rider. Now you can shop when, where, and how you want, from your favourite retailer to the comfort of your own home. We're excited to announce Ship to Home and Specialized Delivery, two new ways to get your new Specialized bike without getting in the car."

There will be five options:

Ship to Home - The bike is pre-built with minimal assembly required.

Specialized 'White Glove' Delivery - For more expensive models (and for a fee), the bike is delivered by a Specialized technician, who will set it up and fit the bike to you.Koury says that the initial Canadian rollout for this service will be in the greater Montreal, Toronto and Vancouver regions.

Delivery to Retailer - You can order the bike and have it delivered to a Specialized Tier 1 or Tier 2 dealer close to them, who will assemble it for you to pick up. In this scenario, the dealer gets 50% of their normal margin.

Locate Online and Buy at Retailer - Self explanatory.

Go to Local Bike Shop and Purchase - The traditional way of buying a bike.
---
Related Photo Galleries
---