April 5/22 11:51 am - Maghalie Rochette Reports from Brazil

Posted by Editoress on 04/5/22

Maghalie Rochette is one of the Canadians who is in Petropolis, Brazil, preparing for this weekend's opening round of the XCO World Cup. She raced this past weekend in a C1 race held on the the same course as the upcoming World Cup, finishing fourth in the Short Track (XCC) and 12th in the cross-country (XCO).

Maghalie gave us permission to publish her report on the event. You can find this and other news from Maghalie at her website - www.maghalierochette.com/; - and subscribe to her newsletter there.

Racing in Brazil - A steep learning curve

The last time I came to Brazil was in 2014. I flew down with the Canadian National team to race the U23 MTB Pan American Championships. I travelled several hours, pre-rode the course, and I got so sick from eating too many vegetables or drinking unbottled water that I wasn't even able to race...and then I flew back home.

Brazil 1 , Maghalie 0

So this time, I decided to be much more careful. As much as I want to learn from the culture here, I am here to race so David [Gagnon] and I are being very careful with the food we are eating. So far, we are on our 6th day here and it's going very well!

We decided to come to Brazil one week early as there was a UCI race on the same course as the World Cup one week early. Since I have not raced many XCO races in the last few years, we thought this would be a great opportunity to not only get some race experience before the World Cup, but also to get acclimated to the time zone and humid climate.

On Friday morning, as I was preparing to go ride the course for the first time, I received a text from Kate Courtney, asking if I wanted to pre-ride with her. My answer was a resounding yes. Kate is a real champion, and I felt lucky she wanted to pre-ride with me.

I started the ride with a lot of confidence, thinking that, since I raced a World Cup 4 years ago, my skills had improved a bit....but that quickly changed as I got on the course here in Petropolis. Damn! They sure like their jumps here. I had a bit of fear, but I also knew that I had to conquer it quickly. The course won't change just because I am a bit scared...gotta figure it out!

Throughout the pre-ride, my attitude kept changing from:

1. Shit this is scary (leaving my ego on the side and admitting that this was not going to be easy).
2. "Okay, I can ride this. Let's figure out how" (Digging in my skillset to find a way to ride it. And finding the confidence to do it properly).
3. Doing it. (Slowly at first, but building confidence each time).

Thank god Kate was there to help me. Watching her hit the features first helped me understand how to do it. And then, having her there helped me to not spend too much time looking at it, and to actually just do it as we had to keep moving.

After two laps, I felt like I had built enough confidence to make it safely on each feature. Ideally, I would have done another lap to find more flow and more momentum on the course...but these two laps had been a bit stressful for me and I felt I had had enough for the day. When I raced MTB a few years ago, I was always pushing my limits and was crashing constantly. It's good to push the limits sometimes, but by crashing you also take a few steps back every time and hurt your confidence. This year, I'm taking a different approach and I am listening to myself a bit more and taking my time to do things properly.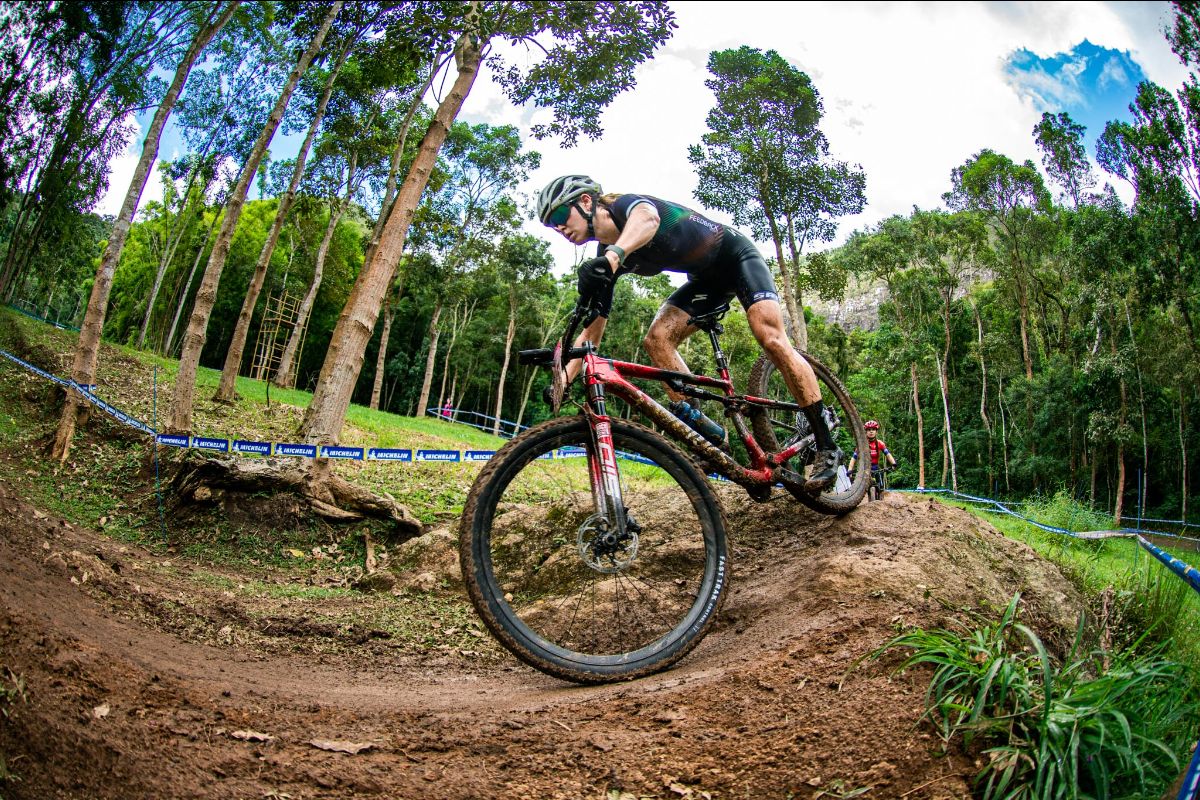 Photo by Cesar deLongho
The race weekend started with a Short Track on Saturday morning. A Short Track race, for those who don't know, is a race that happens on a small loop of +/- 3-4 minutes and the race lasts for about 20 minutes. It is short and intense.

I was starting from the back of the grid and made my way up to the front on Lap 2. I rode there with the front group of 5 for a little bit, but I really did not feel good at all. I fought but ended up 4th. Honestly, there is nothing much to say about this race...I felt so crappy and slow, I just made it to the finish but had not much tools to play around and try to do moves. Oh well! At least, it was a great way to wake up my body, and to practice one of the big jumps as we hit it 6 times in that race!

Sunday was the actual cross-country race, on the same course as we would race at the World Cup. It had rained that morning and the track had been super slippery for the amateurs races in the morning. I had not ridden the track when it was slippery and although I love the mud, it's quite different to ride features when they are wet. I was a bit nervous, but I told myself I would adapt to the track lap by lap. I was here to learn! By the time the race started, I felt actually pretty calm. Here's how the race went for me...

Lap 1 -- Started on the 5th row. "Pass pass pass" when the course was wide. "Relax, be patient" when we hit single tracks. I was quite tense in the descents and took a few of the B lines while checking out the track conditions.

Lap 2 -- "Pass pass pass" on the climbs. I was feeling good and made up a lot of spots. But in the downhills, I was super stiff and slow.

Lap 3 -- At some point, I realized that I was so tense from the descents that I was not recovering at all. I was so pinned, to the point where I couldn't even use my strengths in the pedalling sections. Luckily, I was aware enough to realize what was wrong. I decided to chill a bit to regain composure but I got passed by a few people.

Lap 4 -- I was focusing on relaxing in the descents and riding with a good flow. I worked. I was able to recover in the downhill and push up the hills. I started passing people again.

Lap 5 -- That was my best lap of all. I passed a few more people and was riding so much better.

I ended up in 12th place. But really, the win for me is that I feel like I progressed so much from the 1st to the 5th lap. The difference in my riding was crazy! I had a lot of fun.

But the best part? When I finished the race, I was really excited by the potential for improvement. I hit so many of the B lines, and rode so badly at first, I feel like I can improve a lot by making jus a few simple tweaks in my preparation and in my approach to the race this week. I can't wait to race the World Cup!!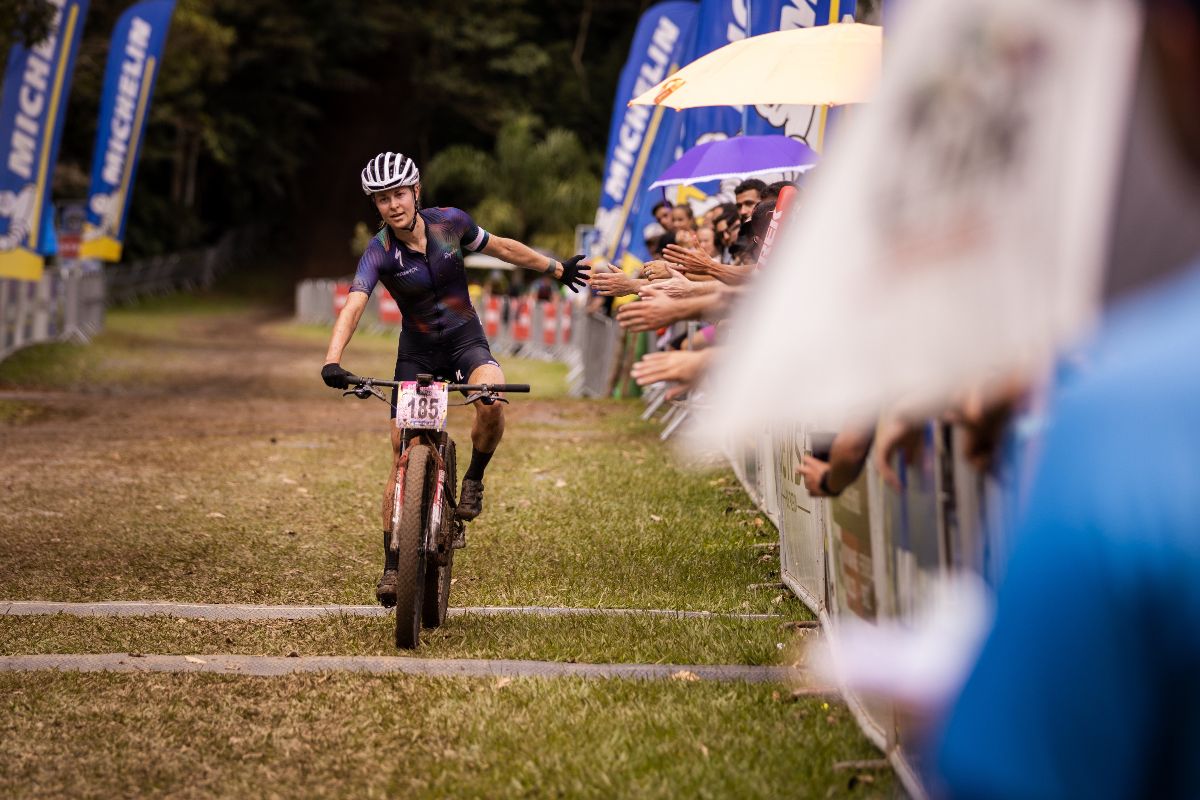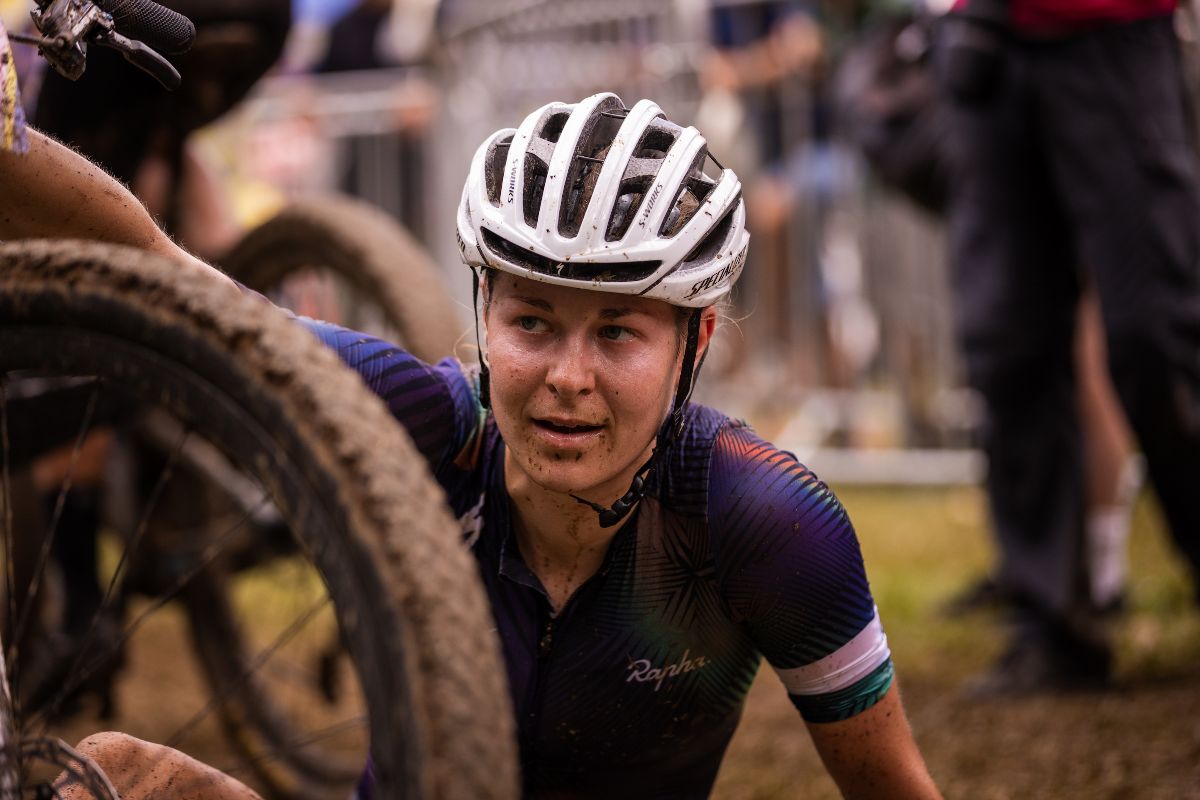 Photos by Nataniel Giacomozzi (@natanielgiacomozzi)
Lastly, I have to talk about the fans here in Brazil! I didn't know that mountain biking was so popular here. There were thousands of people at the event, and everyone was cheering and asking for photos and autographs! People are super kind and I feel lucky to be experiencing this culture!

Now, all eyes on preparation for the World Cup. I'm excited to get even more comfortable with the course, and to not only ride, but actually attack the features!
Results
---
Related Photo Galleries
---