June 21/22 10:08 am - Preston Street Criterium Returns (ON)

Posted by Editoress on 06/21/22

After two years of pandemic cancellations the Preston Street Criterium in Ottawa was back with a bang on Sunday with record entries, first-time winners and an exciting new addition to the program.

There is clearly a renewed appetite for bike racing, as more than 280 racers signed up and big crowds turned out for the 48th edition of the criterium in Ottawa's Little Italy, held on its traditional Father's Day date.

The program kicked off with Fixie racing for bikes with a single gear and no freewheel or brakes. This racing format is growing in popularity, and the experiment in Ottawa was a success, with more than 20 riders battling it out in sunny but cool and gusty conditions that made gear selection a challenge.

As the weather warmed up through the day and racing continued for Masters and Youth categories, the crowds lining Preston Street got bigger and louder, creating a vibrant setting around the four-corner, one-kilometre course. The riders responded with some entertaining racing in the marquee elite events that ended with fresh new faces atop the podium.

The elite women's race was run over 60 minutes plus five laps. Several early attacks ended in a stalemate. Although riders remained tightly bunched together, Equipe Cycliste Féminine gradually emerged as the dominant force.

This Montreal-based team has been putting a lot of effort into teaching its riders race tactics - and it showed on Sunday. ECF rider Julie Gagnon won all seven intermediate sprint prizes, or primes, and then the whole team worked together over the final laps to place 25-year-old Camille Desrochers-Laflamme of Montreal in perfect position to win the final sprint. Laury Milette (Emotional.FR Tornatech GSC Blagnac) of Gatineau was the top local rider in second, and Victoria Dupont (ECF) finished third.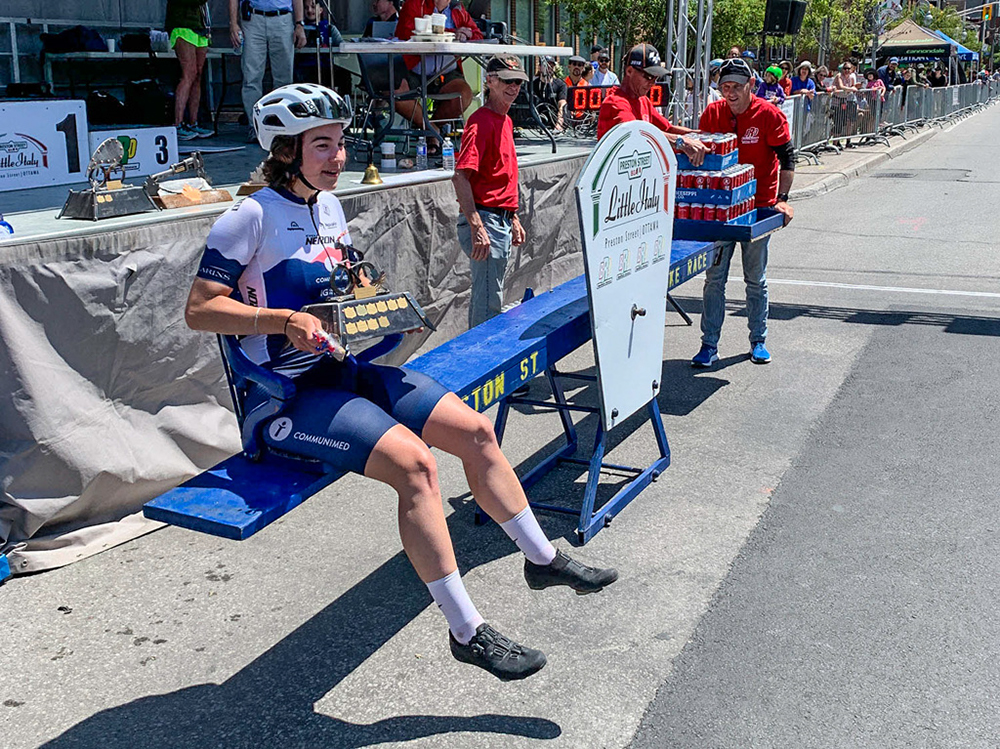 Camille Desrochers-Laflamme's 'prize' is her weight in beer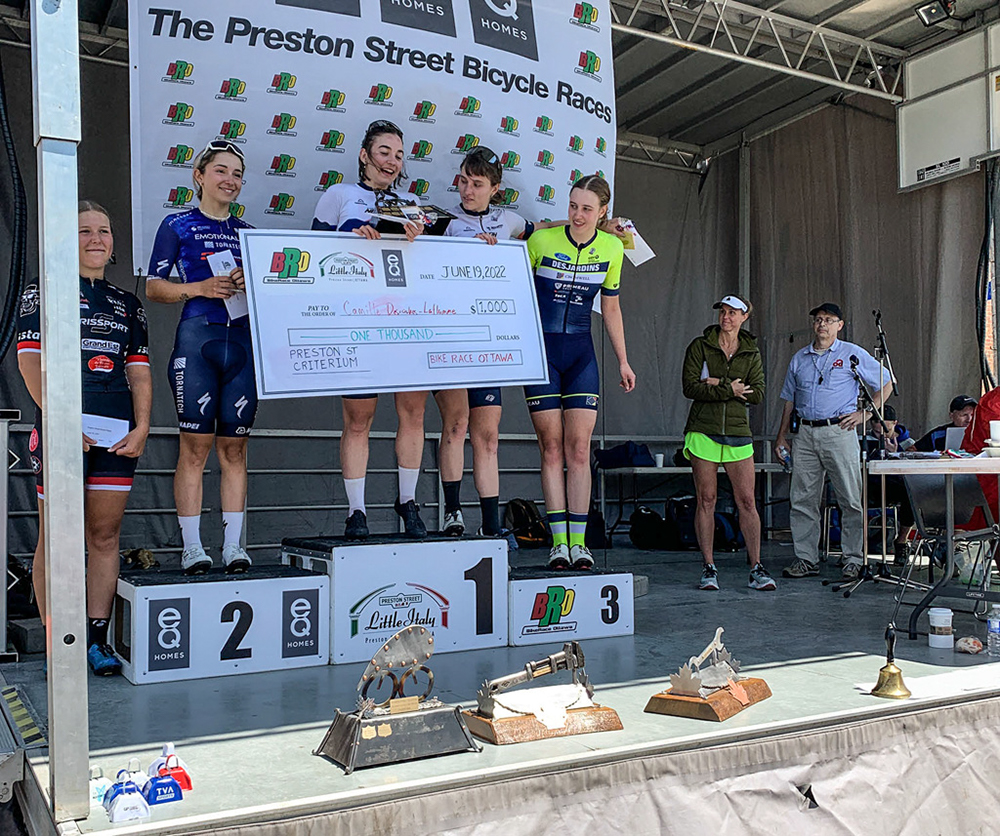 Women's podium
"We planned on racing for the primes, then with five laps to go we started thinking about the finish," said delighted winner Desrochers-Laflamme. "I started screaming 'let's go!' to my teammates, and it worked out in the end."

The elite men's race - also held over 60 minutes plus five laps - featured a number of professional and national team athletes. It was another textbook example of team tactics, though it played out very differently from the women's race.

For the first half-hour, a series of breakaway attempts ended in failure as the riders kept a close eye on one another. Finally, after 23 laps of racing three riders slipped off the front: Francis Izquierdo-Bernier (Cannondale-Echelon p/b 4iiii) from Saint-Adolphe d'Howard, Quebec; Matthew Sherer from Kingston (Ascent Cycling); and Haligonian Ed Walsh (Toronto Hustle).

The trio quickly built a 30-second lead, but it stalled there - there was too much firepower in the bunch to let it go. Finally, at around the 40-minute mark another group of three emerged from the peloton: Tokyo track cycling Olympian Michael Foley from Milton, Ont. and local favourite - former Canadian road champion - Matteo Dal-Cin (both Toronto Hustle); and Laurent Gervais (Cannondale-Echelon p/b 4iiii).

After a few laps of effort both front groups merged to form a breakaway of six riders sitting about 30 seconds ahead of the bunch, and with strong collaboration they set to work to gradually increase their lead. Behind, two riders - Michael Joanisse of Boucherville, Que. (Rouleurs-Polo Velo), and William Goodfellow of Dorval, Que. (Yeoleo Test Team) - took up the chase, but couldn't get closer than 40 seconds from the leaders as the pack faded to a minute back with five laps to go.

The six breakaway riders started attacking one another, but Toronto Hustle's strength in numbers meant they could cover everything while keeping Foley in reserve for the final sprint, and that's how it played out.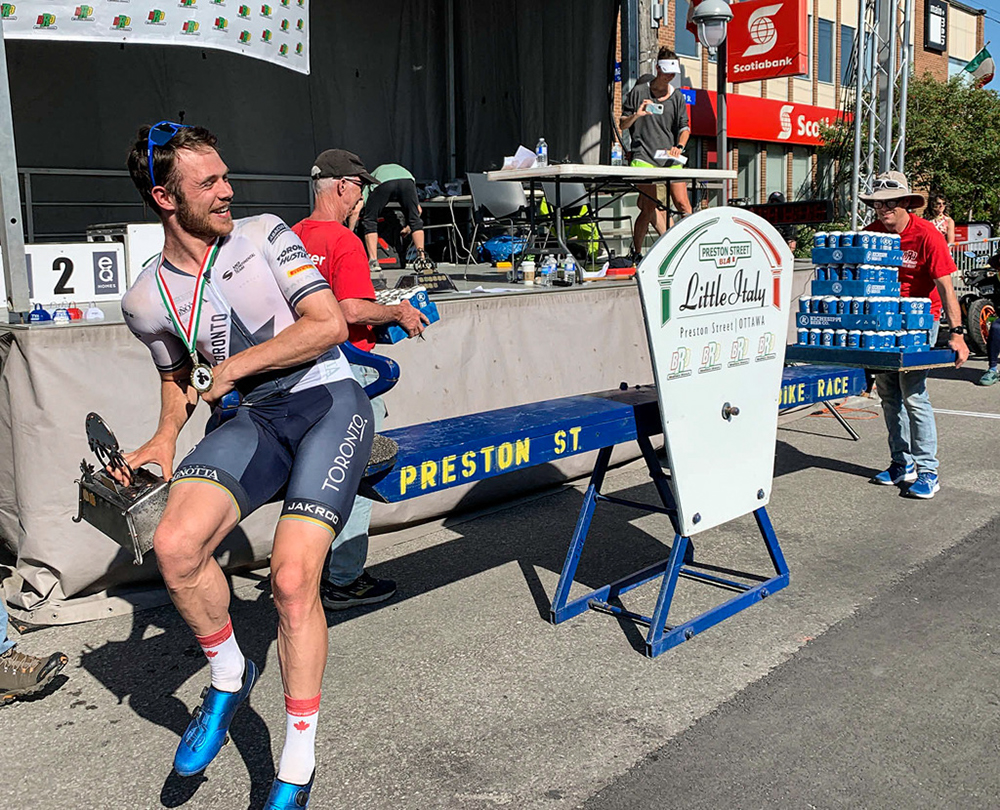 Michael Foley receiving his weight in beer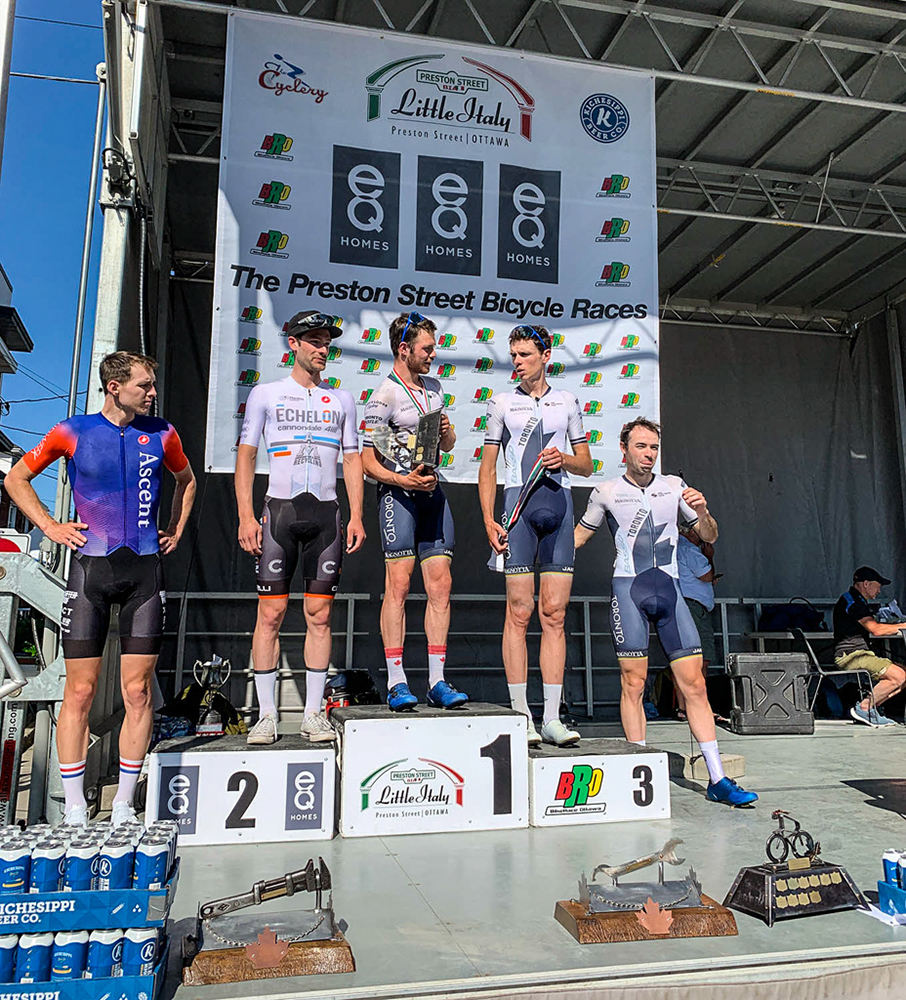 Elite Men's podium
"It was a messy last corner with three guys going in different directions as we caught Ed Walsh and Teo covered the inside for me," said track ace Foley, 23, who had just raced Preston Street for the first time and was savouring his first road race win since his Junior years. "This was a great event - I'd be happy to come back again if my schedule allows it."

Both elite winners received a check for $1,000 and their body weight in Kichesippi beer on the Preston Street Criterium's famous beer scale.

A big thank you to the Preston Street BIA, EQ Homes, Kichesippi Beer Co., our sponsors and volunteers and of course everyone who came out to support the event. The 50th edition of the Preston Street Criterium will be back on Father's Day 2023.

Courtesy Kris Westwood

Elite Results
All Women

1 Camille Desrochers-Laflamme - E1W
1:07:57
2 Laury Milette - E1W
1:07:57
3 Victoria Dupont - E1W
1:07:57
4 Allyson Webb-Charland - E1W
1:07:57
5 Jazmine Lavergne - E1W
1:07:57
6 Julie Gagnon - E1W
1:07:58
7 Jill Messier - E3W
1:08:00
8 Whitney Surgenor - E2W
1:08:01
9 Elissa Proulx - E1W
1:08:01
10 Madeline LeBreton - JW
1:08:01
11 Charlie Lemire - JW
1:08:01
12 Evelyne Gagnon - E1W
1:08:03
13 Emma Dressler - E2W
1:08:05
14 Aubrie DeSylva - E2W
1:08:08
15 Taylor Tompkins - JW
1:08:09
16 Sara Everson - E3W
1:08:23
17 Elise Piedalue - E1W
1:08:31
18 Isabelle Mayrand - E1W
1:08:31
19 Abigail Mcnaughtan - JW
1:09:10
20 Tara Den Boer - E3W
lapped
21 Kelly Yaroshewski - E3W
lapped
DNF Megan Poulin - E1W

Elite Men

1 Michael Foley
1:07:03
2 Laurent Gervais
1:07:03
3 Matteo Dal-Cin
1:07:03
4 Matthew Sherar
1:07:04
5 Edward Walsh
1:07:06
6 Francis Izquierdo-Bernier
1:07:08
7 William Goodfellow
1:08:06
8 Michael Joannisse
1:08:07
9 Nicolas Cote
1:08:12
10 Emile Hamm
1:08:12
11 Trevor O'Donnell
1:08:12
12 Tommy Feng
1:08:12
13 Max Rubarth
1:08:12
14 Raphael Parisella
1:08:13
15 Zola Mehlomakulu
1:08:13
16 Doug van den Ham
1:08:14
17 Hendrik Pineda
1:08:14
18 Travis Samuel
1:08:14
19 Tommy Omura
1:08:14
20 Connor Willson
1:08:15
21 Christian Ricci
1:08:15
22 Dominic Cantin
1:08:16
23 Brett Stoppa
1:08:16
24 Marc-Andre Faucher
1:08:17
25 Warren Macdonald
1:08:18
26 Adam Millar
1:08:23
27 Maximilien Moreau
1:08:44
Justin Purificati
lapped
William Blackburn
lapped
Ian Manning
lapped
DNF Philip Caldwell
DNF Osmond Bakker
DNF Nicolas Cote
DNF David Fry
DNF Marc Boudreau
DNF Thierry Kirouac-Marcassa
DNF Glen Rendall
DNF Theodore Woodford
DNF Myles Lane
All category results
---
Related Photo Galleries
---