January 10/23 8:34 am - World Class Riders Compete at Canadian Track Nationals

Posted by Editoress on 01/10/23

This past weekend, the Elite and Masters Track Nationals returned to their usual date of early January, for the first national championships of 2023. A total of 123 riders from across Canada came to the Mattamy National Cycling Centre to contest for maple leaf jerseys.

The event was a remarkable indication of the progress that Canadian track cycling has made in the seven years since the velodrome first opened for competition. Two Olympic medallists and a world champion competed at a national track championships; a first.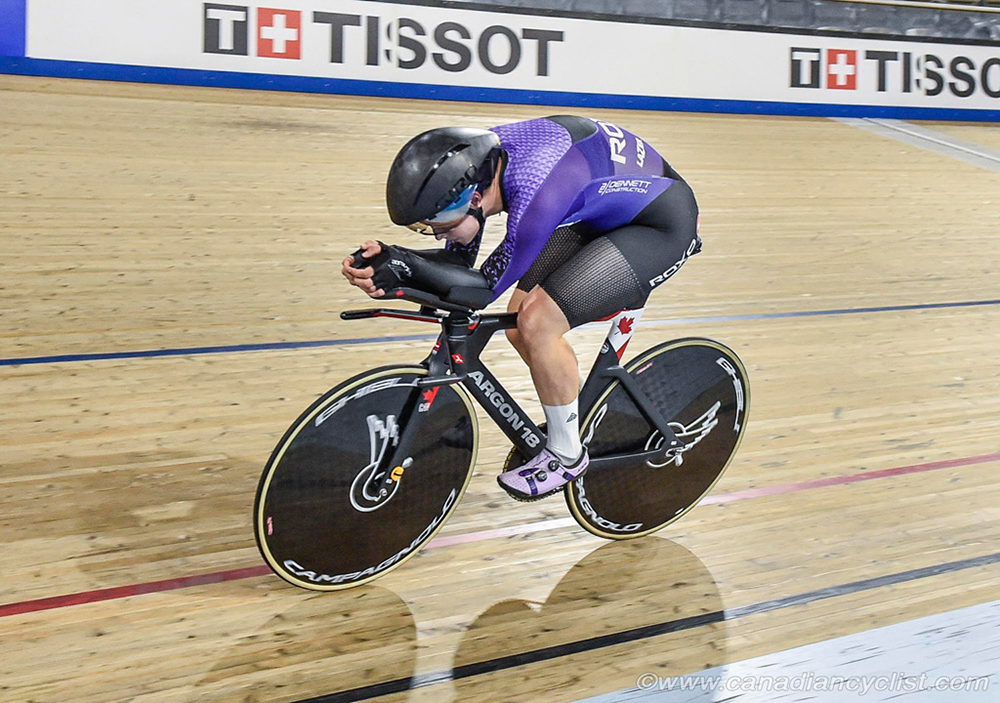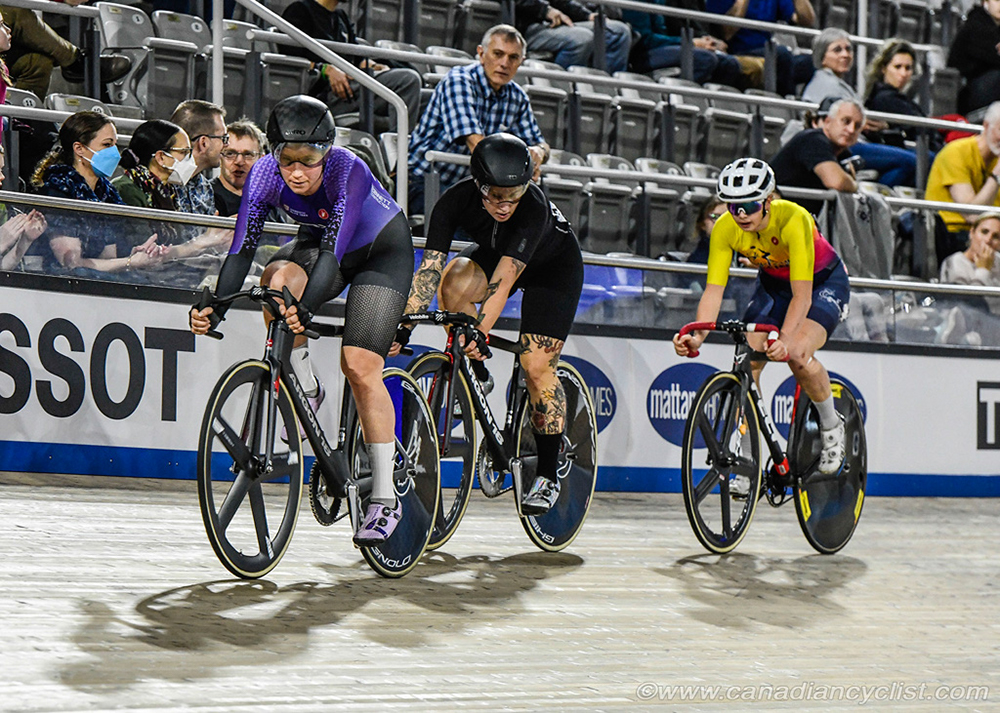 Ariane Bonhomme
Track Nationals Photo Galleries
Ariane Bonhomme, competing for her new Rox Racing squad, showed that she is back on form after a year of injury and illness. Bonhomme was the dominant female endurance rider, winning the Scratch Race, Omnium (including three individual event wins), Individual Pursuit and Madison (with Lily Plante).

On the men's endurance side, Scratch Race world champion Dylan Bibic (Israel Cycling Academy) won the national Scratch Race title in rainbow stripes, as well as the Omnium and the Madison (along with Mathias Guillemette). He lost a closely fought battle for the Individual Pursuit title against Tokyo Olympian Michael Foley (Toronto Hustle).
Dylan Bibic: "My main focus was Scratch, Omnium and Madison, and I made sure to win those. Without focussing on it I did the IP [Individual Pursuit] and I'm proud to get into the 1-2 final. I set personal best after racing a long Omnium, so I'm quite happy with these Championships. In my opinion, it was better than last time."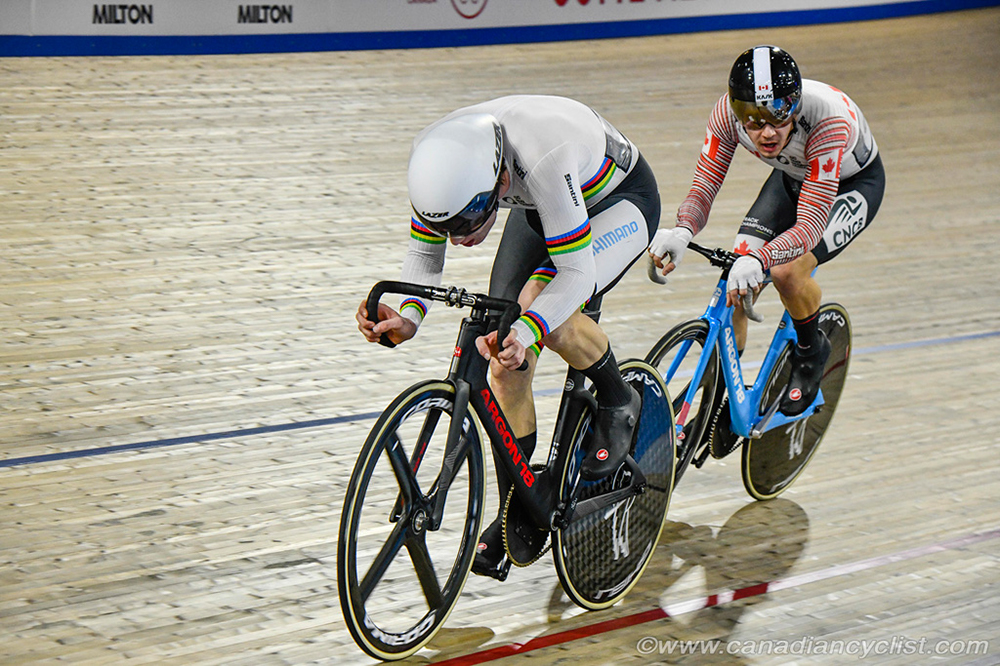 Dylan Bibic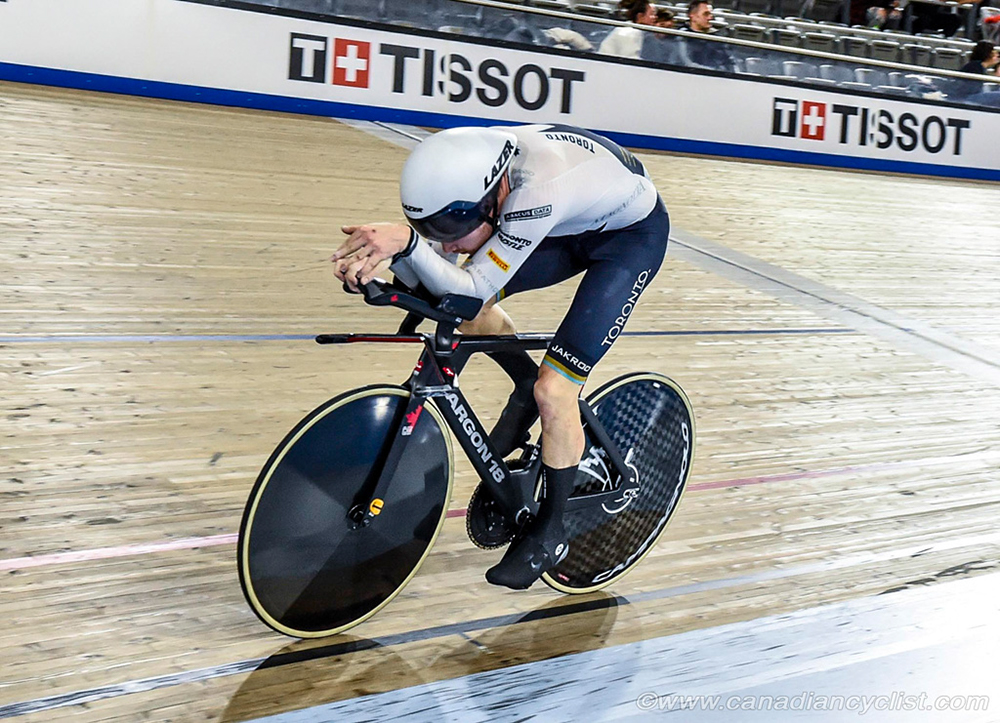 Michael Foley
Track Nationals Photo Galleries
The women's Sprint category saw Canada's internationally ranked sprinters battle it out for titles, with Olympic Sprint champion Kelsey Mitchell (Juventus) beating Olympic Keirin bronze medallist Lauriane Genest (Equipe du Quebec) in the 500 metre time trial. However, Genest won the Sprint, Team Sprint (with Jackie Boyle, Sarah Orban and Emy Savard) and Keirin titles.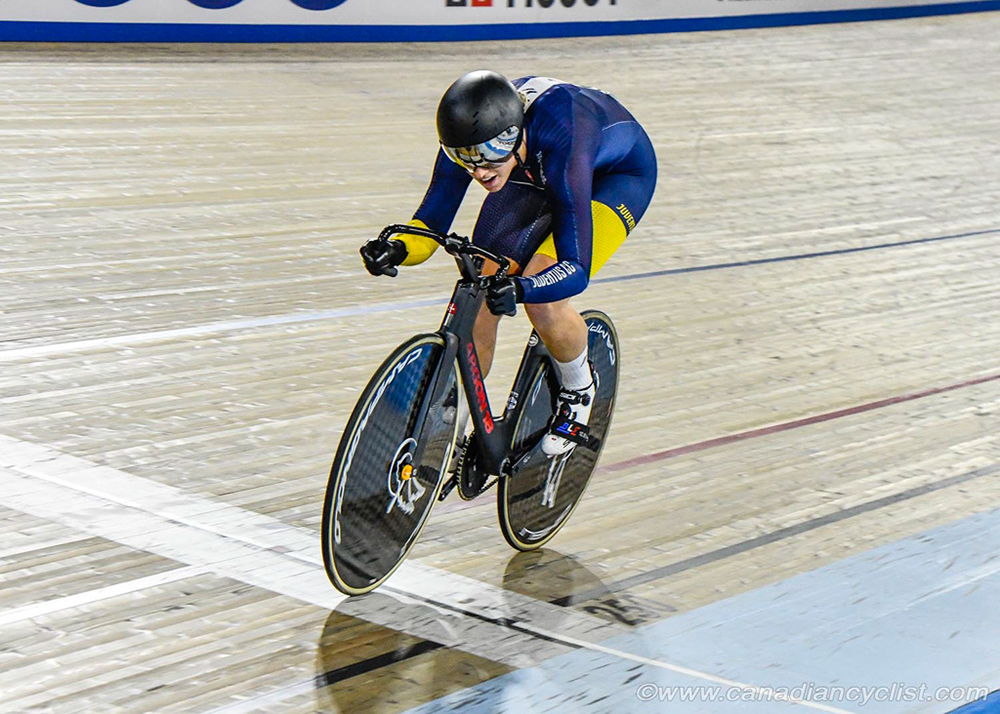 Kelsey Mitchell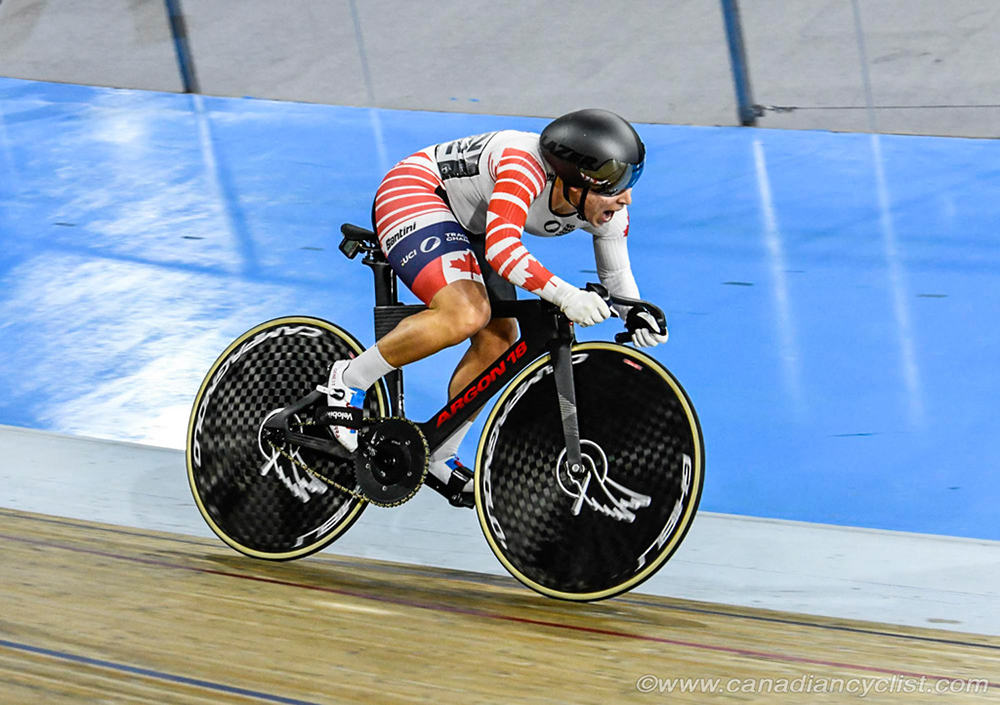 Lauriane Genest
Genest spoke about her strongest Nationals performance to-date:

"I don't think not doing the Champions League was [directly] related to this [beating Mitchell in the Sprint]. It was the right choice mentally for me to not do the Champions League; it's very draining and there is not much training time. But it is also a very good racing experience and I was torn until the last minute about doing it or not. But I'm happy with the work I've done since Worlds over the past two months.

"I haven't trained with Kelsey [Mitchell] in those past two months, which was a little weird. It's the first time we have been doing Nationals that we didn't really know what to expect from each other. I think we are on the same level, but maybe I just wanted it a little bit more than her, or I just had a little bit more to give. But we're at the same level.

"We were only two-hundredths [of a second] different in the qualifier [Flying 200m for the Sprint], so we were at the same strength. And in the two sprints, I won one by one-thousandth [of a second] ... they were very good sprints.

"I'm just glad that I have someone in Canada; she's my best friend and my roommate, and we get along so well. But we can just push each other every day; it's a privilege that I don't think a lot of countries have, and I really don't take it for granted.

"It's amazing to see Dylan [Bibic] and Mathias [Guillemette], and to have the Sprint program that was once one of the weakest, and now compete against the best in the world. It's very encouraging, and if Kelsey and I can push and encourage people to try and it motivates them, then it is just a win-win for everyone."
Track Nationals Photo Galleries
The men's Sprint competition was dominated by Ontario's James Hedgecock, who won all four titles - 1000 metre time trial, Team Sprint (with Tyler Rorke and Nick Wammes), Sprint and Keirin.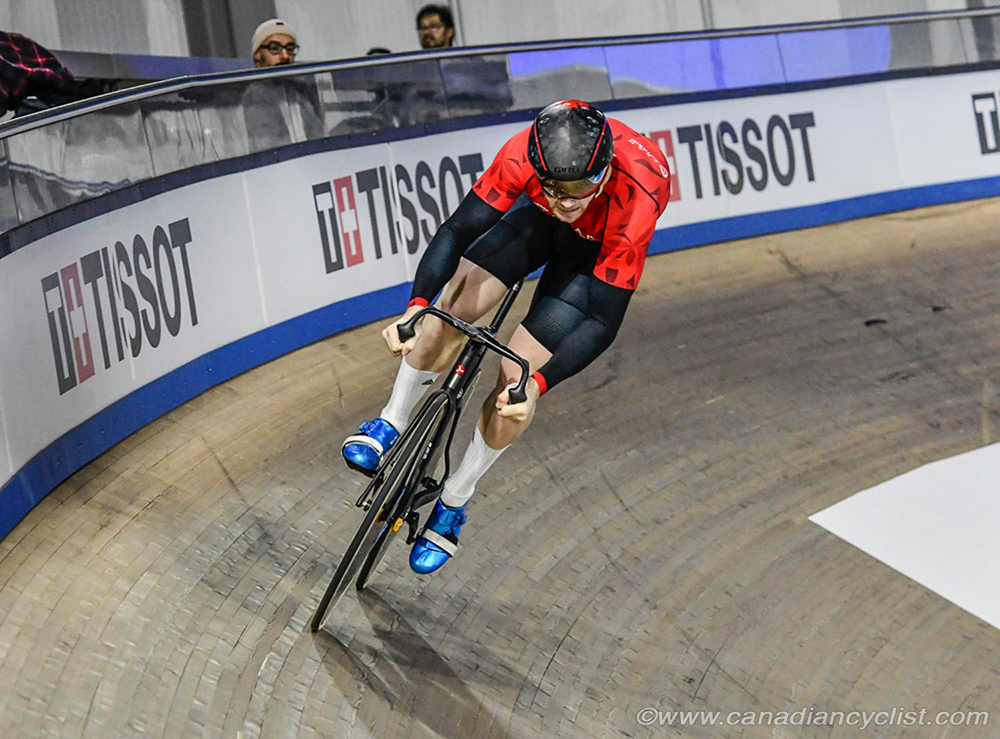 James Hedgecock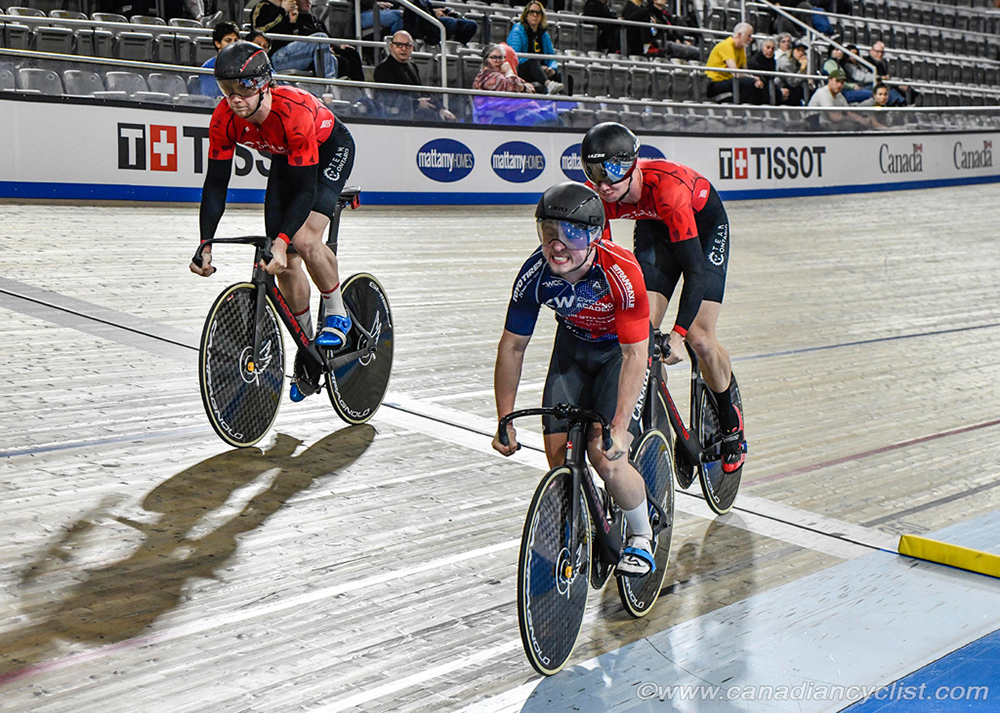 Team Sprint: (James Hedgcock/Nick Wammes/Tyler Rorke)
Track Nationals Photo Galleries
The Masters fields had equally dominant riders in the age categories:

Rosa Phillip (Midweek Cycling) and Amy Maher (Opus Elite Cycling p/b Cyclepath Oakville) each departed the Mattamy National Cycling Centre as decorated Canadian Champions in the Masters Women category. Phillip, riding in the Master A category, won the 500 metre time trial, Points Race, Scratch Race, Individual Pursuit, Sprint and Keirin.

In the Master B women, Maher brought home the gold medal in the 500m time trial, Points Race, Scratch Race and Individual Pursuit. Additionally, she set Canadian records in the time trial, Team Pursuit (with fellow riders Elaine Soucy, Lisa Ulrich and Amy White), and Team Sprint with Soucy and Ulrich.

"I really want to motivate other women and bring more Master women into the sport," said Maher. "There's such a great atmosphere during the events, it's a really social sport and I hope that I can inspire other women to get into track racing. It feels really good to break Canadian records and I managed to break three of them this weekend, so it's a pretty special feeling."

The Master C 500m time trial and Individual Pursuit titles were awarded to Wendy Malloch.

A number of Cyclemeisters/Bowcycle members became Canadian Champions in the Masters Men category, including Master A rider Brent Baerg (1000 metre time trial, Sprint); Master A rider Willy Gonzalez (Points Race, Scratch Race, Individual Pursuit); and Master C rider Frank Kovacs (500 metre time trial, Sprint, Keirin), who also came away as the proud owner of a new Canadian record. Baerg and Kovacs were joined by Jeff Moir to add a final title to Cyclemeisters/Bowcycle's collection in the Team Sprint.

Burnaby Velodrome Club also had a strong showing, with Hans Loeffelholz (750 metre time trial, Sprint, Keirin) and Uli Mayer (Points Race, Scratch Race and Canadian record in the Individual Pursuit) in their respective Masters categories.

Additionally, Tim Hadfield topped the Master B field in the Points Race, Scratch Race and Individual Pursuit, as well as in the Team Pursuit with Scott Buschlen, David Hainish and William Trischuk. The title of Master A Keirin Champion went to Jérémie Fontanaud of Rackultra Racing Team.
Track Nationals Photo Galleries
National Track Championships: Day 1 results and photos
National Track Championships: Day 2 results and photos
National Track Championships: Day 3 results
---
Related Photo Galleries
---