January 10/23 12:50 pm - Coles-Lyster & Bibic Voted Canadian Cyclists of 2022

Posted by Editoress on 01/10/23

The 26th edition of the Canadian Cyclist of the Year Awards saw first time winner Maggie Coles-Lyster selected as the Female athlete and Dylan Bibic win for the second year in a row as the top Male athlete. Bibic also won for the Best Individual Performance for his Scratch Race world title, ahead of Tour de France stage winner Hugo Houle. On Wednesday we will announce the Para-cyclists of 2022.

Coles-Lyster, of Maple Ridge, BC, had a stellar year on both the road and the track, winning six national titles - two at the Road National Champions (Road Race and Criterium) and four on the Track (Omnium, Elimination, Points and Team Pursuit). Internationally, she was fourth at the Track World Championships, won a bronze medal in the Scratch Race at the Commonwealth Games and finished third overall at the UCI Track Champions League. Coles-Lyster dominated the voting, taking 62% of first place votes, with 2021 award winner Mitchell receiving 31% of first place votes.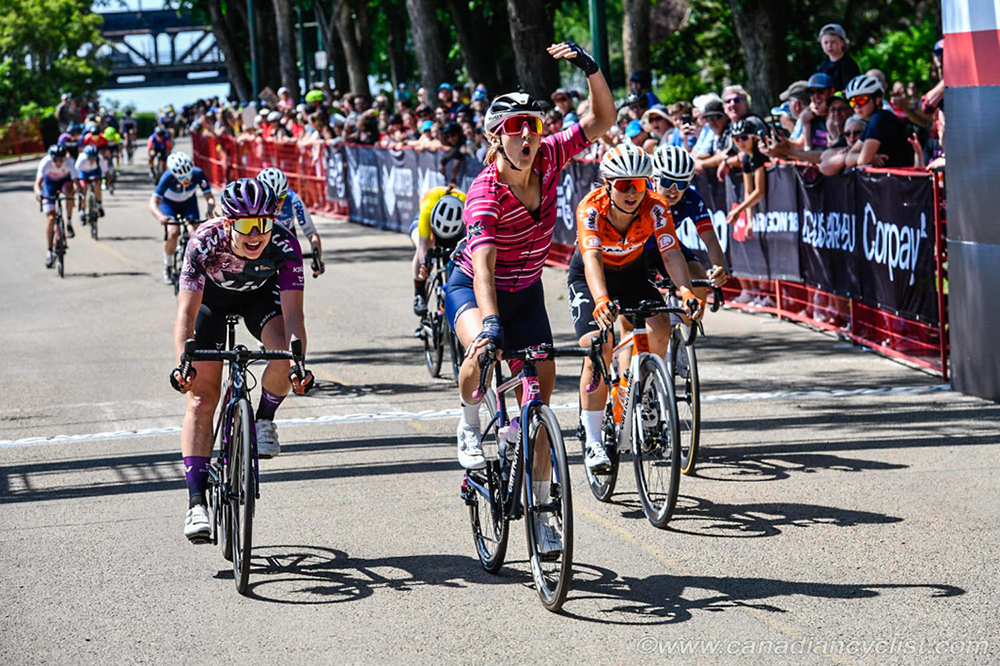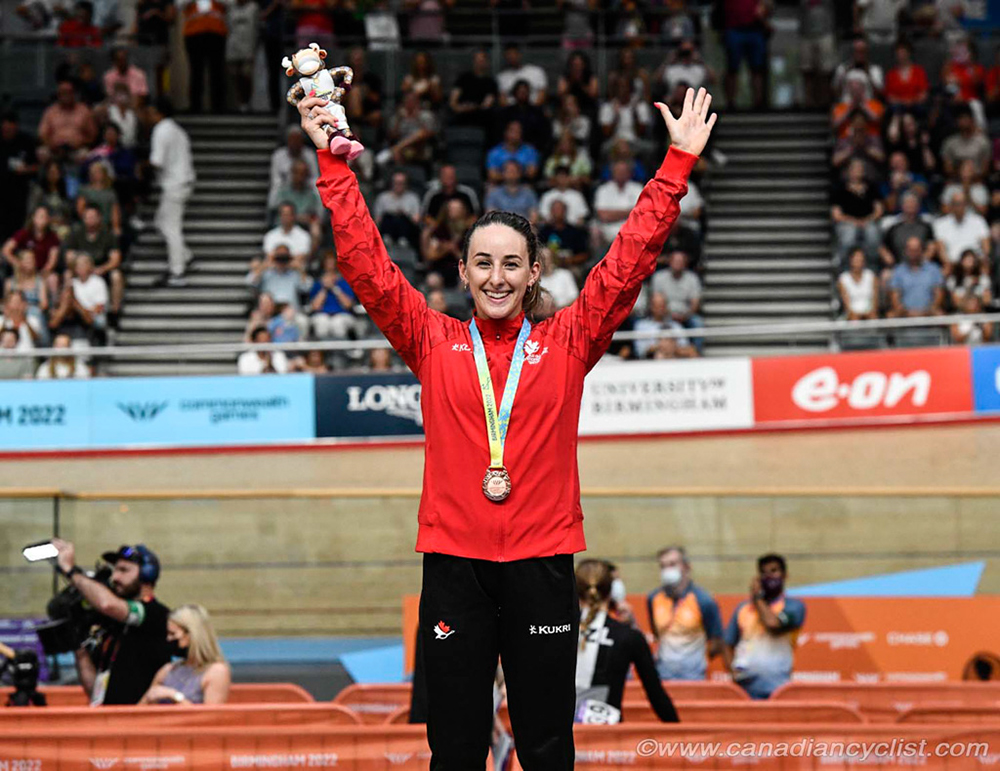 Coles-Lyster found out she won the award while en route to Australia for the Tour Down Under, where she will be competing with her new European pro team, Zaaf. "This is a pretty motivating way to kick off my 2023 season, finding out that I was voted the Female Canadian Cyclist of the Year for 2022. I feel like 2022 was finally that breakthrough year that I've been working so hard for, coming away with National Championship titles in the road race, criterium, team pursuit and Omnium, a bronze medal at the Commonwealth Games, a 4th place in the Omnium at the World Championships and finally an overall 3rd place at the UCI Track Champions League as some of my top results."

"It was a year that gave me a lot of confidence and got me excited to continue this upwards trend towards the 2024 Olympics, while balancing both track and road. 2022 also was a launching pad for me to take my road career over to Europe, where I am racing with Zaaf Cycling Team for 2023. Thank you to everyone who voted and my entire support system back in Canada for making last year amazing."

Dylan Bibic, of Mississauga, Ontario, becomes the only rider to have won the Canadian Cyclist award as both a Junior-aged and an Elite athlete, doing it in back-to-back years. He was a double winner, taking both the Male athlete and Best Individual Performance wins. Bibic took 84% of first place votes for Male athlete and 42% of Best Individual Performance votes, with Hugo Houle's Tour de France stage win garnering 22% of first place votes in the Individual Performance category.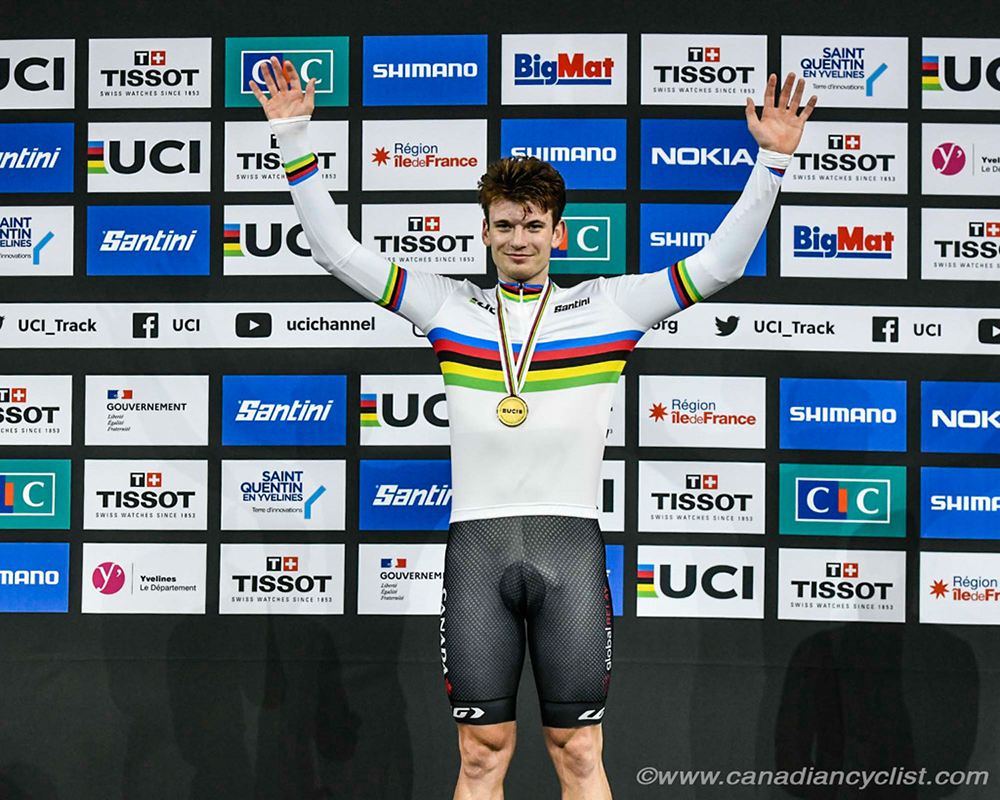 A year after becoming world champion on the Track in the Junior age category, he became the first Canadian male rider to win an Elite world title on the track in 40 years, with his victory in the Scratch Race, in October. He is currently ranked third in the world in the Scratch Race and sixth in the Omnium. He also won three continental track titles at the Pan American Championships - Omnium, Elimination and Madison - and won five national track titles - Omnium, Elimination, Scratch, Points and Madison.

In addition, at the the UCI Track Champions League he won an event and had multiple top-3 finishes to end his 2022 season. He has started his 2023 season just as strongly, winning three titles at the National Track Championships, and is currently heading to Spain for a training camp with his professional road team, Israel Cycling Academy.

"It was definitely the highlight of my life and career so far winning the Scratch Race Worlds," said Bibic while competing at the 2023 National Championships. "Still to this day, I look back on it, and look at myself in the mirror with the rainbow [jersey] and it's incredible. Worlds was the first time racing a pack at this level; Pan Ams doesn't compare, Nationals doesn't compare. When you are racing these guys, it's such a learning curve. I think I have decent strength, but I still need to get stronger by the Olympics."

"When you are young you are always improving slowly and you will get better seasons, but I think this was definitely better than previous years. But I have to keep learning and keep getting racing opportunities at the top top level so I can keep improving."

"I'm going to Spain to do the training camp; it's going to be interesting. I'm very fatigued from Nationals, but I'm going to do whatever I can to stay with them [WorldTour team Israel Premier Tech riders at the camp], and do what they tell me."
---
Related Photo Galleries
---