February 4/23 9:26 am - Rochette 9th at Cross Worlds - UPDATED

Posted by Editoress on 02/4/23

Canada's Maghalie Rochette finished ninth on Saturday in the Elite women's race at the Cyclo-cross world championships in Hoogerheide, Netherlands. The only other Canadian in the race, Sidney McGill, finished 25th.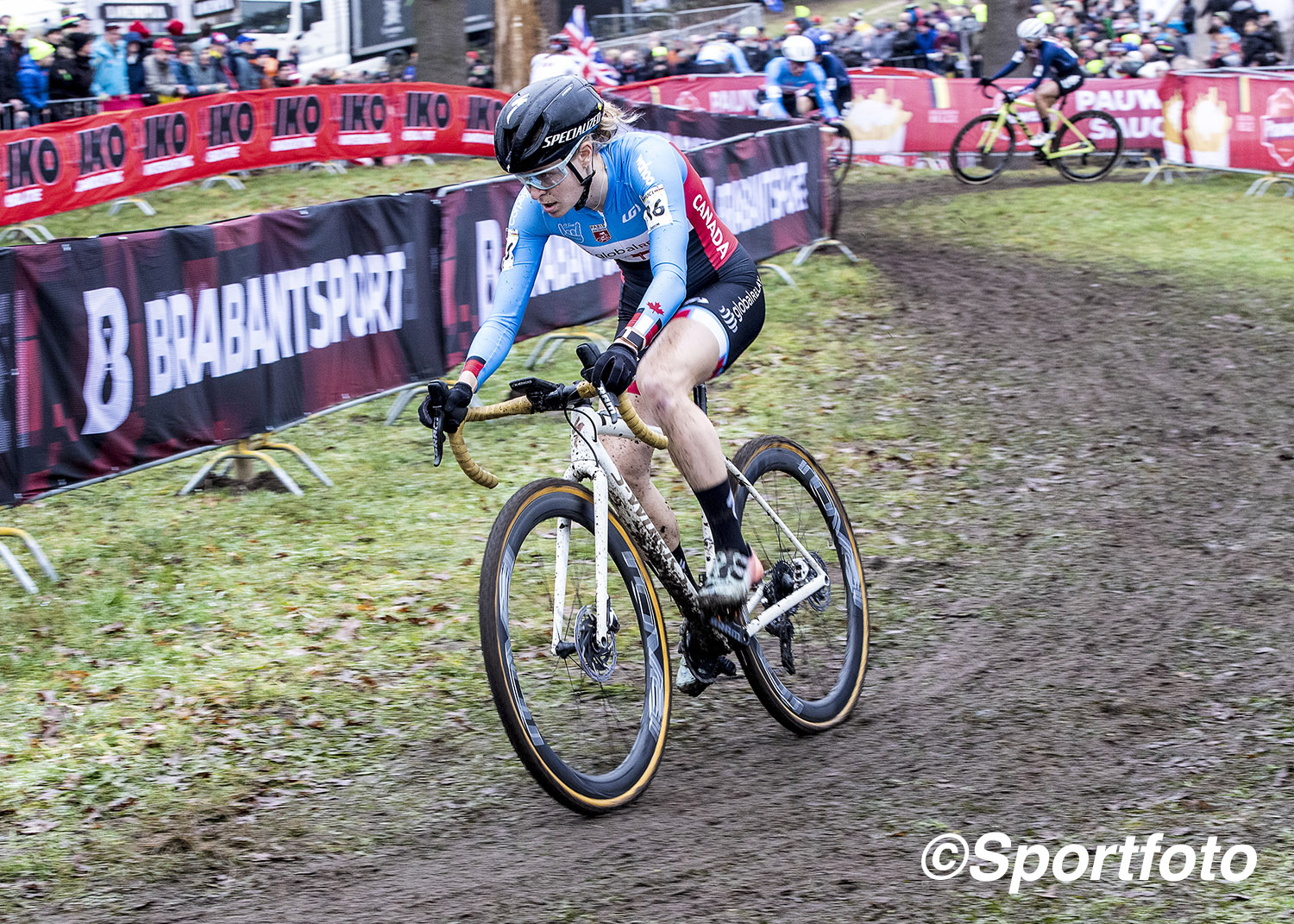 Maghalie Rochette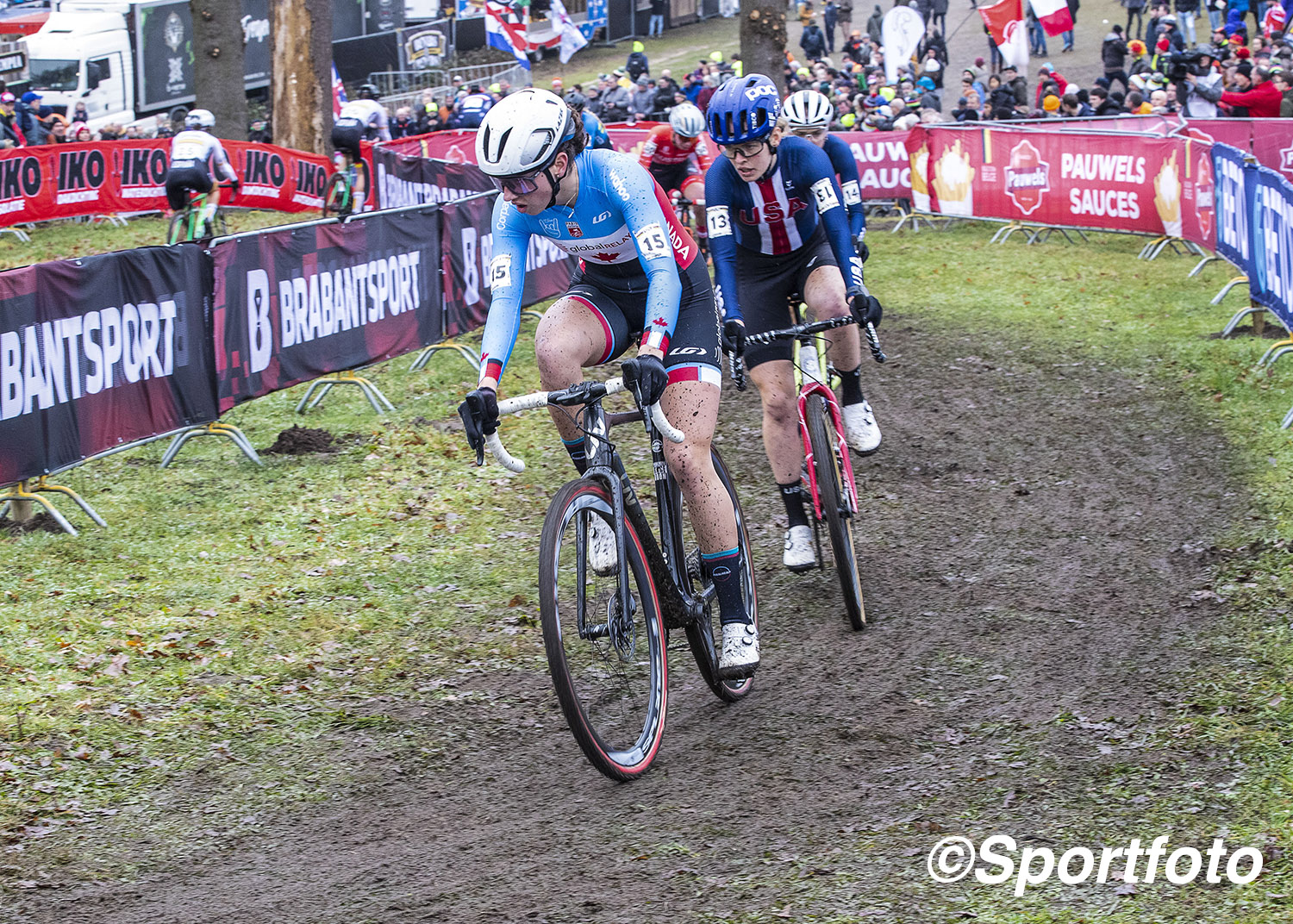 Sidney McGill
The 20 year old Dutch phenom Fem van Empel took the title, leading a 1-2-3 sweep for the host country. Van Empel and Puck Pieterse rode together at the front for the first half of the race, chased by another Dutch rider and former world champion, Lucinda Brand. Pieterse slid out in a corner, leaving van Empel alone at the front. The two chasers rode together for half a lap before Pieterse was able to break clear for second.

Rochette, starting in the fourth row, almost immediately had to unclip from her right pedal at the start due to a problem in front of her, dropping to the back of the field before recovering. But by Lap 2 of the seven lap race she was beginning to move up, starting the lap in 16th. A lap later and she was in a small group battling for 12th, less than ten seconds out of the top ten.

That group continued to reel in the riders in front, with Rochette and Helene Clauzel (France) moving into the top ten in the final half lap. Rochette dropped the French rider to solo in for ninth.
"I'm actually happy about my ride, that was a solid ride," said Rochette. "I was hoping for more in terms of results, and that's [because] I had a bad start. I was in the third row; I lined up behind Puck [Pieterse] and Marion [Norbert Riberolle] from Belgium and I knew they were fast starters, so it felt like a safe bet to line up behind them. Probably for the first time this season, Puck missed her pedal so everyone behind her all stalled; everyone passed me and suddenly I was dead last. That kind of changed the game early on!"

"Then I started fighting and, one by one, started passing people. So I'm super happy with finishing ninth; I think my lap times were pretty fast [her last two laps were 6th and 5th fastest, respectively]. So I'm kind of bummed that I wasn't able to fight at the front, but happy and proud of how I rode and how I kept fighting the whole race. Especially with the tough season that I had, so it's nice to finish that way. It makes me excited for the next season."

"And what a day! The day started with being so emotional watching Isabella and Ava finish first and second in the Junior [women]; I was just so proud of them and so happy for them. It's hard to put into words how I felt ... it's just incredible. I'm not surprised, but it's still amazing what they achieved, and what they are doing with their little team. They are so dedicated and it's fun to see that it's paying off."

Maghalie says she is heading home Monday for a short break and then starting her training again. "I want to come back to my top level, where I can fight for podiums in each race; whether it's a World Cup or in North America. I had glimpses of that in the past few weeks, but I still feel I can build from the form that I have now. That's my goal for next season."
---
Related Photo Galleries
---