June 25/09 19:13 pm - Wanna Race? Here's Your Chance!

Posted by Editor on 06/25/09

by Leigh Hargrove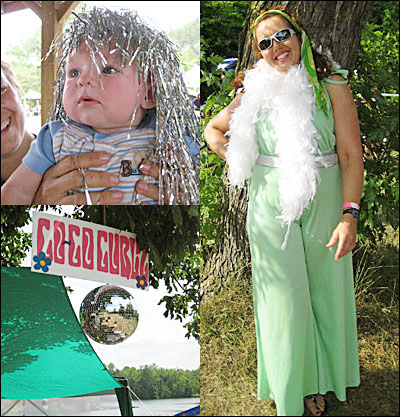 If you live in Ontario, you're female and you have always wanted to try a mountain bike race - look no further than Albion Hills come this July 18th. The Fly Gurlz Women's Only Mountain Bike Relay (Theme: Get Your 80s On) may just be the perfect race for you. Even if you are a pro, you may just want to tap into your roots, hop on your bike, put on a wig and experience some girly excitement. In its third season, organizers of the Fly Gurlz Women's Only Mountain Bike Relay expect to see more than 160 riders show up for this exclusive event, promising more fun than ever.

When?
July 18th, 10:00 am - 6 pm

Where?
Albion Hills, Conservation Area, Ontario

What is it?
A women's only 8 hour mountain bike relay race

The day's event focusses on fun rather than feud. In other words, do what you love and ride your bike with a bunch of people that love to do the same, AND dress up, meet some like-minded people, enjoy the day's activities and have a good time.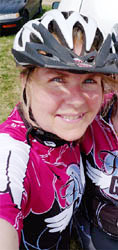 Michelle Ward, founder of Fly Gurlz and event organizer, feels that all mountain bikers would enjoy the event, as there's something for everyone.

"Our relay is as much about mountain biking as it is about building self-esteem and trying something new. It is a great place to start if you have never raced before, but also a nice venue to test your mettle if you are a seasoned veteran."

And the atmosphere, costumes and all?

"There is something about a women's-only event that really sets the stage for racers to let loose and play again like we did when we were kids!" Michelle says. "It's the highlight of our season as an organization - it's as much fun to host it as it is to participate! So many of us Fly Gurlz want to race but we volunteer our time to making the day happen - it's our gift to the community - a way of giving back."
Who should do it?
Any woman that likes to mountain bike and would like to try something new should come out. There are categories for solo riders, 2-woman, 3-4 women and 5-6 women team options. In addition there are four sub-categories allowing for age and experience.

Why you should do it:
First of all, you get to dress up - 80s style!
It's a great introduction to racing - 88% of last year's participants were first-time racers.
It's a nice beginner course - not too technical with a mix of single-track and double-track.
The 7.5-8 kilometre course (final distance will be determined closer to race day) was designed by two women: Tanya Flemming, a Level 2 MTB instructor, and Jacquelyn Burton, an Ontario Mtn Bike Commissaire.
You get to race on a closed course - it's like your own private party.
Participants get tote bags - which were designed with women in mind, with special limited-edition take-home souvenirs.
Each tote bag also comes with a helpful guide to trail tips and etiquette to follow when racing as well as a very detailed package on what to expect at a MTB race as well as other keepsakes and treats.
It seems inspired by the old-school days back when MTB started. The set-up is easy: Listen to some tunes, ride your bike, hang out in the sun and have some fun with your friends and family.

What to bring:
Besides your race equipment, you can bring a tent, lounge chairs, a costume, food, etc. Other parts of the conservation area will be open to the public so if you have friends or family that want to come out and watch, and/or may want to get a ride in as well, invite them along!

Who organizes this?
The Fly Gurlz 2009 Women's Cycling Community & Mountain Bike Club and Team put on this event, and are led by founder Michelle Ward. In 2007, the Fly Gurlz celebrated their 10th year together and wanted to do something special - they decided to put on an event like no other. The women's only 8 hour MTB relay event was born. Although they do instructional camps and club rides all over Ontario, a race was something they had never, up until then, done before. With passion comes perseverance and Ward was able to pull it off, not once, but twice, and is now taking on the club's third year running the event.

"The event is still so young. The venue is amazing, the course is well-designed and the management of things is running smoothly. The most important thing is to lay down the foundation of, and run, a great event. It keeps on evolving every year."

Ward would like to give a big shout out to fellow event organizers Adam and Sean Rupple of Chico Racing for giving her a helping hand over the years with event logistics and equipment sourcing.

Who are the Fly Gurlz?
The Fly Gurlz is an organization for women of all ages and ability levels who have an interest or passion for mountain biking. The group environment of the club provides support and guidance to aid members in the development of their skills and experiences when it comes to mountain biking. A variety of instructional camps, rides, and opportunities are offered to members via the club website, www.flygurlz.com.

The group was created to help introduce women to the sport of mountain biking and expose them to the necessary skills and information needed to explore and grow with the sport.

Michelle Ward's favourite thing about the Fly Gurlz?

"The friendships. Over the years, thousands of women have participated in our programming through the camps, club and now, the relay race. I know for certain that lifelong friendships have formed through these touch points and this is the thing that I am most proud of when I think of the Fly Gurlz. You can't beat the gift of friendship, after all, there is nothing more important in life that our family and friends!"

Quick Links:
Race Info & Registration: www.flygurlz.com/relay-event.cfm
Fly Gurlz Women's Mountain Bike Team: www.flygurlz.com
Ontario Cycling Association: www.ontariocycling.org
Downloadable Entry Form: Here
Downloadable Poster: Here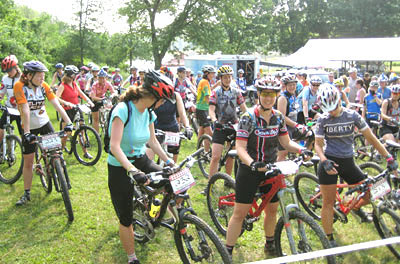 ---
Related Photo Galleries
---