December 29/09 13:51 pm - Interview: Tara Whitten

Posted by Editoress on 12/29/09

Canada's Tara Whitten has taken the cycling world by storm - not just on the track but on the road as well. With a silver medal at the world championships, a national road time trial title win followed by a 8th place at the Road World Championships, and just this month gold and silver medals at the latest round of the World Cup, Whitten is clearly on a roll! Tara Whitten shares with C4W editor Leigh Hargrove what it was like to experience such success in her first two and a half years in the sport.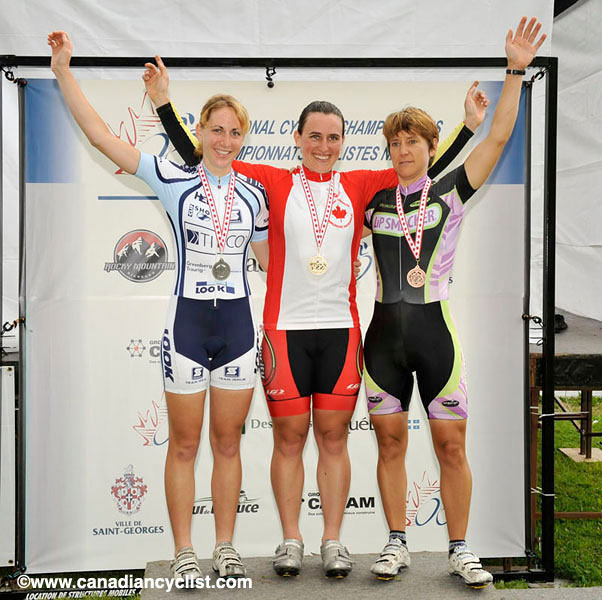 C4W: How did it feel to win the Nationals this year?

TW: Winning the time trial at nationals was a great feeling! I was excited to show that I am not just a 'trackie', and that I can be successful on the road as well.

C4W: What was your goal going in? Did you expect to win?

TW: My goal was definitely to win the time trial, and I believed it was possible, but I knew I would have to have a good day and that I couldn't afford to make mistakes or to lose concentration during the race.

C4W: How have this year's results changed your outlook for 2010?

TW: My results from this year have convinced me that I can be competitive on the road, and especially in the time trial. I want to incorporate more high-level road races into my schedule next year, but I want to be careful. With track in the winter and road in the summer, I want to make sure that I include enough rest so that they complement each other instead of burning me out!

C4W: How has your training changed in the last 12-16 months compared to other years?

TW: Honestly, my training hasn't changed that much. Even during my transition from skiing to cycling, the basics of the training remained very similar. Over the years I have become more skilled at listening to my body and trusting my instincts, but the structure of my training hasn't changed.

C4W: What factors have helped you bridge the gap from top national athlete to top-10 in the world (in track and road) in the last year?

TW: I think my success in road and track in the last year was due to continued progression as opposed to a giant leap. The 2007-2008 season was really my first year training full-time for cycling. I was very fit from my years as a cross country skier but my weakness was my lack of specific cycling training. As I accumulate more hours on the bike, my efficiency is improving dramatically and this combined with continued training is resulting in better and better results.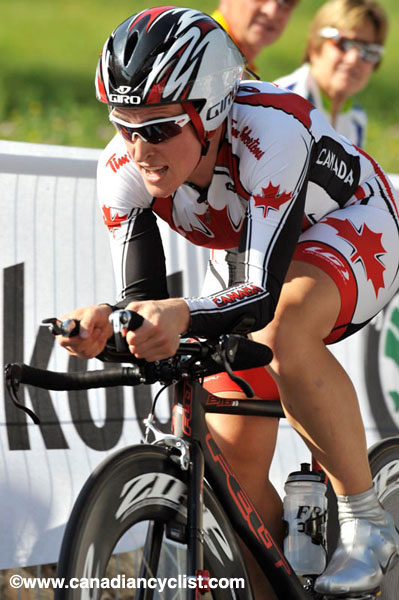 C4W: Which was a better feeling - 8th in the world or national title? And why?

TW: Eighth in the world was an amazing feeling; I think it surpassed the national title. The atmosphere at the finish line was special, and sitting (temporarily) beside Kristin Armstrong in the 'hot seat' was something I will remember as well. I was dreaming of a top-10 finish going into worlds, but I was closer to the top riders than I expected and that was really exciting. I was also very proud of my focus during the race, and I can honestly say that I left everything I had out on the course. The next day I could barely get out of bed!

C4W: You finished the last track season with a silver medal in the Omnium at the Track Worlds. Now, you've started this season at the Cali [Colombia] Track World Cup with a silver in the Pursuit and a gold in the Team Pursuit. Is this in line with your expectations for this early in the season?

TW: Because of Road Worlds I had to approach this track season a bit differently from last season. I took a significant break after Road Worlds and missed the first two track World Cups, and I am still re-building and planning to be at my best for Track Worlds at the end of March. With Cali being my first World Cup, I was definitely anxious to see where my form was. I was very happy to have solid performances in the pursuit, points race and team pursuit; it was a great start to the season. The points race in Cali was a highlight for me, because it was one of the first bunch races at the World level that I rode tactically well.

C4W: You were expected to be strong in the Individual Pursuit, but did you and the team expect to do so well in the Team Pursuit? How long had you been together as a team prior to the World Cup?

TW: I think we exceeded our own expectations in the team pursuit. We were hoping to ride around 3:30, and to make it to the medal rounds, but to ride 3:27 and come away with the Gold was an exceptional performance for us. In the final we knew the Americans had the horsepower to beat us, but we won because we rode technically well; we rode as a team, which is crucial for the team pursuit. We have only really been together as a team for two training camps in LA prior to Cali, so I think that what we did in our first World Cup is only the beginning of what we can do in this event.

C4W: Who are you racing for next year?

TW: I am racing for the Specialized Mazda Samson team next year.

C4W: Top three goals for 2010 road are?

TW: Win the time trial at Nationals; Top five in the time trial at World Championships; improve my positioning and tactics for road racing.


C4W: Top three goals for 2010 track are?

TW: Medal in the pursuit at World Championships; medal in the Omnium at the World Championships; Win a World Cup race.

C4W: Why do you love cycling?

TW: So many things! I love the pure power of track cycling. I love the challenge of trying to be better. I love the freedom of being on a bike - you can explore so many places! I love that it is a lifelong sport that I will continue long after I am done competing.

C4W: Do you consider yourself as a track rider who does road, or a road rider who does track, or do you not think of it that way?

TW: I consider myself as a track rider who does road. Since the seasons are off-set, I am able to do both, but track will always be my #1 focus.

C4W: Toughest thing about bike racing?

TW: The toughest thing is travelling with so much equipment! I thought it was hard travelling with skis but I had no idea!

C4W: Best thing about bike racing?

TW: I think the best thing is feeling the exhilaration of pushing yourself to the limit, and even past the limit, and surviving. It sounds crazy but there is such a high and such a sense of accomplishment when you know that you have given everything in a race.

C4W: What defines you on a bike - what makes you different from the rest?

TW: I am willing to hurt myself, but a lot of athletes are capable of doing that. I think my advantage is my power: I am a big girl, and that doesn't help me on the climbs but it gives me a lot of power on the flats and especially on the track. I think my background in a different sport also makes me different from the rest. I have the advantage of many years' experience as an athlete despite being relatively new to cycling.

C4W: Do you have any tips for those getting started in bike racing?

TW: I think the biggest thing is not to be intimidated. Both road and track cycling, compared to other competitive sports, can be very intimidating for beginners. I think more experienced racers have a big role to play in making the sport more welcoming to newcomers. Everyone wants to be safe, but there are both constructive and discouraging ways to help someone. For the beginners, it is important to have confidence in your abilities, and if you are unsure about something, just ask someone more experienced.

C4W: Best race experience ever...

TW: In 2008 I raced in my first World Cup bunch race, a scratch race in Manchester. I was very intimidated waiting for the race to begin, but I also knew I didn't want to just ride in the group; I wanted to make a difference in the race. I was planning on attacking with eight laps to go, but I was boxed in and couldn't get out for quite a while, with the pace picking up. Finally, with three laps to go I had a clear lane, and I made my move over the top. I had a gap, and I just put everything I had into getting to the line first. Coming around the last corner, I could feel the group closing in, but I managed to hold off all but one at the line to finish second. It was a great feeling to have made that move, and to have won a medal in my first World Cup scratch race.

C4W: Your Coach is…

TW: Eric van den Eynde

C4W: Future goals for cycling include?

TW: A medal at the 2012 Olympic Games in London.

C4W: Training mantra: (what do you tell yourself to get through your next interval):

TW: When intervals are getting really hard, I usually imagine myself at a big race, having the race of my life, and that gets me through!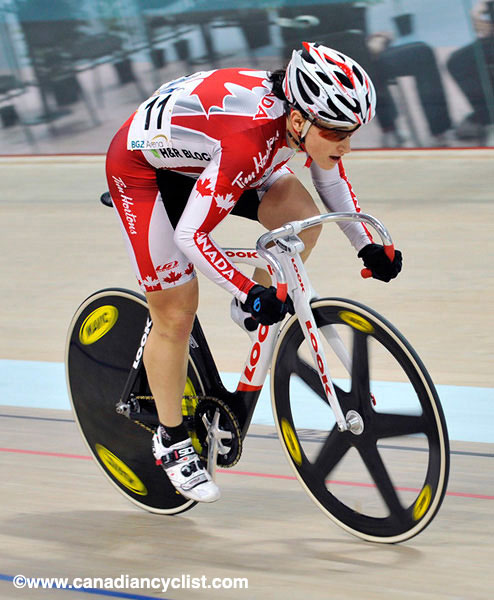 C4W: Any comments on the cycling scene for women in Canada? Do you see where it could be improved? Do you know of any programs that are working well towards improving women's participation numbers in competitive cycling in Canada?

TW: Coming from cross country skiing, where the participation numbers are much more equal between men and women, I was shocked at the disparity between men's and women's cycling. I think the intimidation factor plays a role, and also the history of the sport, but I believe it can change. I think female cyclists have to do their part in recruiting and mentoring other women into the sport. My former teammate Chandra Crawford started a program called Fast and Female to get more girls excited about cross country skiing, and I would love to see a similar program for cycling. I think it has to start at a young age, so that girls develop the skills and the confidence as they are developing their fitness. I was glad to see the launch of the cycling4women website, as a resource for female cyclists.

C4W: If you weren't cycling you'd be…

TW: Either spending more time in the lab working on my PhD or I would be trying to qualify for the 2010 Olympics in cross country skiing. The trials are this December - it still feels a bit weird that I won't be there! But I have no regrets in my decision to pursue cycling.

C4W: Favourite female cyclist or athlete of all time...

TW: Clara Hughes
---
Related Photo Galleries
---