May 30/11 10:58 am - Interview: Lex Albrecht

Posted by Editoress on 05/30/11

Lex Albrecht is gaining a lot of attention this season, after multiple podium appearances and top placings in early U.S. races. The young rider on the Juvederm-Specialized-Mazda squad first showed up on the radar last year with her 80 kilometre-plus breakaway attempt at the Canadian Nationals road race in Edmonton.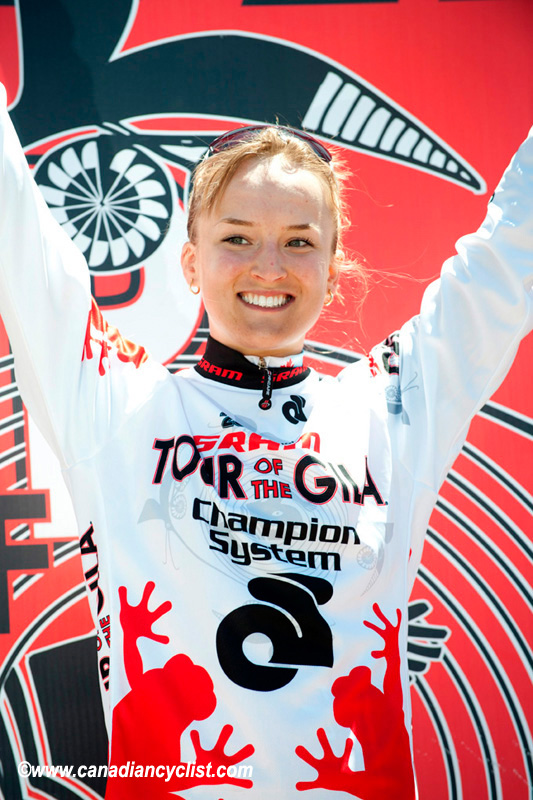 Since then, she has been showing up in results all over the continent - Best Under-25 Rider at San Dimas, Best Under-26 at Tour of the Gila (9th overall), winner of the Tour of Battenkill, third overall at Joe Martin (including two second place stage finishes) and 13th at the recent GP Cycliste de Gatineau.

Despite this string of successes, Albrecht is the first to admit that she has a lot to learn. "I'm still pretty new at all this, and I don't have much experience on the international scene. This [2011] is only my third year of serious racing."

The 24 year old, who was born and raised in Ontario, made a move to Quebec in 2004 to immerse herself in the French culture and language, where she has obtained a degree in Medical Biology, and now works in a lab as a research assistant while developing her skills as a cyclist.

"I was always really active when I was young," Albrecht explained, "I lived in the country and rode my bike everywhere; I needed my bike to get to school and to jobs."

But it wasn't until 2009 when she began to compete on a local level, and in 2010 she had a string of wins, including both the provincial Team time Trial and Criterium Championships.

"I had some results in Quebec last year, and that got me onto my first National team project. Last year I gained a lot of experience."

Her solo break at the Nationals and a fifth and sixth place in two stages of the Fitchburg Longsjo Classic got her noticed by the Juvederm-Specialized-Mazda squad - Canada's only UCI women's team - and she was picked up for the 2011 season.

"The support from the team has been awesome, and they have given me the opportunity to do races that I couldn't have done before. I'm definitely gaining experience, and the team and directors have been great resources. They have passed on information and knowledge to riders with less experience, like me. They let me try out ideas and learn from them."

Albrecht has also started working with the Quebec Provincial coach, Pascal Choquette, and that has proven to be a positive experience. "I knew coming into the season that I was feeling pretty good, but it has been a bit of a surprise [how well she has done], and I'm pretty happy with the season so far. I'm not really a sprinter, and I love to climb, but I'm not a pure climber, more of a puncher. I'm hoping that we continue to do well."

Still to come? "After Gatineau it is the Liberty Classic - I like the big hill in that one - then the Nationals, and then we are doing a three week project in Europe. I'm looking forward to it all."

We expect that you can look forward to seeing Lex Albrecht's name appearing regularly on these pages.
Juvederm-Specialized-Mazda team at the recent Gatineau GP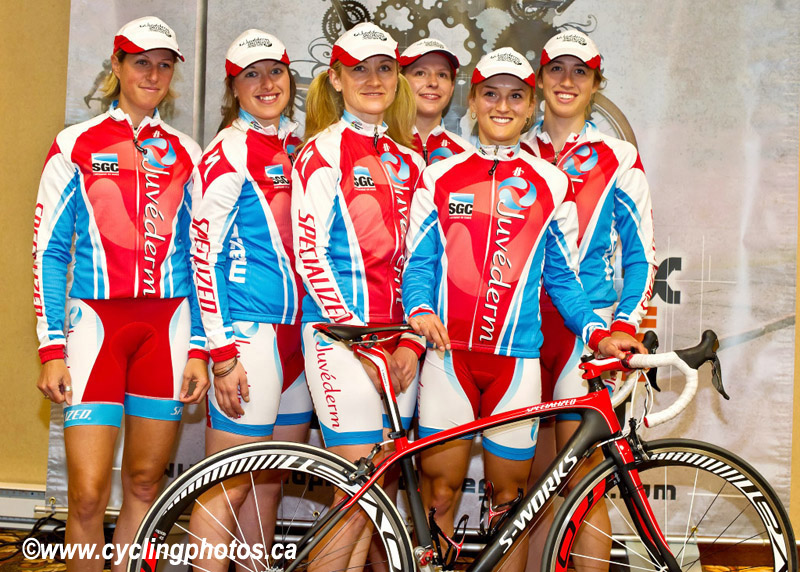 ---
Related Photo Galleries
---