March 17/09 20:05 pm - Keyesville Classic: Plaxton and Sneddon Crush the Competition! report and results

Posted by on 03/17/09

Report courtesy Dain Zaffke, WTB Trail Bikes, photos by Alan Davis

Wilderness Trail Bikes, Inc. is proud to announce its smashing success at the Bionicon Keyesville Classic mountain bike race. WTB-sponsored riders won every pro race in the three-stage event, including the prestigious All Mountain Pro title.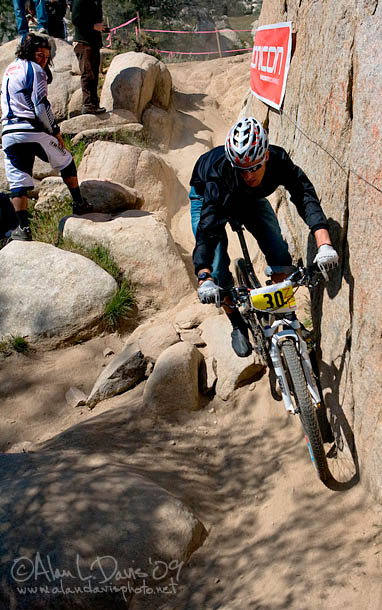 The weekend began with Max Plaxton (WTB/Santa Cruz) crushing the competition in Saturday's XC race. The 23-year-old Canadian clocked a blistering time of 2:17 on the 35-mile course, finishing about a minute ahead of fellow Canadian Kris Sneddon (Kona/WTB).

In the second stage - the short track XC - Plaxton and Sneddon once again made mincemeat of the field. The two Canadians controlled the pace from the beginning, and worked together against a fierce headwind. The short track assault culminated with a sprint finish that saw Sneddon cross the line two bike lengths ahead of Plaxton.

The Keyesville Classic is one of very few races with an All Mountain class, where riders compete in each event - on the exact same bike - and are scored by the number of points earned. The category is a great test of overall handling skills as well as fitness. In Keyesville's All Mountain Pro class, Plaxton proved to be the most well rounded rider. "That was my first ever downhill race," said Plaxton. "I had a great time this weekend. The courses were awesome, everyone was friendly, events like this are what mountain bike racing should be." Plaxton's weapon of choice for the weekend was the new Santa Cruz Blur Carbon with WTB Nano Raptor tires and Silverado saddle. "The Nanos were perfect for Keyesville's sandy terrain," he said.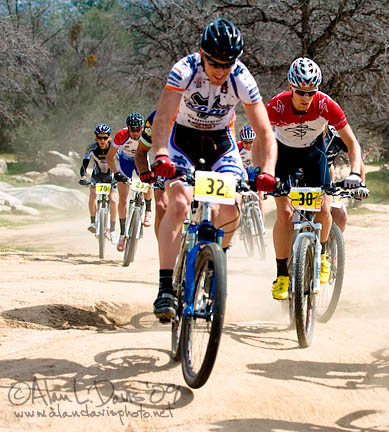 XC

1 Max Plaxton
2:17:12
2 Kris Sneddon
2:18:21
3 Evan Plews
2:31:02
4 Ben Ortt
2:37:04
5 Romolo Fereno
2:38:04
6 Chad Stoehr
2:38:33
7 Yuri Hauswald
2:38:57
8 Mike Neisser
2:41:09
9 Dain Zaffke
2:42:27
10 Ryan Rickard
2:46:03
11 Tom Sharp
2:47:58
12 Alex Boone
2:52:00
13 Jeff Kendall-weed
2:53:01
14 Zac Griffin
2:57:37
15 Ryan Tarver
2:59:38
16 Dean Poshad
3:01:25
17 Derek Herman
3:02:47
18 Daniel Baggs
3:04:59
19 Anthony Medaglia
3:10:00
20 Chad Elmer
3:10:57
DNF John Nobil

Short Track

1 Kris Sneddon
2 Max Plaxton
3 John Nobil
4 Evan Plews
5 Yuri Hauswald
6 Ben Ortt
7 Dain Zaffke
8 Daniel Baggs
9 Anthony Medaglia
10 Jeff Kendall-Weed
11 Dean Poshad
12 Derek Herman

Downhill

1 Ben Furbee
4:54.97
2 Michael Males
5:06.84
3 Jeff Kendall-Weed
5:08.56
4 Jordan Lopez
5:10.08
5 Daniel Cortina
5:11.90
6 Max Plaxton
5:13.77
7 Anthony Medaglia
5:16.21
8 Daniel Baggs
5:29.01
9 Graeme Pitts
5:37.60
10 Dain Zaffke
5:44.55
11 Evan Plews
5:46.41
12 Yuri Hauswald
6:02.52
13 Kris Sneddler
6:04.72
14 Derek Herman
6:10.62
15 Dean Poshad
6:23.93

GC (All Mountain)

1 Max Plaxton
5 pts
2 Kris Sneddler
10
3 Evan Plews
12
4 Jeff Kendall-Weed
13
5 Dain Zaffke
13
6 Daniel Baggs
19
7 Anthony Medaglia
20
8 Dean Poshad
25
9 Derek Herman
26