September 1/09 1:51 am - MTB World Championships: Team Relay photos, report and results

Posted by Editoress on 09/1/09

The 2009 Mountain Bike World Championships opened Tuesday afternoon in Canberra, Australia with an extremely close race in the Team Relay competition, which Italy won by only six seconds over Canada, and eight seconds in front of France.
The Team Relay consists of national teams of four riders each contesting one lap of the cross-country course. Each team has one rider from four different categories - Elite Men, Elite Women, U23 Men and Junior Men. The order in each rider races is up to the teams, which leads to two strategies: send your Elite and U23 men to build up a lead, or save them to last and hope that they can catch the early leaders.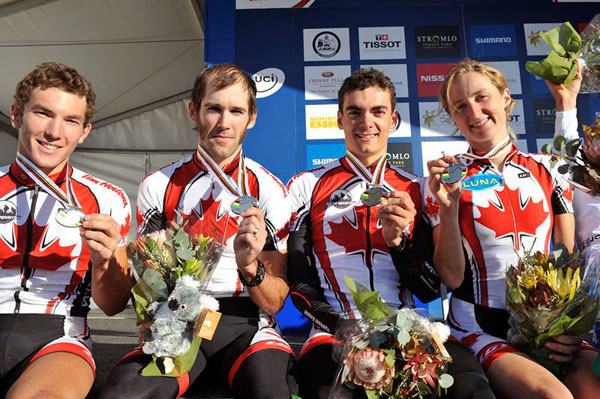 All three of the top teams adapted a form of the first strategy, but Italy was able to pull out the win by virtue of the blazing fast ride of their Junior - European champion Gerhard Kerschbaumer, who rode second after Marco Fontana finished third on the first lap, right behind Florian Vogel (Switzerland) and Emil Lindgren (Sweden). After Kerschbaumer's ride the Italians had moved into first.

They dropped to third on the third lap, 1:30 behind France and Canada, when their woman - Eva Lechner - rode, but then the U23 rider Cristian Cominelli brought them back to the front after chasing down the women from France (Cecile Rode Ravanel) and Canada (Catharine Pendrel). Pendrel overtook Ravanel in the final kilometre and a half to sprint in two seconds ahead for the silver medal.

"We knew we were strong," commented Fontana "but France, Canada and Switzerland were also strong."

"Yes," agreed Lechner "we were confident of being in the medals, but we didn't expect it to be gold, so that makes us very happy."

Canadian riders, like many teams, expressed some frustration about the lack of passing.

"I had an okay start," said lead rider Raphael Gagne "but I didn't clip into my pedal properly so I went into the single track before the climb at about 12th, and then it became impossible to do anything but hold your position."

Gagne handed off to Geoff Kabush, who started the lap 59 seconds down on the Swiss, Italian and Swedish leaders. He put in the fastest lap of the day at 17:22, moving the Canadians up to third, but could have moved up further.

"There were sections on the first climb where I was just soft pedalling, because it was impossible to get by riders, so I figure I could have been 30 or 40 seconds faster. This just shows how important the start is going to be later in the week."

Canada's Junior - Evan Guthrie - took over from Kabush, with the gap down to under 30 seconds and moved up to within seven seconds of leading French as he handed off to Pendrel.

"It was a very good ride for me; this course definitely suits me. My goal was to get as much time as I could for Catharine."

Pendrel began the final lap just seven seconds down on Ravanel, and was closing, but the French rider surprised with her strength.

"I wasn't sure if it was a guy or a woman out there for a while," commented Pendrel, "she was very strong. The the Italian U23 came up and I was able to ride his wheel up to the front. He finally got by us, and then I was able to get by Cecile with a little sprint in the final feed zone and hold it to the finish. It was a really exciting last lap."

The Americans were the only team to adopt the strategy of starting with the Elite woman rider, and gradually build to their stronger Elite man in the final lap. It proved to be the wrong strategy, as they were in last place (19th) after the first lap, with a deficit of 3:35 to make up on a course where passing was exceedingly difficult. They steadily made their way up, but even with Jeremy Horgan-Kobelski riding clean up, were only able to finish 12th.

Horgan-Kobelski commented: "The race certainly helped me (in preparing for Saturday's Cross Country race). I've always enjoyed doing it as a tune up for the cross country race. I think it was good for me to get a hard effort in today. You can never push yourself that hard in training, and it's good to see the course at race-pace."

"A couple of things changed for me today. The climb is a lot more technical when you are on the limit and tired, and I bobbled a couple of rock sections out there. The descent was pretty good today, but when you are climbing as hard as you can, some of those technical sections become a little tricky. We just got in, and I had only ridden the course yesterday, so there were a couple of things I forgot!"
Team Relay

1 Italy (Marco Aurelio Fontana/Gerhard Kerschbaumer/Eva Lechner/Cristian Cominelli)
1:14:02
2 Canada (Raphael Gagne/Geoff Kabush/Evan Guthrie/Catharine Pendrel)
at 0:06
3 France (Alexis Vuillermoz/Cédric Ravanel/Hugo Drechou/Cécile Rode Ravanel)
0:08
4 Sweden (Emil Lindgren/Tobias Ludvigsson/Alexandra Engen/Mattias Wengelin)
0:54
5 Switzerland (Florian Vogel/Matthias Stirnemann/Nathalie Schneitter/Fabian Giger)
1:00
6 Netherlands (Irjan Luttenberg/Michiel Van Der Heijden/Laura Turpijn/Jelmer Pietersma)
3:00
7 Germany (Moritz Milatz/Martin Gluth/Markus Bauer/Sabine Spitz)
3:04
8 Czech Republic (Jaroslav Kulhavy/Jan Nesvadba/Pavla Havlikova/Lukas Sablik)
3:24
9 Great Britain (Liam Killeen/Kenta Gallagher/Annie Last/David Fletcher)
3:25
10 Belgium (Sven Nys/Tom Meeusen/Ruben Scheire/Sanne Cant)
3:29
11 Poland (Marcin Karczynski/Marek Konwa/Maja Wloszczowska/Maciej Adamczyk)
3:51
12 United States Of America (Heather Irmiger/Russell Finsterwald/Colin Cares/Jeremy Horgan-Kobelski)
3:52
13 Slovakia (Peter Sagan/Daniel Hula/Janka Stevkova/Michal Lami)
4:16
14 Australia (Chris Jongewaard/Lachlan Norris/Michael Baker/Rowena Fry)
4:52
15 Austria (Hannes Metzler/Simon Scheiber/Maria Osl/Gregor Raggl)
4:57
16 Slovenia (Luka Mezgec/Urban Ferencak/Blaza Klemencic/Vid Tancer)
5:01
17 Russian Federation (Maxim Gogolev/Evgeniy Nikolaev/Irina Kalentieva/Ivan Smirnov)
6:18
18 New-Zealand (Michael Northcott/Nicola Leary/Brad Hudson/Ashley Hough)
7:57
19 Japan (Kohei Yamamoto/Seiya Hirano/Rie Katayama/Idomu Yamamoto)
9:19