September 13/09 6:39 am - World Cup Champery: Women's XC report, PHOTOS and full results

Posted by Editoress on 09/13/09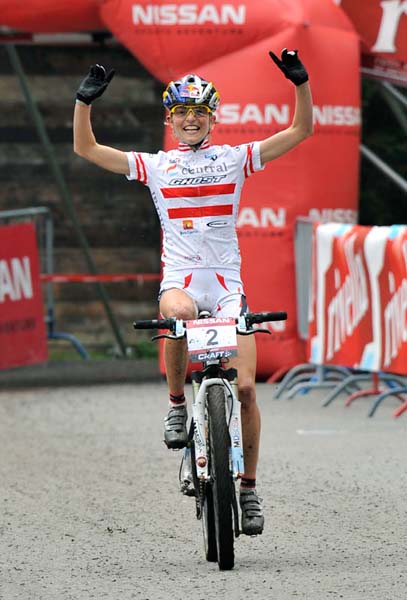 Elisabeth Osl (Central Ghost Team) decided to skip the world championships last week in Australia to focus on the World Cup, and it paid dividends on Sunday at Round Seven in Champery, Switzerland, when she decisively won and took the lead in the overall standings with one race remaining. Anna Szafraniec (JBG-2 Pro MTB Team) finished second, with Lene Byberg (Specialized Factory Racing), in the World Cup leader's jersey, finishing third. The top Canadian finisher was national champion Catharine Pendrel (Luna) in tenth, followed one spot behind by Marie-Helene Premont (Maxxis-Rocky Mountain). Pendrel moves up to third in the World Cup standings, behind Osl and Byberg. Emily Batty (Team Canada) remains in second in the U23 rankings after finishing 20th overall.
Photo galleries
The five lap race began with sprint on pavement into the long 1200 metre start loop. Traditional fast starter Eva Lechner (Colnago Cap Arreghini) took the lead into the first lap, closely followed by Swiss champion Katrin Leumann, Osl's team mate Sabine Spitz and Osl. Struggling were a number of top riders - world champion Irina Kalentieva (Topeak Ergon), Byberg, Marga Fullana (Massi) and Pendrel. Kalentieva crashed on the second lap, landing on her knee, and was taken to hospital; an inauspicious start to her reign as world champion. Fullana pulled out on the same lap with, as it turned out, a back injury - according to her team she crashed in training two days before the race, damaging a vertebra. She will now see a specialist to assess the severity of the injury.

Osl and Lechner moved into the lead on the first lap, already 40 seconds ahead of Leumann, Szafraniec and Spitz by the start of the second lap, with Byberg 1:21 back, and seeing her World Cup lead disappearing. Osl took the lead on the second lap, but it was a slim 5 - 10 second gap, that did not change until just before the start of the last lap, when Lechner flatted, letting Szafraniec move into second place. The Italian managed to get to the pit in fourth and hold onto that spot, but her chances of winning were finished.

Byberg had a strong race from behind, moving up to join a chase group of Spitz, Pendrel and Leumann mid-race, and then dropping them to move into third. However, anything other than a win would have dropped her out of the lead, so she goes into the final round 65 points behind Osl, who will be racing in front of her native Austrian fans.

"Yesterday I woke up with a cold, and my head felt thick," revealed Osl, "so I didn't think it was possible to win here. When Eva and I were away in front, I was being more cautious in the technical sections, because it would have been easy to make a mistake, and lose a lot of time."

"But I was faster [than Lechner] on the climb, and when I went into the lead it wasn't really an attack. I could see that she was at her limit and I was still able to go harder. But the gap was small until Eva flatted, and it was only then that I knew that I could win."

"It is really cool to win, and become the leader as the World Cup goes to my home country. This makes me happy with my decision not to go to the world championships."

The final lap took its toll on Pendrel, who slipped down to tenth.

"That was really hard!," she exclaimed after crossing the line. "I had a good race, I was climbing and descending well, but I think we are staring to see some riders coming into form who weren't as strong earlier into the season. This just shows the depth of the women's field."

Marie-Helene Premont struggled with the fast start, but was able to move up steadily afterwards. "It was a badtype of start for me; very fast on a paved road. I hate that kind of start; I would prefer it to go more into the woods. So I went into the woods maybe in 30th place, and after that I was able to do quite well, and start to move up."

"For me, I am happy with this result. After such a bad start in the season, to feel good again is really great, and I just want to finish this season with a couple of good races and take that feeling into my preparation for next year."

Emily Batty (Team Canada) finished 20th, the fourth U23 rider. Her results leaves her in second overall in the U23 standings, 33 points behind world champion Aleksandra Dawidowicz (CCC Polkowice), who was ninth in today's race. Batty goes into the final round with a 31 point advantage over third placed Caroline Mani (Team Bikepark.ch).

"It was a fun race," commented Batty, "I actually enjoyed it out there. I was climbing well, and even rode the downhill pretty well. I'm not disappointed with my ride at all, the others [U23 riders] had a better day than me today."
Women - 5 laps, 24.88 km

1 Elisabeth Osl (Aut) Central Ghost Pro Team
1:39:39
2 Anna Szafraniec (Pol) JBG-2 Professional Mtb Team
at 0:54
3 Lene Byberg (Nor) Specialized Factory Racing
01:23
4 Eva Lechner (Ita) Colnago Cap Arreghini
02:18
5 Katrin Leumann (Sui)
02:27
6 Sabine Spitz (Ger) Central Ghost Pro Team
02:40
7 Cécile Rode Ravanel (Fra) Lapierre International
02:43
8 Nathalie Schneitter (Sui) Colnago Cap Arreghini
03:25
9 Aleksandra Dawidowicz * (Pol) CCC Polkowice
03:38
10 Catharine Pendrel (Can) Luna Pro Team
04:23
11 Marie-Helene Premont (Can) Team Maxxis-Rocky Mountain Bicycles
05:05
12 Lea Davison (USA) Team Maxxis-Rocky Mountain Bicycles
05:54
13 Marielle Saner-Guinchard (Sui) Team Bikepark.Ch
06:22
14 Julie Bresset * (Fra) Breiz Mountain
06:36
15 Sabrina Enaux (Fra) Bh-Suntour
07:02
16 Hanna Klein * (Ger)
07:37
17 Laura Metzler (Fra) Bh-Suntour
08:29
18 Anna Villar Argente (Esp) Massi
08:37
19 Sarah Koba (Sui)
09:04
20 Emily Batty * (Can) Trek Store Toronto
09:23
21 Amanda Sin (Can) 3rox Racing
09:36
22 Mary McConneloug (USA) Kenda Seven Notubes
10:00
23 Vivienne Meyer * (Sui) Colnago Cap Arreghini
10:33
24 Elisabeth Brandau (Ger)
10:52
25 Tanja Zakelj * (Slo) Mbk Orbea
12:06
26 Kate Potter (Aus)
12:19
27 Anja Gradl (Ger) Central Ghost Pro Team
12:45
28 Nataliya Krompets * (Ukr)
12:56
29 Annie Last * (GBr)
13:31
30 Fanny Bourdon * (Fra)
13:41
31 Rowena Fry (Aus) Discovertasmania.Com
14:00
32 Janka Stevkova (Svk)
14:13
33 Fabienne Niederberger (Sui)
14:44
34 Suzanne Clarke (GBr)
15:17
35 Sandra Walter (Can) Local Ride
16:00
36 Maria Osl (Aut) Fischer-Bmc
16:46
37 Georgia Gould (USA) Luna Pro Team
17:05
38 Barbara Benko * (Hun)
17:29
39 Stephanie Wiedner * (Aut) Ds-Rennsport
17:33
40 Sandra Santanyes Murillo (Esp) Cemelorca-Trek-Lorca Taller Del Tiempo
18:02
41 Paula Gorycka * (Pol)
18:30
42 Coralie Redelsperger (Fra)
18:51
43 Jean Ann Mckirdy (Can) (Local Ride)
19:09
44 Virginie Pointet * (Sui) Team Bikepark.Ch
19:09
45 Nadine Rieder * (Ger) Fumic.Brothers.International
19:23
46 Helene Marcouyre (Fra) Bh-Suntour
19:36
47 Tatjana Dold (Ger)
20:05
48 Adelheid Morath (Ger)
21:01
49 Lorraine Truong * (Sui)
21:31
50 Jennifer Sagesser * (Sui)
22:14
51 Judith Pollinger * (Ita) Sunshine Racers Asv Nals
22:23
52 Katherine O'Shea (Aus) Torq Performance Nutrition
-1LAP
53 Lily Matthews * (GBr)
-1LAP
54 Corina Gantenbein (Sui)
-1LAP
55 Lenka Bulisova * (Cze)
-2LAP
56 Gracie Elvin * (Aus) Discovertasmania.Com
-2LAP
57 Alexa Hüni (Ger)
-2LAP
58 Caroline Mani * (Fra) Team Bikepark.Ch
-2LAP
59 Githa Michiels (Bel) Team Saeco
-2LAP
60 Nicoletta De Jager (Ned)
-2LAP
61 Rebecca Beaumont * (Can)
-2LAP
62 Catherine Lohri (Sui)
-2LAP
63 Irina Slobodyan * (Ukr)
-2LAP
64 Ana Rita Vigario (Por)
-3LAP
DNF Irina Kalentieva (Rus) Topeak Ergon Racing Team
DNF Margarita Fullana Riera (Esp) Massi
DNF Petra Henzi (Sui) Fischer-Bmc
DNF Magdalena Sadlecka (Pol) CCC Polkowice
DNF Alexandra Engen * (Swe)
DNF Anna Oberparleiter * (Ita)
DNF Martina Giovanniello * (Ita) Team Cbe Tecnoimpianti A.S.D.
DNF Kathrin Stirnemann * (Sui)
DNS Fabienne Heinzmann (Sui) Team Bikepark.Ch
DNS Daniela Veronesi (Smr)
DNS Roberta Monaldini (Smr)

*= U23