November 6/09 10:38 am - Athletes Tested at CCA Track Camp

Posted by Editoress on 11/6/09

The Canadian Cycling Association is currently hosting a development camp in Burnaby, BC, where the athletes' mental toughness was tested on the first day of training when a number of riders crashed. Mike Sidic (BC), who has benefited from participating at several CCA camps this Fall, commented that "seeing a crash on the first day is a tough thing to see and mentally it's tough for me to put that out of my mind. Not thinking about crashing and just concentrating on skills is something I'm still working on."
For the riders who are out of province, such as junior Alexandre Pinard (QC), who are used to riding on an outdoor Velodrome, the transition to riding on the smaller, indoor track in Burnaby is a challenge. However, the junior and development riders are relishing in the atmosphere created by National Head Coach Richard Wooles and Elite National Team Athletes. "What I have learned during this camp and the memories of my experience will motivate and encourage me when it's time to hit the rollers come January. It (is) a privilege for me to train with such devoted and dedicated athletes."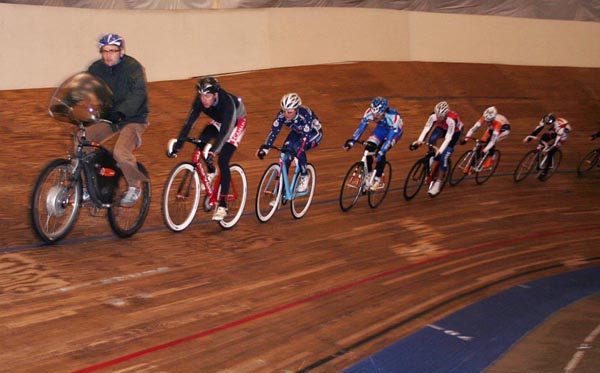 The purpose of these camps is to provide more opportunities for Canadian track riders to train in larger groups, to gain more experience, skill and fitness, as well as to align their training and preparation with the goals of the National Program. Wooles has created a three year plan aiming for success at the World Cups, World Championships, and Olympic Games, and by introducing younger riders in to the program it helps them to set high expectations, have access to the experience and skill of more elite riders, and stay motivated and excited about the track program by attending these fun and competitive events.

Daniele Defranceschi (ON), who has competed for Canada in Italy and the Panamerican Championships, believes that these camps are critical to the success of the track program, and is seeing first hand the benefits to the training camps. "I just finished the LA camp, where I was a bit stale, but the training there has shown its benefits here in Burnaby. The first day that I was here, I was flying. These kind of training camps are needed to keep everyone honest with themselves. It shows when someone's training is progressing."

The Burnaby camp ends on November 6th, offering the riders one last chance to try to pass and overtake each other before heading home. To find out more about the Canadian Track Program and training opportunities log on to www.canadian-cycling.com and click on the Track title at the top.