April 16/10 21:49 pm - Day 2 at Sea Otter: Emily Batty Interview and Tech

Posted by Editoress on 04/16/10

Sea Otter - Day 2

The real racing starts Saturday, with the Short Track, so today was a chance to check out the Expo for new and interesting products. We also caught up with Canada's Emily Batty, who has stepped up to the top pro level, by joining the Trek World Racing Team - below is a link to our interview with Emily and Team Director Martin Whiteley.





Here are our bits and pieces from a day in the pits at Sea Otter
New Carbon Big Hit Bike from Santa Cruz

World DH champion Steve Peat is here, and piloting a new carbon version of the Santa Cruz Nomad. The bike - even in Peaty's extra-large size - comes in at sub-28 pounds. Steve says that it is extremely fun to ride, and just carves through the corners.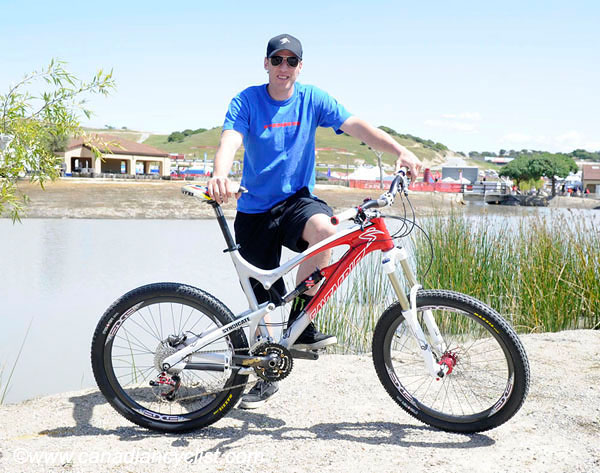 Shimano Introduces Dyna-Sys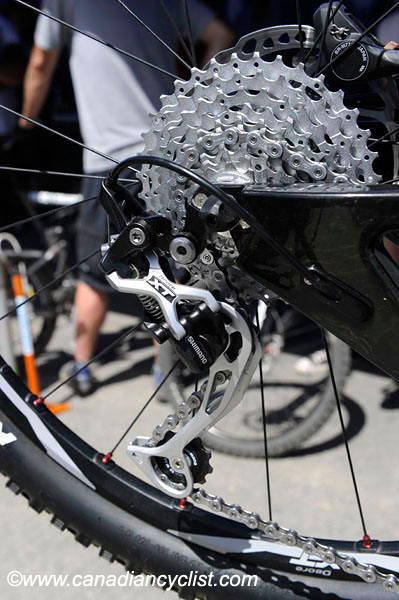 It had to come: 10 speed cogsets for mountain bikes. Shimano's new system is called Dyna-Sys (short for 'Dynamic Systems') and, while they are not aiming it solely at the MTB crowd, it was being shown with XT and SLX derailleurs. The goal of the new design is to reduce the number of front shifts required, as well as making shifting smoother and simpler.

Basically, the system replaces the 22 tooth front granny with a 24, and goes to a 11-36 rear cluster (instead of topping out at 32 or 34 teeth). By going to 10 speeds instead of 9, it allows for closer ratios, avoiding the big steps to the granny cogs at the rear. This allows riders to stay in the middle and upper chainrings in more situations, avoiding having to shift down to the granny. Shimano is calling it an 'optimized' gear array. Front shifters don't change, but there is a new rear derailleur.

SRAM Introduces Apex Road Group

Last year, the pros mountain bikers on SRAM were setting up their drivetrains as 2x10 systems. It turns out that some roadies were doing the same, according to SRAM - Astana's Alberto Contador at the 2008 Giro wanted some low gearing for a very steep uphill time trial, but without going to a triple. So, he was set up with a compact 2x10 which worked just the way he wanted. SRAM has now introduced a new group that they say can do away with triples, called Apex.

Apex offers cranks in three configurations - 50/34 compact, or 53/39 standard, plus a 46/38 for 'Cross. Cogsets (10 speed) are available in 11-23, 11-26, 11-28 or 11-32. The company claims that this will allow riders to achieve the same low ratios as a triple would, while saving weight (a claimed 274 grams) and reducing front shifts.

Apex is more of an entry level group, but the components are compatible with the higher end Red/Force/Rival groups, so a rider could swap out some parts to use on a course with large amounts of climbing.

Avid Shorty Ultimate Cantilevers

These new cantilevers can be set up with either a short or wide stance. So, for example, you could put the narrow stance on the back for heel clearance and more power, and the wider one on the front for better mud-clearing capability. Zdenek Stybar used them when he won the men's world title at the 'Cross Worlds, and Team Milram used them during Paris-Roubaix. Avid claims increased power and stiffness over other brakes. Weight is 240 grams/pair, and the suggested retail will be in the $200 range.

Oakley Previews Limited Edition Chrome Eyewear

Oakley's Steve Blick gave us a sneak peak at a new surface treatment for their sunglass frames. Called 'BMX Chrome', in reference to the retro heavy chromed sunglasses BMXers used to wear, this special edition finish will be limited to 1000 pairs. The pair we saw were for world champion Burry Stander to race in this weekend.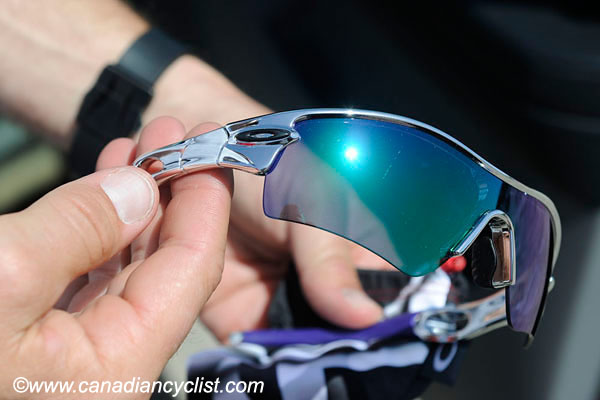 RockShox Vivid Air Rear Shock

The RockShox Vivid coil shock has been used to great success by pros such as Steve Peat, Sam Hill and Greg Minnaar. Compared to a coil spring, the air model doesn't require the same travel, so it can handle bigger hits, and more in succession. It is also more easily adjusted, and a thermoplastic stroke adjuster rod to remove rebound fade as the shock heats up during a run. The Vivid Air is an impressive 400 grams lighter than the coil version. Suggested retail is $620 US.