May 20/10 15:00 pm - Armstrong Responds to Landis Allegations

Posted by Editoress on 05/20/10

Lance Armstrong stepped out of the RadioShack team bus prior to the start of stage 5 in Visalia to talk with a huge contingent of media about the allegations by Floyd Landis. Word broke yesterday that Landis has sent a series of letters to cycling officials alleging Armstrong, Levi Leipheimer, David Zabriskie, George Hincapie and others all doped during the U.S. Postal years, and that Armstrong helped introduce him to using drugs such as EPO.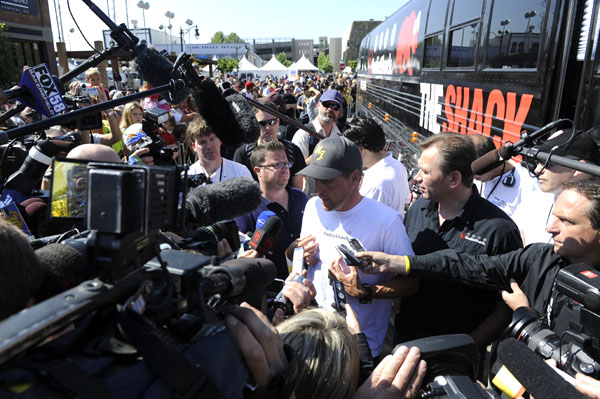 Crush of media as Armstrong hold press conference outside team bus
Armstrong denied all of Landis' claims, saying that Landis began sending him texts and e-mails more than two years ago, and that he was not surprised that Landis had made these statements. He alluded to Landis' rumoured issues with drinking, and said that it would be difficult to trust someone who had claimed innocence for years after his 2006 Tour de France positive, and is now 'coming clean'.

Our video of the media scrum can be seen below. (Note: We want to thank the Clay Cafe pottery studio in Visalia for kindly letting us use their WIFI to get this posted right away!)
Fans
Armstrong pulled out of the race shortly into the stage after going down in a big crash that also took down team leader Levi Leipheimer.