June 7/10 16:13 pm - Interview: Svein Tuft

Posted by Editoress on 06/7/10

Svein Tuft of the Garmin-Transitions team finished his first Grand Tour a week ago - the Giro d'Italia (note: he did ride 15 stages of the Vuelta Espana last season also). After he got back to his home in Girona, Spain, we caught up with him to find out his season is going, and what it's like riding on the ProTour.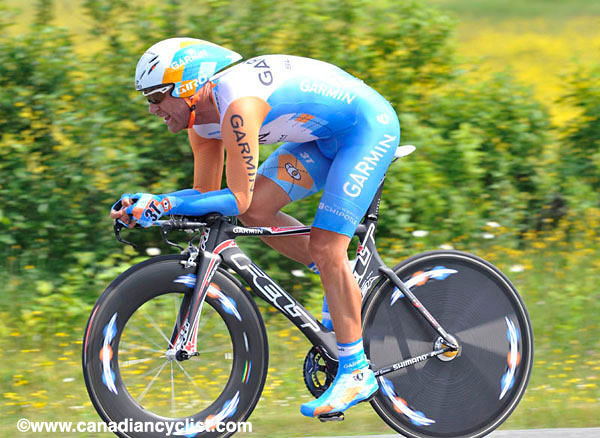 Svein Tuft at the 2009 Road Nationals ITT
Canadian Cyclist: So your first Grand Tour, how does it feel?

Svein Tuft: That was a pretty hard edition, from what I am told by other riders who have raced it before. It was a really tough one. I don't think I've ever done more kilometres or more climbing than in the second week; we did 41.5 hours [of racing] that week.

CC: You've done a number of stage races in your career, what made this so tough?

ST: I guess it was the days back to back that really get to you. Stage 10 was a really wild day; really cold, and the race just split apart on a climb. All the GC guys were there [ in the chase group], so it was the strangest thing the way the front [group] went away, it was really weird that no one was chasing.

CC: What was your role at the Giro, and what were your goals?

ST: We had huge objectives for the first two weeks of the Giro. We were trying to get Tyler [Farrar] or [David] Miller into the [leader's] jersey. We had two stage wins, but then a bad day in the team time trial.

My role was just taking care of those guys. It can be pretty taxing, and you can take yourself out [of the race] if you aren't careful by going too hard one day and damaging yourself so that you can't finish the next. You have to get comfortable with the amount of effort that you can expend.

CC: I was at the Tour of California, when Floyd Landis made his allegations about other riders doping. Of course, it was a big deal there - how about at the Giro, was it a big topic there?

ST: We were pretty focussed on the race, but of course we heard about it. It was pretty shocking news to everyone.

CC: Do you feel more comfortable racing in Europe now?

ST: Every race I'm still learning, still getting used to the patterns. You really do need a year and a half or two years to get settled, to learn the rhythm of racing over there. It's not something that you're going to come over from North America and just pop into, and at the beginning it is a little discouraging.

One of the biggest differences is that in North America there are 10 to 20 guys at the best level, but here there are 200 guys at that level. Add on another 100 K per day and the narrow, twisty roads ... and your body has to adapt. If you are used to racing three to three and a half hours tops, and then you start having to do six hours, and pushing hard for the last hour ... it takes a year or two.

The other thing is, when you are new here, you don't really know anyone, you don't know the other riders and how to react to stuff they are doing during the race. This year, I know the riders, their roles [on the teams], so I can put myself in the right position at the right time; I know who is going to be doing what during different parts of the race, so you can take time [during the race] to relax a bit and save some energy.

For me it has been a great challenge, relearning stuff over and over again.

CC: So what is next, once you have recovered from the Giro?

ST: I'm doing the Delta Tour in Holland [June 11-13], then I head home to Canada for a while. I'll do the Nationals and then have a chunk of time training at home [Canada] until the Tour of Denmark [August 4-8].

CC: So does this mean a build up for the Worlds like in 2008 [when he won silver in the time trial]?

ST: Yes, that's right. I'm taking a good block of time to train like I used to for the time trial. I'll be able to give it a good effort for both the Worlds and the Commonwealth Games.