July 2/11 14:31 pm - World Cup Mont Ste-Anne: Men's XC UPDATES

Posted by Editoress on 07/2/11

Hot and humid at 2:30 for the start of the Elite men's race
Only top rider missing is World Cup leader Julien Absalon, who is giving the N. American races a miss to prepare for Worlds
Lap 1
Men's XC is now on lap 1 of 6. The first lap has an extra loop
Burry Stander lead from the start through the first turn
2:34 pm
Kulhavy already has a sizable gap at the Beatrice descent. The first 10 riders are OK, if you are not in the top 10 it is chaos and you are walking. Kabush comes through in 6th
Then a long long steady line of riders
2:38 pm
Kulhavy through the feedzone and the gap is already 13 seconds to 2nd place Nino Schurter (Scott - Swisspower MTB - Racing) and Manuel Fumic (Cannondale Factory Racing)
Lap 2
2:45 pm
Kulhavy heads out onto the 2nd lap. Schurter and Fumic at 20 sec. Thomas Litscher (Felt Oetztal X - Bionic Team) 4th at 34 sec, Florian Vogel (Scott - Swisspower MTB - Racing) 5th at 35 sec
Kabush 8th at 42 sec back
2:49 pm
Kulhavy leading through Beatrice with Schurter alone and then Fumic. , but there is a chase group forming behind
Wells has crashed at Beatrice and broke a brake leaver. G. Kabush also crashed and has lost a spot to Mathias Flückiger
Lots of crashes on Beatrice and there is a cheering squad that counts off the time it takes for the rider to get back up going again and or the number of riders that are passing them as they get going again.
2:51 pm
Up the Marmotte climb and Schurter appears to be closing the gap to Kulhavy
2:54 pm
The gap to Kulhavy has gone up a bit for Schurter as they go through the feedzone 1st time.. 23 sec
The wind has picked up quite a bit since the early races and the riders are starting to fight it in the open spaces
Schurter is working hard to hold that gap at ~ 20 sec. Fumic still 3rd but losing ground, now almost 1 min behind
Lap 3 3:02 pm
Heading ou it is Jaroslav Kulhavy with Nino Schurter at 25 sec, Fumic 3rd at 40 sec, Vogel 4th at 53 sec, Gujan 5th at 1:10, Stander 6th at s.t.
Zandstr and Hadley well back at over 5 min
There is a large group forming from 5th through 11th
Kabush dropped back to 12th at 2 min back
Lap 4 3:16 pm
Kulhavy goes through to start the 4th lap and Schurter is at 51 sec. Vogel now 3rd at1:12, Hermida 4th at 1:19, Fumic 5th at s.t., M. Flückiger 6th at 1:21
Kabush 11th at 2:49 back
3:22 pm
Kulhavy down the Beatrice easily
3:29 pm
It is all Kulhavy today. He continues to open the gap after 1 hr of racing.
The chasing riders are crashing and losing ground like dominoes. Schurter, Lukas Flückiger, Wells, Kabush have all crashed
Lap 5
Heading out for the 2nd last lap, Kulhavy cruises across the line. He has been consistently doing 16 min laps.
Schurter still 2nd but it is 1:23 with Fumic 3rd at 1:56, M. Flückiger 4th and Hermida 6th all at s.t.
Stander 7th at 2:25
Kabush 10th at 3:39, Zandstra 40th at 9:47, Adam Morka 44th at 10:10
3:39 pm
Fumic fumbles and crashes at the top of the Beatric
Still Vogel, Hermida, M. Flückiger and Fumic battling it out for 3rd
Last Lap
Kulhavy starting his last lap with his time for lap 5 at 15:53
Schurter 2nd at 1:57 back
Hermida 3rd at 2:32
Vogel and Fluckiger at 2:35
Stander 6th at 3:21
Kabush 7th at 4:15
Final
Unofficial
1 Jaroslav Kulhavy (Specialized Racing)
2 Nino Schurter (Scott - Swisspower MTB - Racing)
3 José Hermida (Multivan Merida Biking Team)
4 Mathias Flückiger (Trek World Racing)
5 Florian Vogel (Scott - Swisspower MTB - Racing)
6 Burry Stander (Specialized Racing)
7 Geoff Kabush (Team Maxxis - Rocky Mountain)
8 Christoph Sauser (Specialized Racing)
9 Thomas Litscher (Felt Oetztal X - Bionic Team)
10 Martin Gujan (Cannondale Factory Racing)
Course Map (guide to numbers below image)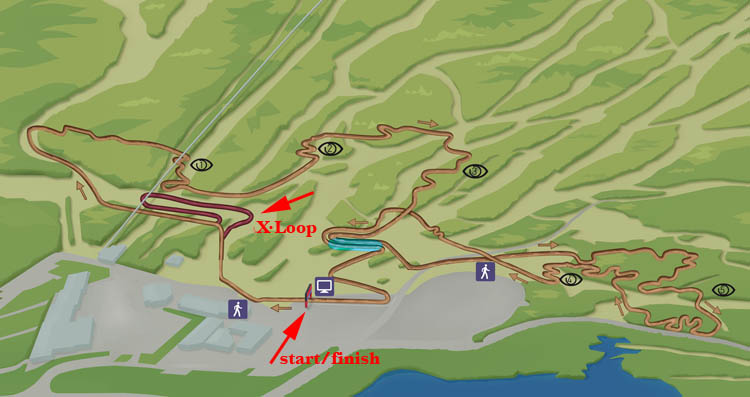 1 = Beatrice technical drop
2 = Marmotte Climb
3 = La Germaine long descent
4 = Les S Ecole - Technical swtchbacks
5 = La Perdrix Steep slope