August 19/11 10:27 am - TIBCO Begins European Campaign with Numainville & Willock

Posted by Editoress on 08/19/11

Team TIBCO/To the Top begins its second European campaign of the 2011 season this Saturday with the Trophee D'Or in France, a five-day, six-stage race that includes an unusual team time trial on day two.

The Team will also take on a second six-stage tour, the Profile Ladies Tour of Holland, beginning September 7th. In between, the Team will contest the Plouay World Cup.

Team TIBCO European Director Angela van Smoorenberg is looking to build on the strong performances the Team had during its first trip over in the Spring.

"What I saw from the Team in the April races was good," she said. "Those races had almost the same strong riders as will be in these. Our riders showed they could race in the big bunch and the tactics were good. In those races, they were always in the mix at the front of the peloton. What we missed in those races was a really good lead out for our sprinter, and that's an area we want to improve for these races."

With good reason. Both stage races offer mostly flat parcourses, well suited to Team TIBCO's Canadian sprinter, Joelle Numainville, who took an impressive 6th in the Tour of Flanders back in April.

"Trophee d'Or will be very hard, all top riders from over the world are here," she said, "but all stages are pretty flat, sometimes a bit up and down but not too much. So a bit the same course as the Worlds this year and the Olympics next year. The Holland Tour has only one stage with hills. I'm really looking forward to the Stage 2 team time trial. I think we have a good team for that stage. After these races, the national federations will make the final selection for the Worlds. So that will be a good motivation for our Team to s how their strength."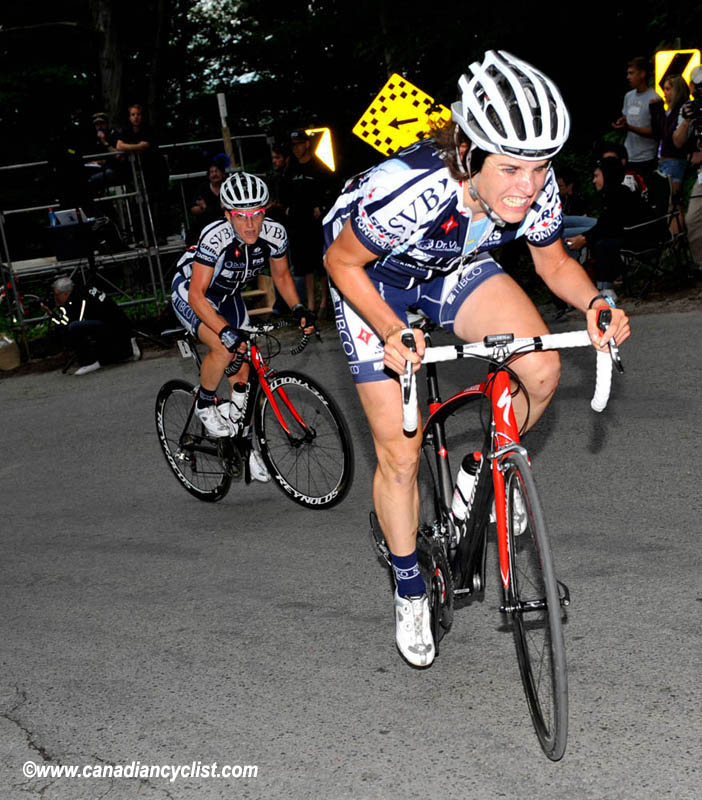 Plouay presents much more varied terrain, and the Team will look more toward another Canadian, Erinne Willock, to be at the front end of the race at the end.

"Last year Erinne was eighth, so this course suits her," van Smoorenberg said. "Plouay has a couple of hills each lap. In April we did the Fleche Wallone, which was quite hilly, and the girls did a good job there. Unfortunately, we missed Erinne for that race because of her crash in Holland. So it will be good to have her this time."

Team TIBCO/To the Top for Trophee D'Or and GP Plouay World Cup:

Megan Guarnier (USA)
Emma Mackie (Aus)
Joelle Numainville (Can)
Serena Sheridan (NZl)
Erinne Willock (Can)

Team TIBCO/To the Top for the Profile Tour:

Megan Guarnier (USA)
Emma Mackie (Aus)
Joelle Numainville (Can)
Carmen Small (USA)
Erinne Willock (Can)
right: Joelle Numainville, below: Erinne Willock and Joelle Numainville