September 2/11 4:01 am - Canadian 4Xer Qualifies 10th at World Championships - Interview

Posted by Editor on 09/2/11

Canada's Harold Woolnough - the only Canadian in the 4-Cross at the mountain bike world championships - qualified for tomorrow's race in tenth position, with a time of 34.873, 1.853 back from Michal Prokop of the Czech Republic who was the fastest man on the course during the seeding run. However, two of the fastest men in the race, defending World Champion Tomas Slavik from the Czech Republic and the man who dominated the World Cup this year, Jared Graves of Australia, qualified in 49th and 50th. Tomas Slavik missed a gate and had to run up the course to avoid being disqualified and Jared Graves flatted near the top of the course.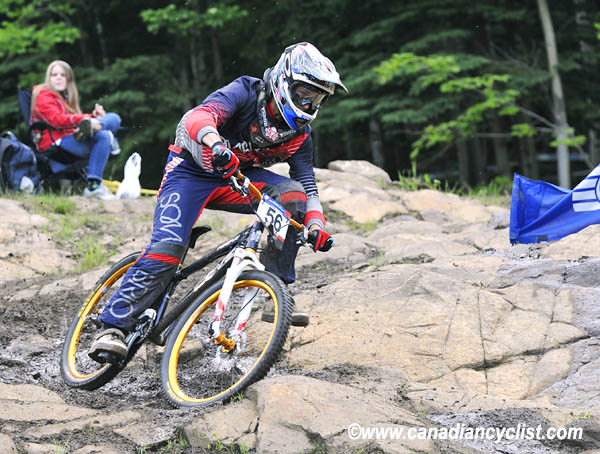 Harold Woolnough racing at the 2011 Mont Ste Anne World Cup
Interview by CC intern Sarah Moore

CC: How did you get into 4X?

HW: "When Canada announced a National Championship I thought it would be a good thing to get in on. I knew I had the skills. I have a downhill racing background and I'm doing 4X on the side."

CC: Have you raced downhill internationally before?

HW: "I haven't raced any downhill internationally. I've done well in Ontario and I want to do well nationally but it hasn't happened yet."

CC: How important is this seeding run?

HW: "This run was pretty important. The plan was to go hard on the qualifying. I knew this course suited me and I could just throw it all out on the line and if it worked out, like it did, I'd be able to get first lane choice. On this course it's going to be important because there are going to be quite a few bottlenecks and there are lots of line choices. So to get out ahead will be crucial."

CC: Canada's not really known for it's 4X, is it?

HW: "There's no racing in Canada right now. There were two National Championships back to back in 2009 and 2010 and I got to do them in 2010 and finished third. It really is too bad because 4X is a lot of fun. Unfortunately I don't know where the sport's going."

CC: Have you raced 4X on the international scene?

HW: "I've done two World Cups. One last year in New York and then I did one this year at Mont-Sainte-Anne. Both of those went fairly well. I think I got lucky. I finished in the top-20 both times. But that's it for international experience."

[Woolnough was 12th in Windham last year and eighteenth at Mont-Sainte-Anne]

"I got really lucky at Windham because there were two people missing in my first gate so that helped me get through. And then this year at Mont-Sainte-Anne I also got a bit lucky and I finished in eighteenth which I was really happy about."

CC: Where do you train for 4X?

HW: "There are no 4X tracks in Canada right now. The only track was in Bromont last year and there's nothing in Vancouver. So basically I ride a lot of downhill and I think those tracks and the skills from downhill really do transfer over. And then the BMX track for sprinting and gates. Gates I think are one of my big weaknesses so I spent a lot of time in the BMX track this summer getting ready and training for that. As far as training for 4X it's just downhill and BMX."

CC: Have you been racing in BMX races as many of the top 4X racers have been doing?

HW: "I've been racing BMX on this bike. So I guess it's kind of cruiser-BMX. I do have a BMX and I think I'll pull it out for the winter. It's just tough going from this bike to BMX since they're so different."

CC: What are the differences between a BMX and a 4X bike?

HW: "It's a different sized bike. Your body position in the gate is very different. There are no gears on a BMX bike. On this track I have to practice shifting out of the gate, where on a BMX that doesn't happen. Jumping on a BMX is quite a bit different because you're in such a different body position. I'm running seven gears."

CC: Do you have to use the gears much on this course?

HW: "On this track I don't use the gears very much up until the last sprint, right into the hardest gear to get over that last jump. It's pretty steep so you drop into the gate, one and a half pedal strokes and then you kind of hold on until the end and then you have to explode for this last jump."

CC: Is there a standard for 4X bikes?

HW: "Everyone basically has similar bikes. Everyone's got gears, everyone's got front suspension. The only real difference is some people have rear suspension as well. I think that on this track that could be nice but the fastest guys are still on their hardtails and I'm happy riding the hardtail."

CC: How does the race work?

HW: "Two riders move on and two are eliminated until you get to the final. The last two World Cups I've done only 32 have moved on so that first heat is pretty competitive right away, but I think that having 60 people I'm pretty confident that I can get through a couple rounds."

CC: What do you think of the course here in Champéry?

"It's very technical so there's a big rock garden, some big gaps, and it's pretty wet up there right now, so the roots are pretty slippery. You've got to make sure you're in the right place. I've had a couple crashes earlier tonight."

CC: Do you like the course?

HW: "I really do think it suits my style, faster and more technical, so I like it."

CC: Is there going to be a place on the course where the race is decided right away?

HW: "The first straight. It's really steep and fast and you come into this tight left-hand corner and it's going to be a bottleneck. So either you're going to be out in front and it'll be good, or you'll have to try and find a way around the crashing that will probably be happening. There's going to be some carnage out there tomorrow. If it's not in the first straight it'll be in the second corner and if not there it could be lower down in the track."