September 5/11 8:52 am - Mountain Bike World Championships DH report, results and photos

Posted by Editoress on 09/5/11

The 2011 Mountain Bike World Championships concluded on Sunday with the Downhill for Junior and Elite riders. Heavy rain drenched the course, delaying racing for 90 minutes at one point, and leading to upsets in some categories. Emmeline Ragot (France) and Danny Hart (Great Britain) took the Elite titles, while Troy Brosnan (Australia) repeated as the Junior Men's champion and Manon Carpenter (Great Britain) won for Junior Women. Canada put two riders on the podium - both women and both bronze, with Claire Buchar winning the medal in Elite and Lauren Rosser, the defending Junior champion, finishing third.

Rain had been predicted all week for Sunday, and the forecasts were correct: 30 minutes before the start of the Junior women's race it began to rain, and did not let up for the rest of the day, with the heaviest downpour reserved for the final 30 Elite Men. Unlike previous years, when the rain turned the track into a soupy bog, excess dirt wasn't a problem, however, the steep track was now treacherously slippery, and no rider made it down unscathed.

Manon Carpenter and Troy Brosnan, the Junior World Cup champions came into the event prohibitive favourites, and easily won their races. Brosnan's time would have ranked him second in Elite Men, and Carpenter's would have put her third in the Elite Women.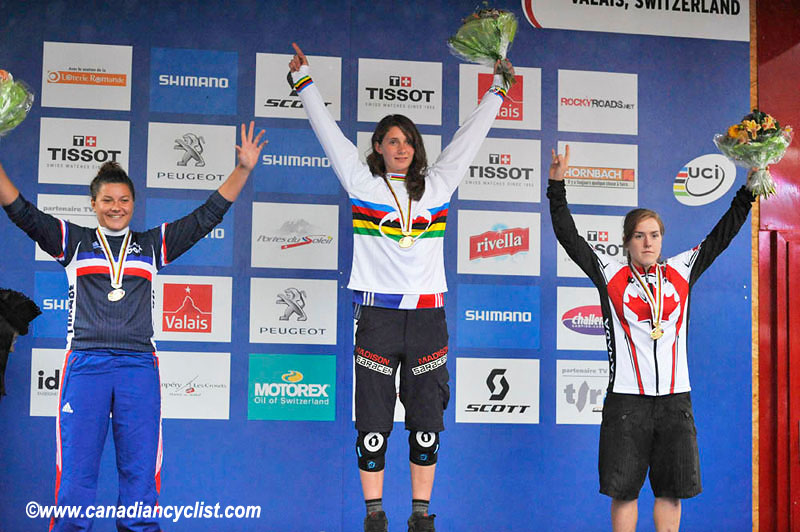 Agnes Delest, Manon Carpenter, Lauren Rosser (scroll to the bottom to access all photos)
Rosser, who probably had less time on the track than most riders after competing in the cross-country earlier in the week, said "My run was all right. I had a lot of crashes because it's really slick. But it's a good course and it's really challenging. I think only the top riders will be able to go with no dabs and it's really starting to rain up there so it'll get even slicker. It's about who can hold it together and take a safe line. I had three crashes at the top and probably three down at the bottom. Smooth is fast and fast is smooth. That's what I had in my head."

Canada's Luke Stevens had a strong ride in Junior men, finishing seventh. Comments from all the Canadian Juniors can be found at the bottom of this article.

The Elite Women started without one of the favourites, when Floriane Pugin (France) did not start, still suffering the effects of a concussion from a crash earlier in the week. Buchar, the eighth starter, set the first sub-5:30 time, and would remain on the Hot Seat for the rest of the race. She was finally bumped down to silver by Ragot, the only rider to go under five minutes, and then to bronze by Rachel Atherton (Great Britain). Tracy Moseley (Great Britain), the defending champion and World Cup champion, crashed and finished ninth.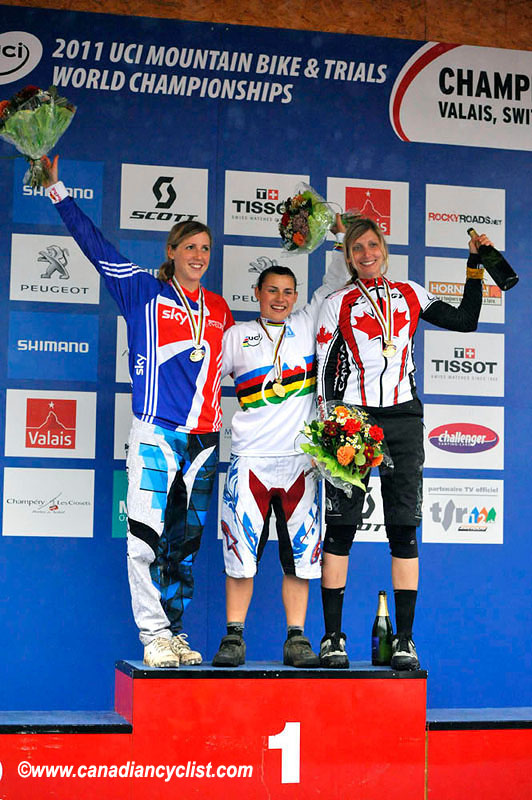 Rachel Atherton, Emmeline Ragot, Claire Buchar (scroll to the bottom to access all photos)
Emmeline Ragot explained: "Today I tried to ride smart because I knew if I had a smooth ride I could win. I didn't attack because I knew that if I didn't fall I had a chance to win and I managed not to fall."

Moseley was clearly upset about her race, commenting "Well they build a crazy track and then it pisses rain. It's ugly. Pretty sad way to lose my World Champs jersey."

Canada's Claire Buchar, who has not raced the World Cup circuit this year, was clearly excited to make her first podium, "I didn't race any World Cups this year because we didn't have the budget. But I came here with great motivation. A good friend in Canada, Nick Geddes, is in the hospital with leukemia, so us Canadians wore yellow shoelaces to show our support. And every time I thought it was tough out there I thought of Nick. So this one's for you. Nick for the win."

More Canadian women comments can be found at the bottom of this article.

The Elite Men, getting hit with the heaviest rain, struggled in the early going, with constant crashes, and many riders getting tangled in the course netting. It wasn't until Brendan Fairclough (Great Britain), three-quarters of the way through the field, that a rider was able to produce a run below four minutes.

Defending champion Sam Hill (Australia) came into the event still suffering a shoulder injury that had kept him off the circuit for much of the season, however, he has excelled on this track in wet conditions, and came in two and a half seconds behind Fairclough.

Next up was one of the newer generation of French stars, Damien Spagnolo, and he knocked a second and a half off the leading time. Sam Blenkinsop (New Zealand) came down four riders later, and slotted in between Spagnolo and Fairclough. Steve Peat (Great Britain), Marc Beaumont (Great Britain) and Brook MacDonald (New Zealand) came through and failed to crack the Hot Seat.

Then it was the turn of 19 year old Hart, who has vastly improved his consistency this season, but has still not managed to win a World Cup. On the ragged edge of control for much of his run, Hart mostly slid down the course, still managing to produce a crowd-pleasing whip on the final jump, and finishing an astounding 11.7 seconds ahead of Spagnolo.

Still to race were Gee Atherton (Great Britain), who crashed multiple times; Greg Minnaar (South Africa), who rode somewhat conservatively for eighth; and the final starter, Aaron Gwin (USA), who has dominated this season, winning five of seven World Cups. Gwin was less than a second down on Hart at the first time split, so looked to have a chance, but then crashed hard further down the course, dashing his hopes for a world title to go along with his World Cup title.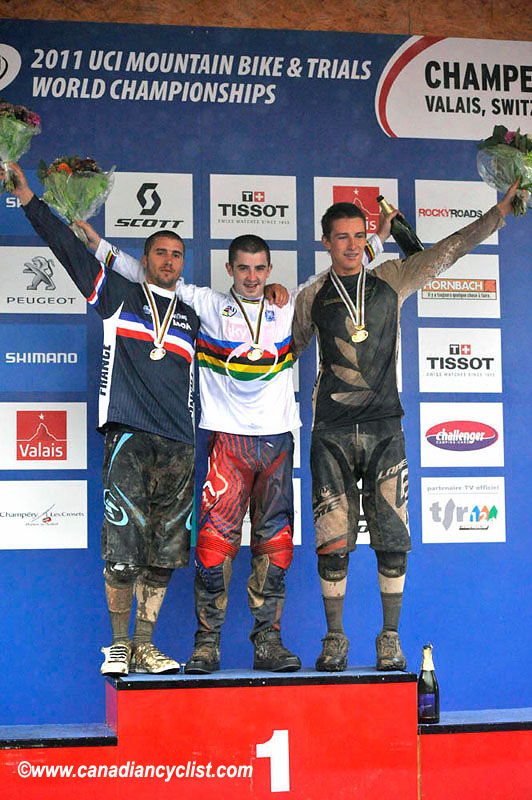 Damien Spagnolo, Danny Hart, Samuel Blenkinsop (scroll to the bottom to access all photos)
"I had a perfect day today," siad Hart. "I came across the line and saw that I was leading by 11 seconds and that has never happened before. I hadn't done a training run without doing a whip so I decided to do it during the race to please the crowds. I come from England and it rains every weekend. I got to the top of the track and saw it was a river so I just told myself to ride down the river."

The top Canadian man was Chris del Bosco in 44th. Dean Tennant, Canada's top seeded rider did not start after crashing and breaking his collarbone in training the morning of the race.

Del Bosco, the ski-cross world champion, commented "I only had one little minor crash. All in all I kept it upright so that was cool. It was gnarly out there - so muddy. I love it but I don't have much time training it it. But I gave it a go. I raced in Europe as a Junior but that was a long time ago. I love it over here. I race ski-cross here since most of the World Cups are in Europe."

More Canadian Elite men comments can be found below.

Canadian Junior Men:

Luke Stevens (7th) : "It was wild. Real greasy out there. It's how racing should be."

"It wasn't bad and I'm close to third so I'm happy with that. I was with the boys I want to be with so it's good. It's my first World Championships. I was hurt all last year so I didn't get to race."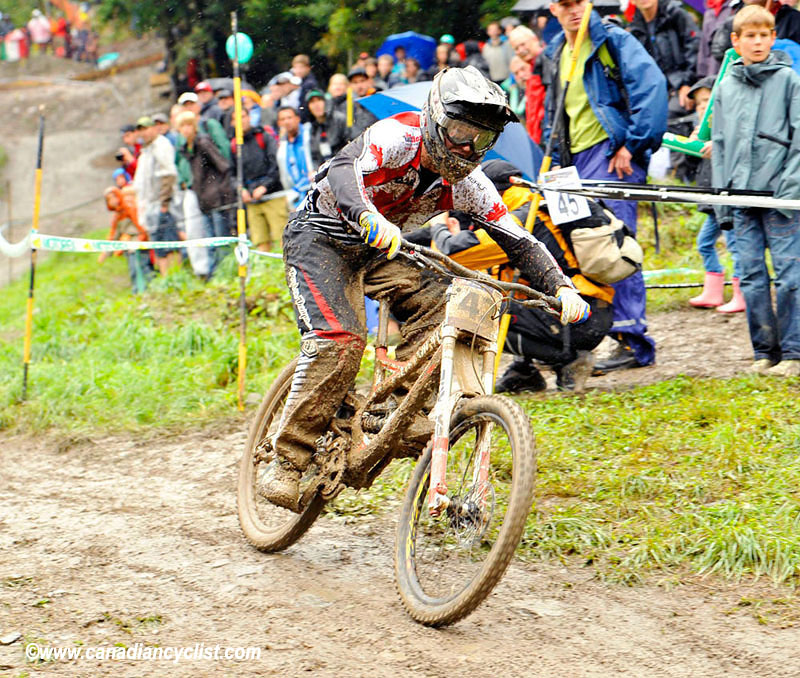 Luke Stevens finished 7th (scroll to the bottom to access all photos)
"I stayed on the bike top to bottom. Only a couple spots where I wussed out where it was too wild."

"The year I was able to do bigger races I was hurt so I didn't get to race my first Junior year because of surgeries and a broken arm and stuff like that. So that's why I was pumped to get out here and this course is exactly what I'm looking for so it's awesome."

"I prepared all winter and I had two wrist surgeries this winter so I had to do tons of physio and I spent a long long time in a cast. So I had to get my strength back and then I worked my way back onto the bike. So the beginning of the season was a little slow but by the time I got here it was good."

"I knew I could do it. I've raced these guys only a very few times at the U.S. Open and that kind of thing but I knew I had the speed to make it happen. I was just happy to come back from injury and get a good result here."

Riley Suhan (22nd) : "It was wet and slippery and really hard to stay on the bike but it was fun and a good experience. I fell about four of five times and on the first fall I fell and put my hands out and slid for about 20-30 feet and then grabbed back on the bars and they were just covered in mud."

Kyle Sangers (37th) : "I went off track once and then my bike got stuck in the net. I was in one section for at least 45 seconds trying to get my bike unstuck. The course is awful. I can't believe it got that bad that quick."

Jordan Hodder (45th) : "It was a rough one for sure. I've never broken anything in a run before this. On the first turn my derailleur cracked off and went into my spokes and it send me over this big bank. After that I fell down twice and my derailleur wrapped around my leg at one point. It was raining for an hour before the start since we got delayed a bit so it was getting pretty crazy. The ruts were huge. I've never ridden anything like that in my life. It was the craziest thing ever."


Canadian Elite Women

Casey Brown (12th) : "It was fun but I spent a lot of time in the mud. The techny sections were just about surviving. Training conditions were way different this morning but it was still fun and I enjoyed myself. I'm quite beat up from the week. I have bruises and some ankle issues."

Miranda Miller (13th) : "It was kind of just a gong show. I'm not a flat pedal rider so that's something I have to work on this winter because my clips just got jammed up halfway down and I couldn't clip in. So I couldn't do the last jumps which was a big time killer but it was mostly about survival – just get down the hill."

Katherine Short (15th) : "That was interesting. That was a very unique opportunity. It was unlike any other race I've ever done. I spent so much time off the bike. It was so hard to stay on the bike. It was the slipperiest thing I've ever ridden, hands down. And it wasn't even roots and rocks that were slippery. It was the dirt that was like an ice rink."


Canadian Elite Men

Rob Fraser (47th) : "It was a lot harder than I expected. I fell three times. Not very happy with myself. I didn't think it would be that bad. It was a battle."


Remi Gauvin (64th) : "It was a lot muddier than I thought but it was fun I guess. At home we ride mud all winter but it's not thick like this. Here you can just hear your tires caked with mud. I thought I had a flat the whole time."

"I fell twice. I caught up to a guy in front of me and he was crashed in front of one of the hardest parts in the woods so I couldn't do anything but slam on the brakes and crash. So that really sucks but I didn't even think I would be on the Worlds team this year. I'd like to get a Worlds where I didn't crash. I crashed both years as a Junior. But I think this year it was really hard not to crash. If you don't crash you're probably on the podium."


Elite Men's results
Fatal error
: Uncaught Error: Object of class PDO could not be converted to string in /home/canadiancyclistcom/canadiancyclist.com/public/modules/news.php:528 Stack trace: #0 /home/canadiancyclistcom/canadiancyclist.com/public/modules/news.php(517): getrelatedgallery() #1 /home/canadiancyclistcom/canadiancyclist.com/public/dailynews.php(58): getDailyNewsArticle() #2 {main} thrown in
/home/canadiancyclistcom/canadiancyclist.com/public/modules/news.php
on line
528