March 15/12 10:20 am - Pietermaritzburg MTB World Cup Preview

Posted by Editoress on 03/15/12

The Rocky Roads UCI Mountain Bike World Cup Series opens for the third consecutive year in Pietermaritzburg, South Africa. Both the Olympic cross-country and Downhill disciplines will be represented in Pietermaritzburg, and it will be the first chance this year to see all of the top international stars gathered in one place.
Now in it's third year on the World Cup circuit, Pietermaritzburg is even more critical than ever, because the event is a test run for the world championships to be held here next year. It is also the start of the final crucial Olympic qualifying period for the London Olympic Games, with riders vying to gain important ranking points that will determine how many starting spots each nation will receive for the men's and women's cross-country races at the Games.

The importance of the event is reflected in the depth of the fields. Only three of the top-50 ranked cross-country men are missing from the start list, and only six of the top-50 women did not make the trip to Pietermaritzburg. On the Downhill side, 17 of the top-20 men are in Pietermaritzburg and 12 of the top-15 women.

Cross-country

The cross-country course has been extensively reworked, and the riders are praising the changes. The circuit has been shortened by 300 metres (to 5.4 kilometres), and consists of two loops out and back to the finish area. Many of the extremely steep climbs have been replaced by longer, more steady climbs and switchbacks on hardpacked, fast trails. At this time, the plan is for six laps for the Elite men, five for the Elite women and U23 men, four for the U23 women and Junior men, and three laps for the Junior women. Rain could reduce these numbers, since the ground gets extremely slippery in the wet.

The climbs are interspersed with hard technical sections; three of which stand out. Rapid Rocks, at the end of the first loop is a boulder-strewn descent, that has caught out a number of riders who hit it too fast. Sharka's Playground, at the far end of the second loop is a big log drop that has already claimed a number of injuries in training, including American champion Todd Wells (Specialized), who had to be brought out on an ATV after crashing hard on Wednesday, injurying his ankle and wacking his head. The team says that the main concern is his ankle, and he will rest for a day before testing it on Friday and making a decision about Saturday's start. The final major technical section is the Tree House rock garden, a long boulder-filled descent with a left turn towards the bottom.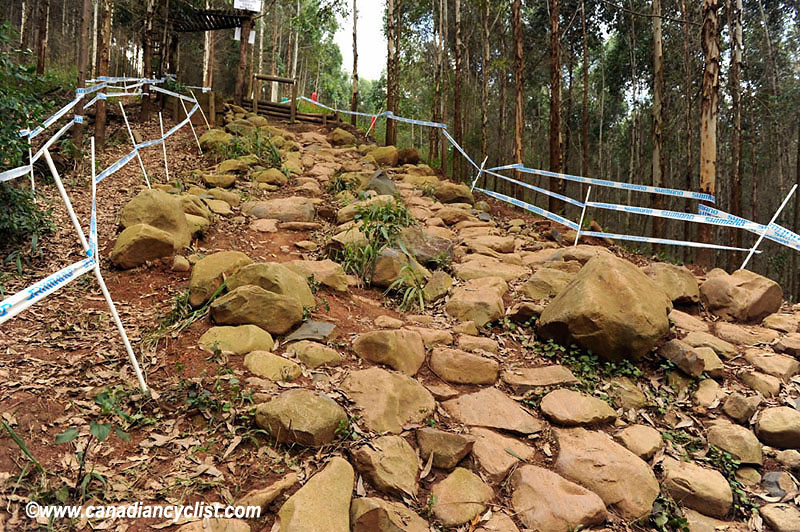 The course is dry and very fast right now, but rain could change it completely, making many sections treacherous. Currently, there is a forecast for rain on the cross-country race day (Saturday), and many are praying that it will not happen.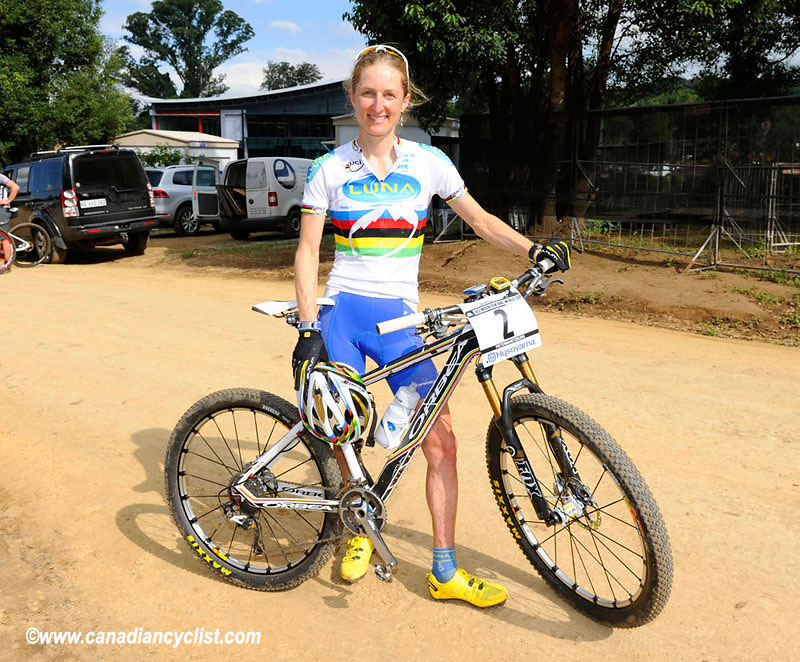 World Champion Catharine Pendrel
In the women's cross-country, look for 2011 World Cup champion Julie Bresset (BH-SR Suntour-Peisey Vallandry) and reigning World Champion Catharine Pendrel (Luna) to resume the battle that resulted in one of the closest finishes in history for the World Cup title last season. Others to watch include Maja Wloszczowska (CC Polkowice), Eva Lechner (Colnago Sudtirol) and Irina Kalentieva (Topeak Ergon).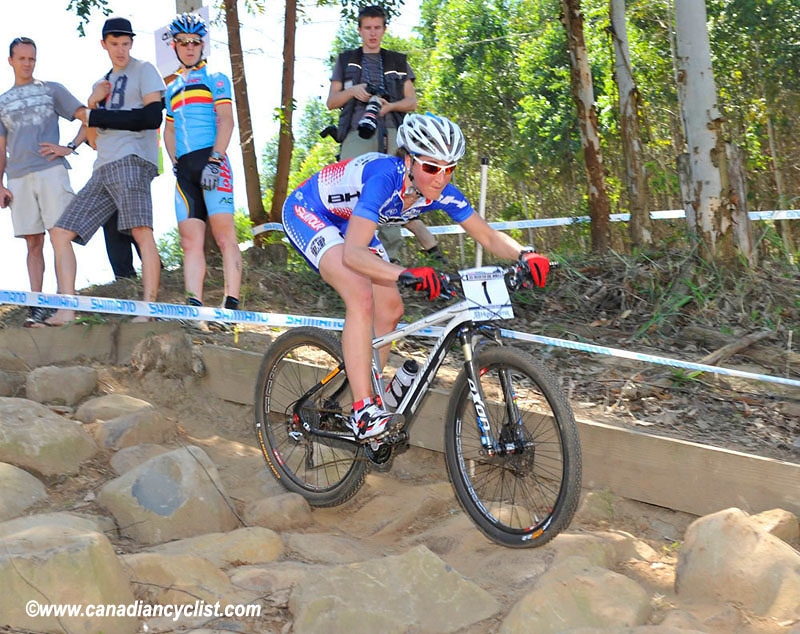 Julie Bresset
Canada's Marie-Hélène Premont (Rocky Mountain) and Emily Batty (Subaru-Trek) are also podium possibilities, with Amanada Sin (Scott-3Rox) looking for a top-30 result. Another name to keep an eye on is Willow (Koerber) Rockwell (Trek World Racing), a top rider returning to competition ten weeks after giving birth to her daughter.

In the men's field, the big question is whether Jaroslav Kulhavy (Specialized) can repeat his incredible performance of last year, when he won five World Cups, the World Cup title and became the world champion. After finishing second to Kulhavy multiple times last year, defending Pietermaritzburg winner Nino Schurter (Scott-Swisspower) hopes to break that streak, as do Julien Absalon (Orbea) and Jose Hermida (Multivan Merida).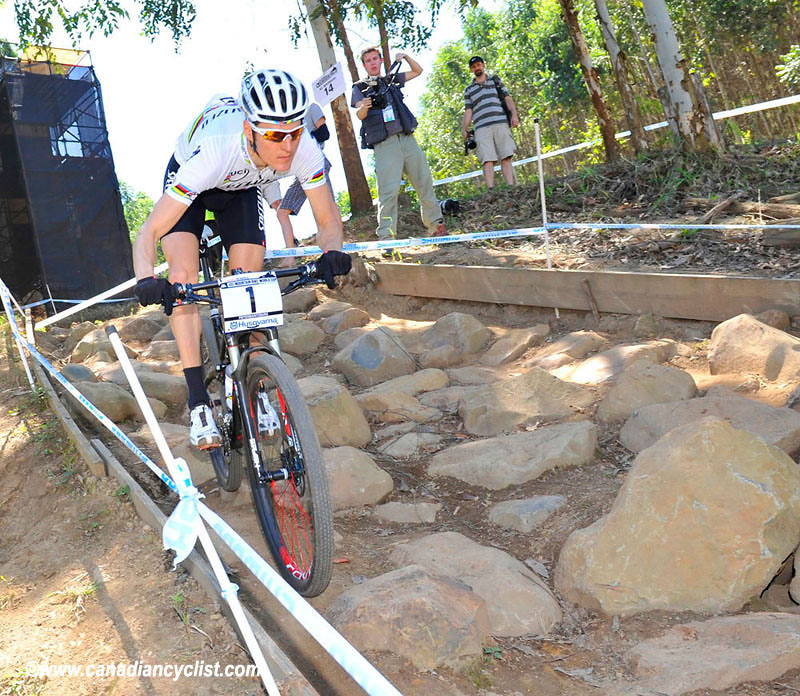 World Champion Jaroslav Kulhavy
This fast course will also suit riders such as Marco Fontana (Cannondale Factory) and Thomas Litscher (Felt Oetztal X - Bionic), and local favourite Burry Stander (Specialized) will certainly be looking for a strong result. Another name to watch will be Frenchman Jean-Christophe Peraud. Peraud is the 2008 Olympic silver medalist, who then successfully switched to the road, and was the top French rider in last year's Tour de France, as well as finishing third a week ago in the Paris-Nice time trial. However, he has decided to try and qualify for the Olympics in mountain bike, and will begin here in Pietermaritzburg. Peraud will start at the back of the field, but the hard fast track and his fitness will enable him to move up quickly.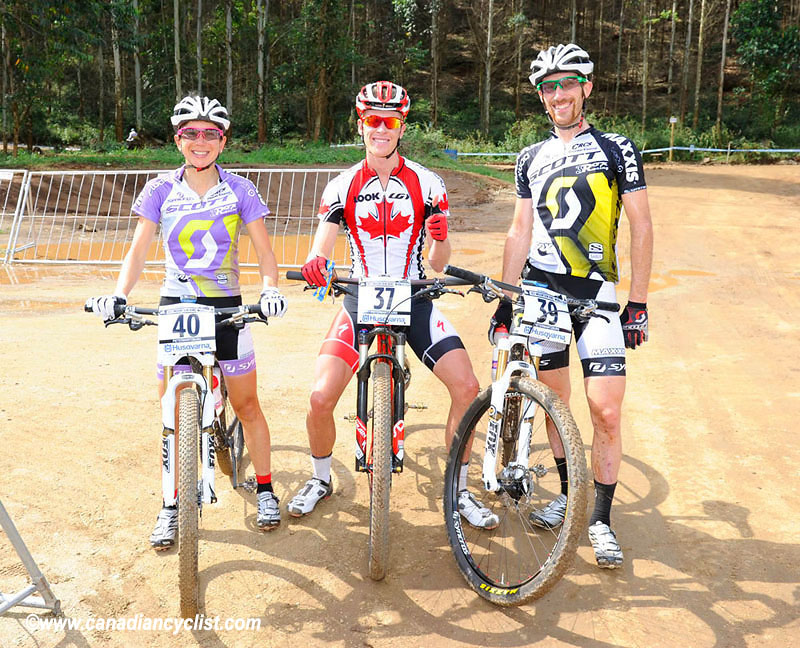 Amanda Sin, Max Plaxton, Derek Zandstra
Canada has five men in the race - for Scott-3Rox it is Geoff Kabush, Derek Zandstra and Cameron Jette; national champion Max Plaxton (Team Canada/Specialized); and Adam Morka.

Race Notes

- One of the worst kept secrets is the prototype Di2 XTR system that Shimano is race testing. Or, is it a new fork with an electronic lockout? Both Catharine Pendrel and Geoff Kabush are on it, as can been seen by the batteries attached to their frames. However, Pendrel said that she has been asked not to talk about it. No one will confirm or deny either story.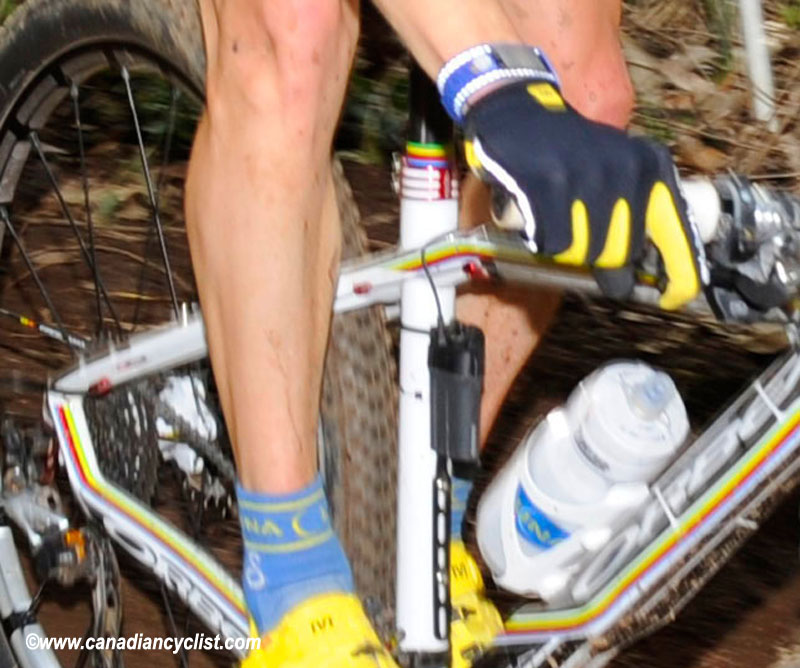 Pendrel running the prototype Di2 XTR system?
Downhill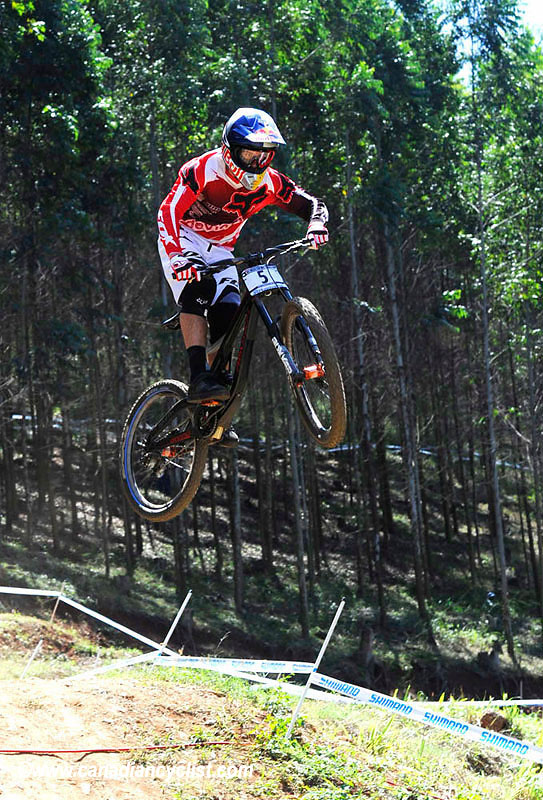 The Downhill course, at 3.12 kilometres, is one of the most demanding physically, with a hard pedalling section in the middle called Khathala ('Tired' in Zulu). It is less technical then other tracks, but one of the fastest on the circuit, and to do well requires power and endurance. The real unknown is the weather - currently, the course is dry and fast, but if it rains, the top layer of the clay will get extremely slick, and cornering will become a major concern.

Tracy Moseley, the defending women's champion in Pietermaritzburg and 2011 World Cup champion, plus Rachel Atherton (GT Factory), are the biggest name missing from the start list, but the 2011 World Cup runner up, Floriane Pugin (Scott 11), leads a strong field that includes Myriam Nicole (Commencal/Riding Addiction), Sabrina Jonnier (Labyrinth Shimano) and World Champion Emmeline Ragot. Another who could do well on this power course is British rider Fionn Griffiths. There are no Canadian women racing.

For the men, Aaron Gwin (Trek World Racing) is the defending Pietermaritzburg winner, and the World Cup champion, after dominating last season. However, he will go up against hometown favourite Greg Minnaar (Santa Cruz Syndicate), who won here in 2009, and finished second last year. Also sure to be in the mix are Gee Atherton (GT Factory) and world champion Danny Hart (Giant Factory). Canada's Steve Smith (Devinci Global Racing), fifth overall in the World Cup last year, despite missing the final event after breaking his leg in training, will be looking to improve upon his sixth place last year.
Photo: Steve Smith
Race Note
- It looks like Greg Minnaar has confirmed his participation in this weekend's Downhill. While he has always been registered, his father has been in poor health, and in the hospital, so Minnaar has not been training on the course, as he spent time with his father. In a release by the race organization, Minnaar stated: "But I feel a bit better now that my dad's slightly better and possibly on the road [to recovery], so I thought I would ride."

"Who knows what a week off from training will mean? I'll try and put it behind me and, obviously I didn't do much riding last week. I got out here on Saturday when the guys were practicing for the race, did some runs, and that was pretty much all I did, which is fine."

"There's nothing I can do about it, you've just got to put it behind you and focus on the race. There's nothing you can do now. You can't catch up on lost training and I'm not going to let it play a part, just keep my eyes on the goal and that's to race as best I can on Sunday."