April 23/12 17:01 pm - Foothills Road Race, Albrecht 3rd

Posted by Editoress on 04/23/12

The Optum Pro Cycling presented by Kelly Benefit Strategies' women's team tackled the Sunny King Criterium (NCC 1.3) and Foothills Road Race in Anniston, Alabama. Jade Wilcoxson narrowly missed out on the win at Sunny King Saturday, finishing 2nd from a 5-rider breakaway after being nipped at the line by Erica Allar (RideClean / PatentIt.com). The Optum p/b KBS women occupied six of the top ten spots, but were left hungry for the win after Wilcoxson's narrow miss.

The same roster attacked the next morning's Foothills Classic Road Race with a chip on their collective shoulder, and decided that "three for three" has a bit nicer ring than "six for ten" - the orange and black swept the podium at Foothills, delivering Courteney Lowe to the top step after executing the game plan to perfection.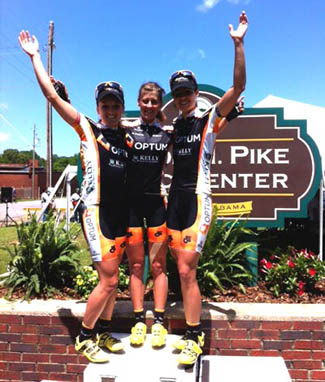 "We were definitely disappointed Saturday night - podiums are great, but we all wanted to win that race and we had the chance," said Lowe. "We're a young team, and we are learning, but our goal is always to be on the top step at the end of the day. It's good that we can all bounce back and work even harder to win after we run into some disappointment."

Lowe and teammate Anna Barensfeld crossed the finish line hand-in-hand after Lowe attacked on the steepest climb of the race, breaking clear of the competition. Barensfeld followed closely on her wheel, and caught her teammate shortly after the summit. The duo rotated to the finish, and Lex Albrecht rode in close behind to finish in third place and complete the sweep.

"It's an ideal situation when two of us can hit it at the same time, especially on a climb," Barensfeld added. "Court had better legs than me on the really steep grade, but I was able to bear down and catch her after things flattened out a bit. One we were rotating together, we knew we had a good chance of making it to the line."
Report courtesy Optum Pro Cycling-Kelly Benefit Strategies
Foothills results
1 Courteney Lowe (USA) Optum Pro Cycling-Kelly Benefit Strategies
2 Anna Barensfeld (USA) Optum Pro Cycling-Kelly Benefit Strategies
3 Lex Albrecht (Can) Optum Pro Cycling-Kelly Benefit Strategies

Sunny King results