March 9/13 9:36 am - Equipe Veloselect Announces 2013 Roster

Posted by Editoress on 03/9/13

The 2013 Equipe Veloselect Cycling Team is pleased to announce that we are entering our sixth year of competition with a strong nine man Junior team for 2013. We are expecting some top performances, especially from our second year riders. We're also confident our first year riders will surprise the competition this season.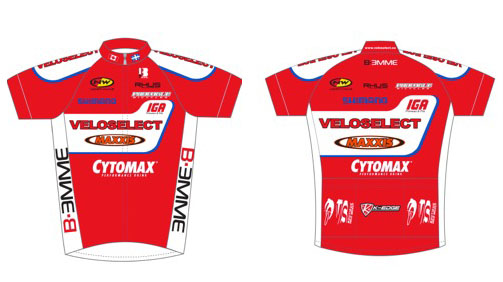 We are pleased to be working with the following riders for 2013:

Miguel Lukaszewicz (Ste Martine QC) - Winner of the Tour de Montergie road race Stage #6, 2nd overall Junior Category EKOI CycloCross Series

Fabien Parent (Quebec City QC) - 2nd overall Junior Category Quebec Cyclo Cross Championships 2012, 3rd Overall Junior Category EKOI Cylo Cross Series 2012

Marc Antoine Sabourin (Chambly QC) - 2nd place Scratch race, 3rd 200m sprint, 3rd Ominum at the Quebec Track Championships 2012

Shawn Turcotte (Chateauguay QC) - Winner, final stage #7 Tour de Montergie Criterium

James Sabourin (Laval QC) - 2nd Stage 3 Cyclistes Mardis Lachine Jean Coutu Race Series

Wil Etherington (Kingston ON) - brings European experience to the team

Laurent Levasseur (Levis QC) - is also riding for us this year, and we expect great things

Raphel Gagne (Lac St Jean QC) - finished top ten 2012 Tour of Abitbi 1st Stage and 2nd Junior Category GP Gatineau RR 2012

Francis Bertrand (Quebec City QC) - rounds out the Juniors as a top ten finisher in the Prestigious Tour de Relieve Stage Race in Rimouski Quebec.

The EQUIPE VELOSELECT CYCLING Team is also pleased to welcome the following sponsors as team partners for 2013:

The Team is coached run by Czeslaw Lukaszewicz, 2000 Olympian and four time Canadian Champion, and Lyall Beattie. Please like us on Facebook at CLUB CYCLISTE VELOSELECT and you can visit our blog at http://veloselect.blogspot.com

Sponsor opportunities are still available for 2014. If you are interested please contact us at veloselectcycling@rogers.com.
Press release