June 14/13 0:00 am - Zach Bell Wins Stage 6: Tour of Korea

Posted by Editoress on 06/14/13

Champion System Pro Cycling Team's Zach Bell beat 10 fellow breakaway riders to win Friday's Stage 6 of the Tour de Korea while teammate Chun Kai Feng regained the lead in the king of the mountains classification.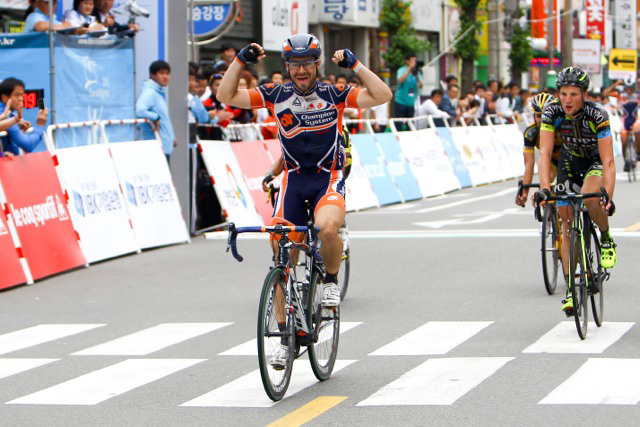 Zach Bell wins stage 6
"I'm so happy to win today; I'm over the moon," Bell said. "This race would not have been possible without the amazing work of my teammates. I am climbing great right now and I knew that with the motivation of the group and Kai's awesome teamwork that the win was possible."

Runner-up on the Stage 5 team time trial, Champion System featured front and center from the start of the 184.7-kilometer race. Attacks began early, and, when a large group escaped, Bell and Feng fought to join. Feng, who wore the king of the mountains jersey following Stage 2, was third over the first categorized climb and summited first on the second categorized climb.

With just two kilometers remaining, the escapees still led by more than three-and-a-half minutes. Feng took control of the break to nullify any attacks and provided a textbook lead-out for Bell, who won Stage 4 at Tour de Taiwan earlier this year. Feng finished ninth.

Champion System Assistant Director Chris Wherry said that he continues to be amazed with Bell's ability to win in terrain that he is least suited for.

"Zach is riding at such a high level, it is a pleasure to watch," Wherry said. "I couldn't be happier for him today. He really deserved the win. Everyone rode amazingly and they executed the plan perfectly."

Michael Cuming (Rapha Condor JLT), who finished in Bell's group, took the race lead. Feng is Champion System's best-placed rider in 11th, 3:20 behind.

"Kai regaining the KOM (king of the mountains) jersey was icing on the cake," Wherry said. "I don't want to down play his efforts in any way, because he has been in almost every breakaway this week. He really is riding awesomely."

"I was very happy to take the KOM jersey back and I hope to fight for it again tomorrow," Feng said. "The team rode great today and I was happy to help Zach win. I learned a lot from him today."