June 26/13 7:14 am - Review: KHS SIXFIFTY 3500

Posted by Editoress on 06/26/13

I was in need of a 26" tire and stopped in one of the bigger stores in downtown Toronto. As I hadn't been in the store recently I asked a young salesman where the folding 26" tires were. He seemed kind of startled. The reaction took me aback a bit. They had a reasonable supply of 26" tires, along with 29" and 27.5". He asked if I knew what I was looking for and I replied yes. I selected one that I liked and he said to me, "You might want to consider taking another one because all of the 26" tires will be gone by next year. 650 (27.5") will replace them completely."

Although kind of shocked by that statement I really didn't want to engage in a debate with him. He had clearly drunk deeply of the Koolaid of 650. Me, I had a KHS SIXFIFTY 3500 at home. As you can guess, it comes with the in-between wheel size of 27.5", otherwise known by the somewhat resurrected Euro term 650B.

Some background first. Not that many years ago we had one mountain bike wheel size based on old newsboy style bikes from days gone by. They served us well. Then we got 29" wheels because some people thought they were better at maintaining momentum and rolling over rough ground than the 26". The drawback of the 29" is increased rolling weight. So someone thought maybe we should go in between and thus the 27.5" was born, or reborn. KHS has been at the forefront of the 27.5", although they still have lots of 26" and 29" bikes in their lineup.

The advantage of the 27.5" is that ability to get over rough ground without the weight penalty of the 29" wheel. Like the 29", there is a huge amount of change that has to go into making a bike with a different wheel size. New rims, new tires, new suspension fork, a new frame design and maybe different gearing. In other words, if a company is going to make a 27.5" then they have to be all in. KHS is one of those companies. They have XC race bikes, trail bikes and four all mountain bikes. The 3500 is in the all mountain realm. There is one model below the 3500 and two above it. All four have some similarity in the frame construction, but the top two models up the travel to 140mm from our test bike's 120mm.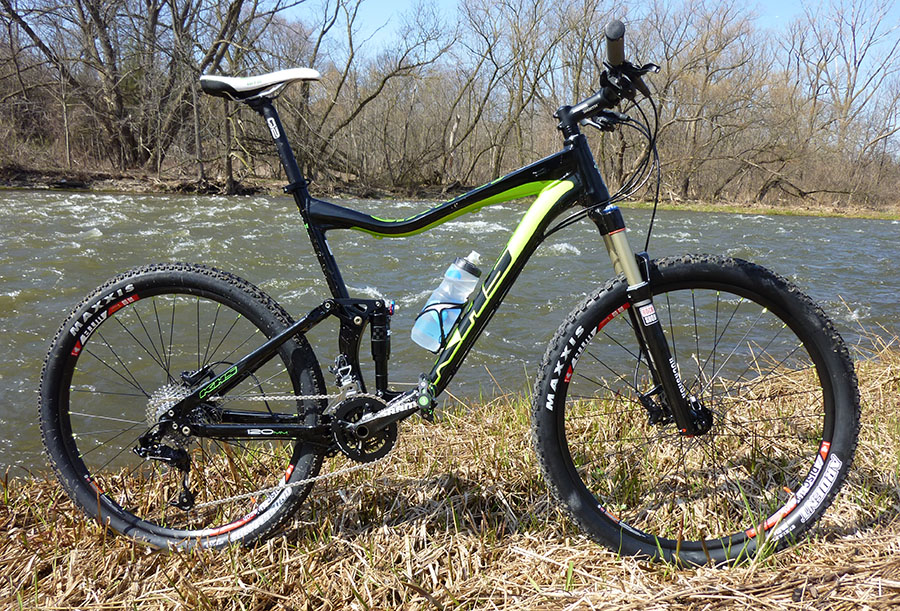 The 3500 is very attractive to my eye. The green/gold (KHS calls it Sub Lime) with black paint scheme was well executed on the oversized, and multi-shaped, 6061 aluminum tubing. The top tube and down tube are double butted. Welds were all very clean, which says something as there are a lot of them in this design. The pivot for the swing arm/linkage is mounted high on the seat tube with the X-Fusion E1RL shock mounted in front of the tube. All of the pivots are oversized with sealed bearings. The end result is 120mm (5") of rear wheel travel. Of note is a small decal on the rear seat stay indicating that the suspension design is licensed from Specialized. No complaints there.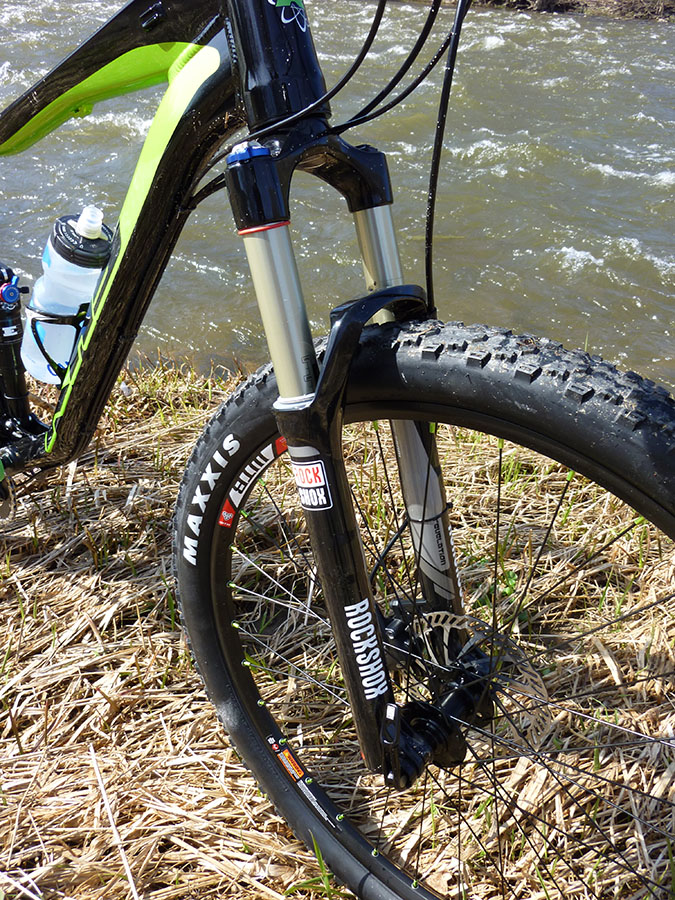 Front suspension is also 120mm, provided by the Rock Shox Revelation RLT fork. This is a very advanced air sprung fork with many features such as a 15mm through axle, a tapered 1 1/8 to 1.5" alloy steerer, rebound and compression adjustment, and a lockout. Personally, I always appreciate it when the front and rear suspension is of equal travel. It tends to produce a balanced ride.

The rest of the bike is also well spec'd. SRAM X7 trigger shifters, an X7 front derailleur and X9 rear derailleur. SRAM also provides the 175mm S1000 crankset with 38/24T rings, and the 11-36T 10-cog cassette. Avid Elixir 1 brakes with 160mm rotors are included. Rims are WTB Speed Disc I19 mated to unlabeled machined alloy disc hubs via 32 black 14G spokes with gold alloy nipples. Tires are a Maxxis Ardent 2.25 front with a Maxxis Crossmark 2.1 in the rear. Both are folding. Seatpost and lock-on grips are from Q2, and the saddle is a WTB Volt Comp. The bar and stem are from Kore. Pedals are not provided. For a bike with a suggested retail price of $2789.99 CDN, it is very well equipped.

The fit was good for me, with a very natural feel to the set up. I found the saddle to be somewhat uncomfortable, as the sharp edge to the outside portion of the rear made for some hot spots, but that is personal preference. The bars are wide and the grips have good tackiness without too much cushioning. Overall I found it easy to get in a good riding position.

Despite looking good the initial impression is that it isn't light. At 13.35 kg (29.38 pounds) without pedals for our XL test bike it is fairly substantial. It is not out of the ordinary for all-mountain bikes, but there are a lot lighter bikes on the market. Realizing this, KHS has done their homework to help you get the 3500 up hills. The X-Fusion rear shock and Rock Shox Revelation fork have completely effective lock-outs. You can essentially turn the 3500 into a rigid bike for climbing. The wheels are also as light as they can be for an all-mountain set up, with good quality rims and light tires. Still, climbing is sedate. This isn't going to be an XC race bike, but that really isn't the point of this bike. The gearing is wide range and shifting is excellent both front and rear.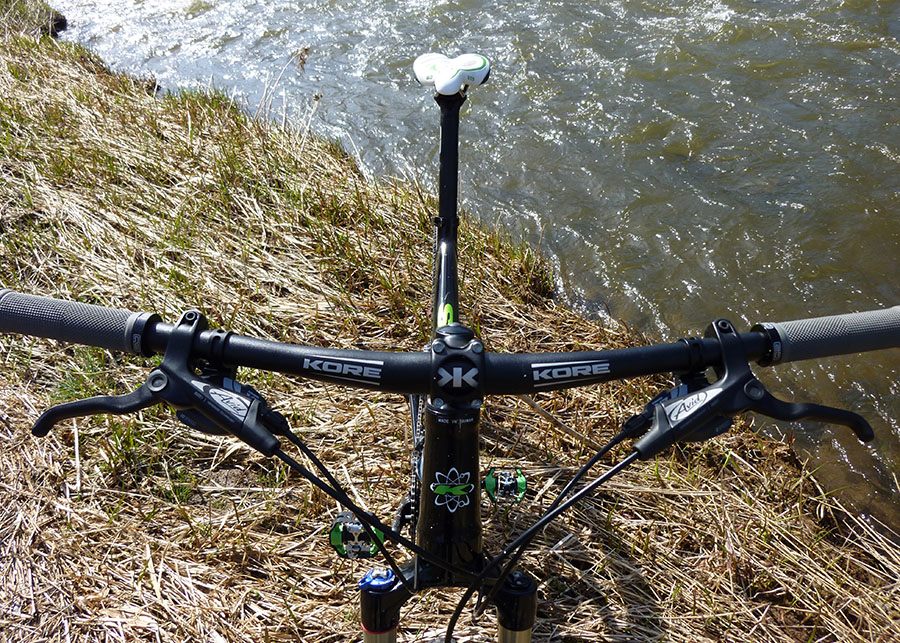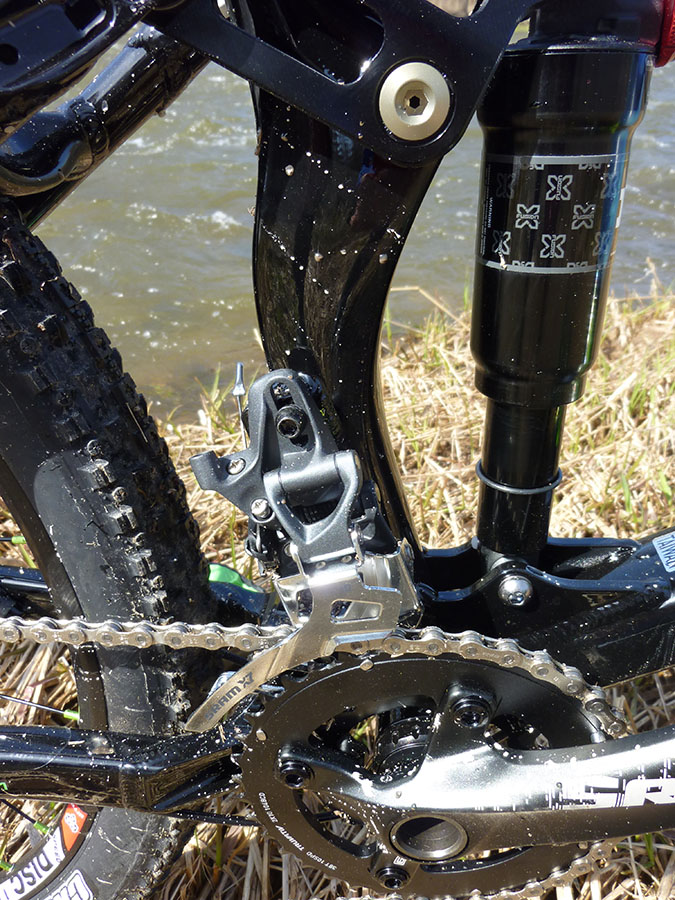 Pointing it downhill is quite enjoyable as befits a bike of this design. The wheels get up to speed quickly, and to be honest they don't feel any different than a 26" to me. The bike corners well and that 120mm of suspension is nice and smooth over a variety of terrain. The 15mm through axle helps with stiffness up front. This is the first time I've had a chance to ride an X-Fusion rear shock and I was impressed by the amount of tuning you can do to it. Again, there is that really effective lock-out that you'll use on varied terrain.

If I found a negative going downhill it is the Avid Elixir 1 brakes. They work, but they aren't the strongest. I would think that the addition of a 180mm rotor in the front would be helpful, or somewhat more powerful brakes. This especially applies to the larger frame sizes. Still, costs have to be kept in line to make certain price points.

Back to a point I raised earlier, does it handle rough trail better than a 26" or worse than a 29"? I tried the 3500 on a section of rocky trail that I've been riding for years. To be honest I don't think that it is any worse, or better, than the other wheel sizes. I think more than anything the quality of the suspension on the bike makes the difference, not the wheel size. In this case it is a very active set up and it is more than capable of taking the worst of the sting out of the trail. The 3500 has really good, and smooth suspension while being laterally stiff, thanks to the large pivots moving on good bearings.

Everybody I talk to about mountain bikes always asks if the 27.5" bike is the new best thing. Here's my two cents worth. It all depends upon what you do with the bike. I'm not limited to one bike. I've got both 26" and 29" wheeled bikes. For most of my riding I tend towards the 29" bike because I'm tall and it just seems right. However, there are some tight twisty trails that drive the 29" crazy and I default to a 26" due to the increased "flickability". In that case the 27.5" isn't going to have a significant advantage over the 26", but it would over the 29".

Most of the XC racing world has gone to the 29". It works well since the race courses aren't like they used to be. For shorter people the 29" doesn't look right. There are many compromises that have to be made to keep the travel in the front end without making the front of the bike too tall for the smaller rider. The 27.5" might be the best for them if they want a larger wheel.

All-mountain? I can see 27.5" playing a role. I have a 26" all-mountain with more travel and way beefier rims and tires than what is on the 3500. It makes it heavier though. For someone my size I can see the 27.5" working well. For smaller people not so much. I'd take the 26" to keep the weight of the bike down if I was shorter.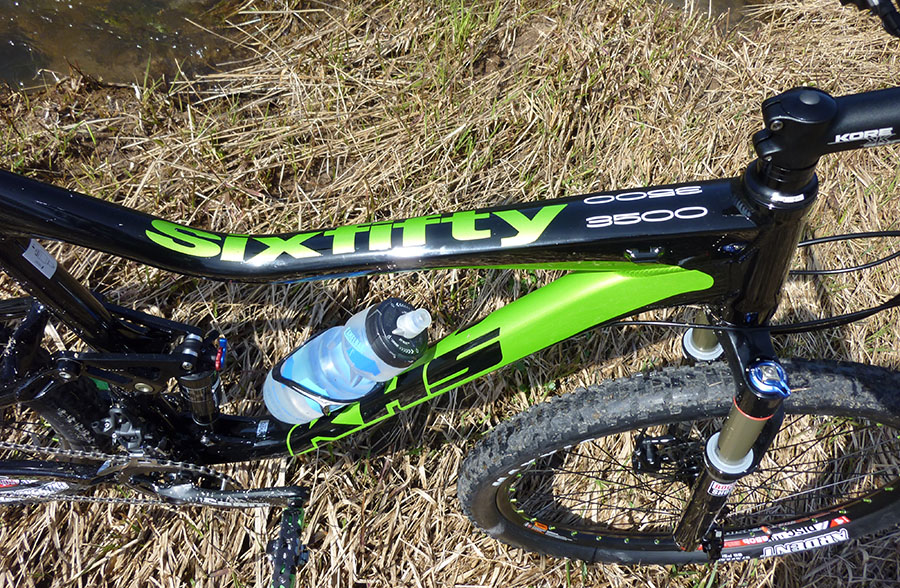 My last point on this discussion, and my response to the young fellow in the bike store, the 26" isn't going to disappear any time soon. There has been too much of an investment by the bike industry to see it disappear. Like most all wheel drive SUV's, most mountain bikes aren't going to be ridden off road. For most people the 26" wheel will be just fine. For the enthusiast you now have more choice, which is always a good thing as far as I'm concerned. Heck, I'm interested in trying some of the exotic mountain bikes with 36" wheels. A few years ago there were some bikes on the market with a 29" front wheel and a 26" rear wheel. I never got to try one but the theory was they had the best of both worlds. In practice though the bikes seemed to track strangely. Maybe a 27.5" front and a 26" rear could be a success. Time to experiment.

So where does that leave the KHS SIXFIFTY 3500? It's a good bike with really nice suspension. If you want to bang around the local trails with a degree of comfort then this is a good choice. It would also work at the local mountain bike park although I suggest that the rims and tires might be a bit light for some of the lift-assisted bike runs. You could tweak the SIXFIFTY 3500 to make it a reasonable park bike. It has cable routing for a drop seat post, it has ISCG mounts for a chainguide (ie, go to one chainring and ditch the front derailleur/shifter) and it has clearance for more substantial tires.

Overall, I think there's a place for wide variety of wheel sizes. Depending upon the size of the rider and the intended use, it's nice to have the choice. The old adage still applies. Think long and hard about the type of riding you do the most and then try before you buy. 27.5" might work for you and if you like the rougher trails the KHS SIXFIFTY 3500 might be on your wish list. It's well made and well equipped and the price is pretty decent. A bit of a diet would make it even better.

To view the complete, and very extensive KHS lineup, please visit www.khscanada.com.
By Mike Badyk