September 11/13 13:17 pm - David Veilleux Announces Retirement After This Weekend

Posted by Editoress on 09/11/13

In a rather stunning statement, one of Canada's brightest road stars for the future, David Veilleux, made an announcement that the WorldTour races in Quebec and Montreal this Friday and Sunday will be his final professional races before retiring to resume full time studies in mechanical engineering at Laval University.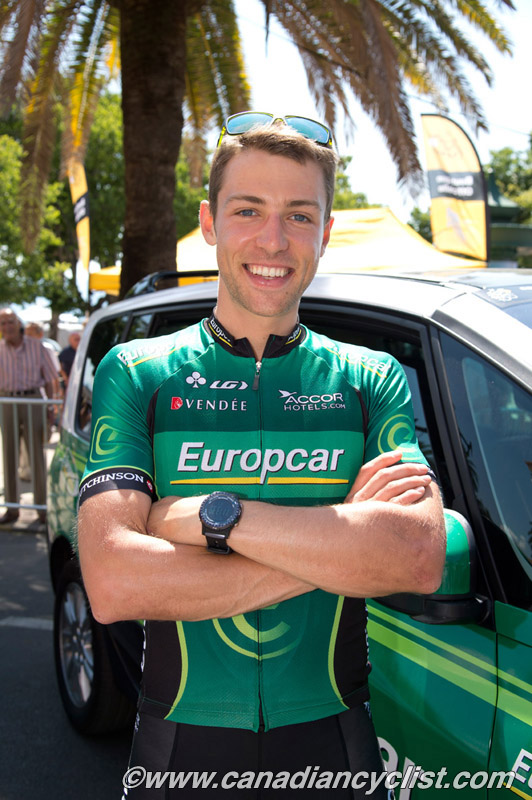 Veilleux has long been one of the great talents to come through Canadian cycling, starting as a Junior, then Under-23 and finally Elite rider. He joined the Europcar Pro Continental team three seasons ago, and this season won a stage of the Criterium du Dauphine, taking the yellow leader's jersey for two stages. he then followed that up by becoming the first Quebec-born rider to complete the Tour de France, in this year's 100th edition, finishing 123rd overall.

In the statement, Veilleux said:

"Over the years I have traveled the globe to participate in cycling competitions. I'm proud of what I accomplished and well aware of the opportunity I had.

"I want to thank my Europcar team [who] helped me achieve my goals in the past three years. I stood out with many results on the North American circuit and with a few wins in Europe, including a stage win on the prestigious Criterium du Dauphine in France.

"I attended several monuments of cycling that made me dream in my youth, such as Milan-San Remo, Paris-Roubaix, the Tour of Flanders, not to mention the World Championships. And to top it all, I have accomplished my wildest dream to participate and complete the Tour de France.

"I reached my fitness goals and now it's time for me to pursue my other personal goals. I am considering how beautiful the coming years [will be], since I can spend more time with my family and possibly start a family.

"My passion for cycling will always remain. I'll spend a lot less time on my bike, but I want to take the time to ride with young riders in the region. I wish to engage with them to help them in their journey and tell them about my experience.

"Also, I want to remain a good example for everyone who thinks he has a dream that seems unattainable. As I often say, nothing is impossible!"