September 24/13 15:03 pm - Road World Championships - Day 3 Report & Photos : Elite Women, Jr Men ITT

Posted by Editoress on 09/24/13

World titles for the Junior men and Elite women were awarded on Tuesday at the Road World Championships in Florence, Italy. Igor Decraene gave Belgium their first world title of these championships in the junior men, while Ellen van Dijk took the women's title for the Netherlands, her first on the road. Canada's top finishers for the day were Jack Burke in 19th place for the Junior men and Joelle Numainville in 19th for the women.

Both races took place within the confines of Florence, starting in the Cascine park and rolling through the historic center of the city. The first half had long straightaways, before heading into the tight, twisty streets of the old town.

Junior Men
American Zeke Mostov, a first year Junior who was only the sixth rider to start, set a fast time that held up through 72 riders before Mathias Krigbaum of Denmark knocked him down one place. Krigbaum kept the top spot until Decraener, starting second from last came in to take the title. Behind Burke's 19th, Canada's only other starter, Adam Jamieson, finished 37th.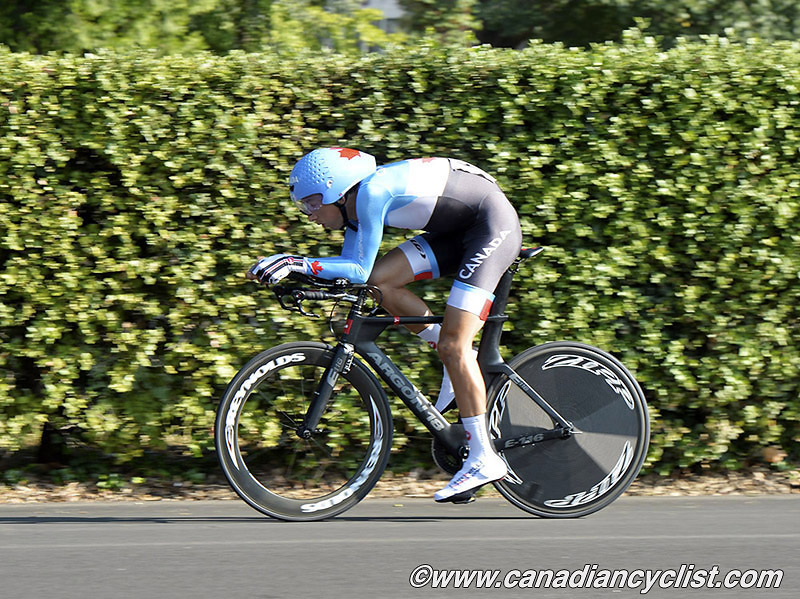 Jack Burke
Mathias Krigbaum, Igor Decraene, Zeke Mostov
Women
Mountain biker Annika Langvad (Denmark) set the first fast time, of 28:27.69, which ended up being good enough for sixth. She held the lead until Trixi Worrack (Germany), tenth from last, went eight seconds faster. Three riders later it was Carmen Small (USA) who took the lead, and she was still leading with only three riders to go.

Third from last, her team mate Evelyn Stevens finished an infinitesimal four-hundredths of a second behind, assuring Small of a podium spot. However, the two fastest riders were beating Small's splits at every check. Linda Villumsen (New Zealand) came in four and a half seconds faster than Small, but van Dijk was shredding the Kiwi's time, to come in 24.10 seconds ahead. Villumsen now has five world championship time trial medals in a row, but none are gold (two silver and three bronze).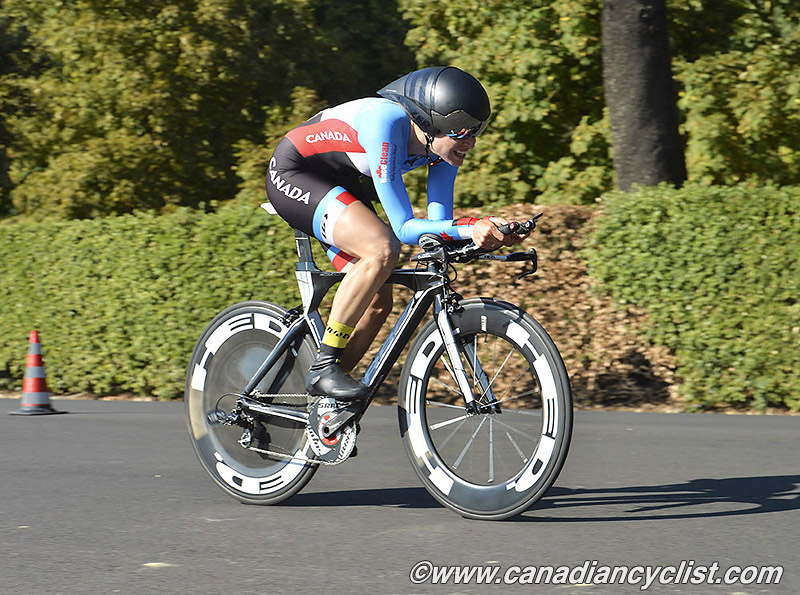 Joelle Numainville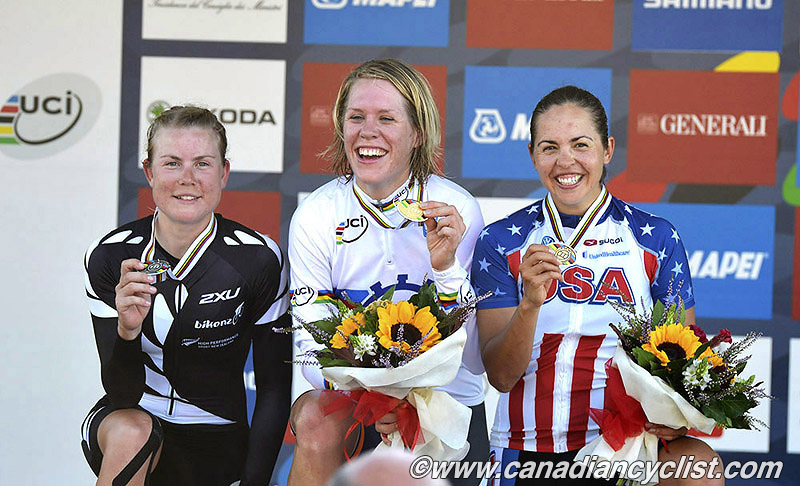 Linda Villumsen, Ellen van Dijk, Carmen Small
It was a disappointing day for Numainville, the Canadian champion, who had hoped to finish higher.

"I decided to go quite hard in the first part," explained Numainville. "I knew it was a short TT and so I knew I had to have an effort on every single part of the course. I just don't think I had it today. It just wasn't a good day. I think I struggled a lot during the technical section. I was really stressed out about it and I did struggle a bit. It definitely was not my favourite section. I just didn't have that much energy to bounce out of those corners, so it was just one of those days you try to forget and move on to the road race."

She also admitted to being nervous of all the tight turns on the course: "It was just on taking those corners, I just don't think it was my strength, you know? It was also Worlds, it is once a year that you get to do a good result so there was also stress about that. I think overall you always come here hoping for the best and for a good result. It doesn't happen always (being so nervous), it rarely happens, but you always want to come here and show your strength. It happens, but it will make you stronger. But I am really happy that my good friend Carmen Small just won third, so I am really happy for her."

On the impact of the TTT on her legs: "I don't think it was a matter of legs, I just didn't have the energy to bounce out of the corners and get back up to speed, and I think I was struggling with that. But TTs are always hard, it is up to how hard you push yourself."

On the prospects for Canada on Saturday's road race: "I am really excited about Saturday. I think it is actually a really cool course and challenging with those climbs, and I think there is something good that can happen. We have a good mix of rouleurs and climbers and if we can pull off all our strength together we will do a pretty good result over here."
Results
Fatal error
: Uncaught Error: Object of class PDO could not be converted to string in /home/canadiancyclistcom/canadiancyclist.com/public/modules/news.php:544 Stack trace: #0 /home/canadiancyclistcom/canadiancyclist.com/public/modules/news.php(533): getrelatedgallery() #1 /home/canadiancyclistcom/canadiancyclist.com/public/dailynews.php(58): getDailyNewsArticle() #2 {main} thrown in
/home/canadiancyclistcom/canadiancyclist.com/public/modules/news.php
on line
544