December 8/13 11:23 am - Hugo Barrette Crashes at World Cup Keirin

Posted by Editor on 12/8/13

Team Canada's Hugo Barrette was one of five riders to crash in his first round heat during the men's Keirin at the Track World Cup in Aguascalientes, Mexico on Saturday (December 7th). Only two riders managed to avoid crashing and all of the others were injured to varying degrees. Barrette avoided serious injury but went to hospital with an injury to his arm and was put into a cast. He will require further X-rays. The incident was caused by Mexican rider Edgar Ismael Verdugo in the final 100 metres, who was disqualified for causing the crash.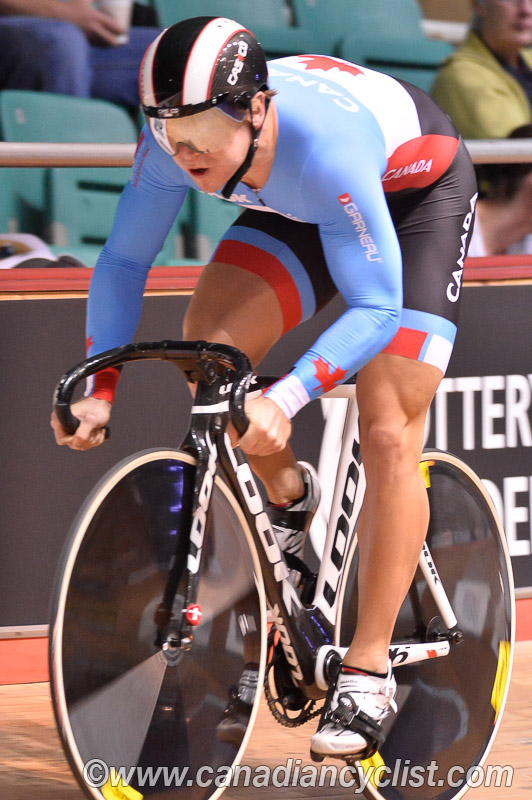 Another crash happened in the next heat, with the worst injury being to Malaysia's Josiah Ng who was put into an induced coma at the hospital with head injury fears (he has since regained consciousness and is expected to recover). Three out of six riders did not finish.

Barrette spoke to Sportcom afterwards:

"It was a stupid move that would not even have allowed the Mexican second place. We all broke something . From my side, I was lucky. I just had big bone lesions [bruising] and scratched my right forearm. For now I have a cast , but I will go back [for] X-rays."

"I was in front, about to qualify for the semi-finals for the first time in the World Cup. For that, it is a huge disappointment. It was my biggest race of the year, it was my event and I was in great shape. Everything was perfect. In the touch of a wheel, everything changed."

"Someone touched my wheel and I switched. I came close to going over the railing like another guy in the group, who is currently in a coma. When we fall, we fall hard. I was traveling at 80 km / h when the crash occurred. So under the circumstances, I consider myself lucky."

"In the next [heat], the guys were nervous and there was another big fall. In two heats of qualification, we lost a lot of very good riders. The best all fell. The following races would all have been easier, but I try not to think [about it] too much. The luck will go to someone else. At least I'm in one piece."