January 13/14 12:12 pm - Sugoi Introduces Jersey of the Month Charity Initiative For 2014

Posted by Editoress on 01/13/14

Sugoi Performance Apparel, a brand of Dorel Industries Inc. (TSX: DII.B, DII.A), today announced its 'Jersey of the Month' Charity Initiative for 2014. Each month Sugoi will support a different charity through creating unique cycling jerseys in order to bring attention to, and raise funds for their individual causes. Once produced, jerseys will be available for purchase at bicycle retailers across North America or directly on Sugoi's website for $70.00 US / $75.00 CAN, with partial proceeds donated to the cause featured each month. Charities include Schwinn Helmets on Heads, Variety Children's Charity, World Bike Relief, and Breast Cancer Awareness among others.

Uncovering ways to supply aid to charities across North America is part of Sugoi's brand culture. "We are always looking to give back. The 'Jersey of the Month' program allows us to utilize our expertise in custom cycling apparel by creating a memorable product that will inspire people to contribute to these remarkable groups," said Sugoi President Kyle Weiner.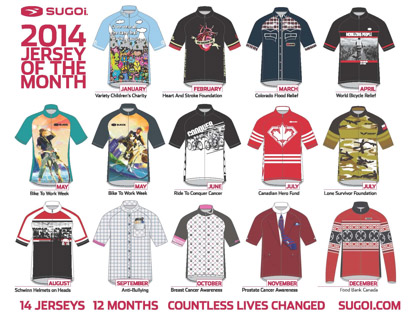 The 'Jersey of the Month' and corresponding charities are as follows. During July, Sugoi will make two jerseys that represent both Canada and the United States.

January - Variety Children's Charity
February - Heart and Stroke Foundation
March - Colorado Flood Relief
April - World Bicycle Relief
May - Bike to Work Week (Men's and Women's Jersey)
June - Ride to Conquer Cancer
July - Canadian Hero Fund / Lone Survivor Foundation
August - Schwinn Helmets on Heads
September - Bullying Canada
October - Breast Cancer Awareness
November - Prostate Cancer Awareness
December - Food Bank Canada

January's Variety Children's Charity Jersey is available beginning January 8th, at Sugoi.com. Quantities are limited and will be available while supply lasts.