February 7/14 18:42 pm - Max Plaxton Joins Cannondale Factory Team

Posted by Editoress on 02/7/14

We have known that this was coming for a while, but now it is finally official - Canada's Max Plaxton will be riding for the Cannondale Factory Team in 2014. Plaxton has been riding on the U.S.-based Sho Air squad (also Cannondale), but at the end of last season entered into serious negotiations with the Factory team, which includes Manuel Fumic, Marco Fontana, Anton Cooper and Keegan Swenson.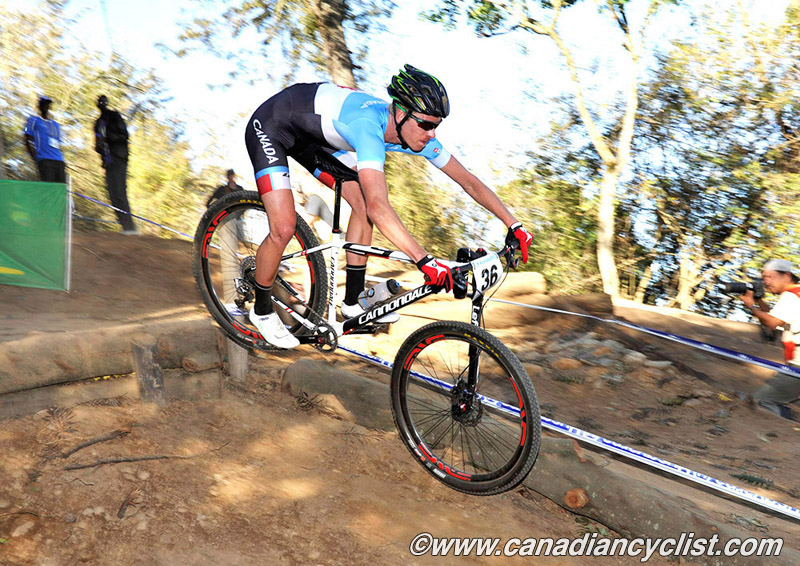 Max Plaxton at the 2013 MTB World Championships in Pietermaritzburg, South Africa
In a team statement, Plaxton said, "I'm amped to be riding with a strong squad. I'm ready to bring my A-game to the 2014 season."

After a year with Sho-Air Cannondale in North America, and proven World Cup results (three top ten placings including a fifth-place podium) supported by Cannondale Factory Racing, it was the next logical step to have Plaxton officially join the Cannondale Factory Racing Team. During 2014, Plaxton will continue to aim for consistent top ten finishes and world cup podiums.

Along with the addition of Plaxton to Cannondale Factory Racing, Sho-Air International joins as a new team sponsor after a successful year with the Sho-Air/Cannondale North American race program. Sho-Air International, a California-based tradeshow and event transportation company, has long wanted to partner with Cannondale Factory Racing. Cannondale Factory Racing is known for supporting and proactively advancing the sport of XC mountain biking - a sentiment shared by Sho-Air.

"We watched Max compete last year, and his results speak for themselves. We're thrilled to add him to the team. We're also excited to have Sho-Air expand a great North American relationship to an even broader global partnership. Our companies share a passion for cycling and a commitment to expanding the sport. This will be a great relationship," said General Manager for Cannondale Bob Burbank.