February 1/15 14:48 pm - Cross Worlds Day 2 Report - Crashes & Mechanicals for Canada

Posted by Editor on 02/1/15

Day 2 of the Cyclo-cross Worlds in Tabor, Czech Republic, saw the Netherlands and Belgium split the medals, with each country taking three medals, including a gold each. The Netherlands took top bragging rights with Mathieu van der Poel's dominating win in the Elite men, while Belgium had to settle for the Under-23 title from Michael Vanthourenhout. Interestingly, van der Poel and second placed Wout van Aert (Belgium) from the Elite race are both actually Under-23 aged and chose to ride up a category (which they can do as pros who ride the Elite World Cup). van der Poel follows in the footsteps of father Adri, who won in 1996, and becomes the youngest Elite title holder ever, replacing the legendary Eric de Vlaeminck (Belgium), from way back in 1966.

Canadian riders struggled in both races, suffering crashes and mechanicals. Canada's lone Under-23 entrant, national champion Danik Vandale was 46th, and Aaron Schooler was the top Elite in 36th. In other Elite results, Mark McConnell was 42nd and national champion Mike Garrigan 49th.
U23 Men
The weather was warm and sunny for the Under-23 men, which meant that the top layer of the track thawed out, making it extremely slippery. Every rider went down at some point, usually multiple times. The sun disappeared for the Elite men, but it was still very slippery.
Michael Vanthourenhout wins U23
With the absence of van der Poel and van Aert, the focus in the Under-23 race shifted to Vanthourenhout and Belgian team mate Laurens Sweeck. The first lap saw numerous crashes at the front as riders went out too hard in the slippery conditions. Sweeck attacked and was joined by Stan Godrie (Netherlands), who then dropped his Belgian rival. But Vanthourenhout was powering his way to the front and quickly rode away from chasers Sweeck and Godrie. Sweeck sat on his Dutch rival for a while until Vanthourenhout had a safe gap, and then jumped away on his own for silver, with Godire salvaging some Dutch pride in third.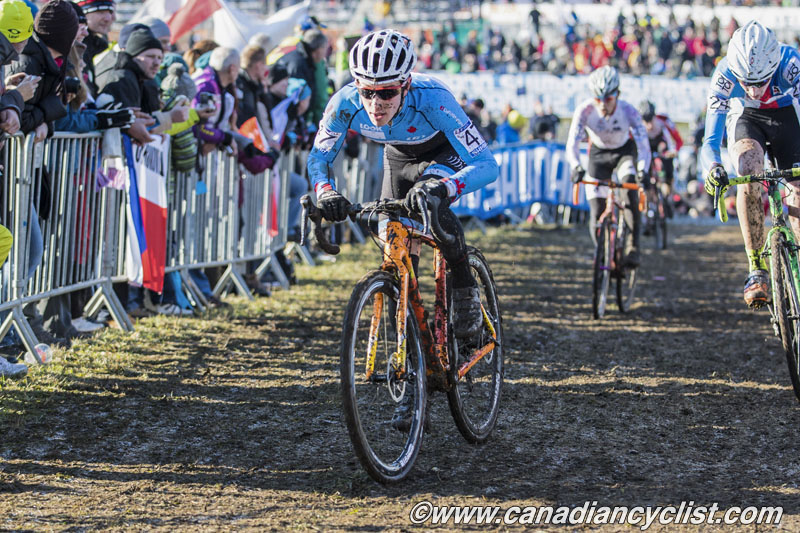 Danick Vandale (Canada)
Vandale felt he was having a strong race until a crash damaged one of his shifters, forcing him to limp into the pit and losing him a dozen spots. He did manage to recover to finish on the same lap as the leaders.

"I was hoping to get in the 30s. I had a little problem with my shifter jamming after one of my crashes, so for half a lap until I got to the pits [and changed bikes] I wasn't able to shift. I was feeling great on the straightaways and in the corners. I had a few tumbles, but I was doing well until the shifter stopped working and I lost, I'd say, ten spots."

"Yesterday was a thin layer of mud on top of ice. Today, with the sun, it was thicker mud so you could get more traction going through the corners. On the uphills, after the stairs and the barriers, there was a lot of traction when you got back on your bike. I'm a little disappointed, but really happy to finish with the leaders [same lap]. It's my first Worlds, so I'm excited to represent Canada. Here in Europe you go pretty much all out the whole time; there's no coasting like in Manitoba! I found that you have to be smarter going through the corners, rather than being aggressive and potentially crashing. Being smarter and smoother will gain you a few seconds."
Elite Men
Mathieu van der Poel, who came into the Elite race as the favourite after winning the World Cup final last weekend by a minute, wasted no time going to the front and setting his stamp on the race. By the first time up the stairs he already had a slight lead and, while he was brought back briefly after a slide out, he was away for the rest of the race.

Belgian riders van Aert, World Cup title winner Kevin Pauwels and Tom Meeusen led the chase in the early going, with van der Poel's team mate Lars van der Haar sitting on.

Meeusen was the first to be dropped after Pauwels attacked to try and bring back van der Poel. However, the young Dutch race leader just went harder, and Pauwels was blown within a lap of chasing. van Aert had also been dropped, while van der Haar finally jumped Pauwels in lap six to make it 1-2 Dutch at the front. van Aert had recovered to join Pauwels and then dropped him to start to chase down van der Haar. van der Haar made a huge effort late in the sixth and seventh laps to catch van der Poel, closing to within ten seconds, but the effort proved too much, and he slipped back to be caught by van Aert.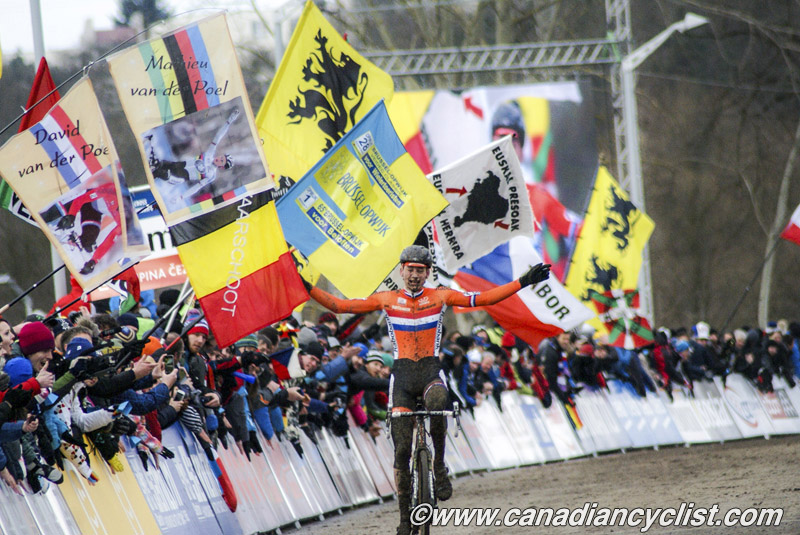 Mathieu van der Poel wins
Late in the penultimate seventh lap, van der Poel had a scare when he crashed in a corner, allowing the chasers to get within ten seconds, but he soon got going again, and was able to cruise to victory. van der Haar surged again late in lap seven, but it was only staving off the inevitable, and he was caught by van Aerts halfway through the lap. They came onto the final paved finishing straight together, but van der Haar had nothing left to respond to van Aert's final kick for the silver medal.

Aaron Schooler, Canada's top finisher, was moving up steadily until three laps to go, when he suffered a rear flat. "I was so close [to not getting lapped]. I messed up with three laps to go. I was running really low pressure, which was necessary to get grip ... everything was frozen and it was kind of like buttery mud on the top. There were certain sections where you just had to hope for the best, and that you wouldn't flat. I was taking a risk, but I think everyone was doing the same. I got a flat tire coming down the hill, but by the time I got to the pit I still wasn't entirely convinced that I had a flat, so instead of pitting, I said to myself 'I still think it's okay'. It was the wrong decision and I should have pitted, because as soon as I got onto the pavement, I knew it was too low. So for the rest of that half lap I was struggling because of the rear flat. I was riding the majority of the race ahead of Zach MacDonald [USA], and because of the flat he passed me and finished. He was ten seconds ahead of me, and he made it through and I didn't."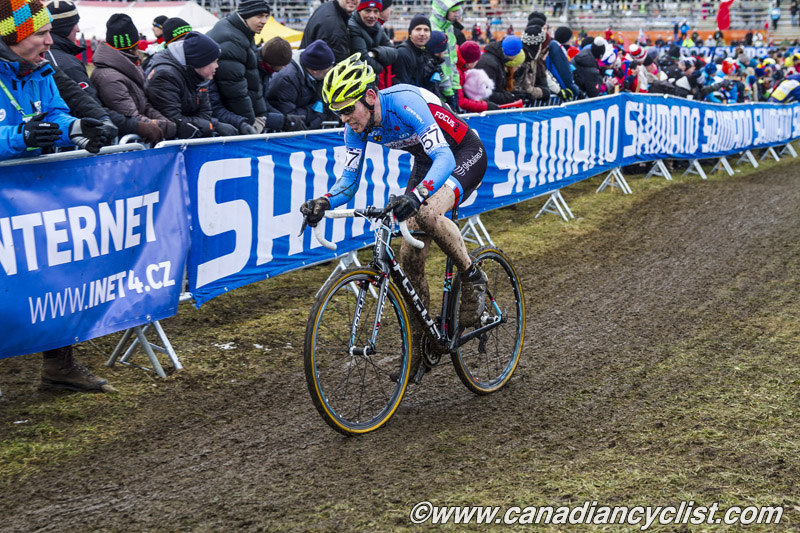 "I had a loose idea that I should be able to come in the top-40. I blew that out of the water. When I looked at the results I was shocked that I was in the top 40. The last time I looked at the start-finish [board] was three laps to go, before all these troubles, and I thought I was in 38th at that point. This year is the first year at a World Cup or world championships where I've raced in the top 40. I was steadily in the top 40, which I was really happy with. I think I gained a few spots because of guys crashing and pulling out, but I'm quite ecstatic with how I raced today. This was a really good race for me."

"I've always been the type of rider who does better in European-style conditions, ie, a lot more mud. Even if it's dry, it's muddy [in Europe]. If it's dry in the States, it's really dry, but in Europe even if you call it a dry course, there are muddy sections. I've been racing in Europe so long now that I have a lot of experience in those conditions. I spent a lot of time watching the previous racing, studying the conditions on the course ... before the race I did two laps on the course and re-did a number of sections, so by the time the race came around I was really confident with all of the sections. I think I was in the right mental mindset."

National champion Mike Garrigan was out by the halfway mark after crashing heavily on his hip. "There was a massive crash at the start which I managed to avoid, so that was good. Me and the other Canucks were riding pretty much together for the first few loops, and we were up there, and it looked good for making the last lap. Then I had a crash, full hands off the bars, and got all bloody and scraped up, and that was it. I had to take an easy lap to get my bike into the pits. Then Aaron had a flat and Mark might have broken his nose [Note: it turns out was bruised and swollen but not broken]. So it was a rough day for the Canadians."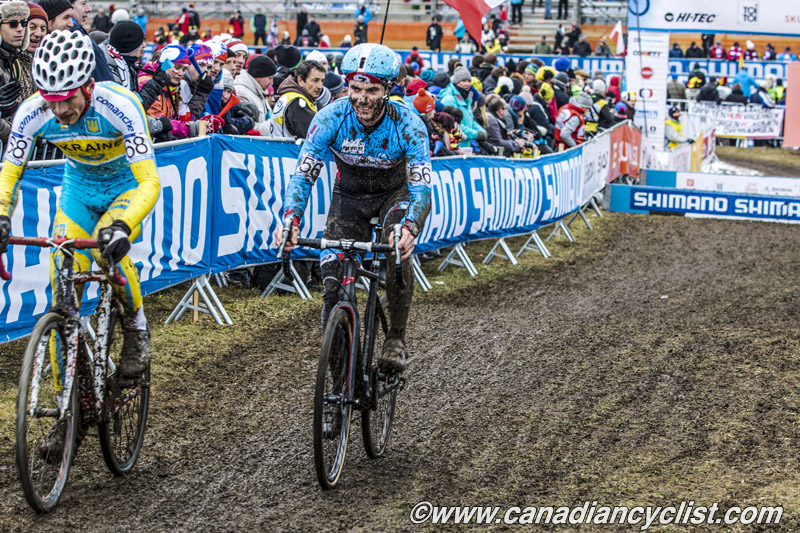 "The ground you would think was tackier but there were surprises, and boom ... you'd be on your ass. The ruts were frozen, so every corner was like riding across a mess of railway tracks. I felt like I was strong today and could have had a good result, but it was a rough crash and it took me a while to get to the pits. I couldn't hold the bars and bleeding pretty good out of my hip."

Mark McConnell missed a step on the stairs and stumbled, hitting his nose on his stem. While it bled profusely, medical staff said it was not broken.
Fatal error
: Uncaught Error: Object of class PDO could not be converted to string in /home/canadiancyclistcom/canadiancyclist.com/public/modules/news.php:528 Stack trace: #0 /home/canadiancyclistcom/canadiancyclist.com/public/modules/news.php(517): getrelatedgallery() #1 /home/canadiancyclistcom/canadiancyclist.com/public/dailynews.php(58): getDailyNewsArticle() #2 {main} thrown in
/home/canadiancyclistcom/canadiancyclist.com/public/modules/news.php
on line
528