March 26/15 16:46 pm - Pan / Parapan Am Time Trial Courses Announced

Posted by Editoress on 03/26/15

The Toronto2015 Pan / Parapan Am Games organization has released maps of the circuits that will be used for the Time Trial events this summer. Both start and finish within sight of the velodrome in Milton, on Louis St Laurent Avenue.

The Pan Am time trial course is 20 kilometres in length, with the women doing one lap and the men two laps. Heading east on Louis St Laurent Avenue from the start (just east of Tremaine Road), riders turn right on 1st Line, left on Lower Baseline West, left on 4th Line and left back onto Louis St Laurent Avenue. There are some rolling ascents but no real climb. the event takes place Wednesday, July 22nd.

The 10 kilometre Parapan course starts the same, heading east on Louis St Laurent Avenue, but continues over to a right turn onto Highway 25, then left onto Britannia Road, left to 4th Line and left again to Louis St Laurent Avenue to go back to the finish line. Depending on category, riders will race either one or two laps. The event takes place Thursday, August 13th.
Pan Am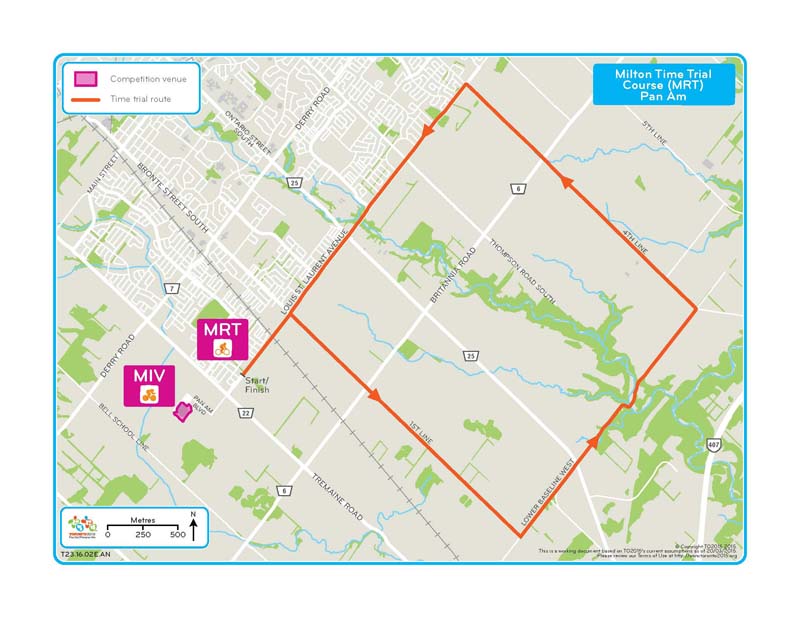 Parapan Am