June 17/16 22:04 pm - Houle Loses Ground to Daniel at Beauce

Posted by Editoress on 06/17/16

Gregory Daniel (Axeon Hagens Berman) extended his overall lead at the Tour de Beauce on Friday evening after a strong second place stage finish behind Michael Rice (Garneau Quebecor). Daniel is now 18 seconds ahead of Hugo Houle (Team Canada), providing more of a cushion than the seven seconds he held following the morning time trial.

The 78 kilometre stage took the riders south of St-Georges for four laps of a rolling 16 kilometre circuit, before heading back to the town for the finish. The finish was a new one for Beauce, sending the riders across a dam on a three metre wide road 1200 metres from the finish. They immediately climbed a short 15% grade before a right and then a left into the final 500 metres, which ended the stage with a 21% wall.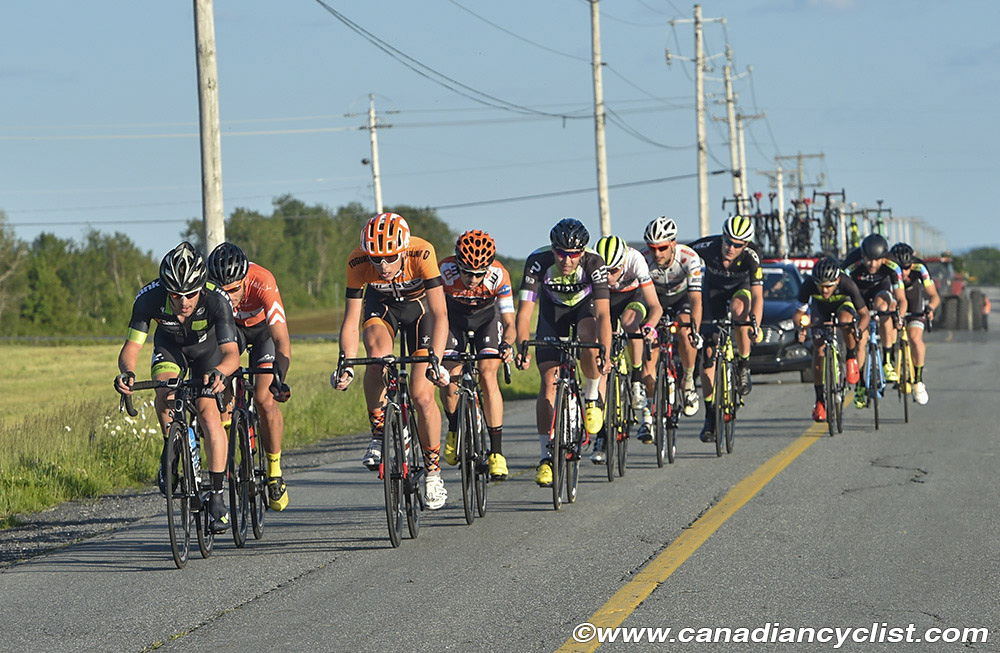 The break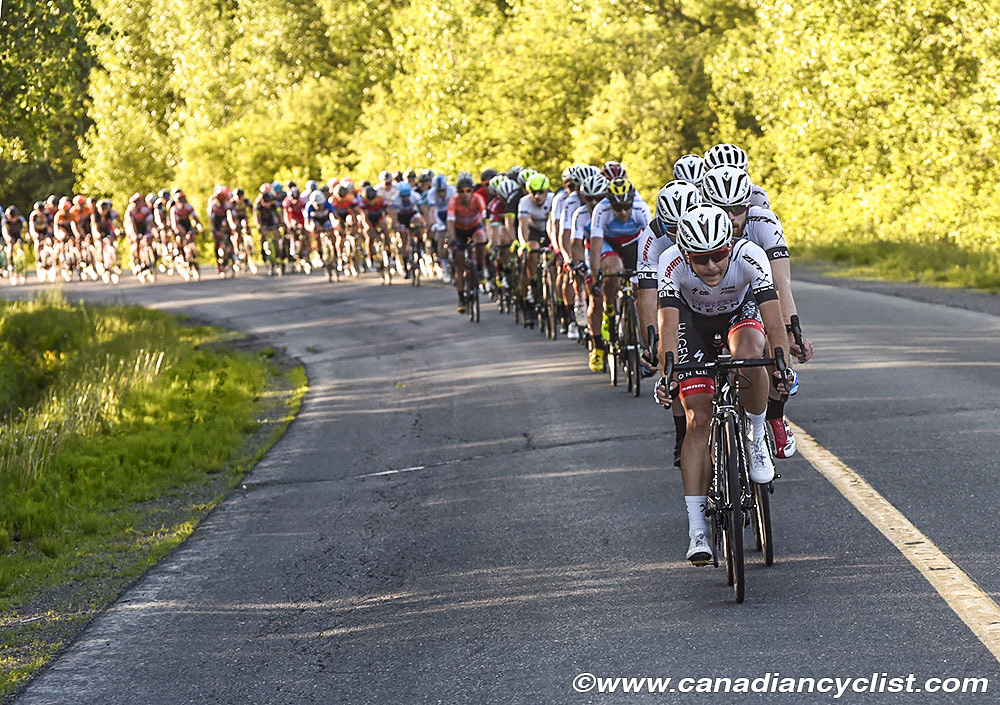 Axeon setting tempo in the peloton
A group of 11 formed off the front on the first lap, containing Luis Lemus (Cycling Academy Team), Rafael Marquez Raigon (Inteja-MMR Dominican Cycling Team), Jacob Rathe (Jelly Belly p/b Maxxis), Bryan Lewis (Lupus Racing Team), Pierrick Naud (Rally Cycling), Robert Squire (Holowesko / Citadel p/b Hincapie Sportwear), Simon-Pierre Gauthier (Garneau Quebecor), Alexis Cartier (Garneau Quebecor), Matteo Dal-Cin (Silber Pro Cycling), Jack Burke (H&R Block Pro Cycling), Andzs Flakis (Holowesko / Citadel p/b Hincapie Sportwear).

The gap went over a minute, but Axeon was monitoring closely and, as they headed back into town, pulled them back.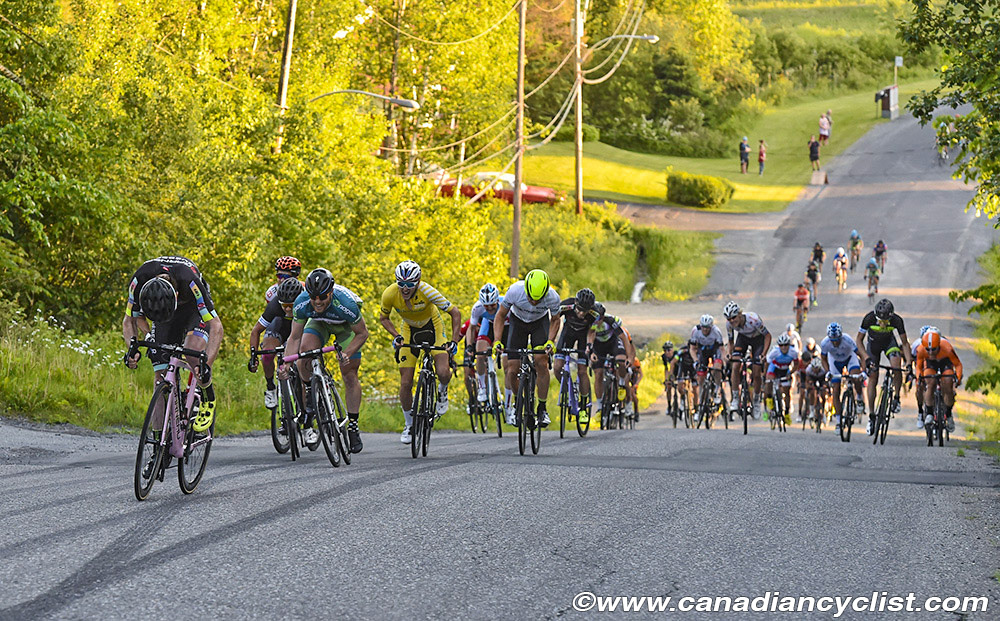 Riders hit the final 21% grade
When the field hit the base of the final climb, there were no tactics; just every rider struggling up the steep climb as best they could. Rice exploded off the front to win by two seconds, with Daniel leading a group of six across the line for second, followed by Canadian rider Isaac Leblanc (LowestRates.com) in third. Houle couldn't stay with the leaders and came in ninth. David Boily (Garneau Quebecor) finished just ahead of Houle, in eighth. As a note of interest, Rice's team director said his rider climbed the 21% grade with a 53 tooth chainring.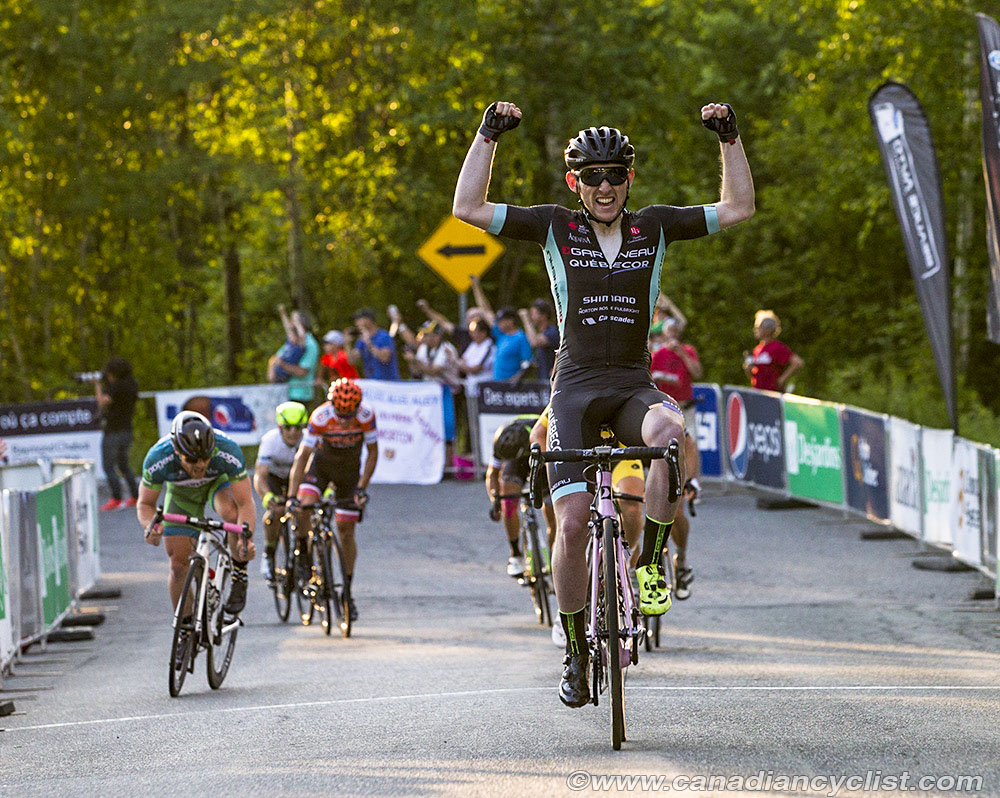 Michael Rice (Garneau Quebecor) wins
When the time bonuses were factored in (two seconds for Houle on the road and seven for Daniel after finishing second), it left Houle in second, but now 18 seconds down. Robin Carpenter (Holowesko/Citadel p/b Hincapie) is third, at 48 seconds.

Daniel continues to hold three jerseys: Yellow as race leader, Red as Best Young Rider, and White as Points leader. Robert Squire (Holowesko/Citadel p/b Hincapie) continues to hold the Climber's jersey.

On Saturday, the riders go to Quebec City for a criterium on a two kilometre circuit - 35 laps for 70 kilometres.


Previous
Stage 1
Stage 2
Stage 3A
Fatal error
: Uncaught Error: Object of class PDO could not be converted to string in /home/canadiancyclistcom/canadiancyclist.com/public/modules/news.php:544 Stack trace: #0 /home/canadiancyclistcom/canadiancyclist.com/public/modules/news.php(533): getrelatedgallery() #1 /home/canadiancyclistcom/canadiancyclist.com/public/dailynews.php(58): getDailyNewsArticle() #2 {main} thrown in
/home/canadiancyclistcom/canadiancyclist.com/public/modules/news.php
on line
544